Five years ago we published an in depth profile of world renowned domain investor Frank Schilling in a Cover Story titled "Nice Guy Finishes First (How Frank Schilling Won the Domain Race After Starting at the Back of the Pack"). It became one of the most widely read articles in DN Journal's 10-year history but in hindsight we clearly made a mistake in that story's headline. Frank Schilling was not finished just yet and over the following five years he continued to run a domain race that is still far from over.

What we know now is that the race we chronicled in 2007 that resulted in Frank being widely acknowledged as the world's most successful domain investor was just the first leg in a longer marathon. It turned out to be a far different race than anyone could have foreseen back then - one that resulted in Schilling morphing from leading domain investor to massively disruptive force in domain services provided to his fellow domain investors.

It started with him upending the domain parking business with his new InternetTraffic.com platform that had clients raving about their improved PPC returns. Next came an all out assault on the domain aftermarket with his DomainNameSales.com venue - a venture powered by a cutting edge mobile application for iPhones that clients say is turbo charging their sales efforts.

Frank Schilling
Founder, InternetTraffic.com,
DomainNameSales.com
and Uniregistry.com
As always, Schilling has an eye on the future as well - hence another major new enterprise in Uniregistry.com - a domain registry operator that has applied to run its own new extensions through ICANN's New gLTD Program. Barring further delays at ICANN (of which there have been many) hundreds of new domain extensions will begin hitting the market in the next year or so and Schilling plans to be a key player in that re-shaping of the Internet landscape.
We covered Frank's life story to date the last time we had him as our Cover Story subject. Now its time to catch up on what he has been up to in what has clearly been a wildly busy half-decade since then. "A great deal has certainly changed over the last five years," Schilling began. "I've gone from working out of my home office, to working out of several offices. We added people and infrastructure; invented software and processes; started several name related businesses."

"There were two really big defining events during the last five years," he continued. "Firstly we decided to focus on our core businesses. I sell domain names and I sell traffic that comes to domain names. That is how I make money. It's very easy for a successful CEO to go off on a bird-walk and try to build new side businesses outside their core area of expertise. We've seen successful registrars and other domainers make this mistake. I focused the cashflow from our existing operations on trying to do our two core things much better and on a larger scale. We

are not done building our infrastructure, but we have come incredibly far. That change in the way we think about our business has paid real dividends."
"The second defining event was the decision to extend all the systems and infrastructure we've been building to a pool of 600 customers. In ten years we never dealt with anyone, except ourselves. In April 2011 we made the decision to bring on a customer. 599 more followed. We have some small customers and we have some large ones, but all our customers have remarked that the depth and breadth of infrastructure we've built over the years is unlike any other in this industry. That's not by accident. We built all that stuff for customer number one, me. Having arms-length customers has forced us to step up our game as a matter of principle, pride and respect. It sounds corny but the folks who join us trust us to help them. We have to do a good job and pay that trust back," Schilling said.
Schilling rolled out his domain monetization service, InternetTraffic.com, at a time when many were looking for a priest to give parking its last rites. Yet he and his team managed to exceed their client's expectations and quickly carved out a huge share of the market almost overnight. We asked him why he decided to launch a new parking service when so many others were dying on the vine (or had already closed their doors), how he has been able to outperform so many established competitors and how the service has evolved since it debuted.

"Let me start by saying that our parking platform is now open to everyone," Schilling said. "There are some early legacy partners who are administered in segregated accounts but our platform is open to all comers with trademark-free names today."

InternetTraffiic.com Logo
"Now, I'd love to ham-it-up and tell you what geniuses we are but the truth is, we just adopted a different business model – and as things turned out, there was a great deal of demand for that model. The model - and I've said it a few times ;) - is paying out much more of gross revenue than our competitors. As our business grew and we hit higher revenue hurdles, we paid out "that" extra money to partners too. If I showed you what we make on partners revenue it would likely shock you because its very low for an organization our size."
"There have been additional falloffs in the parking revenue side of the business in 2012 but our philosophy of paying out more to those who "make the traffic" has softened the blow for many who joined us this year. Higher payouts are good for our partners and clearly they are good for an industry that has struggled through a decline in recent years. The low net-income at InternetTraffic.com would leave us vulnerable if we didn't have our biggest partner, me. Having a large owned and operated portfolio of names has given us a daily incentive to keep evolving, because when we get it right, we ourselves are the biggest winner," Schilling said.
Frank Schilling (center) receiving a record third
T.R.A.F.F.I.C. Domainer of the Year Award in October 2012

Another reason customers have flocked to Schilling's new services is the fact that he is viewed by other domain investors as "one of us" - a status that is difficult for a lot of other service providers to compete with. The way he has treated people, newcomers and old hands alike, with love and respect over the years are also paying big dividends for him now. While Frank is almost universally viewed as the "nice guy" we referred to in our 2007 headline, he is no pushover and he doesn't pull any punches when you ask him a question. Just one example of his rare ability to wield an iron fist in a velvet glove came as we continued to discuss what he has done with InternetTraffic.com.
"I think our platform does a good job serving both our customers and our upstream ad marketplace providers, because both sides can see our intentions are pure and that we are just trying to do a better job," Schilling said. "Had we not started doing what we did - taking outside accounts, this industry would be in considerably rougher shape than it is today. Our arrival has caused layoffs and a lot of top line revenue discomfort for the legacy parking companies, but that discomfort has been felt at the domainer level for years. It bred incredible resentment as the parking companies blamed the revenue decline on the upstreams like Yahoo and Google, and while those upstream payouts did indeed drop, the parking companies themselves became a big part of the problem by becoming these bloated, over-employing, over-paid intermediaries. Some parking companies have hundreds of staff. We have 6 and may grow to 10 or 15 with DomainNameSales. That is a lot more efficient and allows us to work on volume and much thinner margins."
"Looking back on the last year, I'm most proud that the transparency of our platform has helped to bridge some of the long-time misunderstanding simmering between domain registrants and upstream ad partners who's platforms generate the revenue," Schilling continued. "To the upstreams we've tried to explain the difference in value of domain traffic and that there is a price to delivering traffic to their marketplace ($9-$10 per year in renewal costs for example). There are hosting charges and the work of keeping names lit and maintained is real. We've tried to show that clean operators can deliver high quality traffic without maintenance and headaches and problems. InternetTraffic.com has the lowest ad-traffic quality credits in the space because we demand that our customers run a clean show and we don't permit naked-arbitrage."
"On the domainer side we've tried to show that the upstream ad providers and keyword marketplaces are not just out to screw us. They have real business concerns brought by the advertisers who don't understand a lot of this domain traffic stuff. We've tried to pay out the maximum to show what a domain owner's traffic is worth and that certainly makes the upstreams look better in the eyes of folks who previously thought (sometimes rightly) that they were being taken advantage of. Fortunately for name owners, our platform revealed that the party taking the advantage was often the middle-man, not the upstream," Schilling said.

"Our Owned and Operated traffic and name-sales business gives us the latitude to discount the parking business in the name of offering ancillary services like name-brokerage to customers on the DomainNameSales side. So to that end, our first business (InternetTraffic.com) is very much intertwined with our second business (DomainNameSales.com)," Schilling noted.

DomainNameSales (DNS) seems to be well on its way to re-ordering the aftermarket pecking order, just as InternetTraffic did with parking. Schilling said, "Domain sales have always been a big segment of the domain industry The maturing of the domain marketplace coupled

Image from Bigstock

with the frustration over their inability to control revenues on the parking side has shifted many domainers outlook to focus on a revenue stream they have control over. That revenue stream is sales."
"The landscape of sales marketplaces is similar to parking in that there is this historical group of platforms who grew very large (from an overhead and headcount perspective) selling names for commissions. These historical operators, have legacy systems and a culture and costs that are out of date, and frankly out of touch with their client base," Schilling said. "Like with parking, I am the biggest seller of names on our platform. I have always had an in-house sales team and in the past year that team has built a ton of tools and infrastructure to do a better job marketing my names. Other domainers and parking companies have built sales platforms from scratch or by using Salesforce, but no other operator with a large platform of names has done as thorough a job building a CRM system, coupled with a Sales/Marketing machine "and" a mobile platform as we have. As reluctant as I was to grandstand about our traffic business I will shout from the rooftops that our sales platform absolutely crushes what our competitors will give you to sell your names," Schilling declared.
"Our platform has many facets and features, but the biggest difference is the level of control DNS gives you over an inquiry/transaction. With DNS you will always know who the buyer is. We don't try to hide the buyer info or obfuscate interactions between the broker and buyer. You can see everything. You can read the buyers better, research them through tools in the platform, respond to them with prices in real time, and the system will follow up for you."

Schilling noted, "95%+ of all sales inquiries originate when people type the name into their address bar, or research the name via Google.

If you own a name, most of your sales inquiries will come from a sales-link on the landing page of the domain or via a name's admin email. If you get an email and the name is on our platform you simply forward a copy of that email to an account specific address at DNS and the buyers information is ripped from the body of the message and a new inquiry is created in your account on the DNS site. Long after you've filed away and forgotten about that email, our system will be following up with the buyer to see if they are still interested. There are quite literally hundreds of little subtleties, tools and tricks like that to help you to sell more domain names. The longer you are on the platform the more the leads will build and grow," Schilling said.
"We constantly engage in marketing to follow up and explain the value proposition of a potential purchase to your buyer. You can set up the DNS system to engage in all kinds of follow-up using pre-formed emails. You can set up the system to pre-price your names to the buyer for BIN through Escrow.com or through our credit card merchant services. You can set up the system to ask for offers. You can set up the system to solicit negotiations. We have dozens of implementations and have set our best performing as defaults."
"You can do all of this by yourself or using any broker at any sales platform that will allow their brokers to use it. Brokers are free to charge their services as they please but our platform charges a fee to the broker. The net cost to you, the name-owner, is the same or lower than you are paying at your present sales platform," Schilling added.

"Throughout the entire process the buyer has full transparency about the transaction and they can interact through the sales site or via our patented iPhone app. Our app has several pieces of novel technology to allow you to price names, interact with buyers and keep transactions and the sales process moving from anywhere. This is not a light app. Anything you can do on the sales platform you can do from the app. In my business the app has become this invisible piece of technology we use and take for granted everyday. It is absolutely wonderful. I have been in this business 12 years and seen many lesser competitors knock off our ideas, so this time we patented many of the characteristics and most useful innovations and functionality which make our app better than anything anyone else has. We'll roll it out for Android early next year (we hope)," Schilling said.

"Most companies would never give you tools like this for free because it's hard to find the right alchemy to charge it out and impossible to recover your costs, but like with the traffic platform, I am the biggest beneficiary when we win. At DNS/ITC we only earn money from the parked pages and from commissions when we act as the broker. I cannot overstate the amount of effort we put into this platform. In a year we are going to be a profoundly different business, largely on the back of these inventions and innovations," Schilling predicted.

Image from Bigstock
While making waves in the here and now with his domain monetization and sales businesses, Schillng is also poised for a big move in the registry operations field with Uniregistry.com - a move predicated on winning the right to offer a variety of new domain extensions through ICANN's New gTLD program. "Uniregistry will be a new top level domain name registry akin to Verisign, Affilias or Neustar," Schilling explained. "We look forward to making the namespaces for future registrants."
"Registries control the real estate to the right of the dot. Dot com, dot net, dot info, dot biz. These are namespaces which are operated by the companies I mentioned above. We plan to offer dot link, dot guitars, dot tattoo and a host of alternative strings, " Schilling said. "Uniregistry is purely a registry, not a registrar, so we do not plan to pursue the path of Godaddy or Enom offering retail registrations and hosting services. That said, unlike the three incumbent registries at the top, Uniregistry will offer a management interface akin to Nominet's in the .uk space, permitting us to have a working relationship with the registrants in our namespaces. If domain names are the real estate of the Internet, then the registry is like the land title office. At Uniregistry we want to have an administrative relationship with the people who own the land, but we do not want to get into the business of "wheeling and dealing" in the land, offering construction services, etc. Those areas of expertise will be the provenance of the registrar (Godaddy, Enom, Tucows). We have created a new registrar called Uniregistrar to act as a lifeboat in case any of Uniregistry's registrars fail, but this is envisioned as an emergency measure to protect registrants against the unthinkable," Schilling said.
With so many new TLDs expected to come online at once, a problem many new registry operators like Uniregistry may have to overcome is obtaining "shelf space" at popular registrars. If their "products" are not in visible locations, many registrants may not even know they exist. To that point Schiillling said, "registrars will have the luxury of picking and choosing what to put on the shelf, who gets an end-cap and so on. That said, the best strings will be in demand by consumers and the registrars take a risk by not carrying them. BestBuy would be in big trouble if they couldn't sell this season's hot toy or the
Wii, or the iPod. In that way the retailers like Godaddy, Enom and Tucows have a symbiotic relationship with the "manufacturers" like Uniregistry. On the Internet, consumers start their search for a name at Google and go wherever Google says they should. If a product isn't available at one retail registrar, that retail registrar risks losing their Google rank in relation to a search for that string. Consumers will expect to find the products they want on their favorite store shelves. We're confident that Uniregistry has a great program for the retailers of the Web," Schilling said.
As a guy who built his fortune on .com, many people were stunned when Schilling took such a big plunge into the new TLD pool - but he viewed the decision as common sense. "There is an old saying that numbers don't lie and the numbers are staggering," Schilling said. "There are 7 billion (that's 7000 million) people on the planet. In the next few decades, half that population will be online. In 30 years there will be more than 15 billion people. I am not of the belief that all those folks are going to die in famine and war. These people will stick around and the human spirit will find a way to feed, clothe and house them. There are only 200 million domain names registered today and anyone who has tried to secure a short generic or meaningful name, can attest that the pool of available names across most quality extensions is exhausted. We are going to need a lot more meaningful strings and a lot more generic phrases that registrants can buy for $6-10 a year. In today's environment that last sentence just doesn't seem possible. But with thousands or tens of thousands of top level names there will be a way to accommodate the registrants of the future. I am doing this because I want to make the names for the registrants of the future. Many of my contemporaries do not want to do that. I have more than enough money to retire and live a life of leisure but "ships and men, rot in port". I am doing this, because I want to be a part of the future of naming," Schilling declared.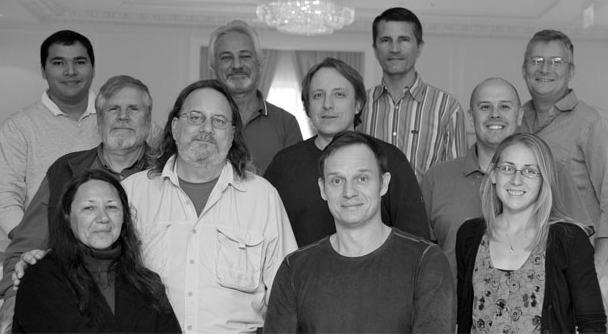 Frank Schilling (front row, second from right) with some of his Uniregistry teammates
Schilling noted above that he operates all of his enterprises with an extraordinarily small staff for the amount of work that he and his team have tackled. For many businesses, getting and keeping the right people can be the biggest challenge of all. "You are absolutely right. That is definitely a problem," Schilling acknowledged. "The gutters of history are filled with the bodies of men who tried to bite off more than they could chew and didn't have infrastructure and resources to help them reach for the brass ring. We're all working very hard here, and we're trying to do something to change our destinies."
"Uniregistry has an equity pool set aside for the staffers who got us there. I've been lucky to be a good communicator. I can share my vision well. But the truth is, I have a team of people who support me and make me look good. Ryan, Vern, Ying, Roy, John, Dan, Quintin, James, Heather, Bret, Amanda, MJ, Karl and others help me get there and make me look good. We have other contractors and companies who provide service and support to us as well. I do not take their sacrifices or commitment to me lightly. I will never, ever forget how these people and suppliers helped me and I intend to make them very rich. As rich as I possibly can. Their success reflects well on me," Schiling said.
"Don't get me wrong, our people don't just get a promise of something in the future. Our people make good money along the way as well. I try to pay more than people could make elsewhere because I don't want folks to worry about money or have jealousy set in. I try to provide a fun work environment and I truly use every opportunity to show my staff (financially and emotionally) how important they are to me."
"I basically try to do the opposite of what every previous employer ever did to me!," Schilling laughed. "That said, this is a "business" we're running and we need to make money too - everyone who joins needs to work very hard, and understand how we make money, and the needs of the business. And our people need to deliver. They need to share our vision and tell us if we can do things better."

"All my people are very smart and pull more than their weight. This next year will see us grow a lot, but at the moment all the new jobs we are offering are in the Cayman Islands. That makes hiring skilled industry folks a challenge. We are losing a long time consultant who we need more from and who can't relocate. That is the most heartbreakingly difficult part. I owe it to my team to swallow-hard, move forward and win for them. I am going to try my guts out to make sure it happens. So far so good," Schilling said.

Above and below: Frank Schilling speaking to
a group of domain investors who visited him
in the Cayman Islands during the DNCruise
conference in September 2012.
As I mentioned earlier, the way Frank has personally treated people, regardless of where they are in their domain journey, has brought a lot of love his way. While that would be a blessing for anyone, I also wondered if it added some weight to his shoulders in terms of not wanting to let anyone down who puts their faith in his new services.
"All the love is indeed a great responsibility," Schilling said. "I never take it for granted Ron - and I genuinely love everyone back. I see the good in almost everyone in this space. I really want the best for everyone. You can't please every person though – A friend was watching me work the other day and commented that I was letting the guy on the other end of the phone-line treat me a bit like a doormat. I don't suffer fools but I have a lot of empathy for my fellow man. I just feel like if you try hard for somebody it will work-out and come back to you. Not everyone I have dealt with loves me and I'm certainly no perfect angel, but I don't really have a bunch of ulterior motives and I try to do everything I can to help the people in my life. You can't fake that."
"Over the years I've been fortunate that so many people have thought well of me. If I look at myself in the mirror in a moment of self reflection about who I really am - you could say I see a little boy. The childlike altruism which I see in my own kids has never left me as I grew up. In a lot of ways I'm still just a little boy in a 40 something body. I want to share my toys, share my sandbox and make sure everyone around me is okay and happy"

"If I can do that – if I can make the people around me happy and feel good, and make a living in the process ~ well then that's more than any man deserves out of life. If my business ever changes and I can't do things anymore I'll tell everyone and be honest about it, but we're doing just fine and working very hard to make sure the only thing waylayed are the mistakes and wrong decisions that sidelined those who came before us," Schilling concluded.