Before we get into that, for those who don't know Kellie and Mike (and those who do but might not know some interesting things about their background) let's start with an introduction (or re-introduction, as the case may be).
Kellie, who relocated from chilly Denver to tropical Tampa to lead the DNC team, is actually a native of Chicago (born and raised on the north side of the Windy City and, naturally, a Cubs fan). "I grew up in the cityís Andersonville neighborhood and love my hometown!," Kellie told us. "I thought I would always live there but since leaving in 2000 Iíve relocated several times.
"
Kellie split her college days between Western Illinois University and Northeastern Illinois and, just a couple of years ago while pursuing an interest in wine, she added a sommelier certification and Sonoma State Universityís Wine Business Certificate.
"Iím a bit of a polymath and someone who is easily bored if something doesnít interest me, but if something interests me, I tend to really dive into it and learn as much as I can about it," Kellie said.
Kellie at work in her office at DNC Holdings

Her diverse interests led her through a remarkable procession of occupations before finding her home in the domain industry. "Here's a quick run down," Kellie said, rattling off "Data entry clerk

, Retail clerk

, Gift wrapper at Sears (at Christmas nest tips, ever!), Record store assistant manager, Video store manager (x2)

, Film distribution*, a nanny for four children ages 1.5 to 7, Cook in lesbian bars, House painter

, Deposition clerk

, Assistant to the Medical Director for a physicians group

, Convention & Consulting Services technician (setting up remote, temporary networks for tradeshows)

and tech support agent for three different Internet companies

!" Whew!

*I worked as a scheduler to maximize utilization of all of our 16mm and 35mm prints, including the only 35mm prints of Rocky Horror Picture Show available in the Midwest at the time. Awesome job, but this was before wide spread use of PCs and we were doing this all

on visible files like this - dozens of these heavy metal files all stacked one on top of the other on a reinforced table. Every day I would crack my knee on one of those dang supports. Itís no wonder I have such bad knees!
So after all of this, how did she find her way into the domain business? "Like a lot of folks, I fell into the domain name industry," Kellie recalled. "I got a position on a small support staff for a local ISP. My boss hated working with domain name updates. The whole process was handled by fax then and if you messed one thing up you had to start all over again. I made myself useful by taking on this responsibility. From there I just took as much responsibility as I could, including working on a roll-up plan for Midwestern ISPs.
"
"I was working as a technology manager at Kinkoís in Albuquerque for a while before I learned about this funky little web hosting company called Fatcow," Kellie continued. "They needed help managing the transfer process for their customers. They had someone handling it at the time, but business was booming and he couldnít keep up. Before I even started the guy I was hired to help had quit and my boss changed. I had my trepidations, but everything turned out OK."
"In 2004 Endurance International Group purchased FatCow. I continued to work for Endurance for another few years as a project manager and a product manager. I managed domains, email, marketing services, SSL and more. I spent the lionís share of my time on domain names and grew that revenue line tremendously. I grew units from about 75,000 up to over 2.5 million during this time," Kellie said.

"Those were crazy times with insane deadlines

to get deals done and migrations completed but through it all, we had a kick butt team. I have worked with some amazingly talented individuals at Endurance. My interest was all domains but Endurance wasnít ready to invest dedicated resources into domain names at the time so I started looking for opportunities elsewhere. Can you imagine a company with 2.5 million domain names under management and only one person handling the business of it!?," she exclaimed.
"I landed in Denver at Name.com. Name.com was going through a great deal of change. Bill Mushkin knew he had a great brand in Name.com, but most of his business still came through other avenues. He was selling domains

for $5.99, which even then was under cost, just to gain market share. But thereís only so far that will take you. We started the laborious job of pivoting to offer additional services. Email, web hosting, SSLs, etc. We introduced NameSafe, a 2-factor authentication product for our clients, we developed a super simple, pre-configured install of Wordpress, we developed the back order service, DomainNabber and a wealth of other products to help people find and buy great domains. Iím proud of the work that team accomplished and Iím grateful to Bill for his confidence in me as well his challenging me. He is an incredible thinker and never really stops to ask if something can be done Ė he just assumes it can be and keeps pushing until it is," Kellie said.
"At the start of 2010 I found myself being courted to return to Endurance International," Kellie recalled. "The time was right for them to start seriously pursuing the domain name space and they asked me to run that business unit, this time, from my home in Denver. We hit the ground running and I was on the move all the time. We quickly acquired ICANN accredited registrars Netfirms, followed by BlueHostís FastDomain registrar, before tackling the 50+ ICANN accredited registrars owned by the Dotster group. All of these acquisitions happened within two years time. The 2.5 million domains quickly turned into more than 10 million under management."
"I left Endurance two years to the day after I returned and took a year off to pursue my interest in wine not only by getting certifications, but also by working as a wine sales person but also as a wine buyer before running into Michael Ward at DomainFest in Santa Monica. Michael and I had known each other for several years and always had a good rapport. After realizing Iíd come to the show looking to get back to work we quickly set about finding a way to bring me on at DNC," Kellie said.

"Michael (who recently joined Uniregistry .com) was a big part of why I came to DNC. Heís a great human being and I really respected his thought process and letís be honest, anyone who smiles that much has to be doing something right!," Kellie laughed. "But aside from Michael Ward, thereís just so much potential in this organization. Everywhere I looked I saw opportunity and I still see that today Ė bringing Mike Robertson to the team an example of that Ė how can you pass up someone with such natural talent for this industry? Weíre lucky to have him," Kellie said of her new sidekick.

Michael Ward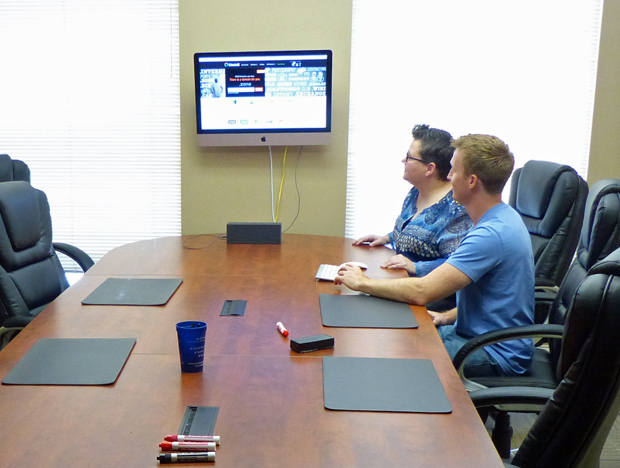 Kellie & Mike at work in the DNC Holdings conference room
In addition to a new company Kellie had to adapt to a new climate after moving from Denver to Tampa. "We had just come from a long, cold, snowy Denver winter and arrived in the Tampa/St Petersburg area just as the temperatures and humidity soared. I felt like we were inside for almost a year!," Kellie said. "We live over in St Pete, which is great. I love seeing the revitalization happening all around us. After living all over the U.S. Iíve gotten a bit spoiled by world class foodie towns but now Tampa Bay is getting in on that too. The craft brew scene is out of control," she observed.
"When I have free time my partner, Jenn and I are often traveling, exploring wine or at auctions. I have an auction problem. I love auctions! I always learn something new and I love seeing what other people get jazzed about. Itís much better when itís not just a bunch of dealers Ė but the deals are often better when itís a dealer heavy auction.
"
Now that she is settled in both at home and at the office, Kellie has set about growing DNC's various businesses. "DNC Holdings is one of a group of companies that includes DomainApps, Directnic and our new brand, Dotology," Kellie noted. "DomainApps is our domain monetization arm. We offer standard monetization options such a PPC in addition to a variety of widget-based alternatives perfect for content sites."

"Directnic, as you know, has been around for over a decade and offers domain name registration, web hosting, custom email, SSL certificates and merchant services to businesses, web masters and domain investors all over the world."

"Dotology is our newest

project. Itís impossible to be all things to all people, so weíre launching Dotology as a small and micro business focused domain name registrar and web hosting company with a tool set geared to walk a client from idea to startup phase and on to growth.

Iím responsible for the strategy, execution of said strategy, as well as policy, growth, revenue and profitability for all of the existing brands as well as introducing new business lines," Kellie said.
Asked what separates her company's offerings from the competition Kellie said, "DNC, or more specifically, Directnic (and soon Dotology) are two of the few remaining ICANN accredited domain name registrars with more than 500,000 registrations run by individuals instead of corporations. Thatís what sets us apart. Weíre still human and weíre listening. Our two biggest teams are customer support and engineering. I think that says a lot about the kind of company weíve become."
"Our support team has come leaps and bounds in the last two years. We have a lot of new talent on our support staff who bring a wonderful energy and willingness to learn. Weíve introduced chat support, which has been received very well by our customer base. Since we started tracking support metrics weíve seen huge gains in productivity, customer satisfaction and retention as well as referability," Kellie added.
DNC Holdings Engineering Team Leader Rob Alfonso
"Rob Alfonso, who heads up our engineering team, is incredibly talented. He and his team continue to impress me with their willingness to tackle any challenge I throw at them. Robís motto is ďAll reasonable requests will be accommodated.Ē Whatís fantastic is heíll consider unreasonable requests as challenges and Iím often amazed at the solutions his team delivers. In eighteen months Robís team has:
rewritten the Directnic platform so that we can sell new TLDs and other services;

redesigned Directnicís website;

migrated a data center;

introduced over 150 new TLDs;

built out a full compliance suite for the 2013 RAA;

introduced two-factor authentication;

launched BitCoin and LiteCoin as payment options;

built a second registrar
"...and thatís just the stuff I can tell you about!," Kellie smiled. "All while fighting fraud, DDoS attacks, hackers, maintaining DomainApps and fielding my incessant questions!"
"Iím excited about the future," Kellie concluded. "Our industry is changing every day and with that change comes new challenges and opportunities. Iím thrilled to be with a company thatís agile enough to pivot quickly and but with the foundation to work toward a longer-term goal. I feel like weíve accomplished so much in the last 18 months, but thereís still a mountain of things we can do. Itís just a matter of figuring out what will deliver the most value to our customers. I think people will be impressed by what they see coming from us over the coming years."
Mike Robertson will also be up to his elbows on the things DNC has planned. While Kellie had to readjust from one American city to another, Mike is having to get acclimated to jumping from one continent to another.

The energetic young Australian told us, "I grew up in a small country town, by the beach called Yeppoon, which is the most southern point of the Great Barrier Reef. I went to the local state school there and attended university in Rockhampton, a 30-40 minute drive away. I graduated with a Bachelor of Business, majoring in Marketing and also took some web/graphic design classes as electives. Shortly after I graduated, I moved to Brisbane, where I spent the next 12 years."
Like Kellie, Mike had a diverse background before finding his destiny in the domain world. "From the age of about 15 I always had a part time job, to help pay my way through school," he recalled. "I had a paper run, refereed junior soccer matches, worked one night at a Chinese restaurant (I was told at the end of my shift that I wasnít needed again) and various jobs at the local grocery store (deli, nightfill and dairy). When I first moved to Brisbane, I also took a volunteer position with the Queensland Cancer Council, helping them on their annual Daffodil Day event."
Then things took a Fabulous turn for Robertson, "My first full time job, with Dark Blue Sea (parent company of Fabulous.com) also happens to be my introduction into the domain business. To be honest, I didnít pick the industry, it picked me. I had studied Marketing with the hope of working in the music industry; my dream was to work for a record label,

a radio station or tour promoter, anything to do with music. Being fresh out of University, it was difficult to land a job in that field with limited experience," Mike said.
"I then started looking at and applying for jobs in other fields I had an interest in, Internet being one of those. Eventually I was offered a sales position with Roar.com (a Dark Blue Sea company/business), which I accepted. Initially I was still looking for other jobs, as at the time it wasnít my true passion, I even interviewed for a few other companies. After a month or so everything kind of clicked and I understood the Dark Blue Sea business model and ďgotĒ the domain space and here I am 14 years later!," Mike smiled.
The impression Robertson has made over all those years has stretched beyond the domain industry with him being featured or mentioned in mainstream media outlets including the Wall Street Journal, Bloomberg and News.com.au.
Mike has a lot of particularly fond memories from his days at Fabulous.com. Asked what some of his favorites he noted these:
Being promoted to Senior Business Development Manager and being responsible for managing the bigger domain clients and partners, for example Wrestling.com, Phones.com, Petrol.com, Kids.com, Villas.com and Massage.com to name a few. I also managed the Google and Verisign relationships.

Helping move two portfolios of 200,000+ domains to the Fabulous registrar

Assisting in the preparation and running of a successful and much loved domain conference, Traffic Down Under

Attending and representing the company at 20+ domain conferences
Mike added, "Other career accomplishments Iím most proud include creation of DomainGuardians.com alongside Jen Sale and Adam Strong...and building that company into a well-known and respected and successful premium domain brokerage business that has sold BTC.com for $1 million and acquired domains like Rev.com, Curious.com and Strong.com, despite other brokers being hired/contracted before us."

"Since it was announced that I have accepted the job with DNC Holdings, there has been some confusion about the future of DomainGuardians.com. DomainGuardians.com still continues to operate and exist and it will for

many years to come. Iím still a major shareholder and Director. Whilst Iím not involved on a day-to-day basis, itís left in the very capable hands of Jen Sale. And I continue in a advisory and consulting capacity, where time permits and so long as thereís no conflicts with my role at DNC."
When asked what it was about the DNC opportunity that prompted him to move half way around the world to take it on Mike said, "Three things:
Iíve always wanted to live and work overseas

The people; Kellie is someone Iíve known for many years. Not only has she become a friend but sheís someone I have a tremendous amount of respect for; for her achievements and wealth of industry experience and knowledge. I know I can learn a lot from her.

The role. I had talked to Kellie earlier in the year and she had mentioned some of the things DNC were working on, one of those being Dotology, a solution aimed at the small/micro-business market; offering them domain, hosting, web builder, email and other auxiliary services to help a business with their online presence.
Mike and Kellie taking a break
in the kitchen at DNC Holdings

My background is predominantly domain registration, management, monetization and sales. I have little to no experience in the small business industry. So for me, this opportunity represents both professional and personal growth and challenges. I always want to keep moving forward, learning and evolving," Mike said.

"My role, Business Development Director is to increase our client base as well as manage key clients/relationships. Iíll probably do a few conferences and tradeshows too. So if any of the readers are looking for a new registrar partner or parking provider, feel free to drop me a line."

Mike is confident new clients will be happy with what DNC has offer. "I think the biggest thing is the people," he said. "From my time in the industry it has become quite apparent that clients and customers want to do business with people they know, trust and respect. Iíd like to think both Kellie and I have each built strong personal brands, something that we bring to the table here at DNC; efficient, knowledgeable, efficient and reliable."
"Aside from ourselves, thereís a solid team of programmers, coders and designers that make our job; selling and marketing the services so easy. Itís very rare that you see or hear about the people behind the scenes and they rarely get any credit, the DNC team have some incredibly smart and talented people, which I think is our biggest asset."
Robertson felt immediately at home at DNC and feels the same way about his new hometown. "Tampa is great and reminds me a lot of home; both Brisbane and Yeppoon. The weather and temperature are similar, as is the pace of life. In some ways it feels like Iíve only moved to the suburbs, not moving to another country, let alone another hemisphere!," Mike laughed.

"I have been very fortunate to have a strong support base with Kellie and the rest of the DNC team, as well as fellow local, Christian Higgins (of Voodoo.com), all of which have gone above and beyond to ensure I had a smooth transition and settled in OK. Michael Ward was also a great help too. Everyone Iíve met or encountered here in Tampa has been extremely friendly, welcoming and helpful. Iím told me accent helps!", the Aussie smiled.

"So far my down time has mostly been spent getting set up and established in my local area and apartment. At the

moment Iím without a car (I still have to do the written and driving exams), so that has limited the amount of exploring Iíve done. So Iíve mostly been checking out local bars, cafes, restaurants, live music venues, cinemas and gyms. I managed to get to St Peteís beach the other weekend, which was beautiful, so Iím keen to explore more of the beaches/coastlines once I get some wheels!"
Wheels or not, The Peterson/Robertson team is one you can bet will be moving full speed ahead in the months to come!