registration services, made eNom the go to registrar for many early domain investors. There is a fascinating entrepreneurial story behind Stahura's long and winding road to eNom and an equally interesting one detailing his path from eNom (after selling the company in 2006) to his current position at the front of the new gTLD Army.
Stahura was born in East Chicago, Indiana and grew up in Hammond, a highly industrial area in the northwest corner of the Hoosier state. The gritty determination and untiring drive that Stahura's friends see in him today can be traced back to his earliest roots. Paul told us, "My dad worked his way up from nothing (such as no shoes) during the depression and without a high school diploma he joined the Marines and fought in the Pacific in World War II, got his GED afterward and then a two-year Industrial Management degree at Purdue on the GI Bill. It took him 6 years to get the 2-year degree because he did it while working for Mobil Oil in a local oil refinery. Eventually he became the internal audit supervisor. It's also where he met my mother, who was a switchboard operator at the refinery."
As kids few of us give a lot of serious thought to what we will to do when we grow up but Stahura experienced an unusually early epiphany - one that would shape his life for decades to come. "At age 11, I saw a movie on TV called "Tobor the Great", about a kid who could control a robot from his dad's lab basement," Stahura said. "I thought, "I can make a robot in my dad's basement, too!" I always had an interest in robots and things you could control. I tried to make one with buckets and stove pipes and taught myself about electricity so I could make the robot's eyes light up with bulbs."

"At 13 my dad got transferred to a different oil refinery, so we moved to New Jersey, where I went to high school. I built two or three more robots, which were more and more sophisticated. In the late 1970's I even worked at a peach orchard for farm labor wages to earn enough money to buy a single-board computer—called "KIM-1", which had a 6502 processor. It was the same processor used in the first Apple computer and had 1K of memory, which I expanded to 8K. I still have the computer in my library. While in high school, I read the manual and I memorized the op-codes and programmed it to move the robot around my basement, and that was my introduction to computers."

Future roboticist Paul Stahura
in grade school.
Below: The 1970s era KIM-1 computer that Stahura
used to move robots around his basement (he still has it).

"I decided I wanted to go to college to be a roboticist," Paul continued. "There was a professor at Purdue who was world famous in robotics, and I decided I wanted to study with him. My high school grades were not that great but those robots I built in the basement helped, so I was lucky enough to get in. I did my undergraduate work at Purdue and eventually worked with him my senior year. I also earned a graduate degree in robotics at Purdue."

"After a year and a half of grad school, I couldn't get robotics out of my head. A robotics company had moved into West Lafayette, Indiana, where Purdue is located, and I worked there while I finished my graduate degree, making robotic software. They made robots that could weld on an assembly line."

"One learning experience that's stayed with me today: Because of my bug in the software, I once broke a giant robot and the damage cost

more than my yearly salary, and I was sure I was going to be fired. I wasn't, but it taught me you can't make progress without taking risks. It's an operating principle that I use now with my company - you're never going to get fired for breaking the robot!" Stahura smiled.
As much as Stahura loved robots, looking back, he thinks he might have ridden that horse a little longer than he should have (a lesson he seems to be applying today with respect to where he thinks the future lies for TLDs). "There are two themes to my career: Innovation and stick-to-itiveness. For whatever reason, once I have an idea it takes me a long time to let it go," Stahura allowed.

"I met a bunch of other Purdue students who I'm still good friends with today, including my longtime friend Jim Beaver who also worked at the robot company. The robot company eventually went out of business so I started a robot controller company that used the Macintosh computer—we made control circuit boards for the Mac and a ton of software to turn the Mac into a robot controller," Stahura recalled.

"We rented some space for our robot lab in a strip mall next to a deli, jammed a couple industrial robots in there, and started writing software. A couple of years later we hadn't sold one robot controller (we did sell some related software) and we were even more broke."

Still, Stahura was not ready to look for another career. "A guy I knew was building electric motors to make modular robots in southern Indiana using Small Business Innovation Research (SBIR) grants from the government," Stahura said. "I moved down there, and we dreamed up a new motor, for which I got my first patent. I was still sticking with it, wanting to invent."

Paul Stahura (right) and close friend Jim Beaver
(the best man at Paul's wedding) outside city hall
in Aix-en-Provence, France where Jim is holding the marriage certificate Stahura had just obtained.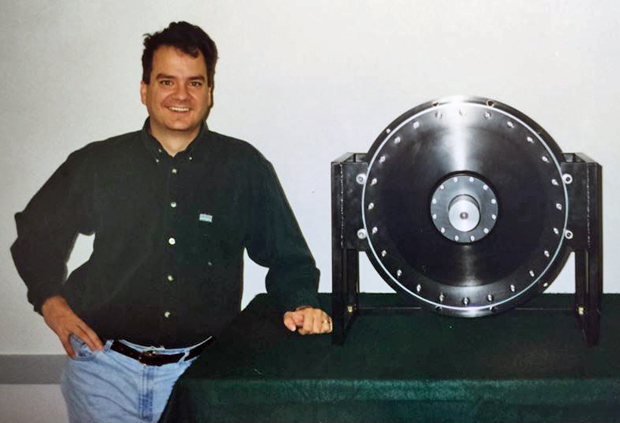 Paul Stahura in southern Indiana with the prototype of a
motor design he got his first patent on in 1994.
While Paul was deciding to stay the course in his career pursuit, he met someone at that same time who would change his personal life in a very big way. "Just before I left for southern Indiana, I met my future wife, Flo, at Purdue where she was just finishing her master's degree," Stahura said. "In southern Indiana, I had rented a room in a 1968 model single-wide mobile home (renting a room, because I could not afford the whole thing), but that was an improvement up from the farmhouse basement I was living in initially. Flo, who is French, went back to France to do a Ph.D. in biochemistry and so we dated long distance for a number of years, and, I finally asked her to marry me. She said she would, but insisted she wouldn't live in that trailer. I said "deal!", and when she got a post-doctorate position at Notre Dame, we got an apartment there and I was back in northern Indiana."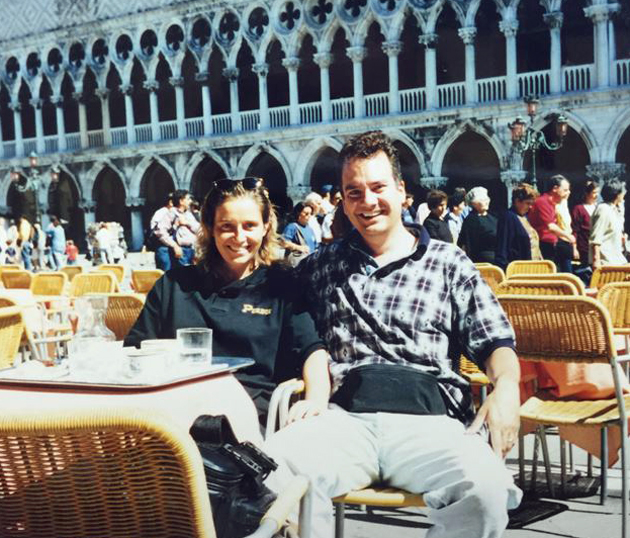 Newlyweds Paul and Flo Stahura on their September 1995 honeymoon in Venice, Italy.
"Meanwhile, my friend Jim suggested we start a consulting company since we knew about technology and could continue learning new things. We started with another three guys who knew about the consulting business, so us "five knuckleheads" (as we called ourselves) became partners doing client-server consulting. I did some robotics consulting in Michigan for a while but after about a year, I ramped up on databases and enterprise class applications and joined my partners in that. So after about 20 years I finally gave up the ghost on robotics and was into client-server enterprise class applications and sending floppy disks around to install the client software on PCs."
"Then guess what happened?," Stahura continued. "The web came along, and the newfangled universal client called "a browser" meant we didn't need to distribute client software on floppies any longer. I was worried I'd missed the revolution because I'd been stuck in robotics for so long, but in 1995 I registered my first domain name, Netscape had its IPO, and told my wife I'm not missing out on this Internet thing like I did with the PC revolution because I was mentally stuck in the robotics backwater due to a movie I saw when I was 11! My wife was supportive but my partners were skeptical that the Internet would be, as I put it, "bigger than electricity."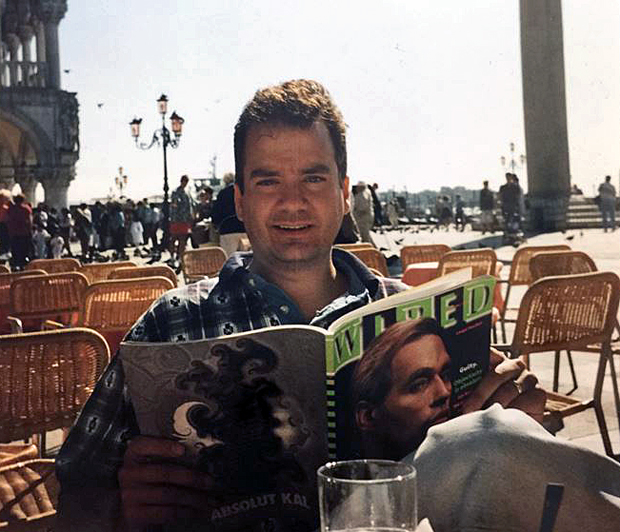 Above: a pivotal moment in Paul Stahura's career. "This the exact moment I decided to not miss the Internet," Stahura told us. "We were on our honeymoon in Venice and I bought this Wired magazine which was one of the only English language magazines I could find. This article in that issue said "IBM and Sony are reportedly planning new online offerings as well, while the existing players, ranging from CompuServe to Delphi, are redoubling efforts to take AOL down a peg. And the dark horse looming over everything is the Internet itself, which some say has the potential to doom not just AOL, but all the proprietary services, to the ash heap of online history." I totally agreed with that," Stahura noted. "I thought these big incumbents (IBM and Sony) would get crushed in the new world and the Internet would dominate."
With this belief in mind flash forward a couple of years. Stahura said, "By around 1997 we'd built up the consulting company to about 50 employees, but it wasn't my kind of business—you could make only so much money per hour and our billable rates were maxed out, and you could only work so many hours in a day. You couldn't scale and make money while you were sleeping."
"What we did have were some good developers on the bench, waiting for work, who knew how to make great systems. I thought we should have them work on provisioning a service we didn't have to ship, something that had to do with the web. All these folks in the popular technology press were talking about web browser war this and web server that, but I saw that there these things called name servers, which a bunch of geeks could set up and was something your website needed to work. It just seemed like name server tech had more opportunity per person working on it than web server tech had. The DNS was central to how the Internet worked, and I told my partners we should get into name server services because there was too much competition doing web stuff," Stahura said.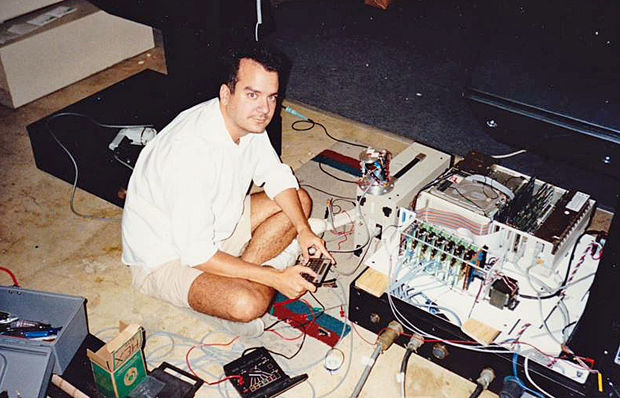 In 1992 (when this shot was taken) Stahura was still all about the hardware. Little did he know that five years later his focus would switch to software (For historic hardware fans Paul is working on a robot controller made out of a Macintosh II. Stahura noted, "You can also see my handy dandy HP 11-C (I still use that same one - its on my desk now!) and you can see the cool/innovative 6-degree-of-freedom "stewart platform" joystick just to my left which we used to control/move the robot with (I still have it too). its funny to see a drill, a tool box, a soldering iron and the volt meter in the picture, when nowadays we are so far removed from hardware and mechanical things."
Returning to the late 90s, Stahura said, "A couple of guys had set up a web-based interface to a mail server and called it "Hotmail" and after just 18 months sold it to Microsoft so I suggested we make a web-based interface to a name server. Before that, there was no remote access—you had to call a geek at an ISP or somewhere who was sitting in front of the name server to type in magical stuff to get your name to work and point to your web server's IP address. I figured we could charge people for a simple "do-it-yourself" web interface that made names work for them (everyone got the actual names at NSI back then, because that was the only place to get names, but NSI didn't offer DNS)."
"We made the software and in thinking of a name for the service, we came up with eNom. eName.com was already taken, and so was Name.com. I had my wife translate "name" into French, which is "nom." I stuck an "e" in front like "eBay", and I also liked the four-letter name and thought if it became big, it could be a stock symbol on NASDAQ. eNom now owns name.com and is a public company on NASDAQ as part of Rightside, but trades under the symbol "NAME", not "ENOM,"
Paul noted.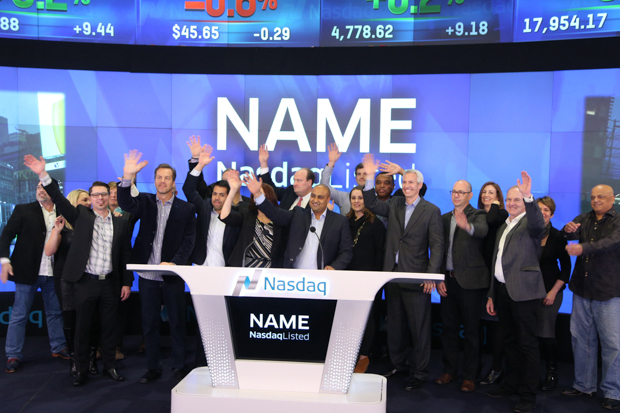 (December 5, 2014) The Rightside team at the NASDAQ Exchange in New York City
on the day the company's stock started trading under the NAME symbol.
In eNom, Stahura was finally able to realize his dream of creating a scalable business that would make money while he was sleeping. Even though it proved to be a great idea, Stahura still had a hard time getting his partners on board. "We got into the domain name system. I pitched my partners with "it'll be a bank machine on the web, but people will put money in instead of taking money out, and we don't have to ship anything, just make an entry in a database". But that didn't get me very far, and my partners didn't really go for it—they wanted to be in the consulting business, "this is the business we have chosen," they'd say, quoting a line from the Godfather movie. I finally convinced them by saying I would do it myself, so I put up 1/3 of the money, and they put in 2/3— the consulting company owned the majority of eNom."
"In 1997, CORE had started and announced that TLD contracts were running out at Network Solutions, then the only registry and registrar. They wanted to create seven new TLDs, and said if you show up at a meeting in Tokyo with $10,000, you could be a member of CORE and participate in getting these new TLDs launched. I scraped up the money and flew over, and met half the people in the industry at the time (Hal Lubsen, John Kane, Ken Stubbs, Amadeu Abril de Abril, and many others). This is how I got into domain names."
"So 1997 is when I got hooked by ".web" – my second passion after robots – a domain name registry. I tried to get into TLDs with CORE then but incumbents made it so that it didn't happen. What did happen was the TLD idea lodged in my head. ICANN then began in 1998, and split the industry into registrars and registries. eNom became accredited as a registrar, but we weren't among the five companies in the original registrar "test bed". I had investors lined up to back eNom if it had been in the test bed, but they all backed out when they learned we weren't. We were all on a conference call where ICANN announced the test bed participants, and when eNom was not announced, my potential investors literally got up and walked out," Stahura recalled.
Below: A screenshot of the eNom Home Page in 1999
from the Internet Archive Wayback Machine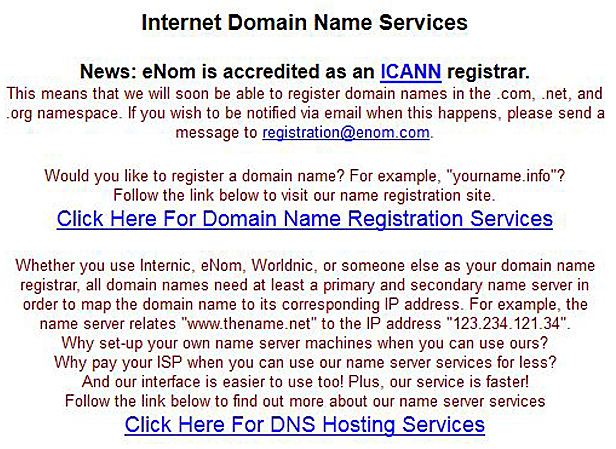 Stahura still found a silver lining in the test bed disappointment. "The good news is that eNom, because it came out of the consulting business, was over-architected (in a good way) with a "tiered" architecture," he noted. "We registered our first name, which was "competitionworks.com" (because it does) using the API in 1999 (the whois recorded the exact day and time) and we decided we would open our API to anyone to use, and this became the basis of our reseller model. Our motto was "We Suck Less" (than NSI, the near-monopoly back then). We were provisioning name server services, and said, "let's provision domain names too." Eventually we provisioned e-mail, an ID protection product for WhoIs (something John Kane – who later joined me at eNom and is now at Afilias — and I dreamed up in the late 1990s) and other services. We just kept adding to it," Stahura said.
"So I had successfully transitioned from robotics, via consulting, to the Internet. It felt as though I'd emigrated from the U.S. into cyberspace—I was living in another world called the Internet."
There is one bit of eNom history that only long time industry observers may recall. We noted earlier that Stahura sold the company (to Demand Media) in 2006, but he had actually sold it once before and had to take on a major risk to get it back. Stahura explained how that happened. "From 1997 to 2000, we built both the consulting company and eNom. In 2000, we were approached to buy the consulting company. In due diligence, it was learned the consulting company owned most of eNom and the acquiring company, Webvision, wanted to buy eNom too, so we sold both. Within about a year Webvision blew through all the capital it had raised and went out of business. Just before its final collapse Webvision ran a process to sell eNom, which included new.net (an Idea Lab company back then) as one of the bidders. Jim and I scraped together all the money we had, taking out second mortgages, and ended up with the winning bid in buying back eNom."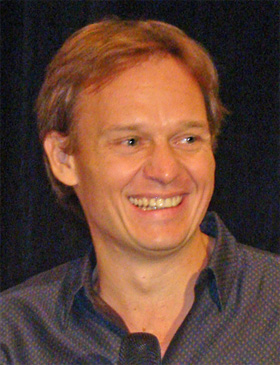 Legendary domain investor and
Uniregistry founder Frank Schilling
helped eNom discover "the drop".
"After being cocooned within Webvision during most of the .com bust, the eNom butterfly emerged between 2002 and 2006," Stahura said. "We had great architecture that worked and was scalable and didn't fail very often—we had an API and were hosting other ICANN registrars, performing "back-end" registrar services for them as well as ourselves and all of our customers."
"At one point, we noticed at a certain time of day our systems were pounded. Why was Frank Schilling pounding our servers every day? We found out this was due to the "drop." We got wise to the drop and the idea of "creds" (a term we invented to mean the login credentials to an ICANN accredited registrar). We applied to ICANN for hundreds of "creds" to have many more bites at the registry SRS apple and founded Club Drop (which eventually became NameJet in 2006). We got into parking and we started competing with SnapNames and Pool.com," Stauhura noted
"Through many twists and turns and ups and downs, we grew from our API, resellers, the drop, parking, and value-added services. Providing real value at low prices made eNom
thrive. This whole time, however, I hadn't given up on the idea of new TLDs. I tried often to get control of a TLD between 1997 and the opening of the current round - .WEB, .ID, .MY, .CO, .ME, .ONE, .ORG - I was unsuccessful at least seven times. Before 2014 I was the biggest TLD loser ever. Still, I stuck to it because I saw the need for an expanded name space. As the years went by, the quality of new names in old TLDs got worse and worse and the pushback from incumbents to new TLD competition got greater and greater.
"
Before Stahura would get to the new gTLD destination he hoped to reach his baby, eNom, would be sold a second time. " In 2006 investors of Demand Media approached us to buy all of eNom, not just because of the registration business but because of the portfolio and parking revenue we'd built," Stahura said.

"Their model was that of a media company that monetizes content through ads; we were getting huge revenue from parking, which is nothing but monetizing ads but with no content. At first blush it would seem like a domain name registrar has nothing to do with a media company, but it was as if they intended to publish magazines (websites with content and ads), while we published catalogs (our domain name parking, which is nothing but ads). The synergy came from the fantastic ad rev-share eNom had back then with Google and Yahoo."
"We formed Demand Media and that same day in 2006 sold eNom to it, and I was President and COO of Demand, and as a large shareholder also a member of the board of directors. The company acquired more and more media properties and some other registrars. But I still had my heart set on climbing that last mountain—getting a new TLD. I spent a lot of time at Demand working the policy process of advancing new TLDs. After yet another delay in the TLD program, which made it look as though new TLDs were a long way out, I left Demand Media in late 2009.
"
Less than two years later Stahura was back in the spotlight again - this time in a role he had been seeking for nearly two decades - running a company that operates its own gTLDs - and not just any company - one that has become the largest in the space - Donuts Inc. To get where he wanted to go Stahura spent the time after he left Demand Media putting together a top tier group of co-founders and raising a 9-figure war chest to fund the ambitious venture.

"I had known my Donuts partners for a long time from our years in the industry," Stahura said. " At first, Richard Tindal (Chief Operating Officer) and I were partners, as were Jon Nevett (Executive Vice President, Corporate Affairs) and Dan Schindler (Executive Vice President, Business Development) separately, but eventually we decided to all go in together. Jon was Sr. VP at NSI, Richard ran Neustar's registry business (he obtained and ran .biz and .us for them) and Dan ran CentralNic They are all tremendous professionals, very talented, and we compliment each other well.

I couldn't ask for a better team of co-founders and its great to work with close friends at Donuts just like it was at eNom."

Donuts Co-Founders (left to right): Paul Stahura,
Dan Schindler, Richard Tindal and Jon Nevett.
"Due to the mutual respect all of us at Donuts have for one another, we are not afraid of conflict among the team because we know we'll use reason and logic to get to the right answers and make the best decisions. Tren Griffin quoted Ben Horowitz who quoted Marc Andreessen who quoted Lenin who was quoting Karl Marx who said "sharpen the contradictions". We, too, believe that works. Nothing is perfect. Surfacing the differences and reasoning them out, getting to the truth, and resolving them is best, not plastering over and hiding conflicts," Stahura said.
The founders all have great credentials but raising hundreds of millions of dollars is still an impressive feat. To get it done, Stahura did something he had done before to get eNom off the ground. "The first element of raising the capital was that I put up my own money as a testament of my faith in the opportunity," Stahura said. "I figured it's a risk only if you don't know what you are doing, and I was pretty sure we knew what we were doing. The second was that we had a very believable reason why we could acquire TLDs in an economical way, and further, why other companies wouldn't make as big a play as we were proposing. As Warren Buffett says, "if its raining gold, put out a bucket", and I figured they'd put out a thimble. Once I invested, TL Ventures and Austin Ventures joined, and the other investors came along seemingly fairly easily."
"Donuts is the first company for which I raised money – eNom had no outside investors before I sold it to Demand Media but I had learned a lot from the management team at Demand Media, which had the motto "go big or go home," and raised over $200 million. I wanted many new TLDs, and obtaining many new TLDs is a capital intensive venture, so I had to assemble a great team and raise a lot for Donuts. I had the wherewithal to lead the way and that started the ball rolling, and also large venture capital and private equity funds need to deploy capital in big chunks (but only to entrepreneurs with valid, believable reasons why a large amount is needed and how they'll certainly make money for their investors). It's probably harder to raise a small amount of capital with the same amount of good reasoning," Stahura opined.
"Like eNom and the drop, we decided to go big— this time, instead of 300 registrar creds, it was 300 new TLDs. I am fortunate to have been joined by world-class investors who have never been anything but supportive of the Donuts management team and excited by new TLDs, domain names, and the registry business. Again, it's great sailing with friends who are all highly motivated to get the ship to port."

"From back when I was a kid, I was stuck for 20 years on robots, but for the last 20, I've been stuck on TLDs. I'm involved with Donuts now because I couldn't get TLDs before, when I initially wanted to. Finally, ICANN is overcoming the incumbents and opened the window and after all that time we got our first new TLD last year. I don't give up—in fact, I'd have to be dead before I give up. I stick to things because I fixate on them and innovate ways to make them come true," Stahura said.
Donuts recently celebrated the 1st anniversary of its first TLDs going live. We asked Paul how, at this early stage, his strategy has played out compared to the vision he had for the company going in. "It's going almost exactly as we thought it would, but for one thing," Stahura said. "For example, we thought we'd have 150 uncontested TLDs; it turned out to be 149. We thought we'd end up with about 200 TLDs in total, and that's just about the number we'll end up with. The exception is that it happened nowhere near as fast as we thought it would. The process took much longer than it should have. It took too long to get these assets in the hands of the public, open the name-space, bring innovation, and create real competition and lower prices. But I believe in Warren Buffett's maxim that it's better to have the "what will happen" right versus the "when it will happen," Stahura said.
Despite the seemingly endless delays, Stahura said one thing remained the same - a determination to innovate. "We innovated pricing tiers at Donuts—this wasn't easy, as we had to do that while staying compatible with standard EPP so registrar integration would be easy. Now other registries are doing it. We innovated the Early Access Program (EAP), and now other registries are doing that. We innovated the Domains Protected Marks List (DPML), and registries are doing that as well. We innovated private auctions to resolve contention among TLD applicants, which was initially rejected but is now wholly embraced. We have a few patents in the pipe, and we're innovating other things we have yet to launch. The Donuts DNA is infused with "Innovation is the key to wealth creation", Stahura said.
Paul noted, "Even our name is creative. "Donuts" evokes variety and choice because bakers create so many different types of donuts. We are nuts about domains ("domain nuts"). Its memorable because it's a bit strange. You'll notice that our name contains the letters "DNS" which are highlighted in a

different color (similar to "Hotmail" containing the letters "HTML"). And have you noticed the first letter, "D" is the color teal?—a "teal D". Aren't we funny?," Stahura smiled.
While Stahura is confident that big things are ahead for new gTLDs, others, especially those in the domain investor camp, think it's unlikely new extensions will ever be able to escape .com's long shadow. Stahura explained why he thinks his vision of the future is the one that will play out. "New York City was big in the 1700s and is big now—it will be the biggest city in America probably forever," Stahura noted. "However, and this is important, its population is becoming less and less of the total population pie. Las Vegas, San Francisco, LA and Chicago didn't exist when New York was founded, but they're significant today and are now thriving cities. The same is true of TLDs. All these new cities had great new real estate for various reasons – next to the lake, on a river, near a port, on a hilltop — just as new TLDs do."
"We're still at the very beginning. There will be no other globally unique naming system – the DNS is too embedded into our Internet, our laws, our communications, and our world. The Internet will be around for more than 100 years (like the phone system has been), and these names will be too. New domainers and some old timers recognize this new opportunity and are moving west. Some old timers are mentally stuck back on Plymouth Rock. Some slumlord probably said back then "Don't go west young man, there be lawless savages out there! Rent my tenement in Brooklyn instead," Stahura said.
"Our "cities" are new and sit on great real estate, vast swaths of which are still unexploited," Stahura continued. " A new name in .COM is probably in a bad neighborhood and is not next to Central Park in New York—there's no good land left there. There's good new unregistered land in new TLDs, and they will be around for a very long time. For sure, a condo on Park Avenue is worth millions today, and if you are lucky to have bought it back in 1960, congratulations, you probably beat inflation, but buying it now

will cost a buyer millions. Potential investors have to ask themselves: "Will the condo value go up faster compared to buying some undiscovered great properties in a brand new city now, and for less?"
"But its not just some domainers leading the way to new TLDs," Stahura noted. "Brands are moving west too. Domainers are accompanied by trend setters such as Lady Gaga with bornthisway.foundation, Lionsgate with thehungergames.movie, Kanye West with yeezy.supply, GM with GeneralMotors.green, McDonalds with bigmac.rocks, and many others now and many more to come. It's not a coincidence that companies like Google and Amazon got into both the domain name registry and registrar game right when new TLDs were launched. I'm sure its not because they think it wouldn't last or be huge."
Stahura added, "The NSI registrar had about 100% worldwide market share when I started eNom in my garage on near zero capital. Look what happened. The Verisign registry had about 50% worldwide market share when I started Donuts with over $100 million in capital. We'll see what'll happen.
"
While we all wait to see what is going to happen it's hard not to marvel at how one man's life can change in the space of 20 years. Reflecting on that Stahura mentioned, " I'm married with three teenagers now. I didn't have teens when I started eNom in my garage. Our oldest was just born and we had a sign on the door asking people not to slam it and wake up my daughter when they went inside to use the bathroom!," Stahura laughed.

Paul's business and personal life were intertwined back then and that is one thing that hasn't changed. "I like working with people I like, so I don't separate friends from business that much," Stahura said. " I like going to ICANN meetings because I have a lot of friends there. I don't have a hobby outside of work—it's not really work to me. There's very little "outside of work" for me.

"

"I travel with my family but my mind is often on business and domain names because I'm fixated with it. Flo has gotten used to it, I think. We are just back from the Galapagos, where my family and I explored the wildlife and jungles, and after the Durban ICANN meeting my family and I did a safari in Botswana and other countries there. We travel a lot and go back to

France to visit my wife's family there. Despite my fixation on the DNS, I think I have a healthy work-life balance now and at times in the past, but it has not always been easy to achieve," Stahura said, clearly very content with where that 11-year-old kid who loved robots is sitting today.