So how does one woman become not only a "Jill of all trades" but one who is not just a practitioner, but a master of so many pursuits? That story begins in Myrtle Beach, South Carolina where Angie was born to a mother who was a 4th generation native of the area and a father from Greenville who played major college football at the University of South Carolina. Angie also has a brother that followed 13 months after her and they looked so much alike when they were young people thought they were twins.
"My mother had been a stewardess (that's what they were called then) for Delta before marrying my father and becoming a deeply dedicated full-time mother and wife," Angie told us. "My father was a school teacher and entrepreneur before he went into the beverage business—initially as a salesperson, as his father had been for 32 years—and then as a manager, working his way up the ranks at Pepsi and then Coca-Cola. We moved 17 times by the time I graduated high school. In my youth, I lived in up to three different cities in each of these states: Maryland, North Carolina, South Carolina, Florida, Georgia, Alabama, Mississippi, Louisiana, Tennessee, Missouri and Texas."
Budding entrepreneur Angie Graves on her
6th birthday at home in South Carolina.

While she would spend much of her youth on the go, Angie was anchored in South Carolina long enough to experience the quintessential American introduction to entrepreneurial life - though her version had a unique twist that foreshadowed her future in the tech world.

"Most children find a business sense with the corner lemonade stand but mine was a search engine stand," Angie said. "I spent most of my summers in Myrtle Beach, and from the time I was about four years old until I was seven, I had a playmate there named Katherine. We had the idea one summer to make money by the roadside—on a very short street in a small neighborhood. We found the box for a new washing machine and painted it to look like a computer, with multi-colored rectangles and squares across the front. A slot was cut into it for index cards to be inserted into the box.

One of us would sit inside, and the other would stand outside, offering passersby the answer to any question they wanted to write down, for just 25 cents per question. We both learned a lot from it about marketing and customer service," she smiled.
"At age seven, my entrepreneurial spirit was put to the test when my father set me up to sell at a flea market stand," Angie continued. "Just before sunrise, he took me and about 100 cases of a cleaning product to a table he had rented there. He handed me an empty bank envelope and told me the price for each unit. And he told me to fill the bank envelope with money and to empty the table of the cleaning products. Then he left. When he returned 13 hours later, he found that I had done just that, and he let me keep all the money. He always had useful lessons for me to learn, especially to try new things."
A lot of people are drawn to the entrepreneurial life for the freedom it affords. Yes, it can be risky but you can try your hand at whatever it is you really want to do. When Angie was 16 her mom's sister arranged to enroll her in college and she promptly set about re-shaping the traditional campus experience into a customized creation of her own.
"I asked myself what it was that I most enjoyed doing right now, which was listening to music and traveling. I dedicated myself to learning how to get paid to do at least one of these things, and began taking classes in stagecraft, lighting design, and costuming. Along with taking theater classes, I began writing articles for local publications, and doing reviews of live performances and interviews with actors and musicians and other performers," Angie recalled.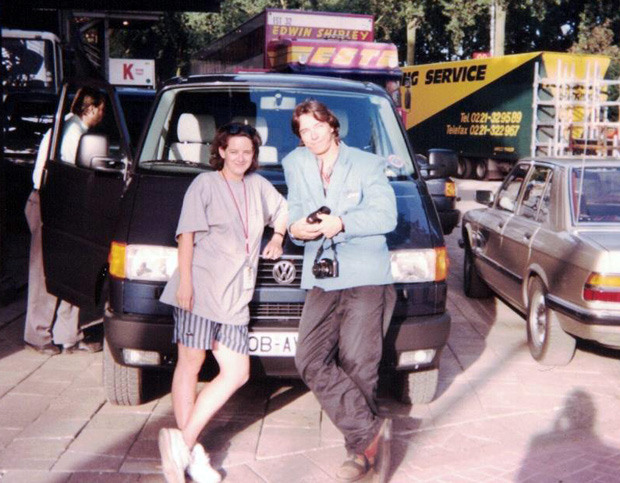 When Angie Graves (at left above in Rotterdam, Holland with one of the limo drivers on the 1992 Genesis We Can't Dance Tour) started writing music reviews for local publications as a teenager she had no way of knowing it would lead to her touring the world with a top tier rock band).
"On a flight from New York City to Los Angeles I met a famous author. We were seatmates and spent the entire flight engaged in conversation. At the end, we vowed to keep in touch (we still are!), and he connected me with the then-editor of Rolling Stone magazine and the entertainment editor of the Los Angeles Times. In the next year or two, I interviewed a lot more performers including Stevie Ray Vaughan, Frank Zappa and all of the members of the band Chicago. I also wrote articles about new young entertainers for teen magazines in Australia and Europe - but, as it happened, never for Rolling Stone or the LA Times - that's just how it worked out!"
"What put me in the orbit of some great artists was working as a local support person for them. Sammy Davis, Jr., Def Leppard, Bruce Springsteen, INXS, R.E.M., Kiss, Bon Jovi, Neil Diamond, Whitney Houston and so many others were performers I worked for as little as one day, or for as long as two or three months. As a young person just starting out, it was very educational to be able to work with the leaders in the industry. I learned a lot about professionalism and discipline from these pros that serves me to this day," Angie said.
"Following graduation from the University of South Carolina, I went to work in Houston, Texas for a sound and lighting production company doing work in logistics and contract agreements. Some of our clients were President George H. W. Bush, ZZ Top and the country musician Clint Black. Two of my co-workers there were survivors of the infamous Lynyrd Skynyrd plane crash. I worked closely with White House Communications for our frequent events and appearances with George Bush as President of the United States."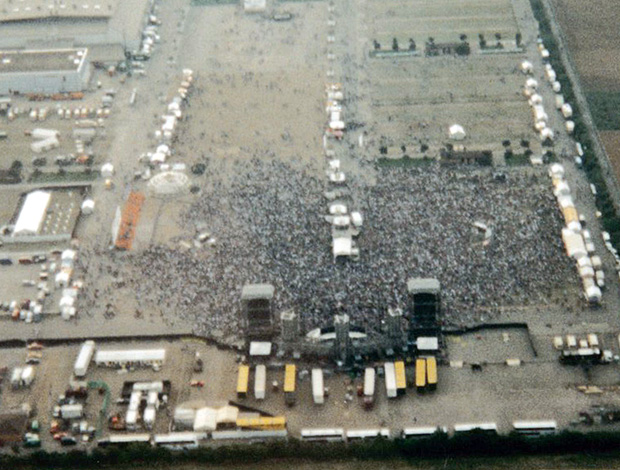 Above: Angie's view from a helicopter looking down on the 1992
Genesis We Can't Dance Tour concert venue in Mannheim, Germany.
Below: Angie's backstage office at another tour stop in Basel, Switzerland.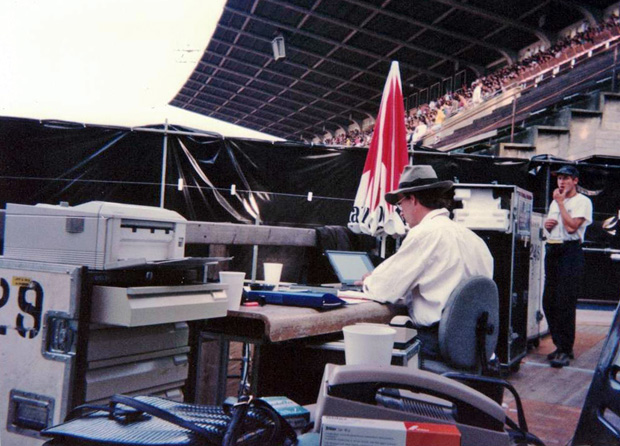 Angie's opportunity to go on tour with Genesis came from one of those simple twists of fate that produce a once in a lifetime opportunity. "I took a day off work at the sound and lighting company in Houston to help a friend who was short an office worker for tour rehearsals for a band," Angie remembered. "The band was Genesis and the rehearsals were taking place in a blimp hangar near my apartment. After the one day of work for Genesis, I took the risk that they would call me back and quit my job at the sound and lighting company where I had worked for more than a year."
"Thankfully, Genesis did call me back, and I spent the next several weeks reporting to work at the blimp hangar. The relationships forged there led to me joining the 1992 tour - Genesis – We Can't Dance – traveling through 22 countries in five months' time, and playing dates like Hockenheim Raceway for 400,000 fans, the Hippodrome in Paris, Knebworth, and a number of music festivals. I worked for a man who was a legend in the music business for accomplishing the impossible. For the first couple months my working hours were 8am to 4am, five or six days a week," Angie said.
In addition to working the kind of long hours entrepreneurs are familiar with Angie also got a chance to broaden her professional horizons even further. "I started the We Can't Dance tour as the office manager and ended the tour as one of four site coordinators, traveling ahead of the production to arrange placement of the trucks, the stage, dressing rooms, and to liaise with the local promoter and labor and others in preparation for the arrival of our 47 lorries (18-wheelers) and 208 touring personnel."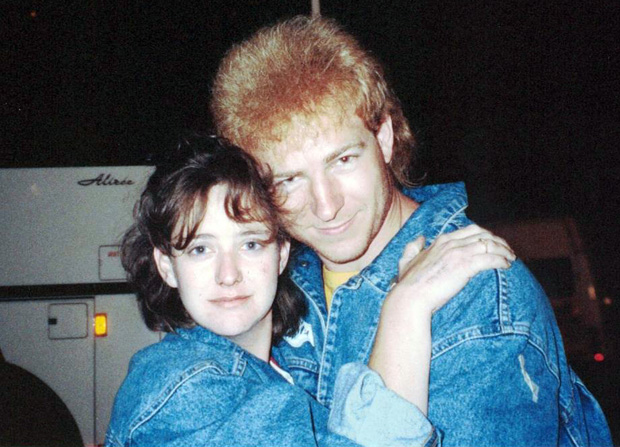 Time to say goodbye - Angie Graves and colleague Eddie Harbin
at the end of the 1992 Genesis We Can't Dance Tour.
"In 1993 and 1994, I did some logistics work for Pink Floyd, three months of rehearsals for a George Lucas production, and weeks of production rehearsals for U2's Zoo TV tour. And I did Internet consulting work for some music business companies including a white glove celebrity shipping service called Rock-It Cargo. But by that time, I was sold on the Internet and wanted to transition out of music and into the Internet fulltime," Angie said, looking forward to a major course change on her career path.
"I traveled to San Francisco in search of servers for a private network I was designing. I was determined to build a private online network for the concert touring industry because of an incident that occurred during the Genesis tour, where lack of communications nearly cost us $1 million.
While there, a contact from The Well, Mark Graham, introduced me to a number of Internet pioneers - people like Cliff Figallo, John Barlow, Mitch Kapor, Stewart Brand, Kevin Kelly, Matisse Enzer, Nancy Rhine and so many others.
Mark himself is a pioneer—founder of PeaceNet. The rest I knew of either from The Well or Wired—the two were intermingled," Angie said.
"I learned from them—in conversation in person, on the phone and at The Well -- new ways of organizing people and information, and new ways of thinking—all enabled by the Internet. We knew that the Internet would alter human civilization, and we were talking together, imagining the ways how."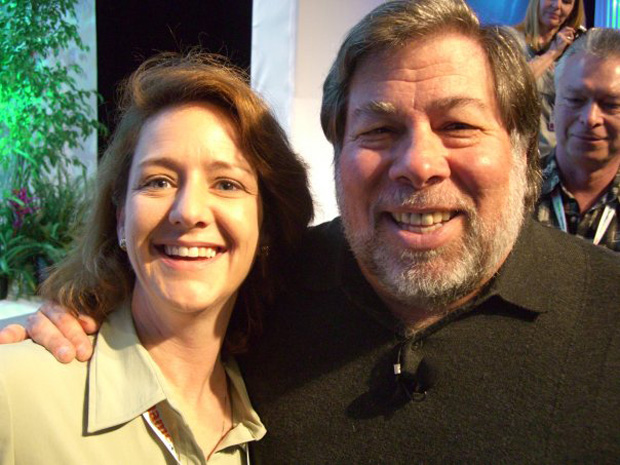 Angie Graves met many Internet and tech pioneers during the mid 90's in San Francisco. About 15 years later she is seen here with another one- Apple Co-Founder Steve Wozniak - at the 2009 DOMAINfest Global Conference in Hollywood, California.
With Angie in the middle of what was happening in the early days of the web she was perfectly positioned to stake a claim on Internet real estate that would one day be worth millions of dollars if she had been so inclined - but that was an option she couldn't even consider at the time.
"There was one taboo among this group—commercialization of the Internet," Angie recalled. "As I understood it, to do anything commercial was to violate social code and ignore the purpose of the Internet, which was research and communications and community, not commerce. At the time, what became the backbone of the Internet was NSFNET, administered by the National Science Foundation, in cooperation with the Merit Network and others, and it was most definitely intended primarily for research and education. It was meant to foster scientific discovery, conversations across continents and cultures, and to provide rich resources for students on any topic."
"The organizations that were on the Internet at the time were primarily universities and colleges. Some corporations were on then, but mainly just the departments containing their laboratories or research arms. In keeping with that trajectory, and in deference to my Internet gurus, any domain name I registered would need to be for personal or vanity purposes. The more commercial the intent, the greater the negative pressure from the community."
"Imagine the few thousands of us online, all in tacit agreement to disallow the tainting of this pure resource with commercialism - and here I am, 21 years later, as part of ICANN's Business Constituency, a commercial interest group!," Angie marveled, keenly aware of the irony.

Though Angie did not take advantage of that very early opportunity to amass domains she still had some world class assets wind up in her hands. She had moved from Myrtle Beach to Atlanta to take advantage of cheaper Internet access and wound up being hired to run the sales center at Atlanta.com (the city's sole Internet Service Provider at that time). "The owner showed me how he registered Atlanta.com, WWW.com and other domain names," Angie said. "I was hard at work building my private network so I registered the name that I had chosen for it - COM1.com in July 1994."

Angie Graves (left) and Mary Delle, a friend since elementary school, on the tarmac at the Beaufort Marine Corps Air Station in South Carolina (where Mary's husband was a senior officer).
The next year Angie would register a significant number of domains for the first time but the only reason she did it was to give them away. "It was nearing Christmas and I didn't have the budget to buy nice gifts for my 13 family members. So, knowing that domain registrations were free at the time, I got the idea to give each of them a domain name instead. For my younger relatives, I registered their names mainly. My aunts got their three-letter initials, and my grandparents got the FAA abbreviation for Myrtle Beach - MYR.com. The husband of one of my cousins had just become a lasik surgeon, so I got him lasik.com, or maybe prolasik. And champion.com for my brother who revered athletic achievement. For my uncle, a lifelong fisherman who organized many bass fishing tournaments over more than a decade, my aunt suggested basspro.com."
"To prepare the gifts, I printed the names in large type on blank certificate paper and included on the back instructions for maintaining the registration. Putting a certificate in each of 13 envelopes marked the completion of my Christmas preparations for that year. Aside from my brother, who coordinated the transfer of champion.com to me, all of my other relatives let their names drop. I was fortunate to have been able to scoop-up some of them…mainly the three-letter dot coms…and let lasik and the rest go," Angie recalled.
Vintage Coca-Cola sign image from Bigstock

At the top of this story I mentioned that Angie was the original registrant of Coca-Cola.com - one of the most recognizable trademarks in the world - but she was no "cyber squatter" - quite the opposite in fact. Angie gave us the back story on that. "During those times, the most exciting day for me of each month was the day I received my issue of Wired magazine. In this particular issue, October 1994, was an article by a then reporter for Newsday named Josh Quittner called "Billions Registered," showing that corporations were ignorant of the greatest means of communication the world has ever known, and using McDonald's Corporation as his example. The article went on to mention Coke.com, and a kid in Russia who was reportedly holding the name hostage until he received $1 million from The Coca-Cola Company."

"It had never occurred to me before that a large company with so many resources could be left so vulnerable. With my father who was then an officer at Coca-Cola Enterprises (now The Coca-Cola Company), and with coke.com already registered outside

the reach of US law, I anxiously registered Coca-Cola.com and immediately called my father to tell him. I may as well have been speaking a foreign language. My father didn't understand even the context. But I did reach out to Josh Quittner via The Well and we had an enjoyable conversation about it."
"The same day, I got a call from a man identifying himself as a Coca-Cola employee from the legal department. I explained my purpose for the registration, and he explained that he was in computer tech support for the attorneys. That man and his wife became my business partners a year later when we formed WEB Group, Inc. Coca-Cola eventually did call and ask for the name back, so I changed the administrative contact to the name of the man who called, and I told him that he would need to update the rest of the registration record. No money or other compensation changed hands. It wasn't until many years later that my name was finally removed from the registration details for coca-cola.com."
| | |
| --- | --- |
| WEB Group, Inc., founded in 1995 is still Angie's baby. It was designed to be an "Internet Presence Management" company. The skill set she has used to help build WEB Group was largely self taught and sharpened while she spent two years designing her private network. She also honed her sales and marketing talents while producing a 400% increase in Atlanta.com's user base. Her accomplishments did not go unnoticed. | |
"In September 1996 I interviewed for a job that I had coincidentally found online via a posting at Usenet News. Twelve days later I was in a first class seat flying to Sydney, Australia, to design the continental Internet infrastructure for the telephone company there — Optus, and build its ISP business. I spent the remainder of 1996 and the majority of 1997 as Managing Consultant on the project."
During this time frame Angie also returned to one of her first loves - writing - for a time, doing articles for Computer Currents magazine and writing a chapter for a book published by Macmillan. "My articles for Computer Currents were all on the topic of web marketing, and I usually wrote about understanding customers and gave timeless advice about the importance of communication and relationships for online business," Angie said. "When I wrote the Trade and International Issues chapter for a Macmillan Publishing book, I was on holiday break from my work in Australia.
"
"After the Optus project ended in August 1997, I moved back to Atlanta, and WEB Group consulted to a number of companies. I chaired the Intranet Steering Committee at Siemens Corporation, and was webmaster for Georgia-Pacific, for example. And for Sprint, designing online marketing for them, and Coca-Cola—designing, contracting and implementing their first stock quote script on their website, and consulting to them about their overall online presence."
In 1998, I took a job at IBM Global Networks in Houston—and led a project architecting a 54-country private network for one of IBM's clients, an oil production services company. I designed mobile, satellite, terrestrial connectivity and equipment for places I had never before even heard of—like Gabon and Kabinda. And deployed equipment in some dangerous and war-ravaged places, like Bosnia, where we had ex-special forces guys jumping out of helicopters in flak jackets to power-cycle our routers," Angie said.
When AT&T purchased IBM Global Networks in 1999 Angie wound up serving AT&T as an engineer for the world's first commercial multiprotocol network, where she designed private connectivity for many clients before being assigned to run the private network for a single AT&T customer fulltime.

"The customer was the world's second largest retailer, and I was the customer-facing lead of the team responsible for managing its 2,400-store network," Angie recalled. " Over time, I also became responsible for representing AT&T in collaboration with Cisco and other technology companies and their Fortune 50 clients to build technology road maps. Over several years, we spent much time in collaboration and sharing our insights about the future and the direction of the Internet, communications technology, and ecommerce. It was also during this time that I was selected by AT&T to serve as the technical member of the team introducing AT&T to China but a contractual circumstance prevented me from taking the role."
"Another of my toughest jobs was leading teams on behalf of AT&T for changes to customer routers and switches. Up to 32 engineers were needed by me for the logical changes performed on one customer's network each week, and financial penalties were incurred by my employer for any failed change. With up to 9000 logical changes to make in a given week, 100% success was a challenge, especially since only two of my engineers could speak English!"
All of this experience has paid big dividends for Angie's company and current clients. "WEB Group's work revolves around enabling better technology decisions and better use of technology.
We engage mainly with companies wanting to capitalize on cloud services, emerging technologies like the Internet of Things, and Internet initiatives like transitioning to IPv6, and establishing registry services as part of ICANN's New gTLD Program.
We also work to restore companies that are suffering the results of sub-optimal technology implementations and suspected online abuse of their intellectual property."
"Other WEB Group work has been with well-known corporations like Home Depot (improving their global supply chain) and small businesses as well as companies in the Internet space including CommunityDNS, Minds+Machines, and CentralNic, which led up to my speaking at some domain conferences over the past couple years."
Angie's domain expertise also includes familiarity with over-reaching by trademark interests (of which she was a victim resulting in the loss of Champion.com) and domain sales (as the seller of a prime geodomain - MyrtleBeach.com).
Skip Hoagland bought MyrtleBeach.com
from original registrant Angie Graves

"If I recall correctly, it was the day after passage of the ACPA that I received an overnight cease-and-desist letter about Champion.com. It didn't have a website, but I had been using it for years for FTP and email. In fact, it was the domain for my email address on my business cards when I attended my first ISOC conference in Kuala Lumpur in 1997, and for years after that. We filed a counter claim of Reverse Domain Name Hijacking but later a federal court judge in Atlanta found for the plaintiff," Angie said.

Regarding her sale of MyrtleBeach.com Angie noted, "Myrtle Beach is my hometown and I wanted to deliver the modern Internet to my hometown, so I registered MyrtleBeach.com. My business partners and I spent six months building an interface and back-end services that were well-advanced for their time, for the benefit of the Myrtle Beach Area Chamber of Commerce. Our proposal to the Chamber was not successful, and I moved to Australia shortly after and didn't think about it for at least a year. Skip Hoagland (who was profiled in a July 2008 DNJournal Cover Story) called one day after my return to the US

and wanted to talk about MyrtleBeach.com. I knew of his association with The Coca-Cola Company and the South Carolina coast, so agreed to meet with him. We ultimately met several times over a few months in 1997 and eventually struck a deal for the .com around December of that year, and later for MyrtleBeach.net as well."
In recent years, as Angie became more familiar with companies in the domain space she also became active in ICANN and has remained so for five years now. "I belong to one of the many constituencies that make up the ICANN community, formally named the Commercial and Business Users Constituency, but usually just called Business Constituency, or BC, " Angie said. "We exist to promote and protect the interests of business online and commercial use of the Internet."

"It is a challenge to get more small operators involved in the decisions that are shaping the future of the Internet, and especially commerce on the Internet. To increase participation, a bridge needs to be built between ICANN and those who wish to participate. As a member of the Business Constituency's Outreach Committee, I can say that efforts are being made to increase membership. And I am interested in and open to hearing ideas about what would make joining worthwhile to more businesses."

As someone who has watched Internet and domain developments for over 20 years now

Angie Graves' profile picture
from the ICANN54 meeting
in Dublin - October 2015

we asked Angie her thoughts on the recent arrival of hundreds of new gTLDs and their future prospects in terms of both new

registrations and their potential value as aftermarket assets. "In the near term, I expect we will see more of the same in terms registration volumes. For new gTLD registries that built their business cases on the presumption of higher demand than they have experienced, it can make great sense to reevaluate the plan. Over time, the volumes of registrations will increase. So, for as long as the domain name system is integral to the operation of the Internet, increasing numbers of domain name registrations and renewals will continue to occur. But we will also over time have more new gTLDs, too," Angie noted.
"As for public use of new gTLDs, consider that younger people are not so tied to ".com" as longtime Internet users may be. And consider that Internet penetration is only set to increase among the existing online population. Also, in the not-too-distant future, those of us who are online will be spending ever more time online. These facts make for good long-term prospects for the new gTLDs as a program," Angie opined.

"With respect to their aftermarket sales prospects, there are and will continue to be "hot spots" of TLDs and second-level names that draw demand, either over a long or short period of time – that are not reflective of the overall marketplace. Profitability has moved from a marketplace of registrants to a marketplace of registries and registrars. The profit margins for registrants and aftermarket buyers that used to exist with the original gTLDs have been reduced or eliminated.

Where we now see those profit margins is in transaction-based fees in the aftermarket. And upcoming, we will see considerable profit margins in more of the new gTLD registries. Over time, DNS will move more into the background as human-computer interfaces continue to show less and less of the mechanics to the user. Domain names will increasingly serve mainly a functional purpose," Angie predicted.
While Angie obviously has a very busy business life, she does manage to carve out some personal time. "Social time with friends and family is high on my list," she said. "I read a lot. I enjoy playing Scrabble and other word games. I enjoy live entertainment. I participate in local government, and with local issues…most recently for preservation of a county park. I volunteer at the local no-kill shelter and I am a mentor to teens and young adults." Of course, now we are wondering how she has time for a business life but we will save that story for another day!