spend her days working to make ends meet. They were responsible individuals who never counted on public support."
"Unfortunately, my parents separated and I had to step up and take care of my little brother and sister. My Mom and Dad, who are both deceased, Influenced me to go on my own and work hard. My Mom always lectured me to do right all the time. My Dad also was there to open up to when I needed him. They would tell me as long as I worked hard and was responsible everything would work out," George said.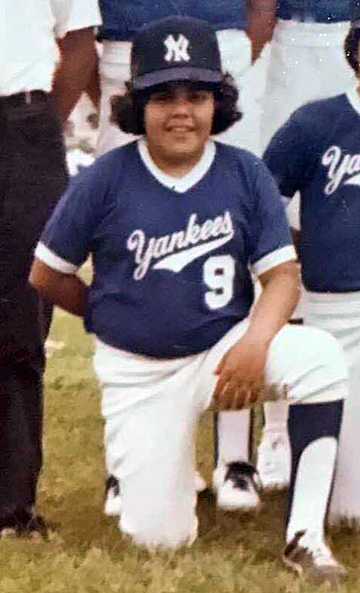 George Verdugo on one of his youth baseball teams.
In 1978 he was on a Saybrook Park Pee Wee League team that won the Los Angeles County Championship.
"I started my first business when I was 9 years old. I started buying and selling baseball memorabilia, like bobble heads and hard to find collectibles. My Dad would take me to the swap meet to set up shop and start selling my products and from then on I would sell every Saturday and Sunday to make a living."
"As a youth, I experienced a lot of crazy stuff like drugs, gangs, murders, etc. Many of my childhood friends ended up in prison, on drugs or were killed in gang violence. The friends I made are all good people and are still very loyal friends today. We did a lot of cool things - and a lot more stupid things! - together," George laughed. "We were the 1970ís version of the Little Rascals in East LA!"
"I got into sports when I was 8 years old and that helped me stay out of trouble in the neighborhood. I used to play sports with friends and stay out until the street lights came on - that was my cue to return home. If I was late, my mom would whistle but if I was really late she would call my full birth name with her Spanish accent," George smiled.
While sports helped George evade a lot of potential land mines as a kid, he found it tougher to stay out of trouble when it was time to enroll at Montebello High School in 1980. "After just a year there I was transferred from Montebello to Vail High School for fighting and other minor behavioral issues," George recalled. "I attended Vail from
1981-84 and it was a good school with great teachers but graduating was not a concern of mine. Bad behaviors like drinking and experimenting with illegal substances led to getting expelled from Vail, but I continued to party, "living the life."
By 1992, Verdugo was already on his second marriage and the father of three children. He wanted a better life for his family and decided it was time to change his ways once and for all. "I wanted to become a corrections officer so I went and took the test for the State of California and I passed it. WOW! But then, during the interview process, I was turned away for not having my high school diploma. So, the next week, determined to get my GED, I went to take that test and again was met with refusal. I was told because of my lack of high school credits I wasnít eligible to take the test. Somehow I was able to convince them to let me pay the $55 fee and take the test. Six weeks later I received a letter fro the State of California stating I passed the GED exam and I went right in to JUMPING MODE!!," George declared. "I took the test after being out of high school for nine years and passed ďcold turkey.Ē I still donít know how I passed that test to this day!"
While that was one of the happiest days of his life George's struggles were still far from over. "I worked for several companies, including Smart N Final, the Kent Landsberg Company and Coca Cola, to support my growing family by my second marriage ended in divorce and I lost everything. My sons and I ended up living in a garage at a friendís house."

"I went back to school and attended Rio Hondo College where I applied for the Forensic Program. I was 1 out of 3 civilians who were accepted. I completed the course and obtained my Forensic Certification in 1999. I then moved to Kansas City in 2000 as a single father of four boys. I wanted to move my young family away from the lure of gang violence and I was

George Verdugo with two of his children - still smiling
even though times were tough in the early 1990s.

fortunate to have a very good friend who lived in Kansas City. I met a beautiful, talented, witty and smart young woman - Crystal, the love of my life. We were married in 2001 and remain happily married today."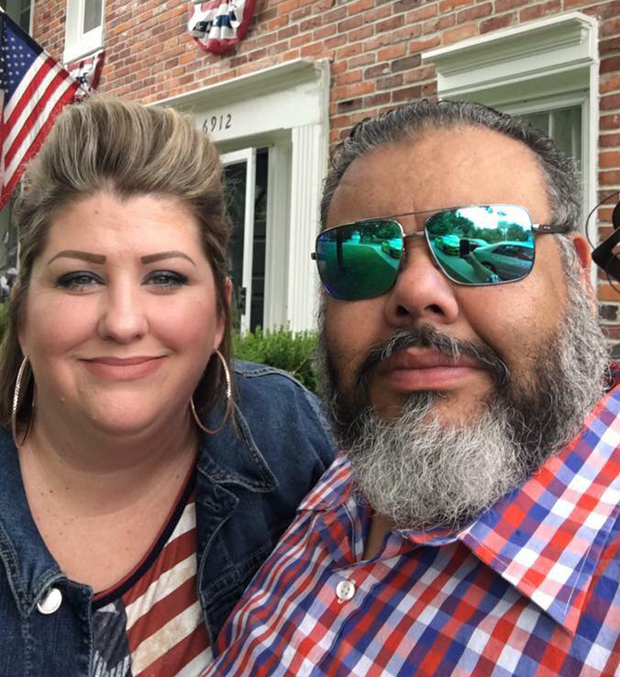 George and Crystal Verdugo at home in Kansas City.
"As my family continued to grow, I decided it was time to buy a home for my family. As I was driving around looking at properties, I saw a sign that said, ďFor Sale By Owner.Ē I called the number and I spoke with the individual. I set up a time to look at his property. It was in very bad shape, but he had multiple properties he owned that I could look at. It intrigued me that this man owned multiple properties so I began to ask him questions about what he did for a living. He began to explain the process of buying and flipping homes. I was very interested in what he was doing so I went home and explained it to my wife. We began to save all the money we could and purchased our first property to flip in 2005. Since then, we have been buying and flipping properties," George said.
The new business wound up paying George many unexpected dividends because it also led to his first domain purchase and his ongoing love affair with domain investing and development. "My original domain name was SeVendePorElDueno.com - Spanish for "For Sale By Owner". At that time, Spanish domain names werenít in use in the U.S. real estate market. I built the website for SeVendePorElDueno.com and after launching in on July 6, 2008, it took off. I began

researching and studying domain names and when the real estate market hit rock bottom in 2011, I noticed the prices of properties were very cheap and that prompted me research the name CasasBaratas.com which translates to "Cheap Houses." The name was originally owned by a real estate broker in L.A., so I reached out to him and made an offer

for the name. He countered and I agreed to the purchase price. It was a risky decision at the time because I had to use the money I had saved for Christmas presents for my kids to purchase the domain. My wife was very concerned and a little on edge but she trusted my decision. It was a decision well made and my wife now looks back on that day and laughs," George smiled.
Verdugo first realized the how a valuable good domain could be the year before he bought the first house he flipped. "In 2004 I was employed at Freight Quote and within the first couple of months there I realized the importance and power of a domain name. I said to myself, if this company could flourish as quickly as it did by using the Internet, then I could do the same. I began registering domain names at my desk during my downtime," George recalled. "In the beginning I was acquiring real estate names. From there I began to branch out to other industry related domain names."
Asked to identify some of the favoirte domains in his current portfolio George cited VisitSpace.com, Rams.com, EastLA.com, YoAmoNY.com, Hotels.club and, or course, CasasBaratas.com.
Verdugo has developed Hotels.club into one of his most promising businesses. "Hotels.club was launched last year and is starting to take off," George said. "Our subscribers use Hotels.club to save money on ever hotel room purchase they make. Itís quite simple, we donít advertise and we deal in unpublished rates. No other hotel booking site can come close to what we offer," Verdugo declared.

Some traditionalists may think that using a new gTLD for this venture, rather than a .com, is a risky move, but Verdugo, who has developed sites on both new and old TLDs, thinks the odds are in his favor with this domain. "The .CLUB extension of one of my favorite new TLDs because it creates loyalty. I don't have customers - I have members," George said. "Iíve also purchased Flights.club, Cruises.club and RentalCars.club. In my opinion, not all new gTLDís can be successful but the ones with positive meanings can make a difference. The new gTLD extensions open new doors of

George Verdugo, representing his Hotels.club website, was an inspiring featured speaker at the Startup Saturday event held during the 2016 edition of THE Domain Conference in Fort Lauderdale, Florida.

opportunity for domain names that would not have been available through a .COM, especially premium domain names. I purchased Hotels.club based on a project I had been working on. I already had a business plan and vision for Hotels.club and in my opinion you need those factors when dealing with a gTLD extension."
In another venture, Verdugo teamed up with Kevin Faler last year to buy the oldest domain name forum online - DNForum.com. "DNForum.com is a long term project of mine I am serious about building back the traffic as well as the reputation of DNForum.com," George said. "DNForum.com is where most in the industry first learned about domains.
The future of DNForum will be based on domains and crypto currencies. We plan on spending money to advertise the forum in 2018 to bring in retail buyers and sellers. We are also happy to entertain any ideas or partnerships that can help us grow the forum. I look forward to a great 2018 for DNForum."
| | |
| --- | --- |
| Image from Bigstock | As someone who has been gone through tough times and come out stronger than ever, we asked Verdugo what advice he would give people who are currently going through a rough patch of their own. "Donít give up!" George immediately declared. "Continue to pursue your vision and your dreams. Itís not easy because thereís not a lot of support from peers at times but stay determined. In my opinion there are still opportunities to create something lucrative in the domain industry. To make money you have to spend money." |
It will take a lot of hard work to get where you want to go but the rewards are well worth it. Verdugo still puts in long hours but now he also has the freedom to enjoy the things that really make life worth living. "In my spare time, I love to go fishing at my lake house with my family," George said. "I also love to travel and visit my grandchildren frequently in Phoenix - Yes I am a grandfather despite my youthful appearance!," George laughed with his ever present smile.
"Family is everything to me but it wasnít always like that. In the beginning stages of domaining, I spent 80 plus hours a week and hardly had time for my family. Iím a proud father of six children and 2 grandchildren. My wife is an amazing woman who has helped me raise such an amazing family. We are currently helping my second oldest son plan his wedding. My only daughter just got her driverís license and is heating up the roads daily. My youngest son is following in my footsteps and has just started his first job to save money to buy and flip a house. My oldest son just became a full-time real estate agent in Arizona and his girlfriend just became a mortgage loan officer. My other two boys are working full-time and are saving money to buy their first flip also. Iím proud to pass along the knowledge I have obtained and even more proud to see my children run with the knowledge and be so much further ahead than I was at their ages," George said.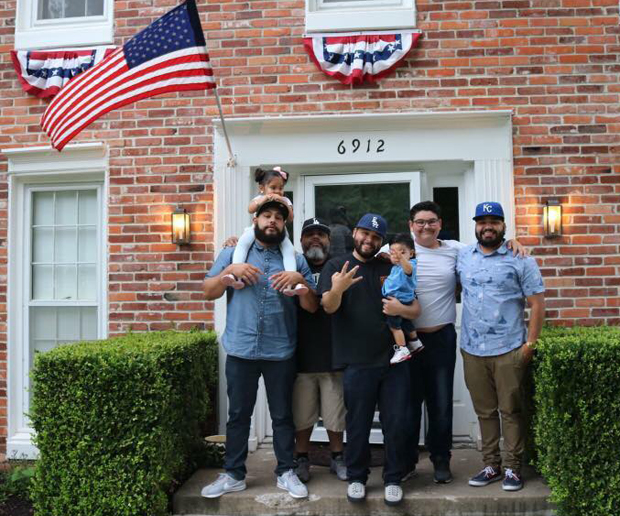 A proud George Verdugo with four of his sons and two grandchildren.
Looking back through the good times and bad, Verdugo has no regrets today. "I am very fortunate to have been born and raised in East Los Angeles, because living in a rough area really instilled a fighting drive and determination to succeed and do good in life. Iím very proud to own EastLA.com, BoyleHeights.com, WhittierBlvd.com, ChicanoPower.com, EastLos.com, SmileNowCryLater.com and many other domains that relate to where I grew up culturally," George said - never forgetting that it is our our past that made us who we are today.