Of course, NamesCon has been different every year, even though the venue has remained the same. In addition to changes that are made annually to align the agenda with the latest industry trends, ownership of the conference itself changed when CloudFest acquired it in 2016. The last two events got a noticeable makeover as Cloudfest President & CEO Soeren von Varchmin and his team continued to build on the solid foundation that founder Richard Lau had established over NamesCon's first three years. After acquiring the event, Cloudfest has expanded the NamesCon brand around the world with the U.S.-based global event now complemented by several popular regional shows as well.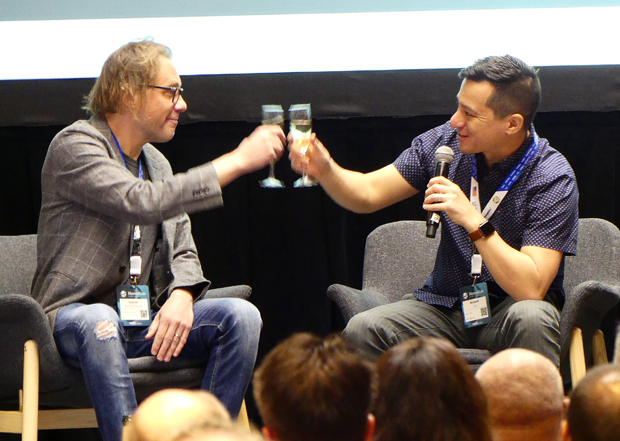 NamesCon President & CEO Soeren von Varchmin (left) with
NamesCon Founder Richard Lau at the January 2018 conference in Las Vegas.
To find out more about what the show's producers have in store for you in their last go-round in Las Vegas (and beyond) we connected with both Soeren and the Senior Marketing Manager for NamesCon/Cloudfest, Helga Neumer, for a wide ranging conversation about all things related to NamesCon and Cloudfest.
DNJournal: Since this will be the last NamesCon in Las Vegas, let's get one obvious question out of the way before we get into your specific plans for the 2019 global event. Has a new host city been selected yet and, if so, can you tell us where it will be in 2020? If not, how about a hint about the criteria you take into consideration when looking for a new location?
Soeren von Varchmin

Soeren von Varchmin: Every event and every industry has its own life cycle. For example, Domainfest was a meetup held during the days when domains got sold for insanely high prices. Entertainment such as hanging out at the Playboy Mansion was part of that scene and helped make Domainfest memorable. The industry went through some turbulent changes: companies consolidated and domain portfolios emerged. The next step in the evolution of major domaining events was NamesCon in Las Vegas. It was a bigger production and could bring together more attendees, serving as a broader and bigger matchmaking business.

However, by now we've done what we can in Las Vegas, and it's time for something new. If we don't re-invent ourselves, it can get boring and lose value over time. When we acquired NamesCon, we also took over a long-term contract with the Tropicana Hotel: that ends with the 2019 event. So we have a blank slate to start something fresh in 2020.
While the NamesCon Global event in Las Vegas attracts around half of its attendees from North America, over the last two years we tested NamesCon events in Asia (specifically India and China) as well as in Europe (through the transition of Domaining Europe from Dietmar Stefitz to NamesCon Europe). This helped us get a truly global overview of the domain industry and people involved all over the world, and we really learned a lot.
Helga Neumer: We have a shortlist for a 2020 location, but have not made a decision yet. As an event organizer you can never quite make everyone happy—it's a hazard of the profession! We're taking into consideration factors like sponsor and attendee feedback, access to a major international airport, and the ability to keep production costs down so ticket prices can stay low. There has been a few articles about East Coast vs. West Coast (as examples, Helga noted stories at OnlineDomain.com, DomainIncite.com and DomainGang.com). Our current number-one choice is Austin, Texas, if we decide to do the event in the US. However, we have some other, crazier ideas about location as well, like maybe a cruise. We are also thinking about moving the event to the second half of the year.

DNJournal: A challenge that all conference organizers face is delivering a fresh, relevant product every time so past attendees feel they can't afford to miss it and newcomers see it as "the" place need to be if they are serious about making smart investments, valuable contacts and/or building a business. What are some

Helga Neumer
Senior Marketing Manager
NamesCon/Cloudfest

of the new twists you have planned for NamesCon 2019 and some of the key issues that will be addressed on the agenda?
Soeren von Varchmin: As previously mentioned this is our last year in Tropicana Las Vegas, so this time, what happens in Vegas really will stay in Vegas! That also means that dramatic changes to the format will only happen in 2020.
We did make some changes to this year's event though—here are a few of them - Sunday (opening day, January 27) is divided in two tracks: one for beginners and first-time attendees, and one track for "experts", people who have been active in the industry for longer. Everyone will have the opportunity to learn new tools and skills at their own pace.
We are also having our first keynote on Sunday evening, and we'll have our opening-night get-together in the warm atmosphere of the Havana Lounge.
We'll be closing the event Wednesday (January 30) with a series of expert-led round table discussions, so you can get your most pressing questions answered before it's time to go home.
Overall, we've drilled down to bring carefully-selected keynotes, sessions and panels—we're going deeper than ever.
We also have new title sponsors for 2019 - the .GLOBAL Registry and RegistryOffice. .GLOBAL is obviously a natural fit, since the event is coincidentally called NamesCon Global.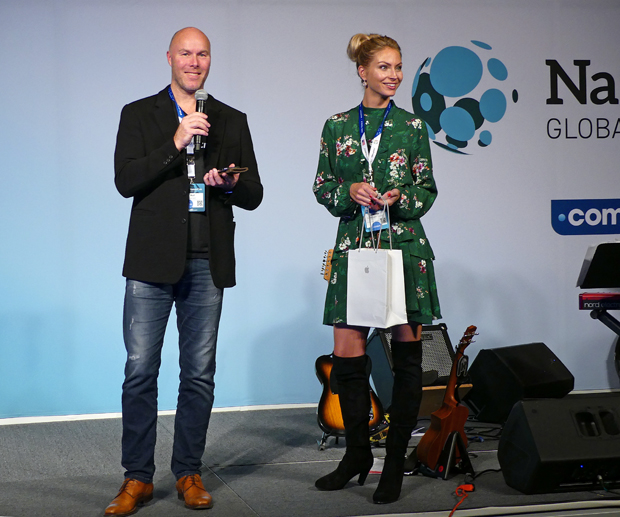 .GLOBAL CEO Rolf Larsen and VP Jeanette Soderlund Sause welcomed guests to the opening night party at NamesCon 2018 last year. For 2019 .GLOBAL will join RegistryOffice as a title sponsor.
Soeren von Varchmin: RegistryOffice is a platform which gives registries insight and intelligence about the performance of their strings. There is a clear need for this service in the market, since the backend providers only deliver a limited amount of information to each registry, which is not enough to be useful in making decisions on campaign management with registrars, pricing of premium domains, or determining the lifecycle value of customers.
DNJournal: Domain names and hosting are two fields that would seem to go together like love and marriage. Before acquiring NamesCon CloudFest (previously known as WorldHostingDays) was already running one of the world's biggest hosting conferences with 6,000 or more attendees at the annual global event in Germany (and more at regional conferences around the world). What are some of the things you learned from running CloudFest that you have incorporated into NamesCon to take it to the next level?
Soeren von Varchmin: There are actually fewer similarities then you might think. Yes, at both events, we do have registries and registrars as attendees and sponsors. Actually, by now we have MORE Registries sponsoring and visiting CloudFest than at NamesCon. The reason is very simple: at CloudFest they meet EVERYONE from around the world, who is selling domains to end customers. Not only Registrars, but also representatives from website builders, traditional hosting companies, cloud providers, telcos, and many more.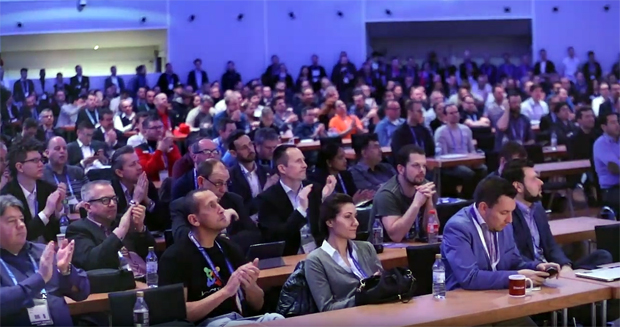 A small sampling of the massive crowd at Cloudfest 2018 in Rust, Germany.
By contrast, the secondary domain industry is quite niche compared to cloud and hosting—only 10% of .coms are in the hands of domainers, compared to 90% everywhere else. Also, domainers are a unique breed: it's a very special community. A domainer would not necessarily go to CloudFest, and someone working for a telco would not go to NamesCon.
Other factors that make the two events less comparable are size and location. It's a totally different thing to organize an event for a community of a 1,000 people, compared to 7,000 people. Also, with CloudFest we have more of a captive audience, in a theme park closed to the public during our event. It is called the "Alcatraz of the Cloud Industry"! There are no nearby cities or distractions near the CloudFest venue, compared to the Vegas Strip that's right outside our door at NamesCon. We all know that Las Vegas specializes in distractions! Also, production and format of these two events are really different.
DNJournal: With the quality of attendees NamesCon attracts from across the industry (and related fields) you have also been able to attract highly sought speakers. What can you tell us about the 2019 keynoters and some of the featured speakers that attendees can look forward to seeing this year?

Soeren von Varchmin: We have some sessions which examine the domain industry from a totally different perspective: for example, one of our keynote speakers is by Erin McKean, a lexicographer talking about how new words get created. We have sessions where you learn how to price and sell portfolios, and we'll have a talk on the importance of storytelling to land premium prices when selling to end customers. We'll hear from some of the brilliant people who actually invented the technology on which the domaining industry—really, the whole modern internet—is built. We're also continuing our exploration of the opportunities that Blockchain brings to the domaining industry.

Wordnik.com Founder and Google Developer Relations Program Manager Erin McKean will be a keynote speaker at NamesCon Global 2019.
DNJournal: While the speakers, host city, social events, etc. all contribute to what makes NamesCon a can't miss event, attendees - when surveyed - always say the main reason they go to a conference is networking. What are the best places and times for attendees to meet and get to know each other during the course of the show? Also, do you have any advice for shy newcomers who aren't quite sure about how to break the ice?
Soeren von Varchmin: Actually, we as the NamesCon team do not see ourselves as event organizers, but as matchmakers. We consider ourselves successful if visitors and sponsors tell us that they were able to find new business at our events. Sunday evening's get-together party is a great place to mingle and meet people. Don't be shy: no-one bites, and generally domainers are a very friendly crowd!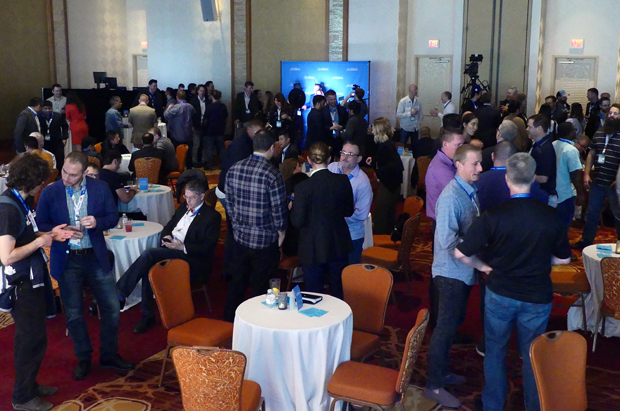 NamesCon Global 2018 attendees networking at last year's show in Las Vegas.
Sunday's newcomer track is a great opportunity for first-timers to team up and tackle all the new information—it can be quite a good bonding experience. Oh, and around one-third of the crowd will be newcomers, so you won't be alone!
DNJournal: One of the things that really floored us last year was the amazing turnout for the Women in Domaining dinner at NamesCon. More than a hundred professional women from across the industry got together for a truly unique event that made a powerful statement aboiut how diverse our corner of the tech world has become (and how much better it is for it). I noticed the 2019 Women in Domaining dinner has been moved up to opening night. What are you expecting to see at that exciting event this time out?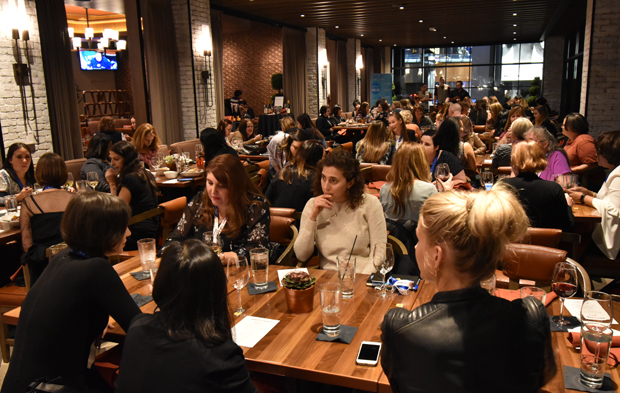 A scene from the Women in Domaining dinner at NamesCon Global 2018. In addition to
filling up this entire room the crowd spilled over into an adjacent dining room.
Soeren von Varchmin: This year, the Women in Domaining event is a cocktail mixer, and not a sit-down dinner. This format should be perfect for an event that takes place on opening night. Even in the last few years, we've seen our female-identifying attendance increase so much, and we're glad to reflect that on the keynote stage as well. Around 25% of this year's attendees are female, which is both a good sign compared to events in the past, and a reminder that the tech world still has a ways to go in creating inclusive environments.
DNJournal: NamesCon is the only major domain conference that is still staging a live premium domain auction. NameJet and RightOfTheDot.com will be running the sale again in 2019. This event always creates a huge buzz and requires coming early if you want a seat as the hall inevitably ends up packed wall to wall with a standing room only crowd. I know you leave the production of the auction to ROTD and NameJet but what have you gotten any feedback about the catalog they are assembling for the 2019 auction?
Soeren von Varchmin: 2018 was a record auction with $2.7 million in sales. Monte Cahn from ROTD and the team behind NameJet wants to top last year's result, and has sourced an amazing list of premium domains, many for no or small reserves. Take a look here for the domains in auction and make sure to register in advance. Remember, you have to bid to win! The domain auction is a highlight of NamesCon, so dive in, participate, and have fun!
Part of the standing room only crowd at the live domain auction
held at last year's NamesCon Global conference in Las Vegas.

DNJournal: There are a lot of people who would love to experience NamesCon but won't be able to make it across the ocean for the Las Vegas show in January. However, I understand you have more in store in for other parts of the world just as you did in 2018 with new plans for Europe that look especially interesting.

Soeren von Varchmin: We took over Domaining Europe from Dietmar Stefitz last year, and he is enjoying his well-deserved retirement now. The event is now called NamesCon Europe and will take place in Cascais, Portugal (near Lisbon) in June 2019. You can already register here: https://namescon.com/europe/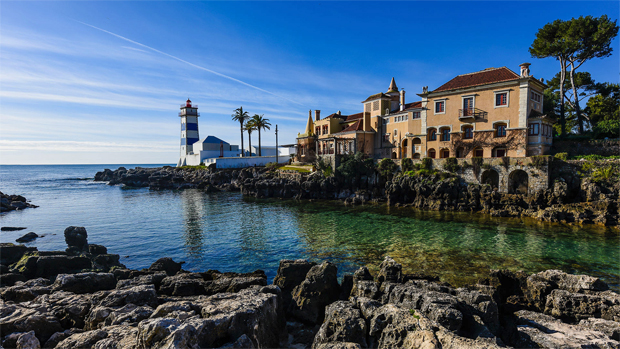 A view of Cascais, Portugal (near Lisbon), a seaside resort town famous for its
beaches, spas, cuisine, and nightlife, that will host NamesCon Europe June 20-22, 2019.
We carefully chose the venue: it will have a more intimate atmosphere than if we held it in a larger city. This location exemplifies what we like to produce most: events with a tight focus on networking and matchmaking.
DNJournal: Thank you for your time. We will look forward to seeing you in Las Vegas, but before we go, is there anything we missed that you would like to add about what's ahead in 2019?
Soeren von Varchmin: In addition to NamesCon Europe in Portugal we will pop up with NamesCon India again in 2019. However most of our team's work will be behind the scenes as we plan a totally new NamesCon Global for 2020!