Corporate Leaders
Paul Nicks
GM & VP, Aftermarket, GoDaddy.com
Ove the past 12 years, Paul Nicks has steadily risen through the ranks at GoDaddy to become General Manager and VP of the company's huge aftermarket operation. Paul and his team members have also gained universal respect for their accessibility and willingness to share their expertise with industry newcomers and veterans alike.
Paul Nicks
GM & VP, Aftermarket
GoDaddy.com

One of the most significant trends I'm seeing is the growth of new investors entering the domain investing industry. Social media has made it easier to get the word out about the world of domain investing and it has really helped grow the community. Previously, domain investing had been confined to a small community, with many investors communicating in hard to find forums, but now, we're seeing domain investors gain large followings on social media, sharing their advice and experience in the industry.

The growth of new investors is also bringing fresh perspectives and new opinions to the industry. Newer investors are influencing the way we think about our existing processes and shaping how the industry is evolving. For example, we're seeing more and more investors are capitalizing on specific TLDs, like .io or .ai, or certain niche domain categories.

In 2020, there will continue to be a lot of opportunities for new investors who have recently entered the industry to find their niche. While .com won't be going away any time soon, there's definitely a trend of industry-specific domains rising in popularity. For example, the .gg TLD has become very popular due to the rise of eSports. The growth of eSports and other industry specific TLDs has opened the door for new investors looking to get a foothold in the subset categories of domain investing.
Michael Robrock
Chief Operating Officer, Sedo.com
After a successful 20-year career in online marketing, Michael Robrock took on major role at Sedo in August 2019 as their new Chief Operating Officer. It looks like a perfect fit for Michael who has an obvious passion for domain names.
Michael Robrock
Chief Operating Officer
Sedo.com

When I look back on the past year in the domain industry, my consensus is there wasn't one standout event or unexpected trend. Nevertheless, it was a very exciting year as the industry continued to grow and consolidate as is typical of new industries as they evolve over time.

Looking at the data for domain trading on Sedo, we see that ccTLDs performed very well overall in 2019: The median domain prices for country code TLD domains show that the value is increasing slowly but steadily. The ccTLDs .io and .ai, in particular, made a splash. Although they are ccTLDs for British Indian Ocean Territory and for Anguilla, they are popular primarily with tech companies because of their deeper meaning. In terms of keywords, domains from the areas of crypto, CBD (Cannabidiol Oil) and gambling were extremely popular.

In 2020, the current pace of growth will continue but I predict it will become even more active. I foresee consolidation from both within and from outside the domain space. There is plenty of private equity funding looking to be invested in cross functional opportunities in and around

domains and related businesses. Prices for ultra-premium, including category defining killer domains will continue appreciating at a greater rate than other types of domains. English dictionary words will increase in sales to China. Also, since Voice and AI will gain more and more traction among popular trends, there will be a corresponding increase in sales of domains that are like sentences because they perform well as voice searches.

GDPR will continue to influence decision making in 2020. Now unavailable Whois data will lead to an increase in brokerage requests. Thanks to Sedo's huge database and network of domain sellers, we can identify domain ownership information in almost all cases and help domain buyers to get the domain they want. Nevertheless, GDPR challenges everyone in the industry to find efficient and practical processes to verify domain owners.

Something also of note in 2020 will be price increases for domains under specific TLDs. If there are any for .com - and we don't know what the effects of the .org registry sale would be on pricing -, it will impact investor behavior. One course of action might be that they want to reduce their domain assets, and therefore they may sell for lower prices. Only time will tell on what's to come with sales results.
David Warmuz
Founder & CEO, Trellian.com and Above.com
Trellian.com Founder David Warmuz celebrated the company's 22nd anniversary in 2019. David, who serves as CEO of both Trellian its popular domain monetization, aftermarket and brokerage platform, Above.com, launched Trellian with his late brother Ren and their remarkable journey was detailed in the November 2017 DNJournal Cover Story.
David Warmuz
Founder & CEO
Trellian/ Above.com

Looking back at 2019, monetization of traffic portfolios with the introduction of hand keyword optimization, click data conversion reporting and new rotation algorithm between traditional parking and our zero click direct advertiser bid platform, achieved amazing results in 2019. Using the right mix of zero click and parking services, managed portfolios increased revenues by 30% - 50%.

We made huge inroads in AI and Machine Learning as with more data, the more we were able to learn from and apply to our rotation algorithm. In 2019 select clients were invited to our Managed Account optimization service, which will be made available to many more clients in 2020. This is suited for both existing Above users and even more so for those that are direct with parking services as the increases to revenues are even greater.

Domain sales continued to trend up as more and more clients were focusing and trying to better manage their domain sales channels. Domain portfolio sales rebounded in 2019 with many large/great traffic portfolios changing hands.

2020 has already seen a handful of portfolio sales, so it seems like 2020 will be a good year for buyers and seller alike.

2019 Demand for domain traffic from Direct Advertiser once again broke all prior records and this growth is definitely expected to continue in 2020.

Looking ahead, 2020 for Above will be another year of consolidated growth in 3 key areas:
- domain revenues from smarter optimization
- growth in domain portfolios under management
- staff, as we are hiring!
Marco Hoffman
Head of Domain Services, InterNetX.com
After more that 14 years with InterNetX.com, Head of Domain Services Marco Hoffman knows the popular registrar's business and the industry at large inside out. No one is in a better position to explain how some fo the major events of 2019 will affect domain registrants around the world in 2020 and beyond.
Marco Hoffman
Head of Domain Services
InterNetX GmbH

Lately, the domain industry has been very much on the move. Therefore, as a registrar, we had to meet quite a few challenges that involved a lot of system modifications and maintenance. We had to deal with changes and technical adjustments for 12 backend providers and implement loads of contractual changes. Also, the price adjustments of over 1,854 TLDs in the standard and premium domain segment kept us busy.

In 2019, two quite controversial facts came off in the domain industry, both having an impact on the most often registered TLDs worldwide. The first one is the acquisition of .ORG registry by a private equity firm. For registrars like InterNetX, this deal lead to many uncertainties regarding the pricing and many technical backend aspects. The other big piece of news was about .COM. After the U.S. Department of Commerce updated its agreement with Verisign last year, ICANN eventually approved Verisign's proposal to raise .COM prices in January 2020. That means: the price for domains under the world's most popular TLD might now increase by up to 30% in the next four years. But let's wait and see how things will develop.

Unlike before, politics started to have a strong influence on the domain industry. In May 2019 for example, German consumer protection ministers suggested to implement measures that would make an identity check mandatory for .DE registrations in order to counteract the increasing problem of online fake shops. With the General Data Protection Regulation (GDPR), which came into effect in the European Union on May 25, 2018, the recording of data has become a big issue in the domain industry. The new law had a deep impact concerning the availability of WHOIS information, especially in regard to the domain owner's personal data. From today's point of view, it seems that 2019 has been the year we've lost the level of data transparency which is needed to address the domain owner. But "the show must go on" and of course, new business models and tools have been established such as Whois Pro by InterNetX. This service provides domain information compliant with the current data privacy requirements.

Technological innovations have a big impact on today's domain industry, as well. AI and Big Data, for example, provide the basis for innovative tools that help to make decisions on domain sales. Domain experts/brokers rely on new technologies to make quicker but well-founded sales decisions. In a digitally connected world, speed means competitive advantage.

Finally, we should also mention ID4me, supported by InterNetX and many other registrars and registries. This service took its mission to protect and secure digital identity on an international level. In the not too distant future, the identity management will be coupled onto a domain via DNS. Thus, the ID4me system will play a central role soon. Which brings us back to the general trend: data sovereignty lies with the users again!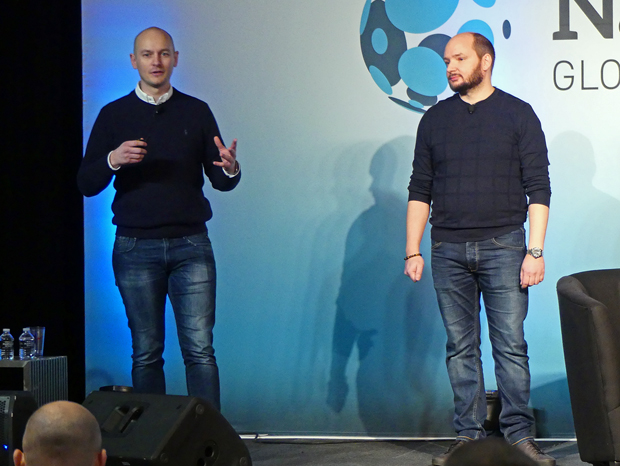 InterNetX Team Leader Cloud & Automation Marco Revesz and Head of Domain Services Marco Hoffman (right) were featured speakers at the 2019 NamesCon Global conference in Las Vegas.
Looking forward, the domain industry is becoming bigger and bigger, with more business players making the industry run faster. Today, there are so many new registries and registrars out there and they all want to achieve a certain growth every year. As a consequence, the competitiveness among registrars will become stronger. Only those who offer top-notch solutions with flexible and transparent services will stay afloat. InterNetX, the European leader in the B2B domain industry, is committed to innovative high-tech processes and services. For example, we are increasingly implementing Big Data and AI into our systems in order to be among the first ones on the market to obtain cross-informations to determine the value of a domain.
Living in a digitized world means also to pay more attention to cybersecurity. Security features in every aspect of the Internet have become essential. Domain Security products will be more and more mandatory for domain owners and maybe will come as add-on for SSL certificates. In the upcoming years, privacy and data security will experience significant improvement mainly thanks to DNS over HTTPS (DoH), a work-in-process protocol that performs DNS resolution via the HTTPS protocol.
We need to come back to the roots, back to simplicity. That means for us: we will push the implementation of tools and services that make the administration of domains under hundreds of delegated TLDs as simple as possible. One of the biggest challenges in such a fragmented and not structured scenario is to provide domain search and appraisal solutions that allow both domainers and reseller to focus again on their business. Nowadays, domain growth is slowing down. Therefore, it is necessary to expand the gigantic inventory and develop business-boosting solutions for domains.
Sandeep Ramchandani
CEO, Radix (part of the Directi Group)
In 2018 Sandeep Ramchandani completed a 15-year rise through the ranks to become CEO at Radix Registry, the operator of nine new gTLDs and one re-purposed ccTLD and part of industry giant Directi Group. Radix now has millions of domains under management.
Sandeep Ramchandani
CEO, Radix Registry

In the New TLD Space:

Lack of innovative Registry product models:
One of the more exciting expectations from the nTLD program was that it would spawn some innovative use-cases for TLDs. While there have been a fair few attempts at doing this, not a single one stands out as being successful. That's a bit of a pity since the DNS can certainly be used for more than just pointers to e-mail addresses and websites. The only exception which comes to mind is Google's .new. There's nothing ground-breaking there, but its use of the TLD as a shortener to opening a new instance of Google apps on the web, is at least going beyond the mold of selling registration years.

Continued acceptance of nTLDs as the new normal:

For a business which focused on offering quality, generic TLDs as the new alternative, 2019 was a stellar year. Across all our key performance indicators, we saw a notable rise in growth over 2018. On the financial side, our overall revenue grew over 33%, while renewal revenue grew over 45%. A key goal for us was to boost our channel network and ensure our TLD is available at all of the top domain registrars globally. We saw a marked change in the degree to which channel partners were open to testing our TLDs at prominent spots, and most of them were satisfied to commit those spots to us for the long term.

There was also a boost in the number of startups, celebrities, big brands and other high visibility websites choosing to break convention and go with a new TLD.

Annuity Premiums > One time

Based on what we see on domainer blogs, there's a widespread belief that 2019 was a bad year for premium New TLD names. That belief is predicated on the slow down of visible one time sales in the after-market. What they are completely missing, is the vast inventory which most registries sell through Registrars for an annual, premium fee. At Radix, wve seen a growth of 20% in annuity premium sales over 2018. What's even more encouraging is that the renewal rates for domains in their first, second and third + tenure have come in at 52%, 67% and 89% respectively. Do keep in mind that for Radix, domains sold at a premium price continue to renew at the same premium price every year.

In The Industry Overall - The Highly Controversial .org sale:

The sale of .org to a private equity player was undoubtedly the biggest event of the year. There are many ethical, moral and commercial questions that have been raised regarding the process in which the sale unfolded. .org has been the de facto TLD for non-profits for all sizes and amassed over 10 million registrations and powerful brand loyalty. The backlash we've seen, not just from within the industry, but from the tech media and customer groups has been unprecedented.

Radix CEO Sandeep Ramchandani speaking
at the 2018 NamesCon Global conference in Las Vegas.

Looking ahead to 2020, Sandeep shared these thoughts:

Building a TLD Brand:

As a nTLD registry business, the biggest challenge and opportunity lies in transforming a TLD into a brand. While we are in the enviable position of owning many TLDs which have the potential to become strong brands, it's a long and complex path to get there. Making any TLD stand out and get noticed when there are literally several hundred others, isn't easy, even if you have the best strings. This is the one area where we have, and will continue to, put most of our resources and investment behind.

Many TLD operators tend to focus only on the 'push' and supply side of the business without giving any attention to driving up awareness, interest and desirability towards their TLDs. The 'push' focus can only yield short term results and lead to a customer base which will move to the next cheaper option as soon as it is presented. With the likes of .tech, .store, .online and .site, we're hoping to build the top TLD brands to come out from the new gTLD process.

Focus towards the next nTLD round

As we inch closer towards an inevitable subsequent nTLD round, ICANN meetings will garner much more attention and interest from both the current and new players. Considering the increasing level of interest our industry has been garnering from private equity and VC investors, it is likely we will see unprecedented levels of funding pumped into this round. The rules of the next round is anyone's guess at the moment. Much of 2020 and the years leading up to the launch will be filled with debates, discussions, speculations and attempts to build consensus around the final application guidebook.

China to make a come-back

Last year, for the first time ever, China recorded a larger population of wealthy people than the US. Going by most macroeconomic and digital indicators, China will soon overtake the US as the largest domain market in terms of volume. While that may not mean that China becomes a larger revenue opportunity in 2020 (domains in China are priced at a fraction of what are in the west), geographically it is where most companies across the domain name supply chain will focus more of their resources towards.
Scott Pruitt
Domain Aftermarket Brand Manager, Web.com Group (including NameJet.com and SnapNames.com)
Scott Pruitt has been the Marketing Manager for NameJet since 2013. He has a background in SEO, sales, and internet marketing working in the Internet industry since 1996.
Scott Pruitt
Domain Aftermarket Brand Manager
Web.com Group/NameJet

Number of Internet Users and Domain Registrations Continued to Grow!

In 2019 we saw over 420 million new internet users worldwide and a 5.1% increase year-over-year in domain name registrations across all TLDs with over 17 million new registrations. The industry as a whole continues to grow, which is also good for the aftermarket.

New Buyers Entering the Market

One trend we noticed in 2019 was an increase in end user type customers purchasing domain names. It seems that awareness of the domain aftermarket is growing and becoming more common outside the traditional "domainer" community. This is good for the industry as a whole because it will have a lifting effect on pricing, particularly on premium domain names as more buyers enter the market. Educational sites such as DomainSherpa and DNAcademy should take credit for this as they have been instrumental in helping new investors understand the complex domain aftermarket ecosystem.

As we look forward to 2020, I expect continued growth in the aftermarket as a whole and for Web.com Group. We currently manage two of the major expiry and drop-catching platforms, NameJet and SnapNames. Last year we combined the resources of both platforms to create a single auction environment for drop-catch domain names, allowing cross-platform bidding for the same names. Going into 2020, we plan to continue this platform integration by combining registrar expiry names in a common auction beginning with Network Solutions. This will make our exclusive domain inventory available to more bidders using their platform of choice. We also plan to make improvements to customer service and provide new services friendlier to domain investors along with more competitive renewal rates.
Jothan Frakes
CEO, Plisk.com
Industry veteran Jothan Frakes, who was profiled in our July 2014 Cover Story, has been the CEO of registrar Plisk.com since 2016. He has held many other key positions in the industry over th past 25 years, including being a Co-Founder and Co-Producer of the NamesCon conference (launched in 2014). Jothan's extensive experience gives him unique insight into developments in multiple sectors of the industry.
Jothan Frakes
CEO, Plisk.com

The most noteworthy trends within the industry are acquisition trends and increasing regulatory considerations that are contributing to the demise of Whois as we once knew it.

Registries and Registrars are consolidating with greater frequency. In 2019, there were numerous acquisitions - highlighted by the current 1.1 billion USD Ethos/PIR (.ORG) acquisition currently underway. Sure, .ORG is a big deal (literally). Though smaller scale in contrast, there have been others through 2019 - Radix acquiring .UNO, Afilias buying out the balance of .GLOBAL and Shortdot SA taking over .BOND among the registry acquisitions. Among the registrar acquisitions in 2019, CentralNic's activities in the registrar space brought in numerous registrar acquisitions to bolster their 2018 expansions, and groups like Combell have positioned themselves through acquisition as significant portfolios of companies providing registration services.

There was an acquisition of hosting virtualization and provisioning platforms CPANEL/WHM, Plesk, WHMCS and other platforms commonly supporting simple and intuitive services that compliment domain names - all consolidated by a company called Webpros, which accumulated a very significant market share in the sub-hyperscale hosting tier in the process. This impacts our domain industry as they play an important role in the tier of the hosting market that lives between the companies that provide turnkey pagebuilder type sites on the smaller end and the massive cloud providers such as Azure, Amazon, Google, etc.

What is very important to note is that domain name utility and value continue to trend upward - regardless of the expansion or consolidation of the industry participants - due to the core intrinsic value of domain names as the essential shortcut technology of the Internet.

WHEREIS WHOIS?

Regulatory pressures, such as we are witnessing with the EU GDPR (and there are more coming), create further consequences, costs and challenges for compliance and operations for registries and registrars. As we currently see with the massive redaction in the amount of information presented in WHOIS lookups, these regulatory pressures can have sweeping impacts on domain name owners and the domain market. These regulatory changes have been coming in tandem with policies and efforts to evolve the WHOIS system into better solutions that come from ICANN and that community of stakeholders. Net result is that it is more challenging than ever to lookup or confirm the ownership of a domain name.

Domain values will likely see growth on the ultra-premium and some flattening on the long-tail, but aggregate registration base and valuations will continue to grow. Much more M&A is likely to reveal itself throughout the coming 18-24 months. There is growing attention by registrars and hosters to making things simpler for registrants to obtain and use the right name(s) for their projects.
Look for larger players to break into the domain name space through some of the acquisitions in the coming year, such as those who offer services in the cloud or productivity software that go hand in hand with domain names.

Security will continue to be a very important focus in 2020. It is very important to safeguard your domains using strong passwords and 2FA as well as other protections.

The value of domain names as identifiers will continue to be strong, regardless of the industry sentiment. Domain names are the dominant shortcut system and there is no replacement with the same flexibility on any immediate horizon
Zak Muscovitch
General Counsel at Internet Commerce Association & Principal at The Muscovitch Law Firm
Veteran Toronto-based attorney Zak Muscovitch has long been acknowledged for his expertise in UDRP issues but since he took on additional duties as General Counsel for the Internet Commerce Association (the non-profit organization that protects to domain registrant rights) Zak's profile in the industry has grown even larger.
Zak Muscovitch
ICA General Counsel &
Principal, The Muscovitch Law Firm

The most significant events that I have seen, which also formed a trend, I noticed in my role as ICA General Counsel working on domain name policy matters; ICANN is rapidly losing more trust and legitimacy as the overseer of the Internet domain name system. We saw a good example of this when ICANN ignored the Internet community which was overwhelmingly against removing price caps on .org domain names. We saw it again when their lack of accountability led to the intended sale of PIR. And we saw it yet again when they agreed to raise .com prices in exchange for a measly $20 million from the .com registry. ICANN's poor decision making and governance is attracting more and more critics from within the Internet community, but also from mainstream media and governments.

Looking at this as both a domain name lawyer and as ICA General Counsel, I think the big challenge ahead (amongst many!) is to work diligently and cooperatively on reviewing the UDRP. The UDRP is up for review in 2020 and we have to work hard to find solutions, compromises, and ways forward to fix serious problems with the UDRP that affect domain name investors, as well as to ensure that the UDRP remains a viable procedure to combat cybersquatting.
Jeff Gabriel and Amanda Waltz
Founders, Saw.com (Video Interview)
One of the big stories of 2019 was the end of year announcement from two of the industry's most successful domain brokers, Jeff Gabriel and Amanda Waltz, that they had launched a new brokerage and consultancy company at Saw.com. We flew to their home base in Massachusetts in late November to videotape an interview with Jeff and Amanda about their new venture and broke the news in our December Cover Story (our first ever video Cover Story).

While most of that focused on the formation of Saw.com, we concluded it by asking Jeff and Amanda what they thought about the long term future of domain names when a number of businesses are relying more on social media than their own website to market their enterprises. We thought that 3-minute clip from the interview would be a perfect way to conclude this year's State of the Industry report since, with the start of a new decade, this is a perfect time to look even further out than 2020. Just press play - and have a great decade!

Jeff Gabriel & Amanda Waltz
Founders, Saw.com
*****