DN Journal: Susan, let's start by having you introduce yourself to our readers and to those coming to San Francisco for Roundtable who will soon be meeting you in person.
Susan Prosser, show Director
for Domain Roundtable 2008

Susan Prosser: My work history, so to speak, has always been in production and operations - managing data center operations, migrations, production and administration – in technology and other fields. Specifically, I met the Name Intelligence founders in 1997 when we worked together at LightRealm/VServers (Interland), now known as Website Pros.

I have primarily been in technology since the mid 90's starting at Worlds as the technical division for a non-profit, Starbright. There, I managed the national network production and technical roll-out of facilities and events. In 1997, Worlds "downsized" and I took the Starbright project to LightRealm/VServers where I met Ray Bero and Jay Westerdal and worked with them until I closed down the Seattle datacenter for Interland. We remained good friends and I was intrigued by the opportunities to join a small technical company again. I presently am a Director at Name Inteligence and am managing the production of Domain Roundtable plus other projects when time allows. Prior Executive Producers of DRT have left some big shoes to fill. It is a fun and interesting challenge to follow Jothan Frakes and Stephen Douglas in this.
DN Journal: This is the fourth edition of Domain Roundtable and for the first time the show will be held outside of the Seattle area. What was behind the decision to move this year's show to San Francisco and how do you think the change in location will improve the event?

Susan Prosser: The desire to change host cities was because all previous DRT were held in Seattle. The choice of San Francisco was based on two major items. One, as everyone knows, it is a tech savvy area. The other is the timing. Two extremely popular and well attended conferences surround DRT; AdTech and Web2.0. In considering the very busy conference calendar, these two items solidified the San Francisco location and timing.

DN Journal: Let's talk about the show agenda. Two major attractions will be keynote speaker Gary Kremen who sold Sex.com in what is believed to be the largest sale of a single domain name in history and a Q&A session featuring Google's Matt Cutts. What do you think attendees will get out of hearing Gary and Matt speak?
Susan Prosser: They are very different angles of the same industry. Mr. Kremen has such a tremendous story that many have likely read (Editor's Note: Kremen was the subject of DN Journal's March 2006 Cover Story). But, to actually hear it from him you capture the essence of the emotional challenges faced when trying to win back a domain name in an arena that still to this day is faces challenges of "ownership rights." That is the low part. Opposing that part of his life is the overwhelming success of owning a great domain name and knowing how to market it with Match.com.

Mr. Cutts, on the other hand, will be able to offer interesting insight and guidance to how Google works. Information that can benefit others in their ability to make their property more valuable. It is a terrific opportunity to ask a Google-insider questions on how to improve their site. Send questions to: mattcutts [at] domainroundtable.com.

Gary Kremen
DRT Keynote Speaker
DN Journal: Last year's show utilized a dual track format. Will you be doing that again and what do you see as some of the highlights on the seminar schedule?

Susan Prosser: This year we have chosen to go back to a single track format to offer opportunity to attend all seminars rather than choosing sessions. Previous DRT's have had single track and multiple track. Each has its' advantages and disadvantages. Feedback helped make our decision to return to a single track format. The days are filled, that is for sure.
A few topics have been combined to be able to offer a wider range. Aside from the CEO Roundtable, Gary Kremen keynote and the Matt Cutts Q&A sessions, another is the session highlighting a few new companies becoming familiar in this space – Domain Strategies, EVOLanding and Mpire plus more to follow. DomainTools will be offering a Tips & Tricks session on tools that can benefit users in managing their portfolio. During one lunch, NameMedia will be presenting their latest updates. There is a panel presented by SEO experts that will guarantee to be interesting and educational. GoDaddy will be hosting a lunch to discuss the arrival of dotME. Plus, a favorite for many is a legal panel discussing the current Snowe Bill issue amongst other challenges the industry faces.
DN Journal: The CEO Roundtable has always been one of my favorite parts of DRT. Do you have your line-up for that event set yet?

Susan Prosser: Yes, the CEO Roundtable is a staple in the conference agenda. It is a popular session for many and is scheduled as the first sessions to kick things off right. The line up so far is Bill Mushkin from Name.com, Donny Simonton of Parked.com, Freddy Schiwek of EuroDNS.com, Ofer Ronen from Sendori.com, Ammar Kubba of TrafficZ.com, and of course NI's CEO, Jay Westerdal. There are a few others that I am working on adding to the panel as well.

DN Journal: With more conferences to choose from these days it is important to be able to differentiate your show from the others out there. One way that Roundtable really stood out last year was in its utilization of cutting edge technology from interactive electronic name tags to the live telecast of the auction. Will you be continuing down that path in San Francisco? Also, are there other new wrinkles that distinguish Roundtable from other conferences that you can tell us about in advance?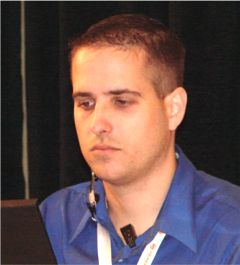 Jay Westerdal, Name Intelligence CEO will host and serve on DRT's popular CEO Roundtable panel.
Susan Prosser: Wrinkles is an interesting term. Name Intelligence does like to introduce new items into the conference space, as you mention with the nTags last year. As the initiators of the simultaneous live and on-line domain auctions, will are definitely continuing that with some improvements. We will continue to try to raise the bar of conferences in utilizing latest technologies. For instance, we know that many companies find gobo lights expensive to produce and banners can quickly be dated. In replacement, we are offering digital ads that will be rotating on screens throughout the conference, could be considered a commercial. This is similar to how the nTags allowed companies to broadcast a message to attendees during the conference, without the large attendee badge. Plus, these are in full color, can include animation and companies can make the "ad" specific to this event unlike banners and gobo's.
Scene from 2007 DRT Live Auction last August

DN Journal: Let's talk specifically about the live auction. Some of the top names were recently released from a list that will grow to about 250 domains and it looks like there are some real winners on the list that you would have to be excited about.

Susan Prosser: Yes, the reviewers are diligent in their process of analyzing names and submission reserves. Those 250 domain name lots on the final sales sheet will be great names at a well considered price. Plus, an attendee advantage, is the guarantee of one name in the auction as well. Those domains are in addition to the 250 chosen lots. It will definitely make for an exciting and interesting auction.

DN Journal: One thing that virtually everyone agrees on is that the key to a great show is the opportunity to network. Tell us about the kind of networking opportunities you have built into this year's schedule.
Susan Prosser: Honestly, it really is about networking. One of the reasons we chose the Palace Hotel as the venue was the layout. We are able to create traffic flow throughout the sponsor exhibit area as it will be the primary entrance / exit to the session room. Between sessions is a 15 min break to stretch the legs, talk and grab a cup of coffee at the coffee cart sponsored by Namedrive.com. In addition, we have chosen to leave one night open for attendees and sponsors to do as they would like. We have received feedback from previous events regarding the schedule occupying every moment. It was challenging as it required day sessions to be utilized for what would have been an evening keynote. However, it seemed important to listen to our community. We do still have the opening night welcome cocktail, a party sponsored by TrafficZ for Grassroots.org and the ending conference party hosted by Name Intelligence.

DN Journal: Good conferences are always fun as well as educational. With your Gamble for Good event benefiting Grassroots.org it looks like you have set the stage for a fun evening that will also help a very worthy cause. How did that come about?
Susan Prosser: Name Intelligence believes in the Grassroots mission. And, after last year's success raising almost $22,000 for the organization I believe it was, we had to carry on. Angela Siefer (Grassroots Executive Director) came up with the idea of a casino as a fundraiser which seemed like an excellent idea. Having participated in similar events myself, they are a fun way to raise money. TrafficZ stepped up again this year to be the sponsor and then we lined up the venue at Club 443.

You don't have to know how to play any of the games since it is a fundraiser, prizes will be awarded throughout the evening and from drawings, not by your skill level. Although there will be a few people in attendance who may be able to give you a pointer or two. If you win or lose, it all goes to a worthy cause. Grassroots has been donated quite a few prizes for the evening already and more are coming in. You can get the details here.


Angela Siefer, Grassroots.org Exec. Director
at 2007 Domain Roundtable conference
DN Journal: Finally, I am sure there are some areas that my questions did not address, so feel free to close with any comments you would like to add about DRT 2008.

Susan Prosser: The conference is truly going to be an interesting. I realize the conference "space" is a busy one, each one offering very valuable material. I am really looking forward to the variety of sessions. I like being able to introduce new companies into the space as they offer viable options to improve portfolios, which is good business for everyone. All of the sponsors have been so supportive of DRT. I am appreciative of that. I believe all attendees and sponsors will find this a worthwhile and profitable event to attend.
*****
Editor's Note: I will of course be covering the Domain Roundtable conference and look forward to bringing you our comprehensive show review a few days after I return from San Francisco.
---