By Ron Jackson

After spending the first three years of its life in the Seattle area, where its parent company Name Intelligence, Inc. is based, the Domain Roundtable conference pulled up stakes and hit the road for 2008. Show organizers proved they could travel in style, settling into the elegant Palace Hotel in downtown San Francisco for their April 18-21 run.

The show was sandwiched in between two other major conferences in the City by the Bay, AdTech just before and Web 2.0 immediately after Roundtable. The domain conference pulled some people from each but that gain was offset by the dates conflicting with the Passover holiday that kept some domainers of the Jewish faith at home or resulted in them leaving early for seders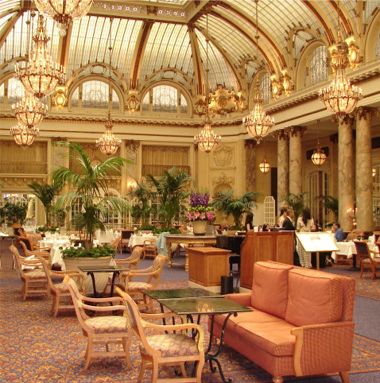 The fabulous Garden Court inside San Francisco's
Palace Hotel (site of 2008 Domain Roundtable)
Attendees chat at the opening night
cocktail party Friday (April 18)

The event got underway with a welcoming cocktail party Friday night (April 18) that gave everyone a chance to mingle and take note of who was on hand. This was the third major domain conference in four months so some of the regular show goers probably felt like they've been seeing more of their domain friends and colleagues than their own families lately. I don't think you will find anyone complaining about the frequent opportunities to get together though – it's rare to leave any major conference without feeling much richer for having been there. Roundtable also drew a healthy sprinkling of new speakers and registrants that kept things fresh.

Show director Susan Prosser and Name Intelligence CEO Jay Westerdal deserve special credit for programming a very informative and enjoyable series of seminars and keynote sessions. A Roundtable staple, the CEO Roundtable, kicked things off Saturday morning (April 19) with moderator Derek Newman welcoming Ofer Ronin (Sendori.com), Jeremiah Johnston (Sedo.com), Donny Simonton (Parked.com), Ed Russell (NameDrive.com), Bill Mushkin (Name.com), Dan Warner (Fabulous.com), Freddy Schiwek (EuroDNS.com) and Ammar Kubba (TrafficZ.com) to the dais.

Eight leading domain industry executives gathered for the CEO Roundtable session
By now you have probably heard the rumors that TrafficZ's parent company, Thought Convergence, is buying Roundtable parent Name Intelligence, Inc. I was given some inside information about this rumored deal while in San Francisco, but those comments were made off the record so I'm not at liberty to elaborate on it at this time. As of this writing neither side has publicly confirmed or denied a sale agreement has been reached but you can expect to hear some news about this soon.
Fabulous.com COO Dan Warner

There were interesting comments on a wide variety of topics during the CEO session (for the record, some of the participants fill CEO positions while others serve in other high ranking executive roles). Fabulous.com's COO Warner talked about ways to create value at a time when PPC revenues are falling and the general economy is in a widespread funk.

Using Glasgow.com owner Tommy Butler as an example, Warner said Butler had accumulated every other Glasgow related name he could get his hands on so he has pretty well cornered the Internet market on all things related to Glasgow. "Do you want to own the Internet?," Warner asked? "You can't own all of it but you can own a slice of it if you know how to go out there and create something that is rare and valuable"
Many of the following seminars would go into specifics on how to do just that. Of course developing is hard word and for those who do not have the stamina or temperament to take it on alone, it is good to know that there are alternatives to domain parking out there now. Several of those were discussed in the next session Emerging Trends, Emerging Companies that featured Ofer Ronin (Sendori), Gary Kamikawa (Mpire), Geoff Nuval (EVO Landing) and Scott Fasser (Domain Strategies). Michael Gilmour (Whizzbang's Blog and ParkLogic.com) served as the moderator.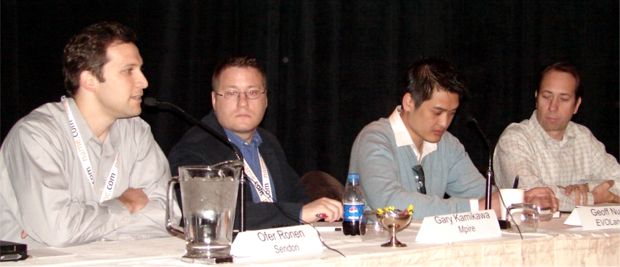 Emerging Trends panel (L to R): Ofer Ronin, Gary Kamikawa, Geoff Nuval & Scott Fasser
Each of the companies represented is taking a different approach toward domain monetization and/or development. For example in Sendori's system, your traffic can be sent to a specific advertiser when that advertiser will pay more for your visitors than can be earned from a traditional PPC page. That eliminates some parking headaches such as the necessity to optimize keywords or text on each landing page. Since the wide scope of this article goes not allow us space to go into details on the various offerings out there, I would encourage you to explore the sites of each panel participant to see what they offer (each company name is hot linked in the previous paragraph to make that easy for you).
Michael Gilmour stayed on the platform to moderate the next session Parking Analyzed that featured an all-star five man panel. Ammar Kubba, Donny Simonton and Dan Warner all returned and were joined by Ed Russell (NameDrive.com) and Don Ham, (Reinvent and HitFarm.com).

Gilmour is probably the top blogger on the subject of parking and since he led this discussion I think the best way to give you a sense of what was covered in this session is to direct you to what Michael wrote about it on his blog right after the conference ended. Gilmour also had an interesting follow-up post a few days later on the topic of "fear" in the marketplace that Ed Russell brought up during this session when he said that some people were panicking prematurely. Kubba noted that with PPC revenue down industry wide, the top companies were working on diversifying revenue streams through lead generation, leasing and other methods.

Moderator Michael Gilmour
One of the newest innovations in the parking space was unveiled at the luncheon that followed. It was sponsored by NameMedia and their Senior VP Brian Carr used the occasion to

NameMedia VP Brian Carr announces the
launch of SmartNameShops

introduce SmartNameShops, a new product for clients of their high end PPC service, SmartName.com.

This platform merges ecommerce shopping functions with the traditional parking page, opening up an entirely new revenue stream for domains that are accepted into the program. You can see examples of SmartName Shops at ToyCatalog.com and NotebookPC.com.

This is a very interesting advance in the space and others will no doubt scramble to match it or roll out new twists of their own. One thing you have to love about this business is no one is ever standing still. With recent declines in PPC revenue anything that holds the promise of squeezing new revenue out of direct navigation traffic will be warmly welcomed.
After lunch, I strolled through the exhibition hall to visit the various sponsor's booths. Fabulous.com used some cool props to drew attention to their company and the T.R.A.F.F.I.C. Down Under conference they will be staging on Australia's Gold Coast in November 2008.

Fabulous.com COO Dan Warner tries to manage his menagerie at the company's booth.

The afternoon session got underway with Google's Matt Cutts providing one of the true show highlights as he took the microphone for a 90-minute question and answer session that gave

attendees some invaluable insight into how Google ranks sites and what site owners can do to gain better placement in the dominant search engine (hint – unique and frequently updated content is a solid #1, followed by incoming links from reputable sites). Cutts is a very personable and engaging speaker and no one knows the subject matter better than him.

I'm sure legendary domainer Scott Day was impressed when he asked Cutts to analyze a diamond retail affiliate site he operates. Day thought he had everything optimized the way it should be but still wasn't getting as good a ranking as he expected. Cutts brought up the site and within seconds spotted several small things that could be changed to boost the site's ranking.

Cutts suggested that people visit Google's Webmaster Central page that has links to a number of great tools and guidelines that will help you get the most out of your site. After his session I heard several people comment that just hearing Cutts was worth what they paid to attend the entire week.

Google's Matt Cutts makes a point
during his well-received Q & A session.
Matt's appearance was the perfect lead-in to the next seminar – SEO Experts & Best Practices, a panel that included Vanessa Fox (Ignition Partners), Rand Fishkin (SEOmoz), Dave Bascom (SEO.com), John Tompkins (Trellian) and webmaster/SEO expert John Andrews delved deeper the subject of Search Engine Optimization. Among the many pieces of solid advice dispensed by this panel was that you find a niche that doesn't have too much competition. Rather than go head to head with major companies with much deeper pockets than you have, look for a category you are passionate about where you can become the expert in your field.

SEO Experts (L to R): John Andrews, Dave Bascomb, Rand Fishkin,
Vanessa Fox and John Tompkins
That panel closed Saturday's seminar session and gave way to the first of two major evening events – the annual Name Intelligence Awards Dinner. Winners were chosen in ten categories through open balloting on the Roundtable website and among the thousands of DomainTools members (or where applicable, winners were based on industry statistics, such at the registrar net gain award). The winners were:
Registrar with the Largest Net Gain - GoDaddy

Best Registrar for Resellers - Enom

Outstanding Drop Catcher - NameJet

Outstanding Secondary Market - Sedo

Best Registrar - Moniker

Best Parking Company (tie): Sedo and Parked.com

Best Aftermarket - Afternic

Best Forum - DNForum.com

Best Industry Coverage - DNJournal.com


Best Blog Community (3-way tie): SevenMile.com (Frank Schilling), Elliot's Blog (Elliot Silver) and Domain Name News (Adam Strong and FrankMichlick).
After the Awards dinner everyone boarded buses for Club 443 where TrafficZ hosted a fundraising casino night party "Gamble for Good" to benefit Grassroots.org. Attendees donated money for chips and at the end of the night those with the highest winnings were given an array of prizes provided by sponsors. The photos below will give you a glimpse into a very entertaining evening that brought down the curtain on the Saturday schedule at Roundtable.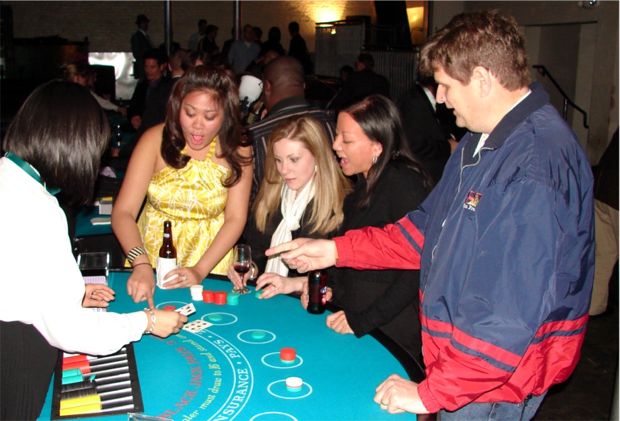 Greg Ricks (far right) dispenses advice at the blackjack table.
Michael Castello, Clelia El Adl and David Castello on a winning streak.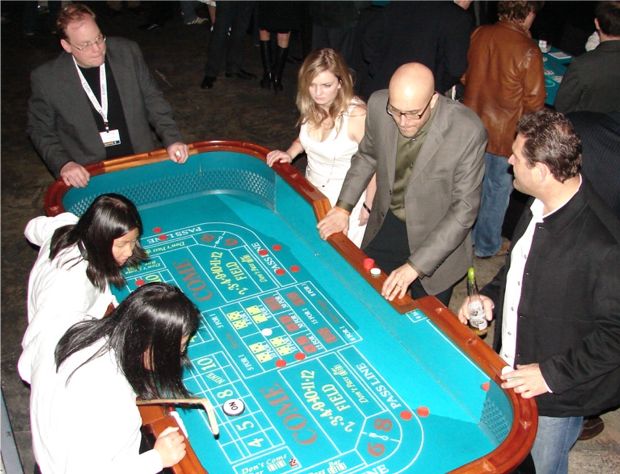 The craps table draws a crowd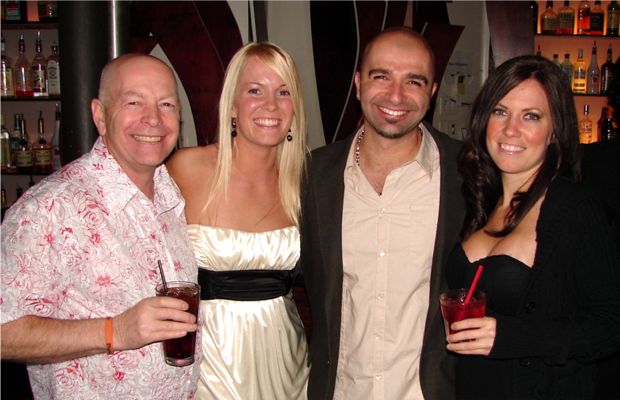 Enjoying the action (left to right): Greg McNair,
Charissa McCuen, Ammar Kubba and Danielle Hoon.
Coming up on Page 2:

Finger Pointing Begins After a Lackluster Live Auction


Former Sex.com Owner Gary Kremen's keynote address


Advertising and Marketing Tips from the Experts


Inside the After Show Party
---