Corwin noted during his talk that if just half the people in the room joined the ICA it would raise $120,000 - enough to fund a full-time PR agency to work on behalf of the industry to counter the falsehoods and mischaracterizations that are commonly spread by those who have their eyes on your assets. With additional resources we could do things like establish a legal defense fund to help domain owners who are targeted in reverse highjacking attempts or to fund key cases that would establish important precedents. This industry is growing up and great times are ahead of us if we pull together and protect the business we have collectively built over the past ten-plus years.
Wired Magazine co-founder, best-selling
author and DOMAINfest Keynote
speaker John Battelle gets it!

After the ICA session it was time to hear the second keynote speaker of DOMAINfest Global week, Wired Magazine co-founder and best-selling author John Battelle. This was another one of the show highlights for me as Battelle is a real Internet pioneer and fountain of knowledge. He also happens to be the guy who invented the ubiquitous 468X60 pixel banner you see on just about every website in the world. Batelle, who founded and now runs Federated Media, reminded attendees that they are in the media business and "it is one hell of an interesting media business!" Batelle declared.

Battelle is a big believer in the new wave of media that is upending the traditional media world - he calls web based outlets "conversational media" as they enable an open dialog between readers, customers and site owners that cannot be duplicated by the forms of media we all grew up with. Batelle showed the "My Conclusions" slide below at the end of his talk to sum up his message: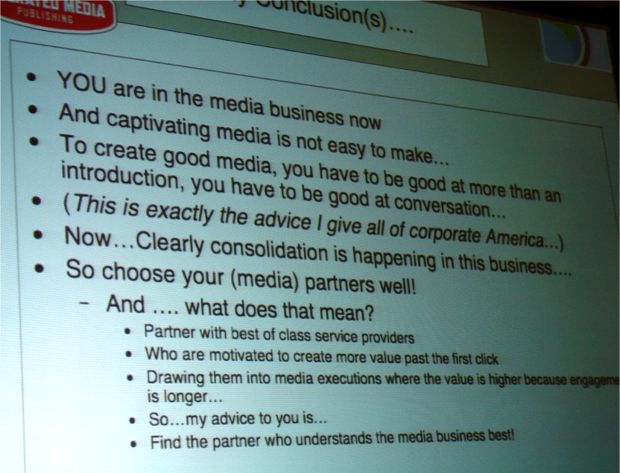 One more line was added to that slide before Battelle closed. It said "He who provides the best experience will win in the long term." For the many people in this business shifting their focus to development, hearing Battelle alone was well worth the cost of the trip to Hollywood.
The Wednesday luncheon was a delightful change of pace with a humorous Domainer Worst Practices program hosted by moderator Jothan Frakes and the cohorts (left to right in the photo below); attorney Mike Rodenbaugh (Yahoo!'s former Sr. Legal Director), attorney Brett Fausett and Google's former Domain Channel head - now independent filmmaker - Eytan Elbaz.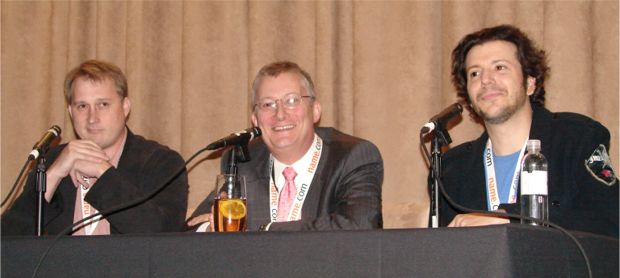 Borrowing from David Letterman they counted down the Top Ten Worst Domainer Practices with some hilarious emails and examples of each. Unfortunately space won't allow us to bring you all of the extra material that made a lot of these come to life but for the record the Worst Ten were:
10. Manage Your Domains With Dozens of Different Registrars

9. "Cybersquishing" = Cybersquatting + Phishing

8. Passing on A Good Opportunity

7. People Skills...Get Them and Use Them (an example was an email exchange in which the owner of a reg fee quality domain wrote "We were offered $9 million for this domain by a multi-billion dollar corporation. We rejected it. How much more than $10 million are you willing to offer us?"

6. (one of my favorites): Watch the business news for new product launches, register corresponding domain names, offer them back to poor foresight corporations for big bucks, Wonder why sued!

5. Don't write copy? Use RSS feeds so you don't have to create your own content. Suck down and repurpose them, nobody will mind...right?

4. Build traffic to your sites by adding links in comments and trackbacks all over the internet.

3. Brand your company with a .net (this entry was partly used as a self-deprecatory joke on show host Oversee.net who has defied conventional wisdom and done pretty darn well with a .net)

2. Appraisals "on crack" (I think everyone is familiar with this one)

and....drum roll please....

1. Don't Drink and register (another one that needs no explanation!)
After lunch the week's round of seminars ended with a single session with everyone together in the grand ballroom. The closing topic, Understanding the Big Picture, provided an excellent industry overview and thus a fitting conclusion to the week's educational program.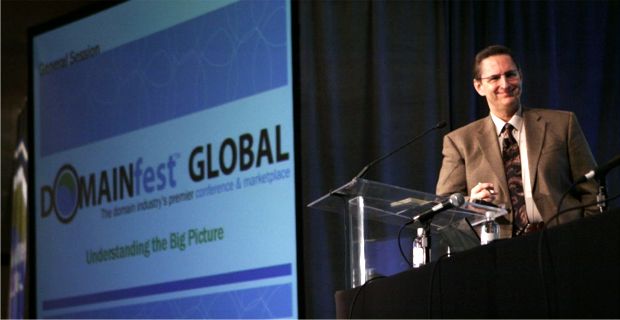 (Photo above) Your humble servant moderating that closing seminar. I couldn't help but smile when I looked at my panelists. With Rob Hall (CEO, Momentous Corp.), Monte Cahn (CEO, Moniker.com), David Liu (Managing Director of investment banker Jefferies Group) and Paul Sloan (Fortune Magazine Senior Writer) (seen left to right in the photo below) I knew my job was going to be easy. Any one of these guys could talk for an hour and keep people interested.

(Two photos above courtesy of www.InTouchStudios.com)
Sloan (at far right above) has written two of the most influential mainstream magazine articles ever penned about this business, both for Business 2.0 magazine - Masters of Their Domains in 2005 and The Man Who Owns the Internet (about Kevin Ham) in 2007. Sloan said he knew he was onto to something from the huge volume of email he got in response to those articles. He said it was amazing that some of the smartest people in the business world - venture capitalists and Wall Street veterans - had completely missed the domain opportunity. However he added that they are quickly trying to make up for lost time now. Still, as Sloan noted, many of the best assets remain in the hands of private individuals who saw the opportunity years ago and acted on it - making the domain business a great story about underdogs who beat the odds.
David Liu confirmed what Sloan said about the increase in interest in this space among venture capitalists and larger firms looking to get a piece of the pie by buying existing companies outright. Though the general economy is looking shaky, Liu predicted there is still lots of growth ahead for the domain industry and as a result we will see more and more mergers and acquisitions.
Rob Hall
CEO, Momentous Corp.

Hall, whose company operates drop catcher Pool.com and well-known registrars Rebel.com and NameScout.com, said that mergers and acquisitions are a sign of maturity in an industry but that this industry is still immature with a great deal of growth ahead, so he too said the wave of consolidation we have been seeing has a long way to go. The theme of Hall's talk was change and he said people will have to adapt to constant change in the industry if they want to survive.

In addition to running Momentour Corp, Hall is the Vice Chair of ICANN's Registrar Constituency, so he also has a lot of insight into DNS governance issues. He urged domain business owners to apply for membership in ICANN's Business Constituency which is currently home to only about 20 ccompanies - and only a couple with ties to the domain industry. This will give them a better

understanding of the ICANN process and some input in policymaking that affects all domain owners.
Hall said that ICANN will approve dozens and possibly hundreds of new TLDs, starting as soon as late this year. There is a lot of debate about how adding so many new extensions will affect existing TLDs. Hall said he thinks such a large introduction of new extensions would educate people to the fact that there are many options available and boost adoption of alternatives to the dominant .com extension.
I thought one of Hall's most interesting and insightful comments was about the amount of misinformation being spread around the domain business. He said you have to remember that people posting on blogs, in forums and on other web platforms are your competitors. He said he has personally seen people post statements online about how bad certain TLDS are at the same time they are quietly buying those same TLDs up themselves. Hall is in a position to know that because he can see who is placing orders with his company's registrars and drop catching service. Moral of the story - don't believe everything you read (unless it is in DN Journal of course!)
Having Cahn on this panel also helped make this (in my opinion) one of the best sessions of the week. Few people know the industry as well. Rather than give you the short version of Monte's comments here, let me direct you to our January Cover Story where Cahn presented his views on where our industry is headed in 2008. You can also hear more from Cahn every Wednesday night at 7pm (U.S. Eastern Time) on his Domain Masters internet radio program heard over WebmasterRado.fm.

After that final panel discussion there was a 90-minute break that allowed ample time to head back to the exhbit/lounge area to chat with people, visit sponsor booths or just kick back and take a break. Below are some photos from everybody's favorite space...

Moniker CEO Monte Cahn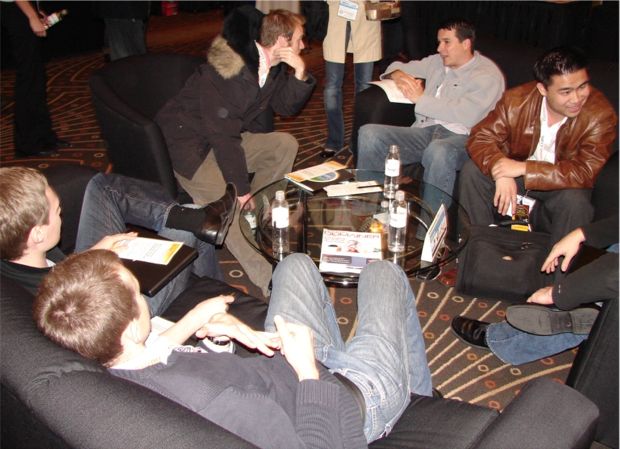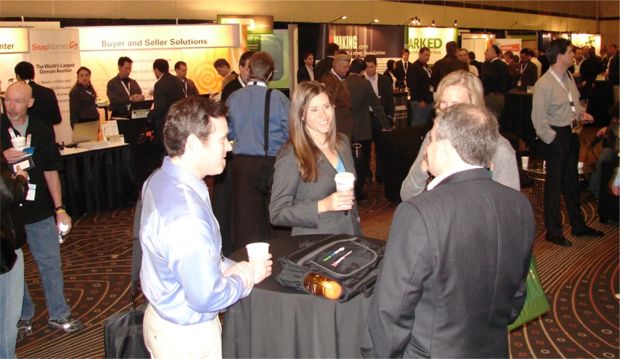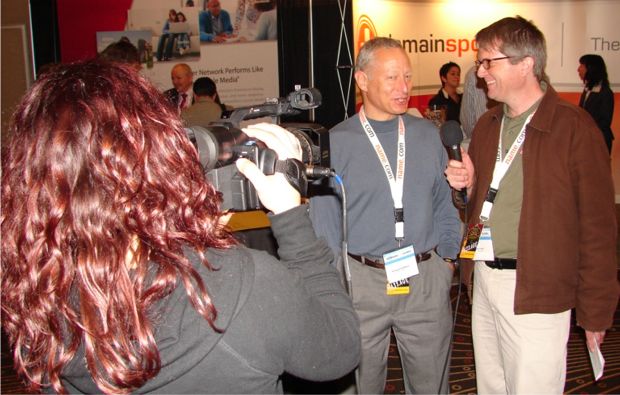 DOMAINfest roving reporter Jim Grace (right) interviewing Howard Hoffman
Rebel.com's Marie Prentice (left) and Kindha Gorman flex their muscles
while an obviously impressed Jason Lavigne looks on
At 4PM Wednesday it was time for day 2 of the SnapNames Live auction - another 3-hour extravaganza and one that, thanks to a stronger domain inventory than the icebreaker Tuesday, produced $2.3 million in sales, running the two-day total to a very respectable $3.1 million. Not bad for the first time out of the box...and that wasn't the end of it. A 10-day silent auction was also conducted in conjunction with the show and when it ended Jan. 31 another $916, 583 was in the till, pushing the final DOMAINfest auction gross a hair over $4 million. You can review all of the individual auction sales here.
Packed ballroom for the SnapNames Live domain auction
After the auction, there was a half-hour break, just enough time to get dressed for the grand finale, the 1st Annual Domainers Choice Awards dinner. The Domainers Choice Awards were developed by veteran domainer Donna Mahony (who was featured in our February 2005 Cover Story) and Sally Letzer to give everyone in the industry an equal opportunity to vote for those they felt demonstrated excellence in individual and corporate achievement. This was a complete labor or love for these two ladies and they

Donna Mahony (left) and Sally Letzer
Organizers of the Domainers Choice Awards

did a terrific job in getting it done (with credit also due to husbands James Mahony and Barry Letzer for their solid support).

Balloting opened on the DCA website in late November with all comers allowed to nominate anyone they wished in 15 different categories. That open balloting continued until December 16 when the field was cut down to the top three vote-getters in each category. Visitors to the site could then vote for any of the finalists right up until the final day of the year when the polls closed and the final results were tabulated.

The winners were not announced until the Awards Dinner Wednesday night (Jan. 23). We announced the results in our Lowdown section the next morning, but in case you missed it here is the complete list of Domainers Choice Award Winners:
Best Domain Auctions: (Tie) Moniker.com and SnapNames.com

CEO Monte Cahn accepts for Moniker

CEO Sudhir Bhagwan accepts for SnapNames

Best Domain Marketplace: Sedo.com

Best Domain Financial Services: Escrow.com

CSO Matt Bentley accepts for Sedo

CEO Brandon Abbey was on hand earlier in the day but was unable to attend the evening dinner. Ron Jackson accepted the award on his behalf and conveyed a message of gratitude to voters that Mr. Abbey had asked him to deliver in the event that Escrow.com won.

Best Domain Publication: DNJournal.com

Best Domainer Tools: DomainTools.com

Ron Jackson accepts for DNJournal.com

CEO Jay Westerdal accepts for DomainTools

Best Domainers Blog: Elliot Silver for ElliotsBlog.com

Best Hosting Company: GoDaddy.com

Elliot Silver accepts for ElliotsBlog.con

GoDaddy did not have a representative on
hand to accept in person, but congratulations go out to them for this honor.

Best Industry Spokesperson:
Frank Schilling

Best Registrar: Moniker.com

Frank Schilling

Moniker's Monte Cahn picks up a 2nd award

D

omainers Rising Star

: The Castello
Brothers (Michael and David)

Industry Achievement Award: Kevin Ham

David Castello (left) and Michael Castello

Chris Jensen (left) and Don Ham
accept for Don's brother Kevin Ham

Industry Customer Service Rep:
Eben Smith of Sedo.com
Industry Trade Association: The Internet Commerce Association (ICA)

Eben Smith - Eben was
unable to accept in person

Legal Counsel Phil Corwin and Executive
Director Michael Collins accept for the
Internet Commerce Association

Best Parking Company: TrafficZ

Domain Ambassador Award: The Castello Brothers (Michael and David)

COO Ammar Kubba accepts for TrafficZ

Michael (left) & David go 2 for 2!
...and so the curtain came down on a great show that produced some real innovations that pushed the industry conference experience up several notches. Unless you are part of the Oversee team I'm sure there is no way you could imagine how much work went into preparing for this event and pulling it off without a hitch. I'm sure Lawrence Ng and all of his crew members are proud of what they accomplished and they certainly should be - when it came time to perform you all truly shined. Thanks for being such great hosts and providing such a memorable week in Tinseltown!
*****
---
Return to Domain Name Journal Home Page