Group signed on to co-promote the event at the W Hotel City Center. Kelsey is one of the world's leading consultants on local media matters and since geo is all about local, their alliance with Associated Cities was a match made in heaven.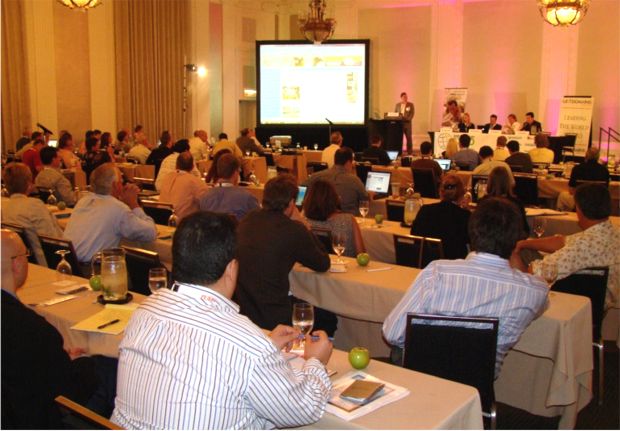 The end result was a record breaking Expo crowd in Chicago that was attracted by several factors including (but certainly not limited to):
Increased interest among domain owners in learning how to develop domains into full-blown businesses, something that leaders in the geo field have always concentrated their efforts on.


Show organizers' decision to broaden their base by opening the doors to geo domain owners in all extensions and to those who own geo targeted domains (for example, ChicagoHomes.com), not just pure city domains (that broadening of the base will be further accelerated by AC board's decision to welcome state and country geo owners as members and rename the group Associated Geos to reflect that change).


Greater recognition of the inherent value of geodomain assets as potential replacement platforms for faltering traditional media outlets like newspapers, magazines, radio and TV.


Josh Metnick (Chicago.com)

The decision to hold the show in Chicago, one of the world's greatest cities and one that, despite unlimited attractions and amenities and a large base of local domainers, had been bypassed by promoters on the general domain conference circuit. Incidently, Chicago also happens to be home to Josh Metnick, the AC board member (and owner of Chicago.com) who first came up with the idea of organizing fellow city domain owners into the group that became Associated Cities.

With all of the prevailing winds blowing in its favor, the 2008 GeoDomain Expo was a grand slam home run, a feat that was especially remarkable given the fact that the show location and dates were announced just seven weeks before the event took place.
While the official show dates were July 10-12, about three dozen people who arrived in Chicaco a day early were treated to a very special evening Wednesday night (July 9). The Expo's lead sponsor, TrafficZ.com, invited them to a spectacular Lake Michigan dinner cruise aboard the Odyssey II to celebrate the recent acquisition of Name Intelligence by TrafficZ's parent corp, Thought Convergence. The cruise departed from Navy Pier shortly after 7pm and by sunset the vessel was gliding past the Chicago skyline, offering a spectacular view as guests dined at three tables on the Odyssey II's multi-level decks.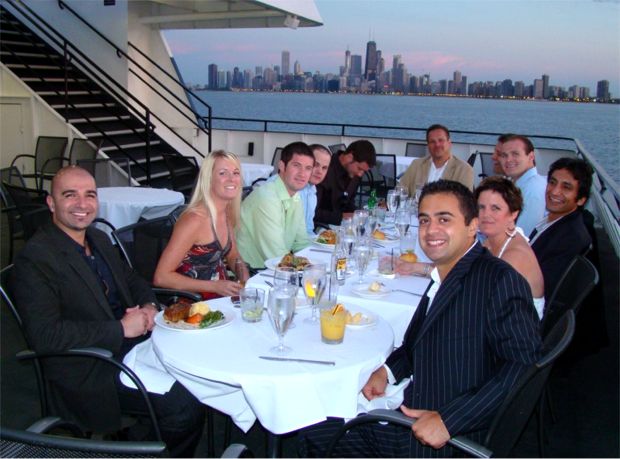 TrafficZ COO Ammar Kubba (at front left) and local domainer Anthos Chrysanthou
(front right) were among those on Traffic Z's dinner cruise.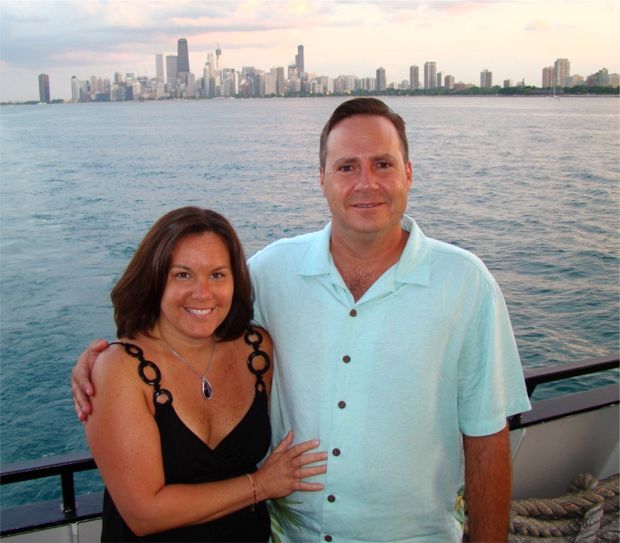 Mike Ward (Atlanta.com) and wife Angie
When darkness fell, the ship served as the ultimate vantage point for watching a spectacular lakefront fireworks show over Chicago (photo above snapped from the Odyssey II deck).
Incidentally, people have asked us why TrafficZ, one of the leading domain parking companies, sponsors the GeoDomain Expo, a show that focuses entirely on domain development. Obviously people who are developing domains are not parking them so on the surface there appears to be a disconnect. However, if you read our October 2007 Cover Story about TrafficZ's leaders, founder Kevin Vo and COO Ammar Kubba, you already know that they have ambitions that stretch far beyond the PPC space. In fact, they are already heavily involved in domain development themselves, having partnered with Associated Cities board members Michael and David Castello to develop Cost.com.
TrafficZ is steadily building a broad based industry conglomerate (witnessed by their Name Intelligence acquisition) that will be involved in just about every aspect of the domain business (as well as interests that extend beyond the domain business). That's why you see them involved in just about any function where domain owners meet.
The next day (Thursday July 10), the Expo would officially open with a 6pm welcoming cocktail party, but at noon that day a special series of private seminars for Associated Cities members only began with a session called The Real Deal: How Sites Make Money.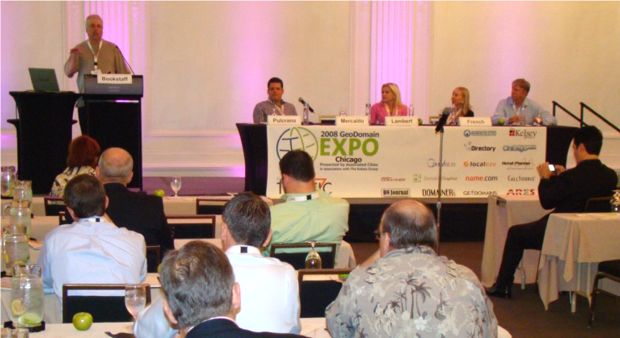 The panel (seen left to right in the photo above) included Fred Mercaldo of Scottsdale.com (standing at the podium), moderator Dan Pulcrano (CEO and Founder of Boulevards New Media), Natalie Lambert (Castello Cities Internet Network) and Pat and Michael French (SantaFe.com).
While I popped in to snap the photo above I unfortunately didn't get to stay for the private seminars. Originally I wasn't scheduled to be in Chicago at all on the 9th. As part of the deal to go a day early I had to promise my wife I would take her to the fabulous Art Institute of Chicago Wednesday afternoon.

The museum, located just down Adams Street from the W Hotel, is home to Grant Wood's iconic 1930 painting American Gothic. It's hard for me to miss anything related to domains, but the Art Institute is one of those Chicago landmarks that just can't be missed (especially if you value your marital relationship!)

Though I was away, you should know about the kinds of special seminars that come with Associated Cities membership. At 1:15pm the topic was Getting the Most Bang For Your Buck: Advertising Strategies for Site Development. David Castello moderated a panel that featured Mark Burgess (San Diego.com), Ari Bayme (Modern Capital) and Associated Cities Executive Director Patrick Carleton.

Grant Wood's American Gothic
on display a few blocks from the Expo
Next up at 2:30 it was External Site Marketing: How to use newsletters, blogs and keyword marketing programs to bring traffic to your site. Carleton moderated a session that featured Sean Miller (NewYorkCity.com), Jessica Bookstaff (PigeonForge.com), Josh Metnick (Chicago.com) and Mike Ward (Atlanta.com).
At 3:45 SEO veterans Sara Mannix (Albany.com) and Truman Hedding (LosAngeles.com) headlined Back to Basics: Design Implementation and Strategic SEO with Ms. Bookstaff serving as moderator.
The final seminar, Technology Roundtable: Take Advantage of Emerging Technologies to Build Your GeoDomain, featured Jeremia Froyland (Branson.com), Jon Lumpkin (Richmond.com) and others who summarized web technologies that geodomains owners can incorporate into their sites. Obviously, to steal a line from American Express, Associated Cities membership has its privileges.
At 6, the AC members headed for the ballroom for the official opening cocktail party and a chance to mix with a crowd of show goers that traveled from around the globe to be there. People were packed wall to wall and the bright prospects for the geo sector had them crackling with energy and excitement.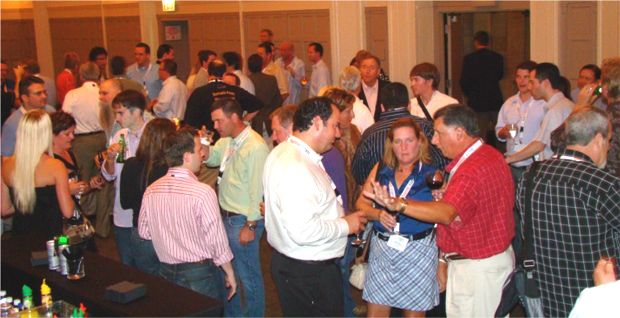 For most attendees, the night continued long past the cocktail hour as they split up into groups to sample the wide variety of great restaurants around Chicago. Name Intelligence co-founder Jay Westerdal took one group of about 15 to a great local Italian restaurant where they closed the place down. At one end of the table Diana and I enjoyed chatting for hours with the Castello Brothers, Natalie Lambert, Dan Pulcrano and Parked.com co-founder Sig Solares. Similar conversations among domain owners were going on throughout the Windy City that night.
The next morning (Friday July 11) it was time to get down to business but thankfully - given the late night out - not until 10:30am when Associated Cities chairwoman Jessica Bookstaff and founding board member Dan Pulcrano welcomed everyone to the show.

Pulcrano also gave a geodomain "State of the Union" talk touching on the rapid changes in the media world that are working to the advantage of domain owners and geo domain owners in particular.

With newspapers in a tailspin that they might not be able to recover from — and other traditional media stalwarts like magazines, radio and TV losing audience to the Internet — local city geodomain owners have a chance to take a pre-eminent position in their communities. From their domain platform they can deliver all forms of media, print, audio and video in one convenient location. When you couple that capacity with the unforgettable brand name of

Dan Pulcrano
Boulevards New Media

the city itself (a la NewYorkCity.com, LosAngeles.com, etc.) you have a truly powerful combination that could end up being the dominant force in the new media world ahead.
At 11am, the Expo's keynote address was delivered by Kelsey Group founder John Kelsey. Kelsey said he has been impressed by the diversity of people who have come to the conclusion that domains are the place to be. "There are people from newspapers, Yellow Pages, real estate, ISPs - all these different people from different areas who have come to the same place with the same objective - to build a successful business," Kelsey said, adding that the unique nature of geodomain assets made this the right place to be.
Keynote speaker John Kelsey

"It's all about the real estate and you have prime real estate," Kelsey said. However he also noted how important it is to get to know the community you represent if you want to succeed. "You have to figure out the right building for your property. There is no one way to play Monopoly you know. What you can do is increase your chances to win by doing the right things and just as importantly, not doing the wrong things like wasting your time on little things that aren't going to make any difference."

If your basic foundation is sound Kelsey thinks you will be positioned to reap major rewards. "People care most about their local circumstances and

finding local solutions. Because of that I think there is a goldmine of national advertisers that are moving out of traditional media and into local web based media. They will go to the web because that is where our children and in my case, grandchildren, are growing up. That's where the customers will be."
I spoke at lunch Friday, giving an update on trends in the domain aftermarket and also noting some specific geodomain sales of interest. .Com city domains are seldom put up for sale because they are already in the hands of people or companies that have developed them and are continuing to build businesses on those platforms. The largest city .com sale we've seen in the past year was Melbourne.com at $700,000. Another large Australian city domain, Perth.com, sold for $200,000. When you think that some large city newspapers are losing $200,000 every week that looks like an exceptional bargain to me.
Though their newspaper brands are dying many papers still have legions of content writers and photographers on staff that could turn a city .com into a media powerhouse. However, even though they can still produce the content, they've yet to come to grips with the fact that they are no longer using a viable platform. Simply putting the name of their paper on the web isn't enough because that brand is not familiar to the new generation that has grown up on the web. That generation didn't read the Chicago Tribune, for example, so that name on the web carries little weight with them. Chicago.com on the other hand, in their web based world is a very powerful natural brand for news and information about Chicago.
There were three afternoon seminars after lunch. In the first ways to get Local Revenue from Local Advertisers was the topic. Tips were provided by panelists Dan Pulcrano, the Castello Brothers and Jessica Bookstaff (PigeonForge.com and Durango.com).

The Castellos talked about how they built PalmSprings.com from scratch into a site that earns $1 million a year from the front page alone. Their story is detailed in our December 2006 Cover Story).

Pulcrano discussed how his company is building a network with their wholly owned large city geo domains (including SanFrancisco.com, LosAngeles.com, Dallas.com and many others) that taken as a whole, now ranks among the world's top 360 web properties according to Quantcast. Pulcrano's story was also told in a DN Journal Cover Story in February 2008.

Ms. Bookstaff is creating a great story of her own with her success building up PigeonForge.com (a major Tennessee tourist area) and her Durango.com site on the opposite end of the continent in Colorado.

Jessica Bookstaff
PigeonForge.com & Durango.com
The next panel focused on International Geo Domains and featured (left to right in the photo below) Ramon Lujan (Acapulco.com), Rob Sequin (Havana.biz) and Skip Hoagland (Cuba.com, Buenos Aires.com and many others) who was profiled in our July 2008 Cover Story. David Castello, whose Castello Cities Internet Network owns Acapulco.com, moderated this session.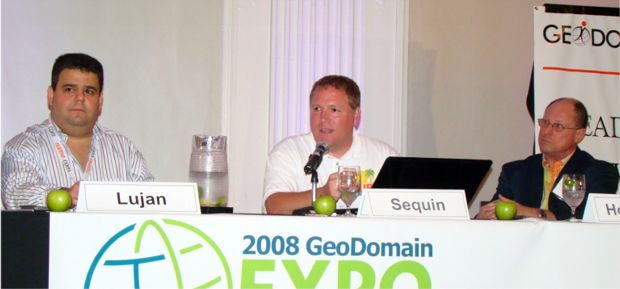 Lujan and Hoagland pointed out the importance of partnering with people based in international cities that are familiar with the local area, language, customs, etc. in order to relate to local advertisers. Sequin, who has a special interest in Cuba (he publishes HavanaJournal.com) talked about the hurdles that have to be overcome to develop sites focused on countries that the U.S. government currently has embargoed.
Harlow Newton (Boulevards New Media)
sitting on the Future of Technology panel

The day's final seminar was titled Pushing the Envelope: The Future of Technology and GeoDomains. Sean Miller (NewYorkCity.com), Harlow Newton (Boulevards New Media), Jon Lumpkin (Richmond.com) and Jeremia Froyland (Branson.com) talked about some of the latest technologies that geodomain owners can utilize to improve their sites.

Miller noted that most of the new technologies in social media, evolving local databases, the semantic web and the mobile web are tied to the user's specific location and identity, a major plus for geodomains as they are inherently about location and identity.

Each day during the show, attendees could visit sponsor booths that were located in the hall running between between the seminar room and and the ballroom where social events were held. With all of the show activity and the exhibit area conveniently located on the pavilion level one floor up from the hotel lobby, it was very

easy to take in everything that happened throughout the week. The photos below show some of the interaction between attendees and exhibitors.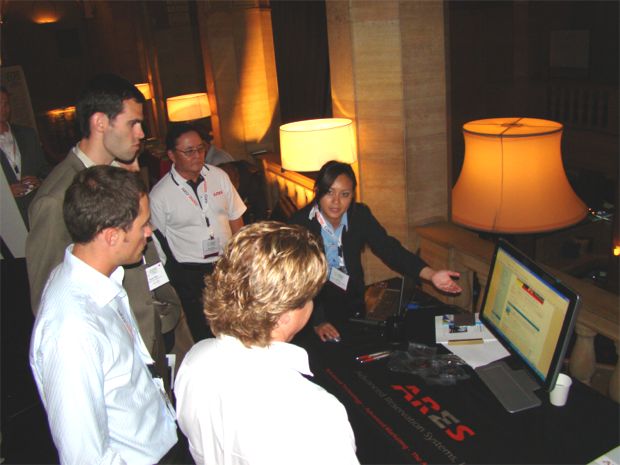 Domain owners catch a demonstration at the Ares booth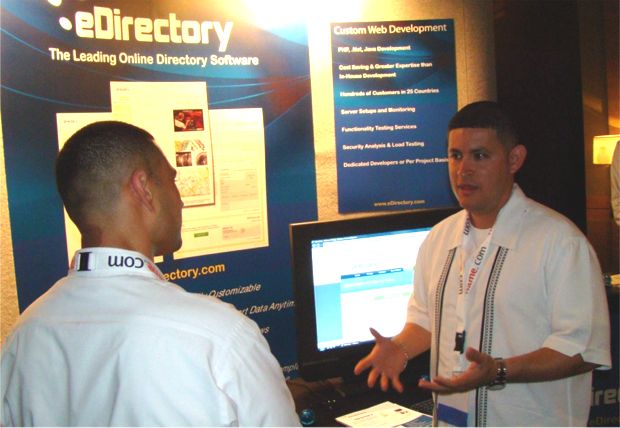 A lot of geodomain owners were interested in eDirectory's software
The MojoPages booth also drew steady traffic
With business out of the way Friday it was time to socialize and do some networking starting with a 6:30pm cocktail hour/buffet dinner. A highlight of that event was a book signing session featuring Wall Street Journal reporter David Kesmodel.



Author David Kesmodel signs copies of
The Domain Game for Expo attendees

Kesmodel recently released a book about the domain industry, The Domain Game, that has been earning rave reviews and there was a constant line of people waiting to meet him and pick up signed copies of the book (it can also be ordered from Amazon.com). I picked up a copy and read a big chunk of it on the plane ride back home to Tampa. Very interesting and well researched material that will serve as a key resource for domain history. As soon as I am done with the article your are reading, I'm going to finish the book, then get together with David for a piece we will publish about the project and his experiences researching and writing it.

After the cocktail party it was on to a signature TrafficZ party at Chicago hotspot The Hunt Club. Domain owners took over two of the three levels at the club and had a great time in a get together than ran into the wee hours of the morning. The pictures below give you a taste of the atmosphere on that special evening.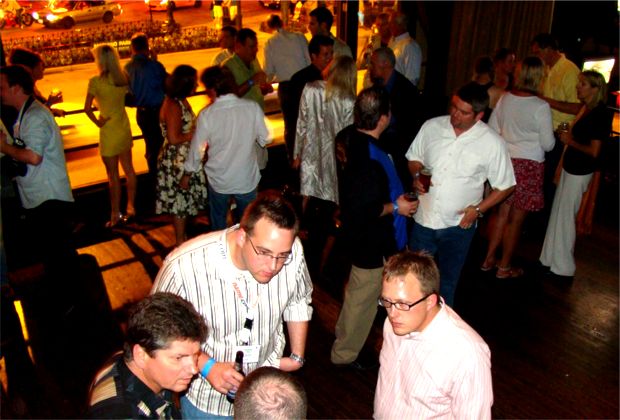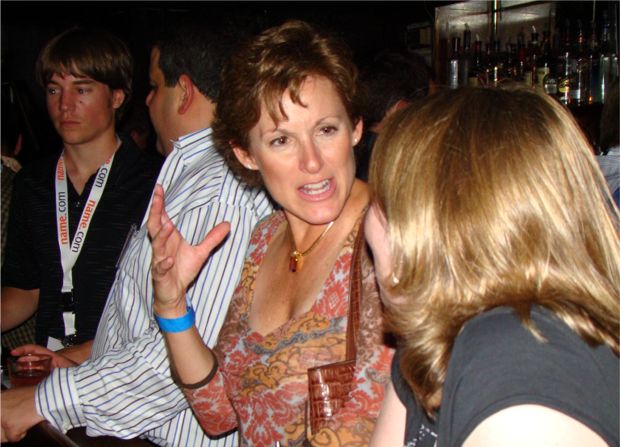 Cathy Hoagland chatting with a new friend at the Hunt Club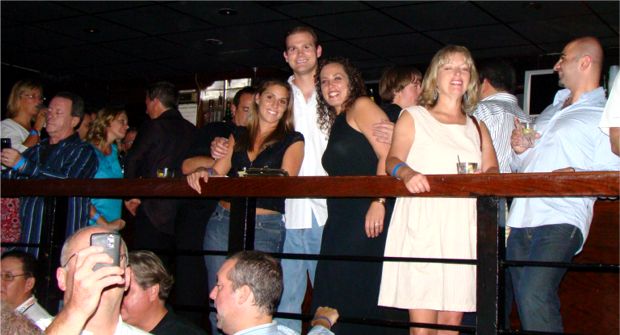 The top level gave party goers a bird's eye view of the fun
Coming Up On Page 2

The Final Day of the 2008 GeoDomain Expo

Stories From GeoDomain Pioneers

GeoDomains in the News

Moniker's Live GeoDomain Auction

We Give You A Seat at the 2008 GeoDomain Awards Dinner

...and much more!

Audience members take the mic
at the GeoDomain Town Hall Meeting