For Schwartz and Neu, the bad news was that attendance at this show was down considerably from their February show in Las Vegas, south of 300 by most estimates. The good news is that many people who went to Orlando, including me, will tell you that it was the most enjoyable conference they've ever attended. In the short term customer satisfaction may not cover the cost of taking over the entire conference center (and guaranteeing a huge block of expensive rooms) at Disney World's crown jewel - the Grand Floridian Resort. However, those happy campers will create word of mouth buzz, letting people know that someone is hitting the refresh button on the conference scene. I believe that is the prescription needed to cure the current trade show blues.
A lot of people advised Schwartz and Neu not to go to Orlando in late May. Domainers were used to attending T.R.A.F.F.I.C. East in the fall at an Atlantic Coast resort. Skeptics correctly pointed out that Orlando is hot in late May and Disney World is not a big attraction for the many young single guys who are active in the domain business. They also noted that for those who do have families and would be attracted to Disney, the dates fell before their kids were out of school.
The next morning my daughter commented on what a great night it had been noting "I have never been in a crowd where people ranging in age from 20 to close to 70 had so much fun together." I know you are saying, "That's all well and good but I thought there were supposed to be some business benefits to going to conferences!" There were plenty of those too. I have to refer to Turakhia again (he was lit up like a 500-watt halogen bulb all week). Near the end of the show he told me "I thought this show might suck, but it has been a blast and I did some great business deals too!"
The first story we heard upon arrival was how "lead foot" Sahar Sarid had made the drive from South Florida to the Disney gate in record time, only to get lost inside the complex for an hour and a half while he futilely searched for the Grand Floridian! You wouldn't think it would be hard to find, but locating the narrow road that leads to the resort is a bit tricky. Here's the secret. Ask which road to take when you go through the gate! Worked like a charm for us :-)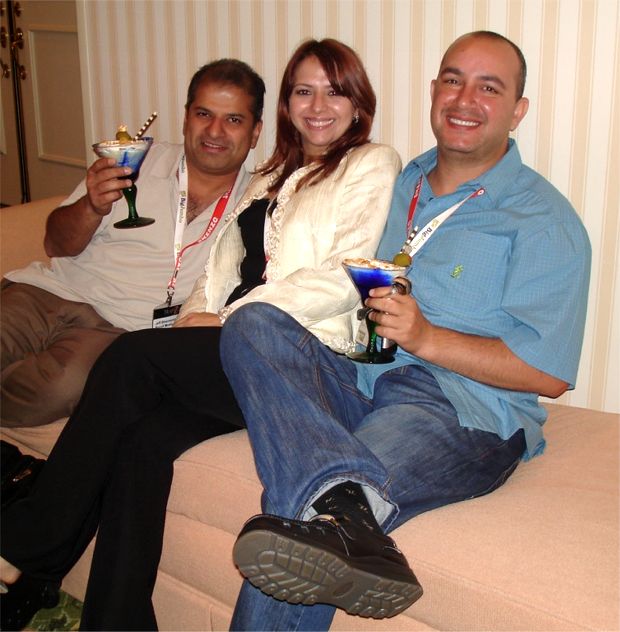 Sahar Sarid (at far right above) finally found his way to the hotel where his
partner Jeff Bhavnanie (far left) and Alina Schwartz helped cheer him up!
(Photo courtesy of Barbara Neu)
We had plenty of time to change and head down to the cocktail party where many new faces were sprinkled among the old friends. Show organizers said this was the first domain conference for about a third of attendees. They picked a good one. The fact that the crowd was smaller than usual was actually a plus for registrants. It allows you to spend more time networking with specific individuals you might never have a chance to talk to in a crowd of 600.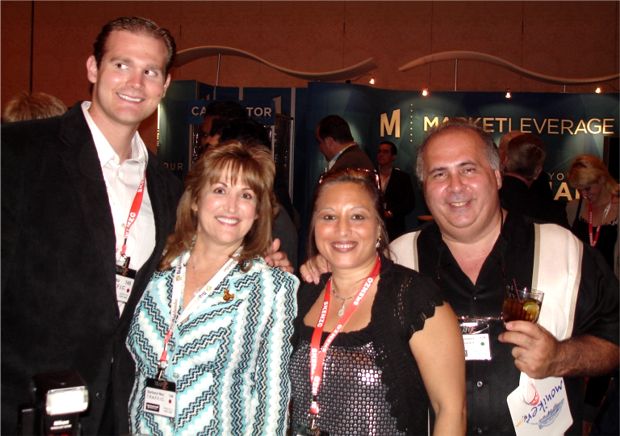 (Left to right): Ray Neu, Barbara Neu, Pat Carbonaro and Greg Carbonaro
at the opening night cocktail party.
The cocktail party wrapped up at 8 on the button so people could move into an adjacent room for Moniker.com's auction appetizer, a no or low reserve sale limited to about 30 domains. That trial run for the main live auction event Friday produced $62,750 in sales despite the short list (DayCare.org was the top name, going for $16,500).
The first full day of business opened Wednesday (May 21) with welcoming remarks from Schwartz and Neu. Schwartz talked about how the malaise in the general economy would open up some great opportunities to acquire premium assets at below market prices in 2008 as some owners will be forced to sell names they would not put on the market in better times.
I thought Simonton made one of the most interesting observations of this session. He said that a number of advertisers had told him they were now buying domains outright instead of buying traffic from Google and Yahoo as it was more cost effective in the long run. If that is occurring it would partially explain both the fall off in advertiser bids and the fact that the aftermarket has continued to outperform previous years despite the big falloff in PPC revenue.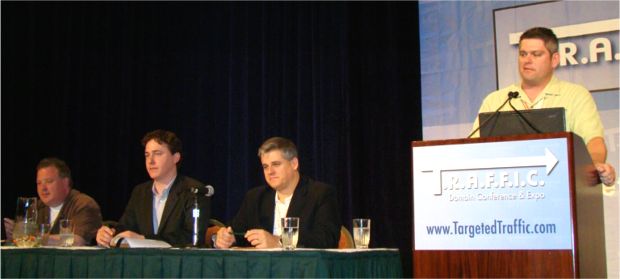 Parking panel members (left to right): Jerry Nolte, Jonathan Boswell,
Michael Gilmour and at the podium, Donny Simonton.
As Boswell pointed out, the nice thing about domains is that there are many ways to profit from them beyond PPC. "Domain owners have tons of options," Boswell said. You can raise cash through CPA programs (that pay for each completed sale rather than each click), selling domains, leasing, partnerships and of course full-scale development.
After lunch, Rick Schwartz unveiled a fascinating new product, Vertisi, that he has taken an ownership interest in. In a nutshell the product allows you to apply a special film on any glass surface and turn it into an interactive display (with full web access). Schwartz predicted it would be a billion dollar product and the possibilities for the technology do indeed appear to be endless. We wrote about it from Orlando in our Lowdown section May 22 so check that out for more details.
In the first afternoon informational session a half dozen experts took seats on the dais to talk about the future of parking. The participants included Ammar Kubba (TrafficZ), Divyank Turakhia (Skenzo), Don Ham (HitFarm), Matt Bentley (Sedo), Jeff Kupietsky (Oversee.net) and the afore-mentioned Micheal Gilmour.
That was it in terms of seminars on opening day - just three of them - part of T.R.A.F.F.I.C.'s plan to refresh the show model and give people more of what they want and that in a word is "networking". At 5pm the first of two speed networking sessions was held (the second followed the next morning), this one returning to a popular format introduced at T.R.A.F.F.I.C. East two years ago.
Participants faced each other across tables throughout the hall, with one row moving down a seat every 90 seconds so that everyone got to meet, exchange cards and comments with over two dozen people before the hour ended. You would be amazed how many valuable contacts you can make in those 90-second bursts.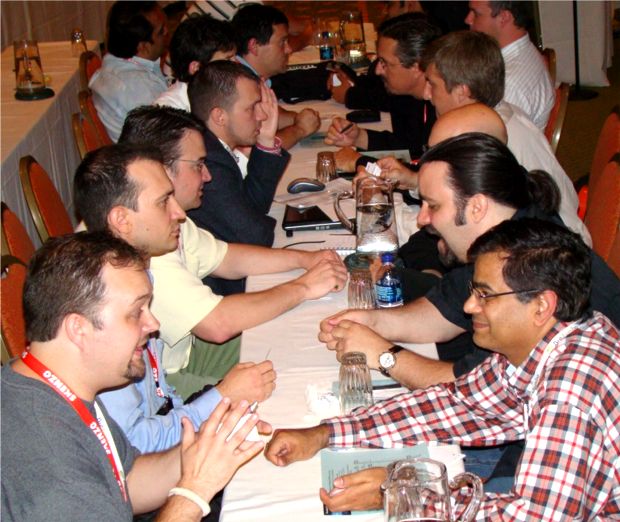 Scene from the speed networking session Wednesday (May 21)
The networking continued at a TrafficZ cocktail party that got the crowd warmed up for the evening's main event - a bus trip to Pleasure Island and TrafficZ's Official T.R.A.F.F.I.C. Party at the Raglan Road Irish Pub. I already commented on this earlier in the article, so I will just reiterate that it was a great party with Irish music, dancing, drinks and great conversation. This is a point where the old adage "a picture is worth a thousand words" proves itself, so here are some scenes from that memorable night out:
It was wall to wall domainers inside the Raglan Road Irish Pub.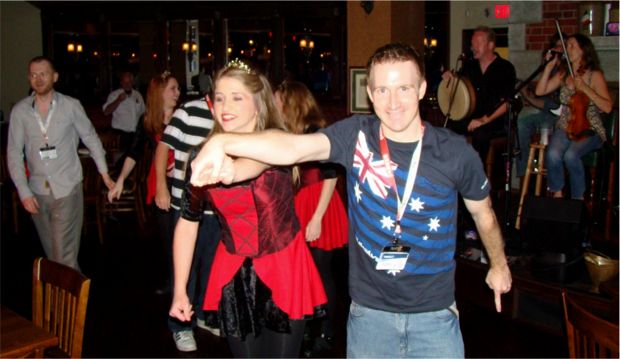 Fabulous.com's Michael Robertson learning the finer points of Irish folk dancing.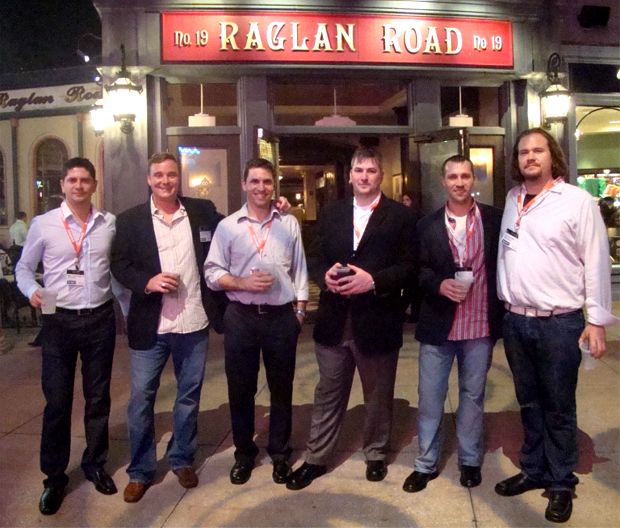 Taking a break from the action inside (left to right): Michael Bahlitzanakis (BPHG Media),
Patrick Carleton (Associated Cities), Uri Kerbel (NetRocket), Lonnie Borck (NetRocket),
Sean Stafford (DNZoom) and Dan Kimball (DNZoom).
---