By Ron Jackson
Day 2 of DOMAINfest Global opened Wednesday (Jan. 27) with a pair of structured networking sessions that gave attendees a chance to ask questions one on one with leading experts in two different fields. One group congregated around attorneys John Berryhill, Paul Keating, Will Delgado and Steve Atlee for a Q & A session on Domain Names and Legal Issues.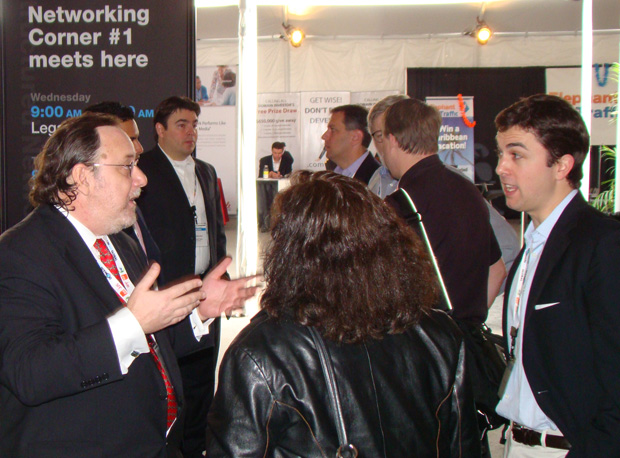 Attorney John Berryhill (left) chats with attendees during
one of Wednesday's two Structured Networking sessions.
At the same time, in another corner of the exhibit hall, another group gathered to get advice on Buying and Selling Domain Names from experts Michael Berkens, Ari Goldberger, Larry Fischer, Monte Cahn and Kathy Nielsen.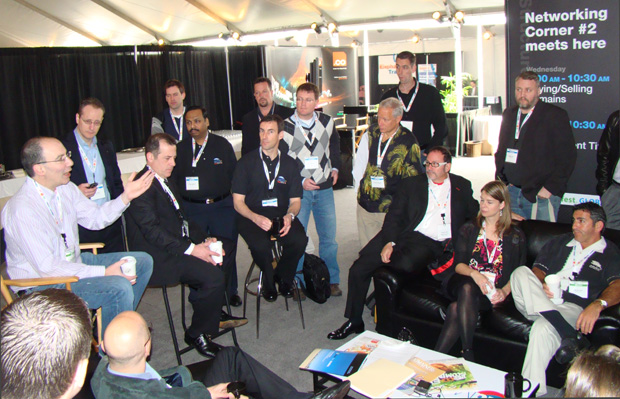 Larry Fischer (at far left) answers a question in another networking session
Wednesday (Jan. 27) devoted to Buying and Selling Domain Names.
At 11am it was time for one of the show's main events - a fireside chat with Zappos.com Founder Tony Hsieh. Oversee leader Jeff Kupietzky interviewed Hsieh, a 36-year-old Harvard graduate who sold his first company (one he started while still in college), LinkExchange, to Microsoft for $265 million in 1998. Hsieh used part of the proceeds to start up online shoe retailer Zappos.com, a company he sold to Amazon.com last summer for approximately $850 million.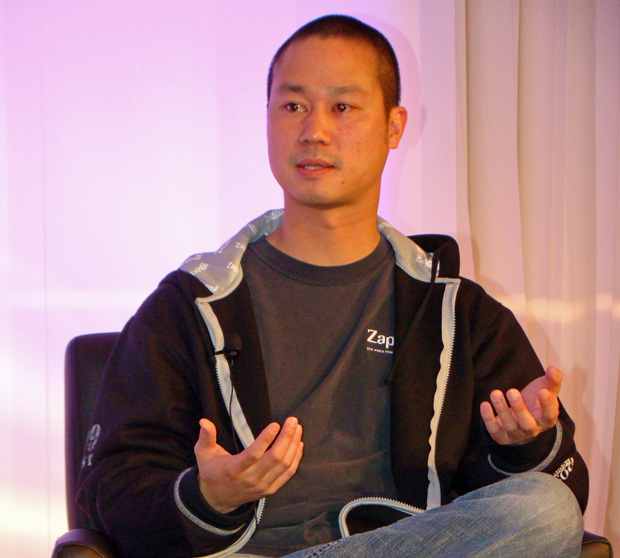 Zappos.com Founder Tony Hsieh speaking at DOMAINfest Global Wednesday (Jan. 27)
Hsieh, a very relaxed and engaging speaker with a disarming send of humor, said he thinks the most important keys to building a successful business are building a strong culture and having a vision that goes beyond just making money. In the case of Zappos.com, the entire corporate culture is built around world class customer service and engaging customers on a personal level. Hsieh said the company's brand for great customer service is so strong that people often ask his team to start an airline or run the IRS!
Hsieh also revealed that he is something of a domainer himself and owns several domains including BBQ.com which he bought around 2000 for $25,000 and still has. Hsieh also once owned Drugs.com, a name he paid $823,456 for. Hseih said he came up with that odd number because those were the first six digits of his cellphone number and he figured it would confuse the other bidder! He said later sold the domain for the same price because his phone number had not changed! Interesting logic, but the guy has sold two companies for a total of more than a billion dollars so I am not about to argue with him! As a company, Zappos has also shown interest in strong generic domains, having bought Clothes.com for $4.9 million in 2008.
Part of the capacity crowd that filled the ballroom to hear Tony Hsieh speak.
I think Hsieih's single best piece of advice was to "make sure that whatever you are doing is something you are so passionate about you won't even care whether or not you are making money doing it." He added that following that rule has practical advantages too. "Vendors will sense your passion and it all feeds in itself," Hsieh said.
The business day closed with a pair of afternoon panel discussions that were useful to anyone who is engaged in developing their own websites. The first seminar, Turning Killer Domain Names Into Killers Websites, featured panelists Brian Gilbert (Thomason Management), Rory Holland (Credit.com), Rick Waters (Webcast 1) and Howard Wyner (Scentiments.com) with Ron Sheridan serving as moderator. The panelists discussed the best practices to follow to increase the odds of success for any development project.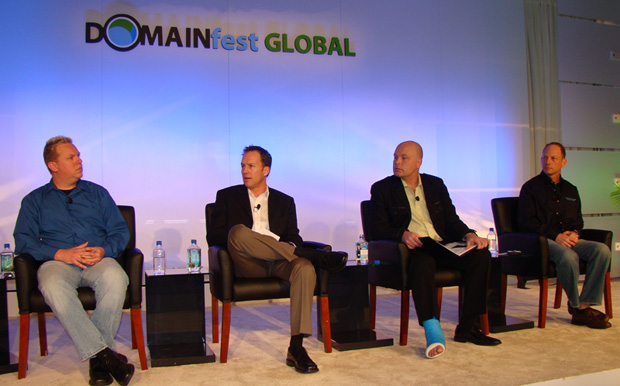 Panelists for a session on Turning Domains Names into Killers Websites were
(from left to right in the photo above): Brian Gilbert (Thomason Management), Rory
Holland (Credit.com), Rick Waters (Webcast 1) and Howard Wyner (Scentiments.com).
The second session was headlined Domain Names: How Prime Internet Real Estate Builds SEO and SEM Success. The discussion, moderated by Oversee.net SVP and General Manager

Ryan Berryman, featured Bruce Clay (Bruce Clay Inc.), Dan Ho (Adknowledge), David White, Danny Sullivan (Search Engine Land) & Melodie Tao (MarketingMelodie.com).

One of the many interesting points made during this panel was Clay's assertion that the Google "sandbox" is a myth. You have probably often heard the theory that Google weeds out sites developed primarily to spam the seach engines by putting new websites in a so-called "sandbox" for up to six months before allowing them to rise in the SE rankings.

Clay doesn't believe it and said if you put up a site with highly relevant and useful content - his example "a cure for cancer" - Google would rank it highly within days. He said sites that are doing poorly in the search engines more likely have weak content or have triggered red flags typical of spammy sites that automatically get discounted by the search engines.

Bruce Clay (BruceClay.com)
The Wednesday night social event was a welcome change of pace - a Networking Dinner Party at the fabulous mountain-top Getty Center art museum in Los Angeles. Attendees were taken to The Getty on luxury buses and found an elaborate dinner buffet waiting for them in The Getty's entry hall.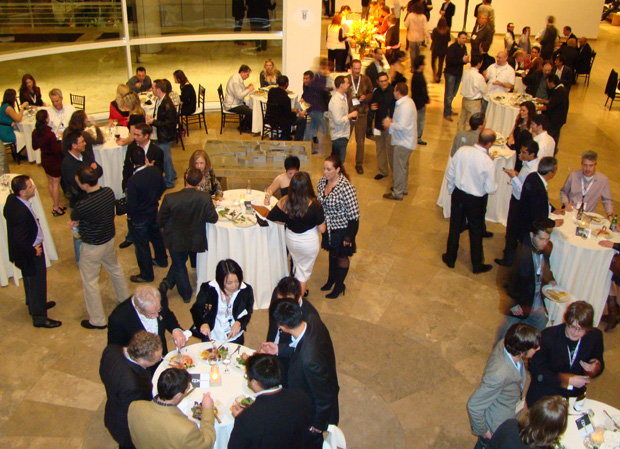 Networking dinner in the entry hall at The Getty Wednesday night (Jan. 27)
After dinner, a wing of the world class museum was open for guests to stroll through and admire the many masterpieces, a step up in class from typical conference fare that in my view is just what the industry needs to broaden its base and widen its appeal in traditional business circles. I'm sure that for the increasing number of female attendees who are carving out their places in what has traditionally been a male dominated business, The Getty also served as a perfect counterpoint to the following evening's more male-oriented soiree at the Playboy Mansion.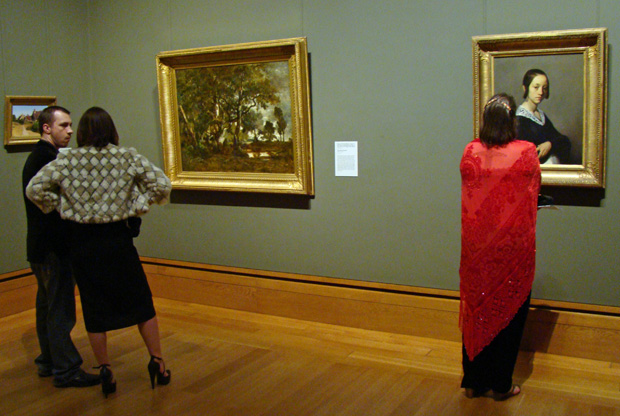 Domainers admire masterpieces in The Getty art museum's west wing.
The final day of DOMAINfest Global on Thursday (Jan. 28) began with three separate structured networking sessions that ran simultaneously in the Exhibit Hall. In one corner a group discussed SEO/SEM for Domain Names, in another the topic was Website Development Tips and in a third corner a group got tips on New End User Markets for Domain Names. Attendees were free to circulate from one group to another during the hour-long session.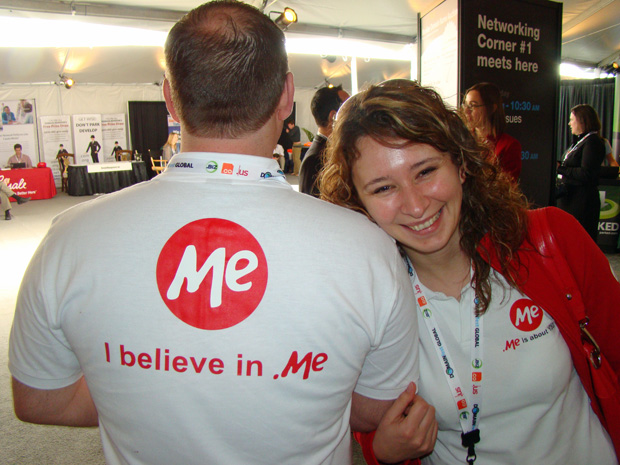 One of the experts in SEO/SEM networking group, Bruce Marler (with his back turned
in the photo above), was understandably a big hit with the .ME Registry's Director of
International Sales, Nataša Djukanović

. Other experts in this group included
Richard Jalchandra, Dan Ho, Melodie Tao, Reed Shelly and Dorian Quispe.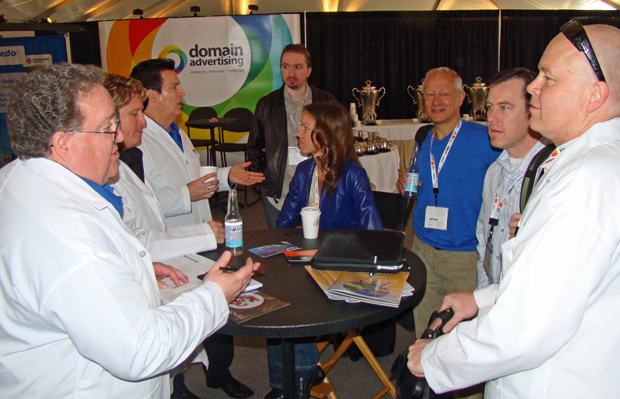 Those who joined the Website Development Tips group above got advice from
Ron Sheridan, the Castello Brothers, Rick Waters, Howard Wyner and Brian Gilbert.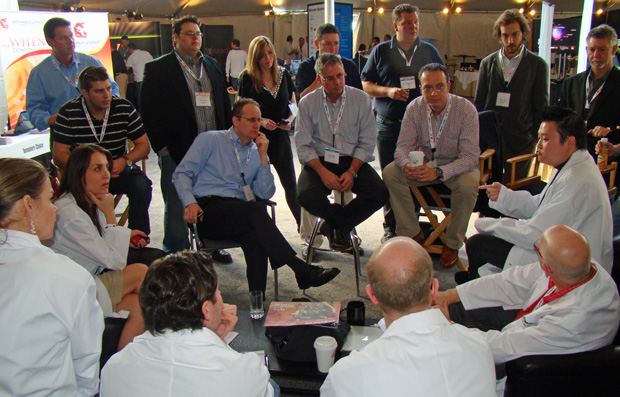 To make them easily identifiable the experts wore white coats for the networking
sessions. In the New End User Markets group above the experts included
Edmon Chung, Gregg McNair, Lori Anne Wardi and Nico Ziefang.
The second Pitchfest session that we detailed earlier in this article followed, then it was time for another one the show's main events - Moniker's Live Premium Domain Auction. The four-hour sale (that included both in house and internet bidding) produced over $920,000 in sales. The top sellers in the auction were LoanCalculator.com ($215,000), GolfLessons.com ($65,000), PearlEarrings.com ($50,000) and a pair of names that went for $45,000 each; Husband.com and Golfshirts.com.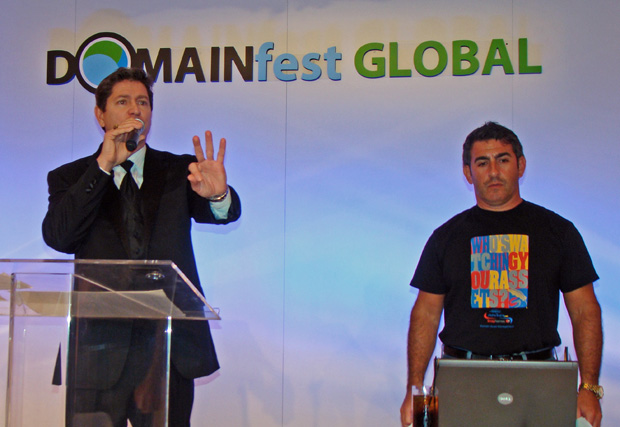 Auctioneer Wayne Wheat conducts Moniker's Live Premium Domain Auction Thursday
(Jan. 28) while Moniker CEO Monte Cahn checks bids coming in from the internet.
Coupled with the results from the Low and No Reserve Auction Tuesday night (just under $151,000) and the results from the week-long extended online auction that continued after the show (another 79 domains sold for $247,987) Moniker wound up selling over $1.3 million worth of domain names through DOMAINfest auctions.
Within an hour after the auction closed DOMAINfest guests boarded a fleet of buses that shuttled them to the world famous Playboy Mansion for a blowout party and fundraising event (for Jenny McCarthy's Generation Rescue Foundation) that ended the show in a manner that no one who was there will soon forget.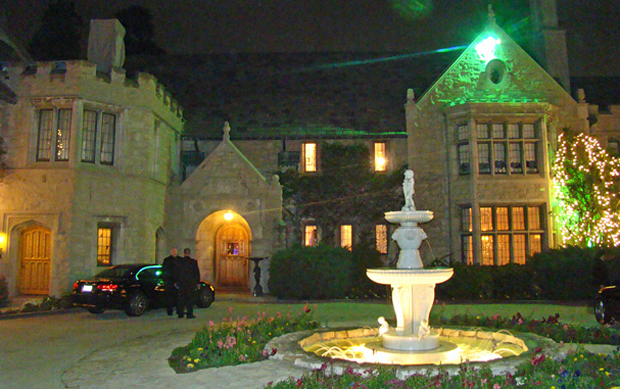 From this shot I took of the front of the Playboy Mansion you would
never know that a huge party was going on behind the house.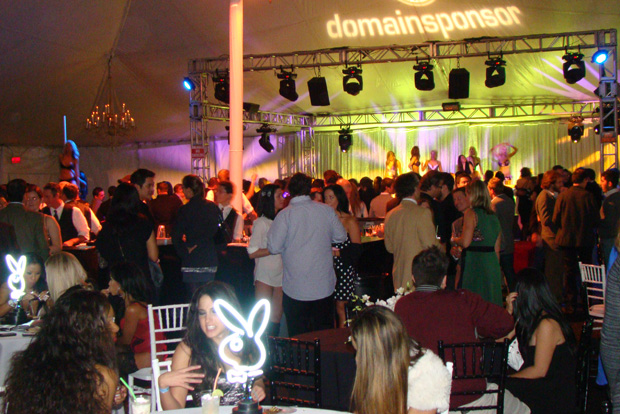 DomainSponsor set up a massive tent on the side lawn
complete with a dance floor, buffets and a central open bar.
Patrick Ruddell AKA Chef Patrick (left) and David Castello (right) visit Juan Calle, CEO of
the .CO Registry in one of the private corporate reception areas set up inside the big tent.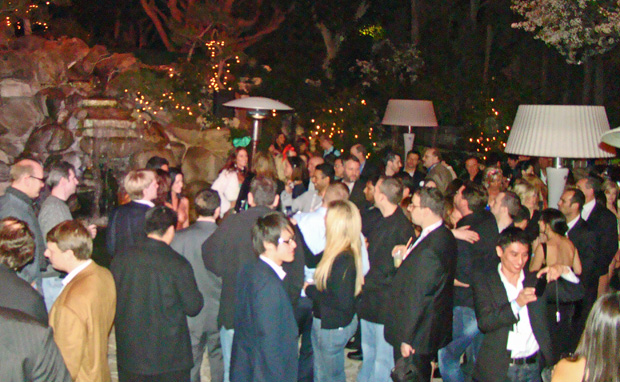 It was also nice outside and the area around the pool
and the Grotto was another popular meeting place.
Guests were free to roam the 5-acre estate, complete with its own zoo, game house and famous grotto. They could also take all of the photos they wished to save the event for posterity and I'm sure everyone there was thankful for digital cameras and memory cards that hold hundreds of images. With so many photo opportunities, if people still had to buy rolls of film and pay for photo processing I'm sure this one event would have driven a lot of guys into bankruptcy!
The closing night party capped an unforgettable week in Los Angeles. I can't think of any better way to sum up DOMAINfest Global 2010 than to repeat what I wrote in our last daily update from Santa Monica the morning after the conference ended. "Despite the high standards set by the three previous shows in this annual series, DOMAINfest Global 2010 still managed to exceed everyone's expectations....Going forward I think two words will be associated with DOMAINfest Global - "Can't Miss." When dates for the 2011 show are announced write them down (in blood if necessary) and make sure you are there."