I entered the domain business in the spring of 2002. Two and a half years would pass before I met any of my fellow domain owners and business associates face to face. The event that made those personal connections possible was the first T.R.A.F.F.I.C. conference, staged by Rick Schwartz and Howard Neu at the Delray Beach, Florida Marriott in October 2004.
During those few days spent with people who shared the same interests and belief in the domain industry that I did, I was able to make several lasting friendships and established some key business relationships that continue to pay dividends today.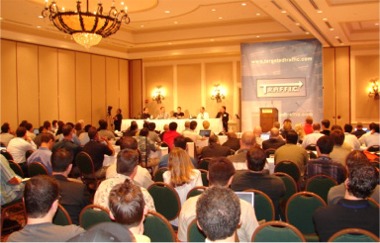 Panel session at last year's T.R.A.F.F.I.C. East conference in Delray Beach, Florida
Though the domain business is based online, there is simply no substitute for the kind of interaction and increased knowledge available to you offline at key industry conferences. Having found that first experience at T.R.A.F.F.I.C. to be so valuable, it has been extremely gratifying for me to see domain conferences flourish over the past two years, presenting multiple opportunities for domain owners to meet in great locations around the world. T.R.A.F.F.I.C. itself has grown by leaps and bounds and, after outgrowing their original site, will stage their biggest show ever this month at a new Florida location, the Westin Diplomat Hotel in Hollywood. We just published a preview of that event as our October Cover Story (we'll also be publishing a complete show wrap-up November 1).
Scene from 2006 Domain Roundtable
conference in Bellevue, WA last April

DomainFest LA attendees hit the
buffet table at last month's conference

T.R.A.F.F.I.C. and the Domain Roundtable conference that has been held in the Seattle area the past two springs are what might be called mega-conferences. They have very ambitious agendas featuring well-known speakers and are held in first class facilities with great food and accommodations. As a result, in terms of dollars and cents, they are expensive to attend (though we have never heard anyone complain that it wasn't well worth the cost to be there). Now, thanks to the appearance of some well-run local and regional conferences, there are opportunities to enjoy a rewarding show experience even if you can't fit T.R.A.F.F.I.C. or Roundtable into your budget yet.

The latest example of a smaller scale conference that still delivers a big bang was DomainFest LA, held at the Marina del Rey Mariott in Los Angeles last month. DomainSponsor.com (who is also the lead sponsor for T.R.A.F.F.I.C.) provided most of the financial backing for DomainFest LA, making registration completely free of charge, so the only cost involved was transportation and hotel accommodations. Space was limited so you did need to apply for and receive an invitation (T.R.A.F.F.I.C. is also an invitational event while Roundtable is open to all comers). DomainSponsor also recently helped stage a similar show in Barcelona, Spain and we understand they are considering similar events in other locations in the year ahead. Sedo.com also held an invitational conference for their partners and clients in Cologne, Germany last month.
This is all a sign of an industry that is coming of age and one that represents a "hot market" that a lot of people want to learn about. With more opportunities than ever before to meet fellow domain owners and industry leaders in person, I encourage you make it to one of these events as soon as you can - your business will thank your for it!
Eye on ICANN About to Open
| | |
| --- | --- |
| | Within the next 30 days we plan to open a new section at DNJournal.com called Eye on ICANN. As most of you know, ICANN is the non-profit organization commissioned by the U.S. Department of Commerce to administer Internet domain names. In that role, ICANN has the authority to make decisions that could be disastrous for your business and domain registrants everywhere. That became evident this summer when ICANN proposed new contracts for the .org, .info and .biz registries that triggered a near unanimous protest from domain owners. See last month's newsletter for more on that. |
As of this writing, thanks to the outcry from domain registrants who took their complaints all the way to Congress, ICANN has postponed a decision on those contracts. Still that threat, and others, hang over everyone's head. What ICANN does can no longer be taken for granted by domain owners. Our new section will provide a central location for us to bring you updates on what is going on at ICANN that you need to be aware of.
To help us do a better job of that, we are applying to become part of the ICANN process as members of the organization's Business Constituency. This group is meant to provide the Internet business world's input in formulating official ICANN policies. Despite the BC's important role, only 36 companies have joined and only two of those members, Name Administration and Leap of Faith Financial Services, are run by people from the domain investor's community. In fact it was Leap of Faith's George Kirikos who first detected the dangers in the .org, .info and .biz contracts and sounded the alarm.
Any Internet business, large or small, can apply for BC membership. If more domain owners are represented on that body we will have a better chance at blocking policies that have the potential to harm business registrants. We urge you to follow the Business Constituency link above and check it out for yourself. There are three categories of membership. Category One is for large companies and global associations and it costs 1500 euros (approx $1,900) annually to join. Category Two is for regional associations and costs 1000 euros (about $1,270) and Category Three is for small businesses with less than 10 employees and revenue of no more than 500,000 euros annually. That costs only 250 euros (about $320) a year to join.

The Business Constituency
Wants You!
Category One members get 3 votes in the BC. Category Three members get 1 vote. So three small business members would have the same voting power as Verizon, Nokia, Time Warner or any of the other giants who have joined the BC. Those votes help formulate BC positions and elect the BC officers that represent the constituency on the GNSO Council (a key group within ICANN comprised of leaders from all six ICANN constituencies).

In the current fight against the .info, .biz and .org contracts I think one of the most effective deterrents was that ICANN was heavily criticized simultaneously by individual registrants posting on their public comment boards and some of their own constituencies - the groups they are supposed to listen to in formulating policy. That has put the ICANN board in an indefensible position on these contracts in my opinion.

To show you the kind of impact the BC can have on an issue, go to www.bizconst.org and in the left column under Archive click on Statements, then To US DOC March 2006 (sorry there doesn't appear to be a direct link to this document). It is a letter drafted by the BC and sent to the U.S. Department of Commerce, calling ICANN on the carpet for poor negotiating on the .com contract - which still hasn't been approved - quite possibly in part because of this influential letter. When the DoC or Congress hears directly from the constituencies that are supposed to carry great weight in ICANN's supposedly ground up policy formulation system, it has to make an impact. We can and should be part of that process and so I hope many of you will consider applying for membership as well. All of our futures could very well depend on it.
.Mobi Land Rush Drawing to a Close
One other note before we go - the .mobi land rush ends at 10am (U.S. Eastern time) Wednesday, Oct. 11. At that time the higher land rush registration prices are to be replaced with lower general registration rates that will be in effect from that point on (the exact prices will vary from one registrar to another). By all accounts, .mobi has enjoyed a successful rollout with very few of the kinds of complaints about the "fairness" of the process that dogged previous new extension rollouts like .eu and .info.

The .mobi extension is intended for sites designed to display well on the small screens found on cell phones and other mobile devices. Total .mobi registrations broke the six-figure mark just four days into the land rush period. With lower prices coming with the conclusion of land rush, the extension should see another wave of new registrations. It looks like an aftermarket has already developed for .mobi domains with reports of several auctions at Pool.com ending with high bids in the four-figure range. We understand that some premium .mobi domains will also be up for grabs in a big live domain auction at the T.R.A.F.F.I.C. East conference in Florida later this month.