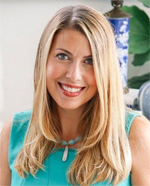 In another extraordinary sales story that we broke in the Lowdown Monday morning, Kate Buckley, Founder & CEO of the Buckley Media Group, made TWO of the year's 10 biggest sales in a single transaction. Kate brokered a deal that sent Sleeping.com and Snoring.com to US Expediters (the company that operates CPAP.com) for $502,225 each - a total of $1,004,450. On almost any other week of the year those two would share the top spot on our latest weekly all extension Top 20 Sales Chart - but thanks to Ice.com - they tie for #2. However, this pair is also tied for #7 on our Year to Date Top 100 Sales Chart and they give Kate three of the 15 highest sales reported so far in 2018. She also has the #13 spot on the YTD list with her $335,000 sale of Inspection.com in February. Her three spots on the elite list are more than any other company or individual in the first 15.
Kate Buckley
Now on to two more big sales that, again, would be chart toppers themselves in almost any week but this one. In another huge 3-letter .com sale #4 NWM.com changed hands for $325,000 in a private transaction. We've learned that CSC Corporate Domains acquired this domain on behalf of Royal Bank of Scotland, most likely for their NatWest Markets unit. At #5 is yet another high end sale at this level, Seva.com, a name that went for $310,000 in a private transaction. The buyer disclosed the price paid for this one on a Monday podcast produced by DomainName Wire.com.
Sedo had a lot to celebrate this week too. Even though they didn't ring the six or seven figure bell they swept all but one of the 15 remaining chart entries on this week's Top 20. #6 BTCExchange.com led their roster at $55,000 and also helped the .coms pile up 16 of the 20 chart entries. The ccTLDs took three spots on the Big Board with #9 Park.co.uk leading the country code pack at $29,475. The non .com gTLDs were limited to one position #19 KYG.org at $8,800.
Here is how all of the sales leaders stacked up for the week ending Sunday, July 15, 2018:
HealthInsurance Services, Inc
eHealthInsurance Services, Inc
eHealthInsurance Services, Inc
The DN Journal Top 20
Highest Reported Domain Sales - Mon. July 9, 2018 - Sun. July 15, 2018
(Foreign currency to U.S. Dollar Conversions Based on Rates in Effect July 18, 2018)

Domain

Sold For

Where Sold
1.
Ice.com
$3,500,000
Grit Brokerage/
Brannans
2.
tie
Sleeping.com
$502,225
Buckley Media Group
2.
tie
Snoring.com
$502,225
Buckley Media Group
4.
NWM.com
$325,000
Pvt Sale
5.
Seva.com
$310,000
Pvt Sale
6.