released it would rank among the ten biggest cash domain sales ever reported. At this point in time that would put it between the $6.7 million paid for #10 Z.com and the $30 million paid for #1 Voice.com. Whatever the number was, it was no doubt a true blockbuster and we couldn't be happier to see Larry, Ari and Andrew log their latest landmark sale.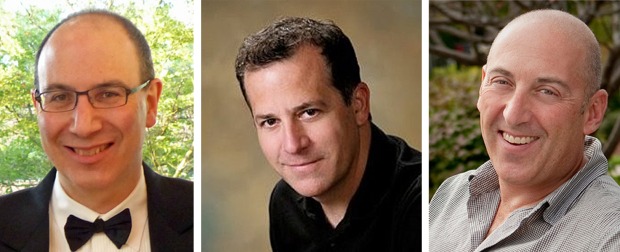 (Left to right): Larry Fischer, Ari Goldberger and Andrew Miller
Speaking of landmark sales, some new details emerged this week about the 2015 sale of Lending.com. While the price was never announced, master domain sleuth George Kirikos uncovered some interesting evidence in SEC filings that strongly indicates the buyer paid $5,422,000 for that domain. You can read what George found in this Twitter thread. The buyer has not given confirmation of the price but if they do we will place that sale on the appropriate charts in our Domain Sales Archive.
Now, back to the immediate business at hand in what has been a very busy couple of weeks. While the .coms again took the majority of positions on the new Top 20 Chart, they ran into much stiffer competition than usual, including a ccTLD onslaught that put six country code domains on the elite list. The $50,000 sale of #2 Domain.io by Mark Ghoriafi at MrPremium.com led the ccTLD charge. The non .com gTLDs also showed strength with a trio of domains on the honor roll, led by Sedo's $20,000 sale of #8 Sin.net.
Meanwhile, the .coms kept scoring with hits like the $39,995 sale of BeElectric.com that Hiren Patel at Quality Names made via Afternic. Hiren said he bought the name for just $860 a little over a year ago! You might recall that Hiren is also the guy who sold ElectricCars.com for $180,000 last year.
Another especially interesting thing on this week's chart - by now you have probably heard a lot of chatter about the new social media app, Clubhouse (an audio only platform that currently requires an invitation and is only available for the iPhone). A lot of domain people are raving about how Clubhouse can bring the industry much wider recognition and also boost domain sales. Right on cue, the first charted domain sales ever transacted via Clubhouse are on this week's chart. NamesCon President Soeren von Varchmin sold #18 Greece. de for $13,246 with 100% of the proceeds from the domain he donated going to the EFK.org (Entrepreneurs For Knowledge) school foundation that NamesCon supports. In a second Clubhouse sale, Aishwin Vikhona sold #20 RL.org to MediaOptions.com Founder Andrew Rosener for $13,000. It does look like this Clubhouse thing could be the start of something very big (as you will see the in Non .Com gTLD section of this article later - Clubhouse is also having a huge impact on the sale of premium .CLUB domains).
Here's a look at how all of the sales leaders stacked up for the two weeks ending Sunday, January 31, 2021: