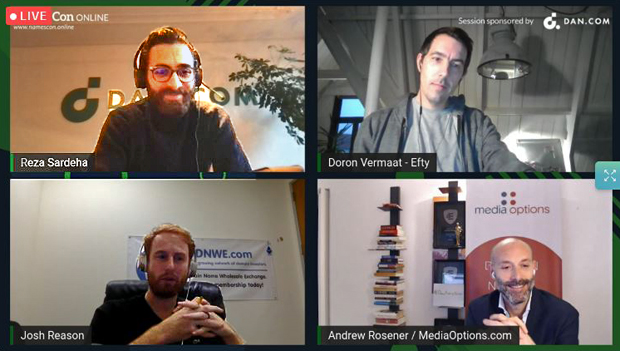 Above: The closing day on the Keynote Track began at 11am US Eastern time with a panel discussion about the innovative DAN.com ecosystem titled Uniting and Pushing the Domain Industry Forward. Domain buyers need to be able find domains that meet their needs and sellers need better selling tools, so the founders of the DAN.com platform set about building value-added partnerships and using the latest technology to knock down the barriers to connection between buyers and sellers. The panelists included (clockwise from top left), DAN.com CEO Reza Sardeha, Efty.com Co-Founder Doron Vermaat, MediaOptions.com CEO Andrew Rosener and DNWE.com Co-Founder Josh Reason.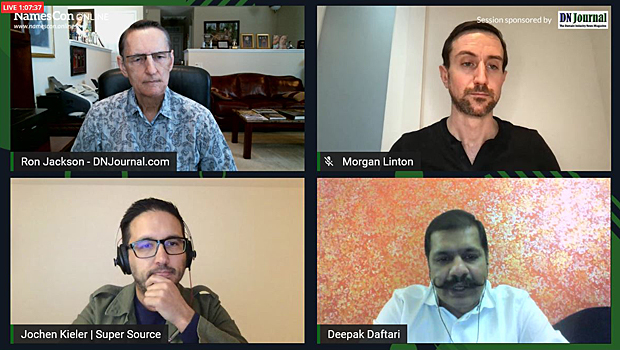 Above: The next session was the last of the three State of the Industry panels I hosted at NamesCon Online. After talking to Corporate leaders Wednesday and some of the world's best Domain Brokers Thursday, I got together Friday with three successful Domain Investor/Developers to see how they navigated the Covid-19 crisis in 2020 and get their forecast and advice on where you will find good opportunities in 2021 (the series was an expansion of the 17th annual State of the Industry Cover Story we published last week). I was pleased to be able get insight from friends representing three different continents. Clockwise from top left are Ron Jackson (DNJournal.com), and, in the U.S. corner, Morgan Linton (Bold Metrics Inc. and MorganLinton.com), from India, and a star on NamesCon's South Asia Track, Deepak Daftari (eSiksha.com) and representing Europe, Munich-based industry veteran Jochen Kieler (SuperSource.de). If you are a show registrant and missed this, or any of the other NamesCon sessions live, replays are (or soon will be) available to you to watch at your convenience.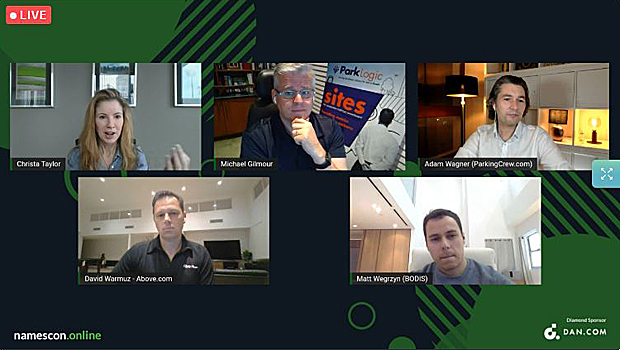 Above: The Future of Domain Monetization was the topic of the first afternoon conference. Everyone is familiar with the traditional parked page that has been utilized for so long now, but this panel of experts discussed what is in store for the future of domain monetization, covering how it will differ form today and changes that could be beneficial for domain investors. Clockwise from top left, the panel included moderator Christa Taylor (dotTBA.com), Michael Gilmour (ParkLogic.com), Adam Wagner (ParkingCrew.com), David Warmuz (CEO, Trellian/Above.com) and Matt Wegrzyn (Bodis.com).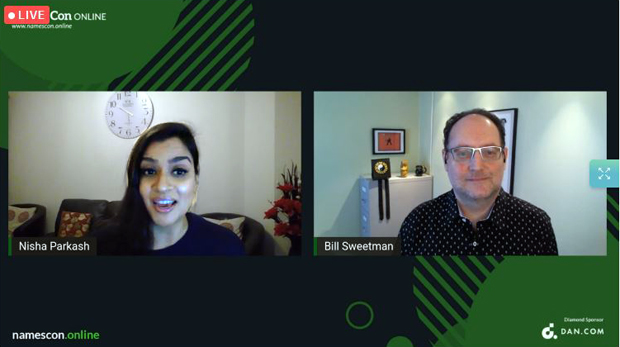 Above: Domain investors and major corporations often hold hundreds, or even thousands of domains in their portfolios. That can create a management headache but there are solutions that moderator Bill Sweetman (Name Ninja), at right above, discussed in the next session with Nisha Parkash (Online Compliance and Brand Protection Manager, Sky Limited) titled You're Doing it All Wrong: Lessons Learned from Managing a Large Corporate Domain Portfolio.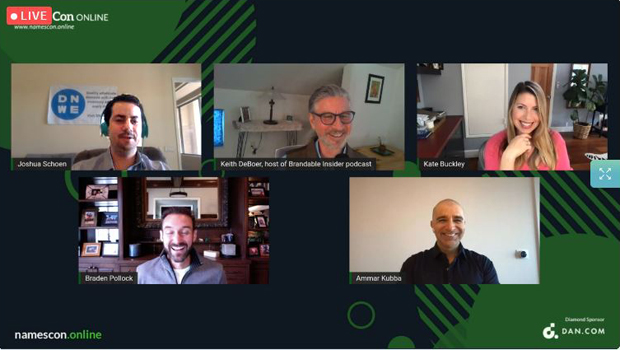 Above: People always want to know what their domains are worth, so when a session is titled What's My Domain Worth?, a big audience is sure to gather, especially when the people doing the appraisals are of the caliber featured on this panel. Clockwise from top left are Josh Schoen (Co-Founder, DNWE.com), Keith DeBoer (Brandable Insider podcast), Kate Buckley (BuckleyMedia.com), Ammar Kubba (afterTHOUGHT.com) and Braden Pollock (LegalBrandMarketing.com).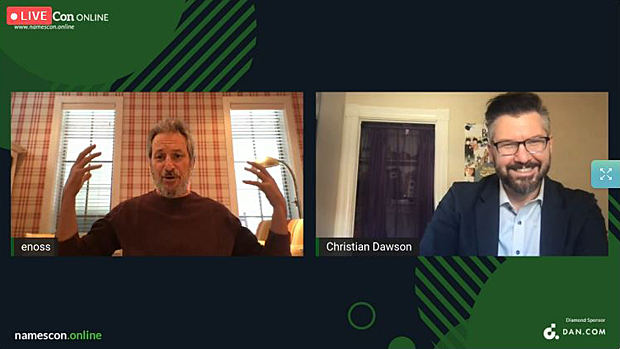 Above: The show's final Keynote Track session Friday afternoon was a great Fireside Chat With Tucows CEO Elliot Noss, sub-titled, How Do We Make The Internet Better From Here?. Asking the questions was, at right above, Christian Dawson (Executive Director, i2Coalition). The session's synopsis will tell you why you should check out the replay on this one if you missed it live. It noted, "Tucows was started in 1993 and back then they weren't even in the domains business - pretty much nobody was!...CEO Elliot Noss, has coached his organization through many shifts over the year, and knows something about surviving and thriving through change. He believes that current events have made the DNS industry the canary in a coal mine for the whole Internet and that we have a unique role to play in the coming decade as platforms, not countries, will be "making law" whether we like it or not."
As has been the case every day at NamesCon Online, additional sessions on the Breakout Track ran concurrently with the Keynote Track throughout the day. I had to miss the first two while I was onstage doing my State of the Industry Panel but will catch those in the replays. In the first, Yogi Solanki (Founder, Outbound Domains) covered Outbound Objection Handling. In the second, Darpan Munjal (Founder & CEO, Squadhelp.com) presented Data Driven Domaining: Insights & Trends for Brandable Domains.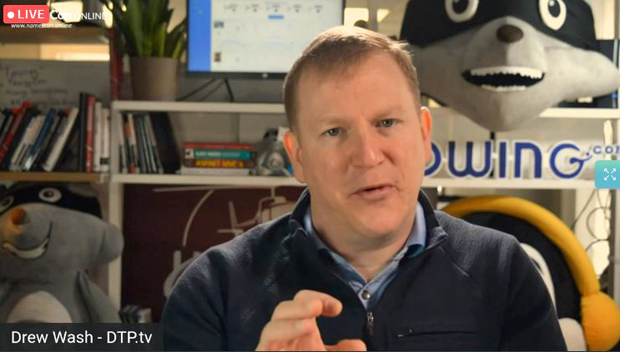 Above: Action on the Breakout Track continued with the final chapter in Drew Walsh's 3-day Development Series: Go All in With Full Development. Drew, who runs MovingSites.com, has been a domain investor since 2001. He buys premium domain names with the sole purpose of developing them. He works to extract the value of the domain as a business rather than selling them. Drew also does a weekly live stream called Domain to Profit where he works to help others develop domains.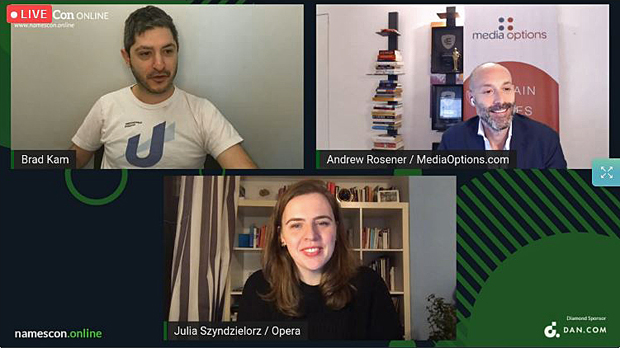 Above: Next up, the topic turned to Blockchain Domains & the Decentralized Web. This session covered how blockchains provide a new platform for domain registries. The panelists, clockwise from top left, were Brad Kam (Unstoppable Domains), Andrew Rosener (MediaOptions.com) and Julia Szyndzielorz (Senior Public Relations Manager, Opera).
Below: In the next session, James Tuplin (Co-Founder, Bodis.com) answered the question, Can You Ever Have Too Many Domains? Building & Maintaining a Profitable Portfolio. In this one James focused on how to build a revenue-generating portfolio of domains that attract web traffic.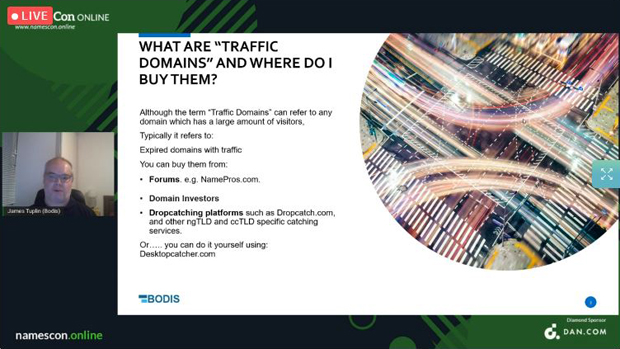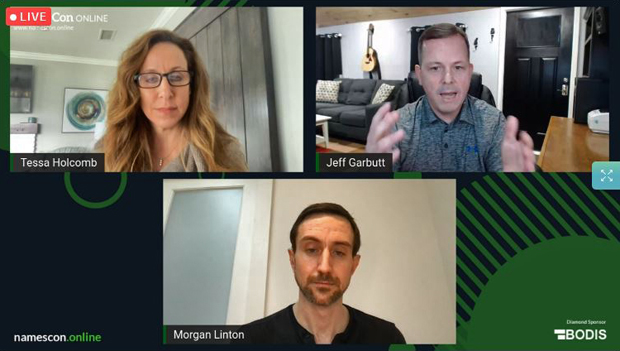 Above: Domain investors are always looking for places to market their domains. This session tells you about what could be a marriage made in heaven if you approach it in a professional way. LinkedIn & Domain Sales featured, clockwise from top left, Tessa Holcomb (Founder, DomainAdvisors.com), Jeff Garbutt (Founder, Prime Loyalty) and Morgan Linton (COO, Bold Metrics Inc.).
Below: In the show's final session on the Breakout Track, united-domains AG CTO & Board Member Tobias Sattler (who is also Editor-in-chief at MyNext.Events and Founder of Domain Name Basics), delivered a timely talk on the COVID-19 Impact on Domain Names. Here, Tobias (at right) is introduced by energetic Breakout Track host Peter Schwinge.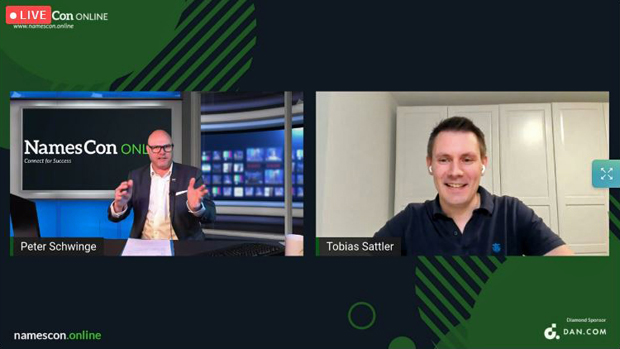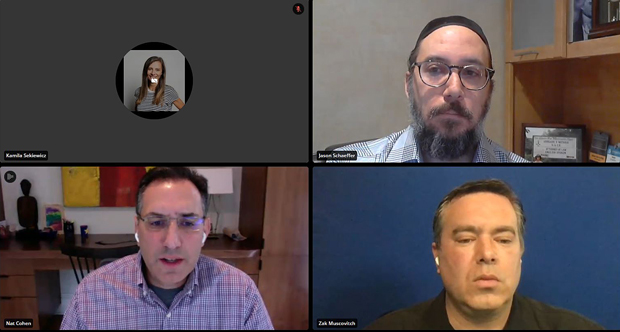 Above: In addition to the Keynote, Breakout, Americas, and South Asia Tracks, many attendees were able to set up or participate in many other meetings that were held throughout the show in the Workshop Rooms. One of the best attended Friday was an Internet Commerce Association discussion about UDRP Issues. Handling that, clockwise from top left, were ICA Executive Director Kamila Sekiewicz, attorney Jason Schaeffer (ESQwire.com) ICA General Counsel Zak Muscovitch and ICA Board Member Nat Cohen (Telepathy).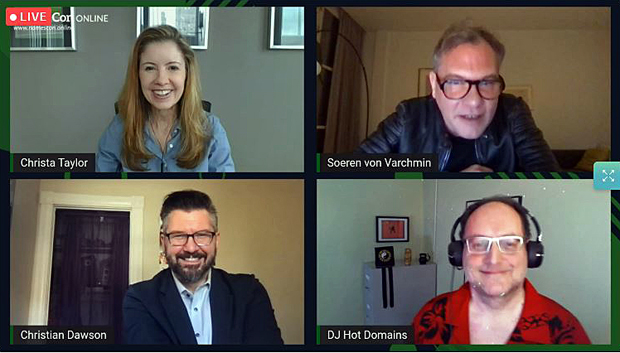 With business now done at NamesCon Online 2021, it was time to say goodbye to the hundreds of registrants who logged in from around the world. Ecstatic to have produced another outstanding conference in the face of so many Covid-releated obstacles, NamesCon CEO Soeren von Varchmin (top right), and (clockwise after Soeren), Moderators Bill Sweetman, Christian Dawson and Christa Taylor, were all on hand to provide a heartfelt farewell for now. We couldn't help noticing that Bill apparently took the occasion to adopt a new stage name- DJ HotDomains! It was obvious that Soeren noticed it and wondered if his eyes might be deceiving him! Hey, we are in a business that is all about the name, so if it works for Name Ninja Bill, more power to him. Congrats to Soeren and the entire NameCon team on a job well done and thank you for the incredible value you delivered for attendees this week.
Of course, after every NamesCon there are always a lot of people who don't want to go home, and just because this one was online, it was no exception. A three-hour special edition of Arif Mirza's The Domain Social was held immediately after the conference on Zoom and when I dropped in the number of attendees was already in triple digits and steadily growing.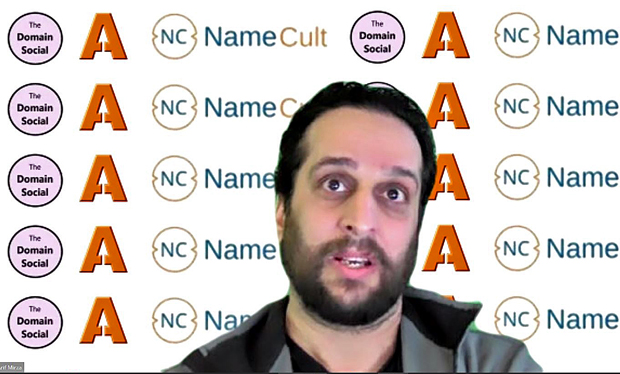 Arif Mirza (above) with help from Jothan Frakes (below) - both snapped at today's social - have been hosting The Domain Social every Friday (along with some on other special occasions) and it has helped a lot of people stay connected through the pandemic. It is open to all and you can get email notices that will alert you to every upcoming event by signing up here.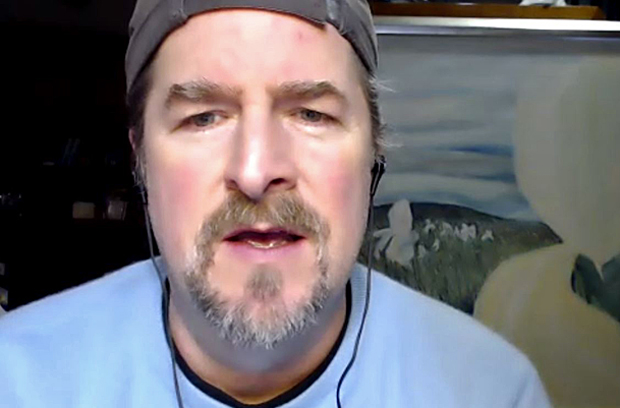 One final note, the show is over but our coverage is not. NamesCon's outstanding South Asia Track ran in what were the overnight hours in the U.S. when most of us were sleeping. So, as I did in covering the first NamesCon Online event in September, I will sit down and experience the full South Asia track via the replays so I can put together a separate post detailing those sessions. That will appear in this column one day next week. In the meanwhile, everyone stay safe and put all of the great tips you got this week to good use in 2021!