As we detailed in one of our most popular stories of the year (released last Friday), domain industry pioneer Michael Castello closed a $1.5 million sale of Room.com when the buyer paid off a five-year installment plan early. Michael and a friend, radio legend Walt "Baby" Love, co-owned the domain after Michael hand registered it for their partnership 26 years ago! In addition to nicely padding their bank accounts that also put Room.com atop on our latest bi-weekly all extension Top 20 Sales Chart. It also ranks as the second biggest publicly reported sale so far this year. Room.com trails only the $3 million sale of Help.com in January (coincidentally, Michael has a $3 million sale on his resume as well, having sold Whisky.com for $3.1 million in 2014).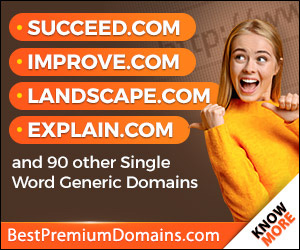 This week's #2 sale is anything but what its names suggests. Fiasco.com provided a $203,500 payday for another industry icon, Braden Pollock at LegalBrandMarketing.com (if you don't already know about Braden you should and our 2011 Cover Story profile about him would be a good place to start).
The next two spots on the Big Board went to a pair of nice ccTLD sales at Sedo. They sold Magnet.de for $54,570 and moved Pics.ai for $50,000. The biggest non .com gTLD sale, BitcoinETF.org at $49,999, also sold via Sedo, rounded out the first five.
As usual, the .coms took the majority of the chart entries (12 of 20 overall). One of those was a $49,997 acquisition of #6 TravelAI.com by John Lyotier in a private transaction. John has a rich history in the industry too, having co-founded LeftOfTheDot.com back in 2010 (it now points to TravelAI.com). John told me, "There is so much happening in the AI space, and after being a data company masquerading as a travel company for more than a decade, we felt the time was right for us to build out on a new brand that can be our flagship and help define our new story." We wish John and his team the best of luck as they start this new chapter.
SnapNames also helped the .com cause by putting three names on the honor roll, led by #10 Kaffee.com at $19,100.

The ccTLDs also had their usual strong outing, taking six spots, including #8 Chess.ru at $28,234. Chess, of course, is an obsession in Russia. This name was purchased by an investment company that plans to take full advantage of that. Now that they have acquired the definitive domain from the owner who has held it since 1999, the new owners said they are creating an online chess platform for the Russian-speaking audience that will also include the largest web apps available for mobile operating systems, including iOS and Android.

The non .com gTLDs nailed down two spots this week - both with .orgs that were both sold through Sedo. In addition to the BitcoinETF.org sale, #12 Fitness.org changed hands for $16,050.

By Ron Jackson

Last but not least, a big historical sale has come to light. As Elliot Silver reported at DomainInvesting.com, Yolo.com was sold for $3 million in 2021. The price was confirmed by two well-known brokers who were involved in the transaction, Andy Booth at Booth.com and Andrew Rosener at MediaOptions.com. As a result, we have added Yolo.com to the 2021 Top 100 Chart in our Domain Sales Archive where it now ranks as the #5 sale for that year.

Here is how all of the leaders stacked up for the two weeks ending Sunday, September 10, 2023: