"It was the summer of '97," Michael recalled. "I had been registering domain names since 1994, and after selling Powwow.com for $25,000 in 1996, I was feeling pretty good about the new internet that most people thought was just a fleeting fad. A Radio Hall of Fame personality, Walt 'Baby' Love, was interested in services I provided through my production company, Powwow Productions. Walt, who hosted a popular radio show, The Countdown, was starting a new gospel radio show called Gospel Traxx and a record executive who knew both of us told him about my revolutionary studio which recorded in random-access."
"Everything at that time was on tape, but technology was allowing for faster and larger hard drives, making it possible to record digitally on a computer without using tape. This was a completely new technology, and when Walter first walked into my studio, he said, "Where's the studio?". I mentioned he was standing in it! All he saw was a large computer screen with some road cases and electronic gear. I asked Walt to sit down at a microphone I had placed in front of a chair and requested him to read a paragraph from a magazine I handed him."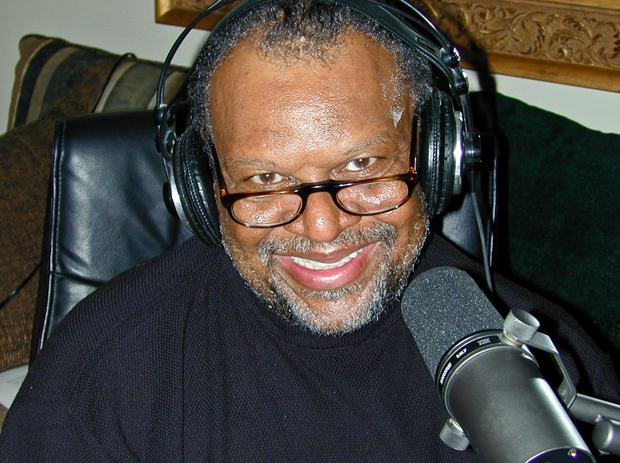 Radio Hall of Fame Member Walt "Baby" Love
"As he was reading, I was recording him on my computer. Halfway through, he made a mistake and asked if he could redo it. I told him, "Just read it again and when you make a mistake go back a few words and continue on." He did so, starting and stopping as he re-read several times. I took about 20 seconds editing on the fly and played back his now seamless performance. "How did you do that!?" he exclaimed. A moment later he asked if I wanted to produce his new radio show and I accepted. That's what makes Walt 'Baby' Love so successful. He sees something new and takes a leap of faith forward. I produced that three-hour show for over 15 years. It reached over 200 radio stations worldwide weekly, with gospel performers like Yolanda Adams coming to the studio and even babysitting my son, Jonathan."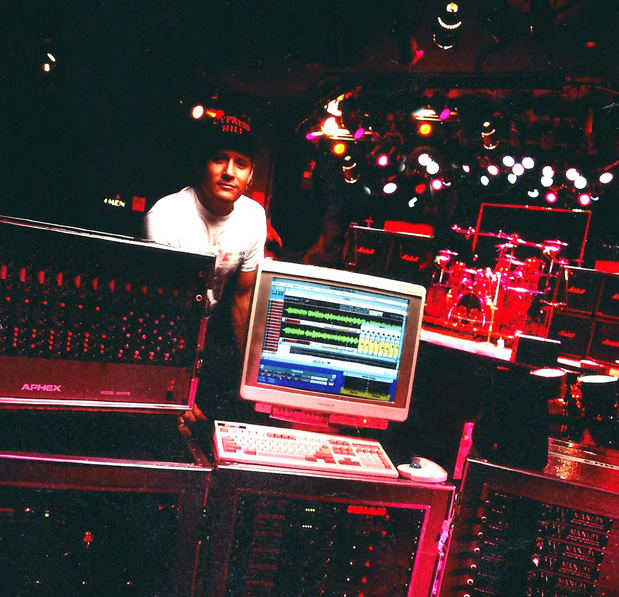 Michael Castello at The Roxy in Los Angeles (circa 1992) where Mix Magazine was covering
new technology he was utilizing for live recording at the famous night club, as well as at the Whisky A Go Go.
"From March 1995 to the summer of 1997, Walt and I often discussed the internet. Walt was a pastor and felt the internet was not a good place for people. I explained that the internet is what you make of it. Walt realized from watching me construct websites on my computer that there was an opportunity for him. One night during our recording session, he asked if I could get him involved in domain names. I asked him how much he wanted to spend, and he said, "How about $3,000?" Our arrangement was that I would find and register the names, and we would split their sales or website businesses 50/50, like Harlem.com. He handed me his credit card, and I registered 30 generic domain names, including Room.com."
"Over the years, Room.com has made Walt money. One such instance was Hotels.com paying $25,000 a year just to point Room.com to Hotels.com. Later, we used Room.com as its own website for booking hotel rooms," Michael noted.
"In 2019, Mark Daniel reached out to me. I've known Mark for many years as a great negotiator. He had contacted me the year before with a $400,000 offer for Room.com, which I declined. Mark mentioned that the interested company was now willing to negotiate a higher price and asked for my current rate. My reply was $4 million. Mark and I went back and forth for several days trying to finalize the sale. I knew I had a potential buyer, but I was also aware of the limitations of a new startup in terms of funds from investors and employees. They eventually reached their limit, but my final offer stood at $2 million. I informed Walter that I wouldn't go below $1.5 million. When Mark relayed this price to the buyer, they responded that such an amount would be "obscene". I proposed a lease-to-buy agreement with payments spread over 5 years, to which the company finally agreed. They were to pay $250,000 upfront and then $62,500 every three months for the next 5 years," Michael said.

Mark Daniel
DomainHoldings.com
"I could have rejected the offer, knowing that a 4-letter one-word .com domain will always appreciate in value," Michael noted. "However, I've always believed in maximizing the potential of great names with deserving companies. The more relevant domain names tied to thriving businesses or valuable information sources, the more direct traffic gains importance, decreasing reliance on search engines like Google. I adopted a similar approach with PebbleBeach.com to benefit PalmSprings.com. We need to invigorate these prime assets.
To close this quarter-of-a-century saga, Michael noted, "Room.com settled the remaining $250,000 a year ahead of schedule, concluding this story earlier than I had anticipated."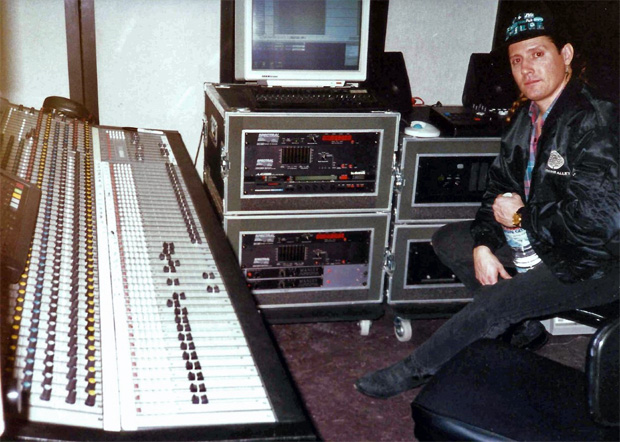 Three decades ago Michael Castello was a pioneer in digital recording.
He went on to become a trail blazer in another field - domain name investing.
Footnote: When the domain investment industry was being born, Michael Castello was there, watching it all happen, making some of the first purchases and helping shape the business into what it has become today. Michael (who later founded Castello Cities Internet Network with his brother David), gave us some additional background on the domain industry's Big Bang era.
"In the early '90s, Network Solutions (NetSol) was likely just a small team managing a basic database, Michael said. "That changed rapidly, and by 1996, NetSol expanded, retroactively charging $50 a year for each domain name. From 1986 until 1996, domain names were free to register on a first-come, first-serve basis. Many of the best generic .coms were quickly taken, but a significant shift was looming for those of us aware of the Big Drop that summer." NetSol had given domain holders a 2-year grace period, and most of the top domain names registered in the previous decade were set to expire during a one-week period. Why would anyone relinquish a million-dollar name? The majority who had registered their domains did so for various reasons, often not monetary. They believed in the principle that domain names should remain free. Their conviction led to their loss and others' gain."
"The two-year $100 fee on every domain name stretched my budget, but I was determined to secure as many quality names as possible. During the summer of 1997, I, alongside figures like Scott Day and Philip Gordon, eagerly awaited those domain drops. When they occurred, it felt like a jackpot moment in Vegas. I cherish the memory of being there. Opportunities always emerge, but sometimes, like Walt 'Baby' Love, one must take a leap of faith to seize them!"