radio DJ, Walt "Baby" Love. Yes, as much as has been written about Michael there are still stories you haven't heard, including this one about how the long time friends came to be investment partners in a select group of generic .com domains over two decades ago.
Michael explained how he and Walt first met. "In 1991 I was pioneering direct access audio technology," Michael recalled. "I had bought a digital recording system that I put together with Spectral Synthesis that could record 16 digital tracks. It cost me $100,000 for the system, but I was doing things with recordings that no one else was at the time. The technology took music from tape and vinyl to digital files - the types of systems everyone uses today - and it was a great time to experiment."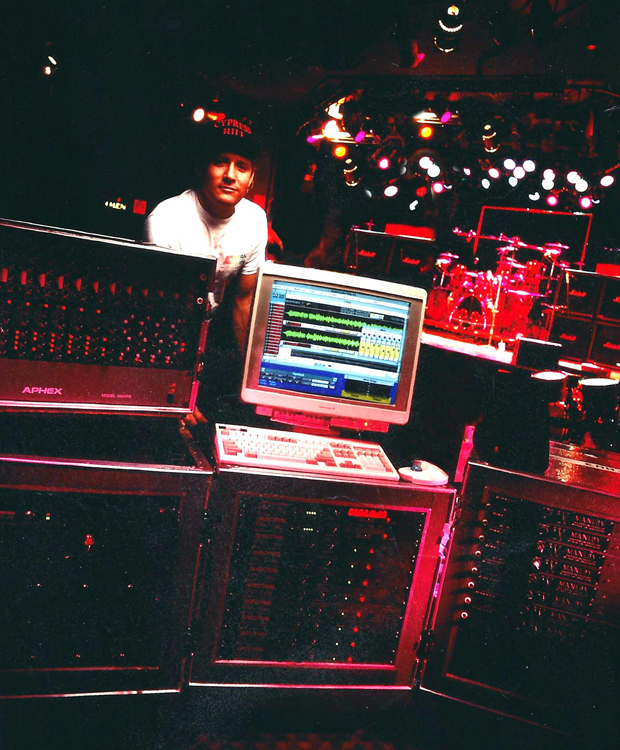 Michael Castello at The Roxy in Los Angeles (circa 1992) where Mix Magazine was covering new technology he was utilizing for live recording at the famous night club, as well as at the Whisky A Go Go.
"When Walt came into studio room he asked, "where is the studio?" I showed him the computers and digital converters, and he looked puzzled. I asked him to sit down, placed a microphone in front of him, and asked him to read something. I switched on the computer and started recording. He began reading with his golden voice, and after making a mistake he stopped and asked if he could start over. I told him to just continue reading and correct as he read along. When he finished, I quickly edited his mistakes out and played him back a flawless performance."
"He didn't understand what had just happened! In those days, a recording artist would have to wait for the tape recorder to stop, rewind, and re-record. I cut that process out completely and made recording a lot easier. He took a moment, then told me he needed to do his new Gospel Traxx show at my studio. That started a friendship that continues to this day, 16 years and 600 shows later. Walter was smart enough to know when a new technology was going to be a huge benefit."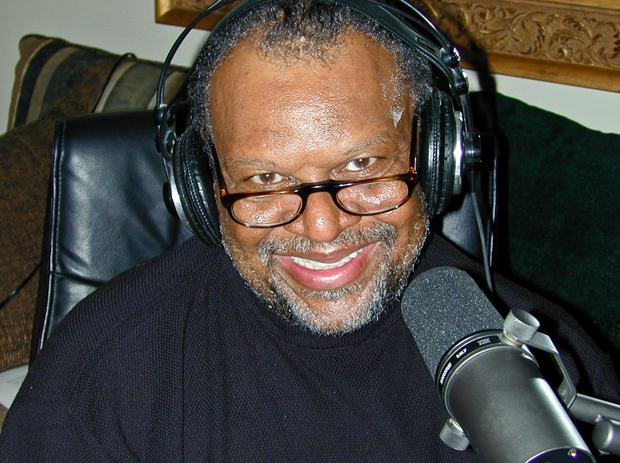 Walt "Baby" Love in the studio.
While Michael's audio technology was on the cutting edge of that era, domain names were still so new almost no one had taken notice of their commercial potential, other than Castello and a handful of similar pioneers. "From 1995 to 1997, Walt watched me register domain names," Michael said. "We spoke about it, but I donít think he understood the nature and future of the internet. When I made my first sale, letting Powwow.com go to VOIP operator Tribal Voice for $25,000, Walt asked if he could get involved. I registered names for him in early 1997 that he paid for, and we split ownership 50/50."
To get the kind of paydays Castello did with Whisky.com, Room.com and many others, you have to be patient and have a strong enough belief in the value of a great domain name to say no even though someone is waving tens or even hundreds of thousands of dollars in your face. That is not easy to do when you never know when or if a better offer will come along. Michael said, "Walt has been patient, and I had turned down many six figure offers, but I valued the name in the seven figures for some time. With any generic, there is the easy money and then there is the big money. You must have patience for the big payday. Walt trusted me over the years to do that."
"These generic domain names are somewhat like your children," Michael added. "I am always looking for a way to hold on to them. You work with them over a long period of time with a vision. Then, you realize itís the right time to let them go with the right future in front of them and the wind at their back. I am thrilled with how Room.com will be used.