The Domain Roundtable Conference is heading east. The 2009 conference will be held in Washington, D.C. at the Grand Hyatt Hotel June 14-17, 2009. This will be the first
Roundtable conference on the east coast. The event was started by Name Intelligence (the parent company of DomainTools.com) in 2005 and the first three annual shows were held in the Seattle area where Name Intelligence in based. This year the conference moved down the coast to San Francisco where the event was held this past April.
Soon after that show it was announced that Thought Convergence, the parent company of TrafficZ.com, had purchased Name Intelligence. That put Thought Convergence in the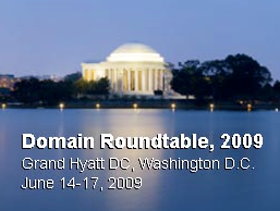 conference business and the 2009 event in the nation's capital will be the first Roundtable staged under their banner (TrafficZ is also the lead sponsor of the T.R.A.F.F.I.C. conference and they plan to continue supporting that event as well). Though the dates are now posted at DomainRoundtable.com, the site will not open for show registration until approximately September 1.
Taking the conference to Washington D.C. is a smart move in my opinion. In addition to being a great city with unique attractions, Washington will play an increasingly important role in the future of the domain industry. Congress will consider bills (like this year's ill advised Snowe Bill) that could greatly impact the business, the Internet Commerce Association is based there (which helped them effectively combat the Snowe Bill) and the Department of Commerce, who oversees ICANN, is also located in D.C.
By holding the Roundtable conference in Washington domain owners will be given an opportunity to be seen and heard by key decision makers and counter a lot of misinformation that industry opponents have spread among important players there. It is going to be an important event, so mark your calendars now.
In another show note Fabulous.com and T.R.A.F.F.I.C., who are joining forces to stage the T.R.A.F.F.I.C. Down Under conference in November, announced that all profits from attendees and event sponsorships will be donated to the Internet Commerce Association (ICA), the non-profit advocate for the domain name industry. T.R.A.F.F.I.C. Down Under will be held November 18-20 at the Sheraton Mirage Resort on Australia's famous Gold Coast.

A joint press release from the show organizers and the ICA said "The ICA is a grass roots organization which has been formed to ensure domain services and owners are robustly represented in areas of great risk and importance to the global domain community. The ICA utilizes dues and contributions to enable activities related to legislative lobbying, regulatory representation, industry public relations, legal test case support, industry publication of statistics and reports, revenue research, and market intelligence. In order for the association to continue

and expand its activities, it requires the support and participation from current members, and also from the entire professional domain name community."

Fabulous.com's Chief Strategy Officer Dan Warner said, "This is a fantastic opportunity to support the ICA while networking with prominent domainers and industry leaders. We have planned an event where delegates will work and play hard in an environment like no other."

ICA Executive Director Michael Collins added, "We greatly appreciate T.R.A.F.F.I.C. Down Under's contribution to the association, and we hope the community will follow suit and support ICA by attending the event in November."
(Posted August 5, 2008)