Just as the first T.R.A.F.F.I.C. conference ever held outside the U.S. was beginning its grand finale, a spectacular outing on a barrier island off Australia's Gold Coast last night, I got word from Rick Latona that he has licensed the rights to host his own T.R.A.F.F.I.C conference in Amsterdam June 2-5, 2009. Latona and T.R.A.F.F.I.C. Co-Founder Howard Neu are both here for T.R.A.F.F.I.C. Down Under and Neu confirmed that a joint venture deal had been completed with Latona to take T.R.A.F.F.I.C to Europe for the first time.
T.R.A.F.F.I.C. Co-Founder Howard Neu
at Thursday night's island excursion

Rick Latona will produce a T.R.A.F.F.I.C.
conference in Amsterdam June 2-5, 2009
In a unique twist Latona told me the content for his show would be devoted entirely to country code domains (ccTLDs). Latona is a big believer in ccTLDs and he plans to spur interest in the space by providing information on the unique aspects of country code domains, including legalities, transfer issues and methods of monetization. Managers and directors of various ccTLD registries will be brought in as featured speakers. Latona also plans to have his RickLatona.com live auction at the Netherlands show consist entirely of ccTLDs.
Latona has been a major player in this industry for a long time but he has really moved front and center over he past year with a series of bold strokes. He started a blog that formed the foundation for a popular domain sales newsletter that many others are now emulating, jumped into the live auction arena with a flashy debut at T.R.A.F.F.I.C. New York in September and has now taken the next giant step by taking on production of an entire conference. Knowing Rick and having met the key members of his team in Australia this week I am certain that they are up to the considerable task of continuing T.R.A.F.F.I.C.'s legacy of groundbreaking conferences - a legacy that Fabulous.com added mightily to with their tour de force performance in staging T.R.A.F.F.I.C. Down Under (TDU) this week.

Rick Latona looks on as Australian auctioneer
Chris Norris conducts his live auction Thursday
Thursday was the final business day at TDU but many are staying over for an optional activity day today (as I write this it is early Friday morning in Australia - late Thursday afternoon back at our home base in Florida). There will be a Learn to Surf session this morning (the show venue, the Sheraton Mirage Resort, sits directly on the ocean) then an outing this afternoon to the Currumbin Wildlife Sanctuary that I am very much looking forward to.
Thursday's schedule was highlighted by a pair of live domain auctions with Aftermarket.com getting the ball rolling early with their 8:30am (local time) event. Technical problems kept them from getting through their entire auction catalog (and also reportedly prevented some online bidders from getting their bids in). The end result was a sales total of approximately $165,000. The top sales were Saws.com at $52,000 and Camera.co.uk at $35,000. Several local .com.au ccTLD domains were also sold, led by Jeweller.com.au at $9,200.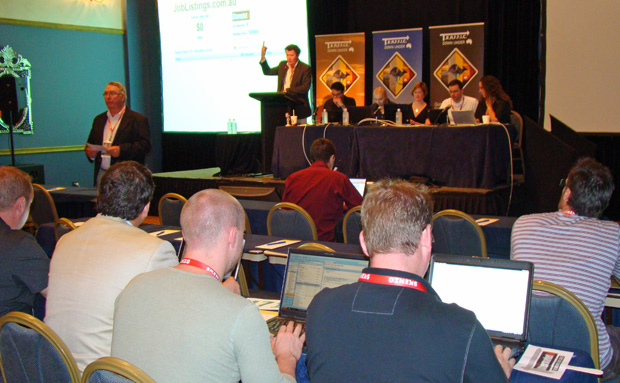 Scene from the Aftermarket.com live auction at T.R.A.F.F.I.C. Down Under
The Rick Latona.com auction that got underway with a delayed start at 12:30pm (again due to technical issues) fared better, racking up over $413,000 in sales. Latona told me that was consistent with their pre-show projections so he was happy with the outcome. His list was led by a pair of $150,000 sales; CR.com and SanJuan.com. Latona also emphasized local .com.au domains and sold several including History.com.au ($8,500), StockExchange.com.au ($7,500) and Snowboards.com.au ($6,000).
A final seminar session was held during a lunch break that was sandwiched in between the two live auctions. It focused on the unlimited number of new gTLD domains that ICANN plans to start rolling out next year. The panelists were Jothan Frakes (Oversee.net), Edmon Chung

Page Howe tells attendees to look
before you leap into a new gTLD

(.asia registry) and Page Howe (JoeDomains.com). I will cover his session in more detail in our overall conference review article that will be published after I return to the U.S. next week but I want to alert anyone who is considering applying for one of the new gTLDs to keep an eye out for videos that Fabulous.com plans to post of this (and all other) conference sessions.

In particular I think Howe's animated and entertaining presentation is a must see for you. Having personally gone through the ICANN application meat grinder at great expense with his .kids project, Howe met with only frustration and heartbreak along

the way. It is a cautionary story you need to hear in its entirety before you commit the non-refundable $185,000 application fee (plus $75,000 annual renewal fees) that a new registry operator will have to cough up.
With all conference business now out of the way, it was time for attendees to embark on the week's biggest social event - a cruise to a barrier island about 40 minutes away from the hotel where a wide range of activities, food and drink awaited. The multi-level boat left the dock a little after 3pm and soon after arriving on the island registrants were treated to helicopter and jet boat rides, parasailing, interacting with wallabies and other local wildlife or just hanging out around the tiki bars talking and having a good time.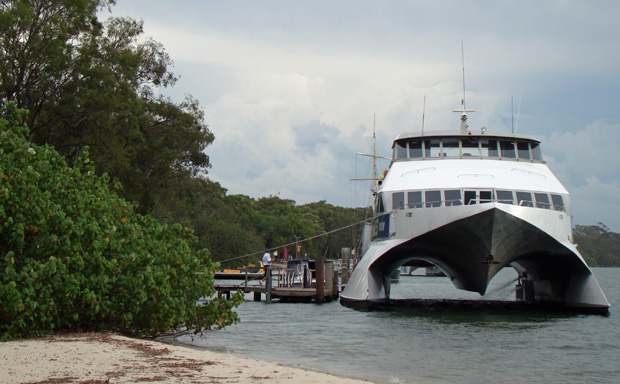 Above: The boat that delivered domainers to a tropical island paradise.
Below: Domainers getting the lay of the land.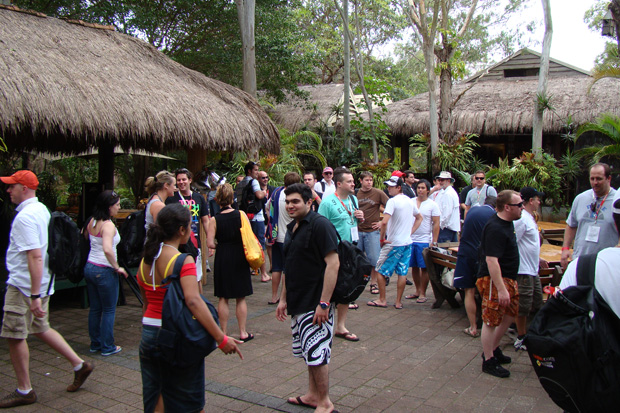 After night fell there was a terrific performance by a native Aboriginal dance troupe. They must have been doing a rain dance at one point because a ferocious rain storm blew up out of nowhere that sent people scrambling for cover. Spirits were not dampened though and the storm soon passed with attendees enjoying a buffet dinner followed by a stunning beachside fireworks show. Then it was back on board for a rollicking cruise home as people continued to celebrate their unforgettable island experience. The whole week was a home run for the hard working team from Fabulous.com. I'll talk more about that in tomorrow's post but now it's time to go learn to surf and see some native wildlife. G'Day Mates!

Making friends with a wallaby

(Posted Nov. 20, 2008) To refer others to the post above only you can use this URL:
http://www.dnjournal.com/archive/lowdown/2008/dailyposts/11-20-08.htm