Shimon Peres, last week when Zappy was a featured speaker at the Globes Israel Business Summit in Tel Aviv. Israel's Globes business magazine also ran a profile of Zapolin just before his appearance at the conference.
In that magazine interview Zappy said, ďAlthough the current economic situation is dismal, the Internet is a ray of light where it is possible to do business on a larger scale than ever before. Today, 21% of content consumed is online, but just 7% of the money channeled to the advertising industry reaches the Internet. This gap will narrow.Ē
At IREG Zappy and his partners scored big with the sale of Beer.com for $7 million, CreditCards.com for $2.75 million and Shop.com at $3.5 million.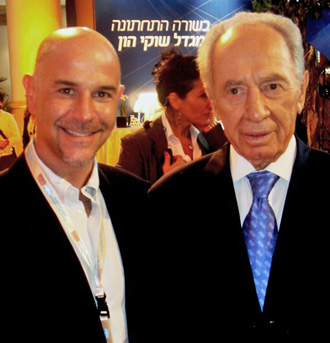 IREG's Mike "Zappy" Zapolin and Israeli
President Shimon Peres last week in Tel Aviv
These days the company concentrates on developing their prime generic domains, like Chocolate.com, rather than selling them. IREG also owns gems like Insurance.com, Patent.com and Jeans.com.
When Globes asked Zapolin how the current recession would affect online advertising he noted, "Itís true that the growth rate in the online advertising industry is slowing, but itís still growing, and it will only continue to grow in the coming years. Advertisers are now abandoning traditional advertising channels and rushing to the Internet, where itís possible to measure the marketing and to create a high ROI (return on investment).Ē In another interesting tidbit from the interview Zapolin revealed that he is planning to publish a book soon that will include tools for finding good domains and tips for creating reputation, reliability, and traffic.