Domainer Mardi Gras Announces Dates and New Location for Their 2010 Conference in New Orleans and Castello Brothers Give Domain Convergence High Marks
After a successful debut this past February, organizers of the Domainer Mardi Gras conference announced today that they will be back in the Big Easy for round two in 2010. Next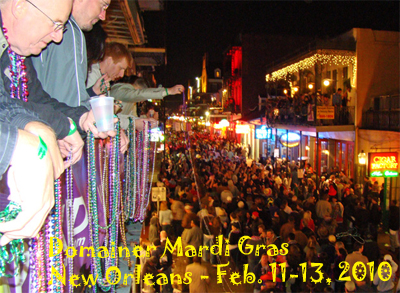 year's show will run February 11-13, 2010 at the New Orleans Marriott Hotel on Canal Street in the French Quarter, just steps from Bourbon Street. The Marriott is a new venue, replacing the Westin Canal Place. The conference secured an exceptionally low room rate for Mardi Gras season at the Marriott - just $179 a night.
The show will conclude three days before Fat Tuesday (February 16), which is the
final day of Mardi Gras festivities that run for approximately two weeks with dozens of nightly parades highlighting the celebration.
The Executive Director of Domainer Mardi Gras, Michael Ward, said "Domainers stated that the inaugural show was a hit and wanted to see it happen again in 2010. We listened and are moving forward with putting together a larger than life domainer extravaganza. In addition to quality industry panel sessions, and plenty of networking opportunities, Domainer Mardi Gras will also provide over the top entertainment, all during Mardi Gras, that combined will make for an unbelievable experience."

Domainers, publishers, registries, registrars, investors, domain parking companies, members from the ICANN community and others are all invited to attend the event. The theme and agenda for Domainer Mardi Gras 2010 will be announced in the coming weeks.

Michael Ward, Executive Director
Domainer Mardi Gras
Early bird conference passes are available now through October 15th, 2009 at a reduced rate of $795. In an especially attractive offer, attendees who also stay at the Marriott can get another $300 discount off the registration fee. A conference pass gives attendees access to all conference sessions, meals, entertainment, including new activities that will be revealed in the coming weeks, and the popular demand Bourbon Street balcony party that is back by popular demand (the photo at the top of this column was taken from the Parked.com balcony party at this year's conference).
Domainer Mardi Gras 2010 is also planning to have specials and other prizes during the registration process. You can sign up to receive email alerts and special notifications at www.DomainerMardiGras.com. Ward said sponsorship opportunities are also available. You can email info@domainermardigras.com for more information on the show.
In another conference note, I was away on vacation when the 2nd annual Domain Convergence conference was held in Toronto August 13-14, however the keynote speakers for the event, Michael Castello and David Castello, say they were very impressed by the people they met there.

The Castello Brothers have developed some of the world's top geodomains, including PalmSprings.com, Nashville.com and Acapulco.com, so they were especially pleased to see the show's focus on development and selling ads directly to advertisers, a model they have thrived with.

Michael Castello (left) and David Castello of Castello Cities Internet Network (CCIN.com)
delivering their keynote talk at the Domain Convergence conference in Toronto.
David said the show gave he and Michael, who are building their many prime generic .com domains (including Whisky.com, DayCare.com and Bullion.com) into global brands, some great insight into the opportunities in the ccTLD market. Many of the registrants have achieved excellent results from developing prime generic .ca (Canada's country code) domains. Among the examples David cited was Rick Silver of N49.com who has attracted a sizeable stable of advertisers to a network that includes developed sites on such gems as Kitchens.ca, Flights.ca, Printing.ca and dozens of others.