Knowing the city (which is the hometown for most of the men and women on the show's production team) and the capabilities of the people who were putting on Domainer Mardi Gras, I knew that if any new conference had a chance to get a toehold at this late stage of the game, it would be this one. Over three days from February 19-21 in the Big Easy the DMG team came through with flying colors.
Domainer Mardi Gras began just three weeks after the DOMAINfest Global conference completed a very successful run in Hollywood, California and that undoubtedly put a damper on the overall number of registrants (I would estimate attendance in the 150-200 range). However with more than 700,000 visitors in town for Mardi Gras (according to the New Orleans Metropolitan Convention and Visitors Bureau), show goers wound up being engulfed in the biggest crowd most of them have ever been a part of.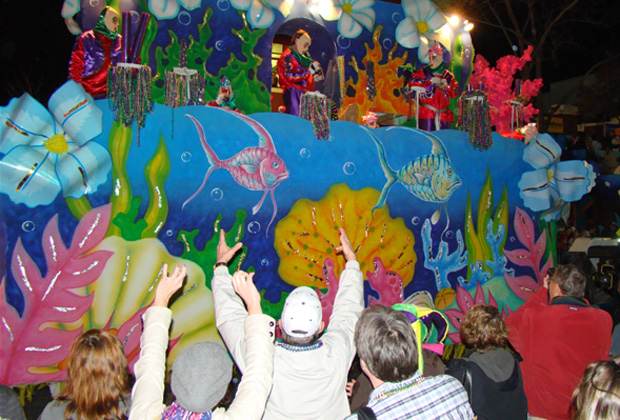 Mardi Gras revelers competing for beads and other "throws" as parade floats go by.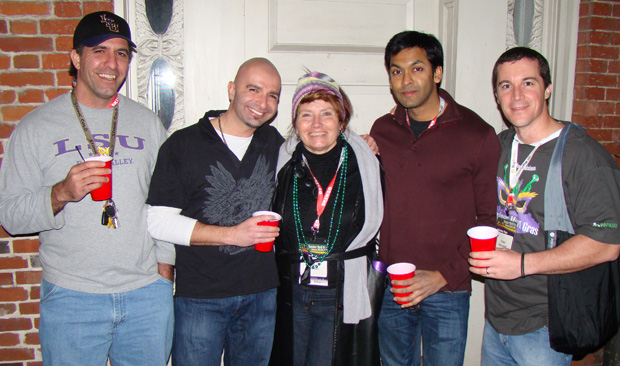 (Left to right): Sid Parfait, Ammar Kubba (TrafficZ), Diana Jackson, Jamal Haque
(TrafficZ) & Peter Hayward (Tinbu) on their way back from a parade on St. Charles Avenue.
With the unparalleled party atmosphere of Mardi Gras as a backdrop, those who made the trip are already buzzing about this being one of the most memorable events they have ever attended. Yes, more of them showed up for the social events than for the seminars but, as I have said before, it is those events that often deliver the most value for your conference dollar. That is where friendships and business relationships are made or solidified. Taking in the sights and sounds of the colorful French Quarter with fellow domainers while the 306-year-old Mardi Gras celebration is going on around you creates a shared experience that builds bonds that can last a lifetime.
One of these days someone is going to stage a conference with no speakers or seminars - just networking and social events. If the organizers don't do it on purpose, judging from New Orleans, the attendees will eventually craft that kind of program on their own!
Though we filed daily posts from the show in our Lowdown section, those highlights just skimmed the surface of what went on during the conference. In this comprehensive review article, we'll take a closer look at the event through the many photos and details I didn't have a chance to share with you in those daily briefings.

View of the Mississippi River
from the Westin Canal Place hotel

Though I had been there several times before (and loved every visit) I had not been back to New Orleans since Hurricane Katrina devastated the city in August 2005. In the wake of that disaster many said the city would never recover. They were wrong. The city is already bouncing back in a big way and if you visit today you will find the popular downtown and French Quarter sections to be as vibrant as ever. Since it was founded in 1718 New Orleans has seen several disasters but its resilient people always pick themselves up, rebuild and go about writing new pages in their city's rich history.

My wife, Diana, and I arrived at the show's AAA four-diamond hotel, the Westin Canal Place, just before the event got underway with a welcoming cocktail hour at 5pm (Feb. 19th). The

Westin is ideally situated in the southwestern corner of the French Quarter where it offers majestic views of the mighty Mississippi River. All of the conference's off-site social events were also within easy walking distance.
At 6, attendees boarded shuttle buses or walked the short distance to the warehouse district where the opening night's big event, a New Orleans Crawfish Boil, was held in a three-story townhouse on Camp Street, just a block away from the Mardi Gras parades on St. Charles Avenue.
I had never had crawfish before and that was certainly an "experience". It was the first time I had eaten something that required you to twist its head off before putting it in your mouth! Definitely not for the squeamish and though the meat you eventually extract from the tail is quite tasty, it wasn't long before I retreated to a table with fried chicken!
Sevan Derderian (far left) bites down on a freshly boiled crawfish while Steven
Newman (center) and Eric Pravda (right) work their way through platters of their own.
Other domainers had no such qualms and consumed enormous quantities of the crimson crustaceans - in the course of the evening hundreds of pounds of crawfish (from Crawfish.com of course) were consumed. Once people had finally had their fill, they wandered over to St. Charles Avenue in small groups to watch the parades and compete for the beads and other trinkets thrown from the passing floats.

The domainers were well prepared for the festivities after getting a fascinating briefing from the world's foremost authority on Mardi Gras, Arthur Hardy, during the crawfish boil. Hardy, a local radio and TV personality, authored a Mardi Gras guide that has sold more than 2 million copies. You can order a copy yourself from, where else, ArthurHardy.com!

In the photos above, Chris Williams & Miranda Bishop (at left) are
spellbound listening to Mardi Gras historian Arthur Hardy (at right).
Ezra James, Managing Editor
Modern Domainer Magazine

Keynote speaker Tim Burns

After the crawfish boil and parades, many kept the party going into the wee hours with their own tour of French Quarter watering holes. Knowing that would happen, DMG organizers waited until 9:45am Friday morning (Feb. 20) to kick off the first full day of business at the conference.

Things got underway with a welcoming address from Modern Domainer Magazine Managing Editor Ezra James who gave the audience some interesting background about New Orleans and Mardi Gras as well as a list of dos and donts. For example, don't get photographed on Bourbon Street doing things you don't want the rest of the world to see! As Ezra eloquently put it, "What happens in New Orleans stays on YouTube for a very long time!"

At 11am, Louisiana State Representative and author Tim Burns delivered the keynote address. The personable Burns talked about current economic and political forces and how they may impact entrepreneurs (including domain owners) in the months and years ahead. Burns knows his subject matter - politics and business - well after writing three books, including Entrepreneurship.com.

There were some humorous moments at the luncheon that followed. Andrew Allemann of DomainNameWire.com and I each spoke while attendees were enjoying a sumptuous buffet. Ezra James inadvertently introduced Andrew as being from a competing site (DomainNameNews.com). Quick on his feet as always, Andrew thanked Ezra by telling him how much he appreciated Domainer's Magazine's invitation to come and talk (Domainer's Magazine competes with Ezra's Modern Domainer).

When it was my turn, Ezra said, "Ron Jackson needs no introduction" and that was all that he said. When I reached the podium I

thanked him for the compliment but mentioned that he didn't have to take the phrase so literally! Everyone got a laugh out of the banter and little things like that remind me of why I like this business so much. No room for stuffiness or pretense here, just great times with good people in an opportunity-rich business that we are all blessed to be in.
The theme of this conference was Risk Management for the Modern Domainer with the aim of educating attendees about risk management tools that help in managing, protecting and growing domain investments. Three afternoon seminars addressed various aspects of risk management, starting with a session on legal issues that featured Dr. John Berryhill and Parked.com's General Counsel Sam Youakim.
Attorneys Sam Youakim (left) and John Berryhill (right) covered legal matters.
The subject of whether or not a carefully written contract is needed in domain transactions came up and both attorneys pointed out that such a document is not necessary for a contract to exist. A simple email exchange can constitute a contract. Youakim said the important thing is just to get something in writing from each side spelling out the basics like price and how the transfer will be made. He also advised being careful about how you respond to offers - saying something as innocuous as "Cool!" if someone emails an offer for a domain could be construed as acceptance of the offer, resulting in a potentially enforceable contract being in place.
The next session was a one man show featuring Deloitte & Touche tax expert Matthew Berman talking about domain name tax issues and risks. Matthew covered the tax implications of different kinds of organizational structures for both U.S. and foreign based companies, the pluses and minuses of different methods of expensing and amortizing domains and many other topics that were especially relevant now that we are in tax season again.

The final session of the day was devoted to Offshoring. Jodi Chamberlain of Offshoring.com was joined by Andrew Allemann and Sam Youakim who both returned to the stage for this discussion.

Jodi's presentation included an analysis of the cost benefits of going offshore but she also emphasized the need to have people who are experienced in the field overseeing the process for you to insure that you get what

Matthew Berman, Deloitte & Touche

you pay for. Sam covered the legal considerations involved in operating offshore and Andrew made a case for Americans to keep their business based at home, noting that the U.S. offers a relatively stable environment compared to most overseas options.

Jodi Chamberlain (Offshoring.com) and Andrew Allemann (DomainNameWire.com)
With Friday's business out of the way everyone headed for Bourbon Street where Parked.com had rented a private balcony (and adjoining room filled with great Cajun food and drink) so attendees would have a birds eye view of the Mardi Gras spectacle unfolding beneath them. Parked also provided box upon box of colorful beads for their guests to throw to the crowd below. This occasionally led to interesting "bartering" between those on the balcony and some of the less inhibited revelers on the street (if you catch my drift).
Above: View from the Parked.com balcony. Below: Revelers on the street clamor for beads.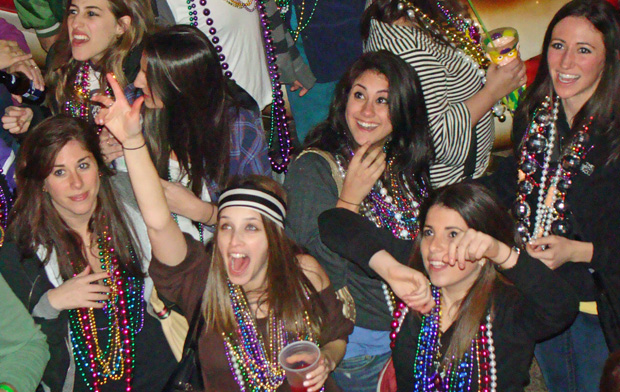 The balcony party ran from 5pm Friday until 3am Saturday morning! DMG organizers mercifully scheduled nothing before noon Saturday except an exquisite brunch that Parked.com sponsored at the world famous Court of Two Sisters restaurant. With a jazz trio playing in the background, those able to climb out of bed were treated to the best delicacies New Orleans has to offer.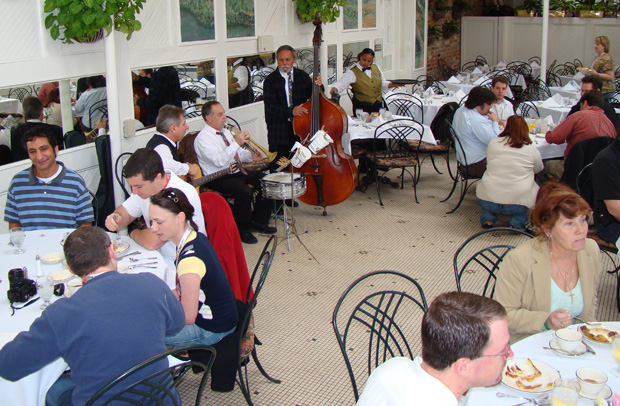 Above: Saturday brunch at The Court of the Two Sisters. Below: Parked.com CEO Sig
Solares (left) appears to be showing DomainSponsor's Jim Grace his jazz guitar technique.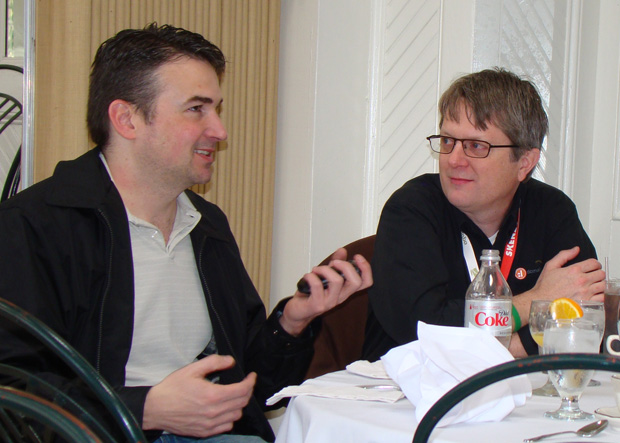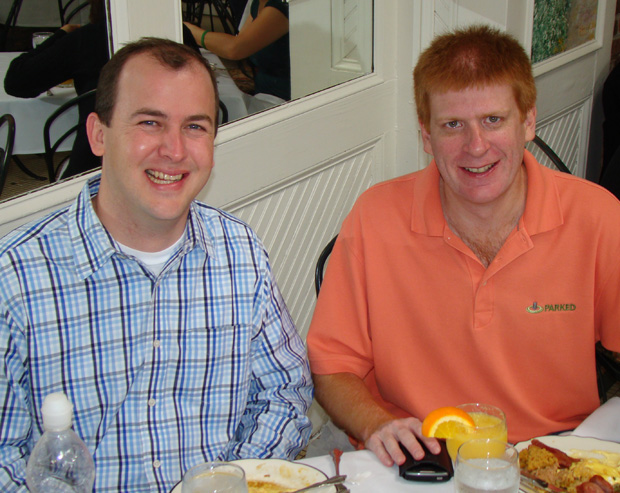 Above: Parked.com compatriots Michael Ward (left) and Monte White
Below: The outdoor courtyard at The Court of Two Sisters.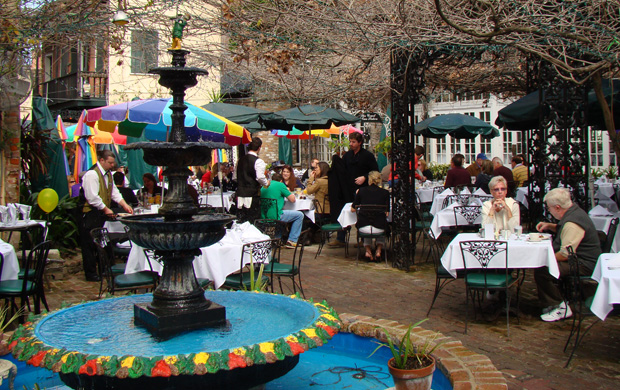 Located on Royal Street in the heart of the French Quarter, the Court of the Two Sisters has been delighting diners for the past 176 years after opening in 1832. If you love historical places, you've gotta love New Orleans.
The closing day of business Saturday (Feb. 21) opened at noon with a panel discussion on Diversification. Those on the dais included (left to right in the photo below) Antony Van Couvering of Mind + Machines, Rick Latona (RickLatona.com), search engine expert Phil Maher of RH Donnelly and Associated Cities Executive Director Patrick Carleton.

A great thing about the domain business is that there are multiple ways to make money and the more revenue streams you can tap into by diversifying your holdings, the better off you are going to be. For example, when PPC is down, as it is now, you can make up the difference (and more) with sales to small business end users who are flocking to the web. The severe recession in the general economy is putting a premium on operating in the most efficient, cost effective way possible and on that count the web can't be beat.
Antony Van Couvering

Van Couvering's company is assisting New York City with their plans to go after the .nyc extension when ICANN starts accepting new gTLD applications (the application process will not begin before December of this year). He sees opportunity in that initiative but the cost will limit the playing field. The application fee for a new TLD is expected to be $185,000 but Van Couvering says those who want to operate a new gTLD registry should budget a half million dollars or more.

Latona takes an opposite tack, saying he prefers to invest in areas that already have a well established market. Latona said his diversification strategy involved a major move into ccTLDs. Carleton covered the merits of geodomains which are proven, highly sought after assets. Maher provided tips on SEO issues and pointed out the value in buying domains to develop or redirect to existing sites to boost their traffic.

The final seminar of the conference was devoted to Domain Name Investments in

2009 and beyond. The panelists (seen

left to right in the photo below

) were NeuStar Senior Director Ivor Sequeira, DirectNIC.com Director of Registrar Services Michael Brunson, Parked Technology Services President Donny Simonton, ICANN Chief Registrar Liaison Tim Cole and Sedo's Vice President of Product Management Sam Nunez.

Neustar's Ivor Sequeira

Sequeira's company, Neustar, operates the .US registry and he thinks America's often overlooked country code extension represents an excellent investment opportunity. Sequeira acknowledged complaints from current .US holders that the registry had done little to promote he extension and said that was about to change as they are planning to launch a new promotional campaign. Sequeira also said many registrars have not given the extension the kind of visibility it deserves but he predicted that you will soon see much more activity surrounding the .US brand.

Brunson said that when you consider where to make domain investments in 2009 it is imperative that you specialize in something you know. At the same time, with money expected to be tighter in the year ahead, he advised cutting your losses on investments made in categories you are not familiar with.
After that final seminar the decks were cleared for Aftermarket.com's live domain auction. The company brought in Ruston, Louisiana based auctioneer Dusty Taylor and spotter Ryan Denton to run the sale. Unlike other auction houses, Aftermarket.com has pursued a policy of offering a shorter, more carefully chosen catalog for their live auctions. As they have done in the past, they enlisted DomainConsultant.com to help with the name selection process. The result was a tight list of just over 50 domains that produced a healthy 67% sales conversion rate and $439,000 in total sales. Voodoo.com accounted for the lion's share of that total after going for $300,000. Suntanning.com added $22,500 and TextLinks.com kicked in $22,000. You can see all of the sales results here.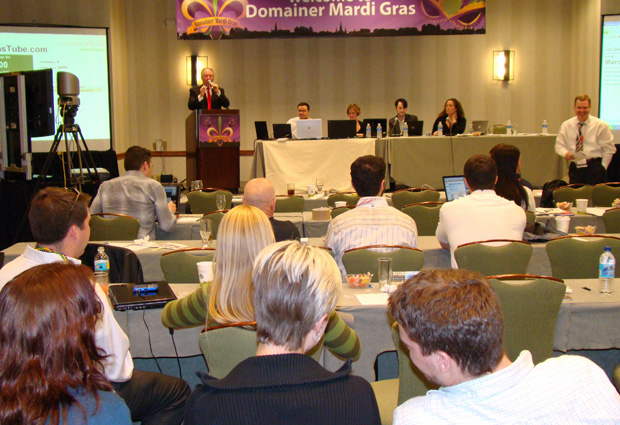 Scene from Aftermarket.com's Domainer Mardi Gras live auction.
I had to leave New Orleans as the auction was winding down to fly to central Ohio for a family celebration of my mother's 90th birthday. As a result I missed the conference's closing ceremony that followed the auction (and a second night on Parked.com's Bourbon Street balcony). However I experienced enough of DMG's warm hospitality and the many unique charms of a revitalized New Orleans to know that I want to come back again next year.
There is an old saying that you only get one chance to make a good first impression. The Domainer Mardi Gras team made the most of that chance, laying a great foundation to build on in the years ahead. The long months of hard work put in by conference staffers Ezra James, Michael Ward, Seth Coman, Bruce Cervini, Rob Breaux, Michael Evans, Gregory Theriot, Christina Hillenburg and Vivian Solares transformed their guests into a band of "evangelists" that will be spreading good words about this event for a long time to come.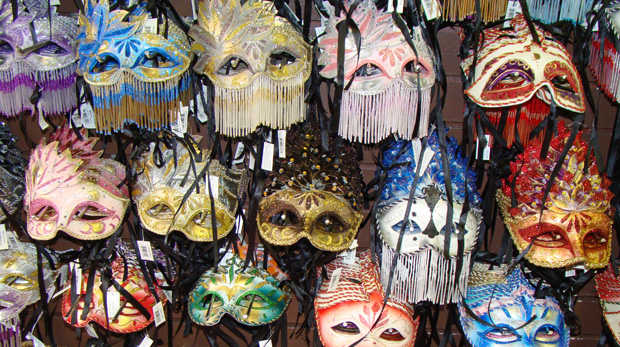 *****