The conference opened with an optional afternoon boot camp for industry newcomers on Tuesday (January 27). There were four separate sessions, each featuring a panel of industry experts who briefed attendees on domain business basics. I arrived in Los Angeles just in time to reach the stage for the final seminar of the day - The Art of Buying & Selling Domains - where I joined Anthos Chrysanthou (Lease Domains, Inc.), Lance Wolak (PIR, the .Org Registry), Monte Cahn (Moniker.com) and Kathy Nielson (Sedo) in a discussion moderated by Oversee's Chris Sivertsen.

Boot Camp panel on Buying & Selling Domains with (L to R) Moderator Chris Sivertsen,
Anthos Chrysanthou, Lance Wolak, Ron Jackson, Monte Cahn & Kathy Nielsen (Sedo).
We have too much ground to cover in this article to go over a lot of the basic principles that were discussed, but there are many resources with this information on the web including our own archives and our sister site devoted solely to industry newcomers at NameNewbie.com. I do however want to acknowledge all of the panelists who contributed their time to the DOMAINfest Global Boot camp sessions, most of whom operate their own websites that will also be very helpful to anyone who is new to this fascinating business.
The first hour, devoted to Domain Industry Trends, featured Andrew Allemann (DomainNameWire.com), Adam Strong (DomainNameNews.com) and Michael Gilmour (WhizzbangsBlog.com) with Oversee's Chris Welton serving as moderator.
The subject switched to Domain Monetization 101 & 201 for hour two with Howard Hoffman (PPCIncome.com), Leonard Holmes (ParkQuick.com), Donny Simonton (Parked.com), Randy Charach (Synergy Domains Inc.) and Sam Tseng (DomainSponsor) sitting in and Oversee's Rob McClinton moderating.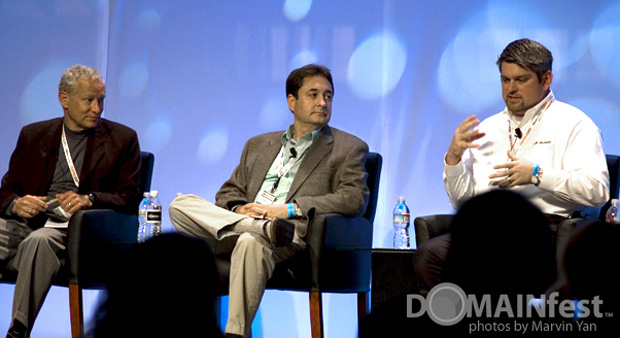 Howard Hoffman (left) and Leonard Holmes (center) listen as Donny Simonton
makes a point during the Domain Monetization session (photo courtesy of Marvin Yan).
The Boot Camp line up was rounded out with a session called Legal Issues to Consider as You Build Your Business. Moderator Todd Greene (Oversee.net) welcomed William Delgado (Willenken Wilson Loh & Lieb LLP), Paul Keating (Renova, Ltd.), John Berryhill and Derek Newman (Newman & Newman) to the stage for that discussion.
Regular registrants drifted into town throughout the day and by the time Boot Camp ended a sizeable crowd was on hand for a 7pm no or low reserve live domain auction conducted by Moniker.com.

That event, meant as an appetizer for the premium live auction that would follow Thursday, yielded just over $128,000 in sales led by Eat.net ($15,000), SpearGuns.com ($14,000) and SanFranciscoRestaurant.com ($7,500). Bikes.net and Consultations.com added $7,000 each as 60% of the listed domains were sold. Michael Berkens has a complete list of sales from this auction posted on his popular blog at TheDomains.com.

Right after the auction, attendees headed for an opening night cocktail party at the hotel's Twist Lounge where, in the photo below, you see Don Orr of iVentures (left) catching up with veteran domainer Larry Fischer.

Photo above: Auctioneer Mark Buleziuk, with
Moniker CEO Monte Cahn at his side, calls the no/low
reserve live domain auction Tuesday night (Jan. 27).
The Magic Castle in Hollywood where Thought
Convergence treated guests to a private show.

By the time the cocktail party wound down you might expect most people, especially those still on East Coast time, to head for bed, but for many the night was just getting started as they moved on to various private events around the city.

While one group when to a Los Angeles Lakers basketball game, Thought Convergence (parent company of TrafficZ, Aftermarket.com and Domain Tools) treated another to a private performance at Hollywood's famed Magic Castle - the mecca for professional magicians.

At the Castle, located just a block away from the Renaissance Hotel, guests were treated to a truly incredible perfomance by Derek DelGaudio, a young magician so skilled that he was called on to be the technical consultant on The Prestige, a superb movie about rival magicians that starred Hugh Jackman and Christopher Bale.
The Magic Castle does not allow photos to be taken beyond the club's entry area, but they did allow us to snap the photo of Thought Convergence guests below, just before we headed into the Castle's inner sanctum.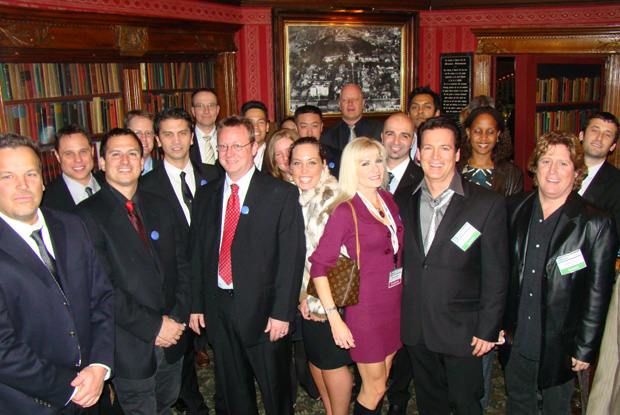 With a surprisingly large crowd of 600 people on hand Wednesday morning (Jan. 28), the first full day of business got underway with welcoming remarks and an excellent State of the Industry address from Oversee.net President Jeff Kupiektzky.
Jeff Kupietzky, Oversee.net President
speaking at DOMAINfest Global

Peter Celeste, Oversee Senior VP
and GM, Domain Services.
(Photo courtesy of Marvin Yan).

Kupietzky started out by acknowledging that the severe recession in the general economy would not leave the domain industry unscathed - indeed his own company has already been through two rounds of workforce reductions. "This recession is like nothing that anyone here has ever lived through before," Kupietzkysaid. Still, though he believes things will get even worse before they get better, he remains very optimistic about the future. "We are still nearly a billion dollar industry and though growth will be extremely challenging for all of us, I think those who survive this recession will be much stronger when the economy mends," Kupietzky said.

After his talk, Kupietzky introuduced Oversee Senior VP and General Manager of Domain Services, Peter Celeste who noted, "This is a time of change and change does bring opportunity. Those of us who can adapt to change are going to be the winners." That philosophy, and determination to make the most of changing conditions, is the reason the word Change is the keyword on the cover of the conference program.

Continuing with that theme, Celeste stayed on stage to moderate a session titled Domaining 2.0 - What Does the Next Evolutionary Phase of Our Industry Look Like? That question was addressed by panelists Gregg McNair (Strata Services Ltd.), Nico Zeifang (Ziefang.com), Michael Berkens (Worldwide Media Inc.), Ofer Ronen (Sendori.com) and Steve Hisey (Oversee.net).

Berkens expanded on the comments he made during this session in an excellent wide-ranging post on his blog after the show (one filled with an excellent overview of landmark events in domain industry history - events Berkens has personally lived through). He wrote, "What can we say about the future? More quality domains will drop - we are seeing that already. As better domains drop, at wholesale prices, people will be less willing to spend their money at big trade show auctions, unless and until those prices reflect the values that you can find at the daily drop auction houses."


Michael Berkens

"With revenue down there is less money to spend on new acquisitions. On the other hand end users need domains - now more than ever. As the world economy melts down, people are losing their jobs by the hundreds of thousands. There are no new job openings...so many of these people are turning to the net."

Berkens added, "The net continues to explode. Just look at public companies earnings from the last couple of weeks. Google earnings better than expected. Yahoo earnings, better than expected. Amazon, way better than expected. So the people who now find themselves unemployed with no job prospects, limited capital to invest and not able to get a loan, are turning to the net."

"No they don't have $100,000 to buy a great domain, but they have $10,000 to buy a good one. End user sales are doing well. Very well. You want to sell to end user, you have to first develop a sales strategy."

(Left to right): Moderator Peter Celeste talks with Gregg McNair, Nico Zeifang,
Michael Berkens, Ofer Ronen and Steve Hisey about "Domaining 2.0".

Next up was the highly anticipated keynote talk with Apple Computer Co-Founder Steve Wozniak. In a delightfully informal conversation conducted by Oversee President Jeff Kupietzky, Wozniak reminisced about how he and partner Steve Jobs built one of the great business empires of all time from humble beginnings in Jobs' garage.

Wozniak had some excellent advice for young entrepreneurs on how to start a business when you have very little money. While many go in with the dream of attracting venture capital, Woz advised against taking it unless you really need it to grow. "Go as far as you can on very limited resources," he said. "That forces you to work on solutions and think harder and harder on how to do something with less money."

"It is almost always young people who think that way and come up with the great innovations. So do it on your own - sell your car or whatever it takes! If your idea takes off you will own a lot more that is you take money along the way from some company," Wozniak said.

In a comment on the hard economic times the world is currently going through Wozniak pointed out that Apple was started in a

Apple Co-Founder Steve Wozniak
during his keynote talk Jan. 28

recession and the same has been true of many other great companies. Such conditions are fertile ground for innovation because "You have time to think about things and come up with new ideas," Wozniak said.

A lunch break followed Wozniak's talk and also left time for attendees to visit the adjacent exhibit hall which also served as a popular area to hang out and chat with friends throughout the show. Comfortable seating was scattered throughout the hall with fresh cappuccino and snacks also helping pull people in and drive traffic to the sponsor's booths.

John Mauriello of Moniker.com (far left) chats with visitors to the company's booth.

The Wednesday afternoon schedule featured two panel discussions. One of the things I liked best about this show was a new, less formal format for the educational sessions (also employed very effectively for Steve Wozniak's keynote talk). Instead of people standing at a podium or sitting behind tables on a dais talking at attendees, the experts were hooked up with wireless mikes and seated in comfortable chairs across the stage where the moderator engaged them in free flowing conversations.

It felt more like you were sitting in a living room with a lot of smart people listening to them speak openly about what was on their minds. The added spontaneity added a real spark to the proceedings and many people commented on this being a refreshing change of pace from past shows.

In addition, DOMAINfest organizers said more than half of the speakers at this show were appearing for the first time. Now that the conference schedule is so crowded, mixing things up is something all show promoters have to strive for to keep frequent conference attendees from becoming bored with seeing the same format and people repeatedly. DOMAINfest took a couple of major steps in the right direction to achieve that.

Ron Sheridan moderating at the
DOMAINfest Global Conference
last week in Hollywood, California

In the first Wednesday afternoon session focused on Building Out Domains. Moderator Ron Sheridan had the challenge of engaging a huge contingent of seven experts in the discussion, but the long time Director of Business Development for Oversee's DomainSponsor unit handled the task with aplomb.

This would end up being one of Sheridan's last official duties for Oversee as he left the company the day after this conference ended (though he plans to continue serving Oversee as a consultant). Before his exit, Sheridan presided over the Playboy Mansion party Thursday night, an unforgettable event that he spent two years bringing to fruition.

For this panel discussion on domain development Sheridan welcomed the Castello Brothers (Michael and David from Castello Cities Internet Network, Inc.), Elliot Silver (Silver Internet Ventures LLC), Larry Fischer (DirectNavigation.com), Ari Goldberger (ESQWire.com), Rick Waters (Webcast 1) and Pinky Brand (dotMobi).

Experts discuss Domain Build-Out in this session featuring (left to right): Moderator
Ron Sheridan, Michael Castello, David Castello, Elliot Silver, Larry Fischer,
Ari Goldberger, Rick Waters and Pinky Brand.

With PPC revenue having taken a spectacular dive over the past year, domain owners are more interested in development than ever before. The problem, at least until someone comes up with a solution, is that domain development is very labor and time intensive - making it a viable option for only a handful of domains in any given portfolio (and many domainers own thousands of domains).

Fischer, who with his partner Ari Goldberger, owns some very high quality domains, said "development is one of the hardest challenges I have ever faced." Silver, who often writes on his blog about the work he has poured into developing Burbank.com, Lowell.com, TropicalBirds.com and others concurred with that.

The Castello Brothers, who have had great success with their sites at PalmSprings.com, Nashville.com, Acapulco.com and others, said they had experienced smoother sailing with their domains but were still entering into co-development agreements with Rob Monster and other experienced developers to build out more of their prime properties.

Goldberger also favors partnerships, especially for providing content, and suggested that an existing media company could be the best partner because they already have content producers and marketing skills. He suggested approaching some of the print-based media companies that are quickly sliding into oblivion and may

Michael Castello makes a point
as brother David listens in.

be looking for a lifeline. Goldberger said he was currently working with a local community newspaper to develop his CherryHill.com site.

Domain Build-Out was also the subject of the next session but the second panel focused on the technical aspects of development in a discussion titled Nuts and Bolts. Oversee's Ryan Berryman moderated a distinguished group that included Danny Sullivan (Search Engine Land), Lee Gietntke (Orange Soda), Mike "Zappy" Zapolin (Internet Real Estate Group LLC), Jamie MacMillan (LinkShare), Bruce Clay (Bruce Clay, Inc.) and Alex Gardner (Casale Media).

Build-Out Nuts and Bolts panelists (L to R): Moderator Ryan Berryman, Danny Sullivan,
Lee Gientke, Mike "Zappy" Zapolin, Jamie Macmillan, Bruce Clay and Alex Gardner

In the last business event of the day, DOMAINfest Global brought a new wrinkle to Structured Networking in the exhibit hall. In this format groups of experts on different topics were dispatched to the four corners of the hall. To make them easy to spot, each expert wore a long white lab coat. This allowed attendees to get questions on the subjects they most cared about answered face to face by some of the most experienced people in each field.

One corner had Zappy Zapolin, Rick Waters and Lou Doctor (Arbor Advisors) answering build-out questions about Market Research, Competitive Positioning and Branding. In another corner search engine expert Danny Sullivan was among a group of experts tackling SEO/SEM issues.

At far left Danny Sullivan fields questions about SEO and SEM.

Corner #3 drew a crowd interested in hearing what Jamie MacMillan, Alex Gardner and Reed Shelly (Oversee.net) had to say about Build-out Monetization Models.

And last but not least, in corner #4 popular bloggers Michael Berkens (TheDomains.com), Michael Gilmour (WhizzbangsBlog.com), Andrew Allemann (DomainNameWire.com) and Frank Michlick (DomainNameNews.com) held court.

Just minutes after the networking sessions ended it was time to head for buses that would take attendees to the night's big social event - free run of the world famous Universal Studios theme park. Oversee arranged to have an entire section of the park reserved for DOMAINfest Global attendees, including the restaurants (where the food was free) open bars, popular attractions (with no wait!) including The Revenge of the Mummy roller coaster and Jurassic Park, plus trams ran all night to take guests on Universal's popular backlot tour.

On the Universal Studios backlot tour tram Christoph Grüneberg
(DomainVermarkter Forum) shoots me while I am shooting him.

Domainers plot their strategy for taking over Universal Studios

Before facing the Revenge of the Mummy, Howard Hoffman
gets a a glass of wine to steady his nerves.

COMING UP ON PAGE 2

Previously unseen photos from a spectacular closing night party at the Playboy Mansion!

Google execs tell us what they really think about the domain business!

Sales dip in the live domain auction.

What do you do for two extra days in L.A. when the Super Bowl leaves you stranded?

Closing night at the Playboy Mansion
Coming Up on Page 2

CLICK HERE TO CONTINUE TO PAGE 2