company's policy not to comment on the specifics of their operation (rev shares, etc.) so that sparring did not have a satisfactory conclusion for many.

While Google remains the key revenue provider for those who depend on PPC, there clearly remains some ambivalence among domain owners about the relationship.

After a lunch break, the crowd returned to the Grand Ballroom for Moniker's Premium Live Domain Auction.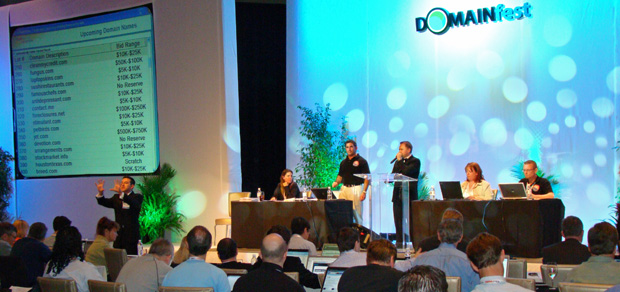 Scene from Moniker's Premium Live Domain Auction Thursday (Jan. 29)
When the dust had settled total sales came in at a disappointing $665,000, however given the uncertainties in the general economy, it couldn't have been to big a surprise to see the sale fall below the seven-figure levels we routinely saw in the past. Just over 30% (62 of 200) of the domains offered were sold. Two nights earlier 60% of the domains offered in a no or low reserve auction found buyers, underscoring the fact that low to mid-priced domains now dominate the aftermarket while high ticket names are left on the shelf.
The top sales in the auction were Wife.com ($100,000), RodeoDrive.com ($60,000), FreeWireless.com ($50,000) and ConsumerElectronics.com ($45,000). Michael Berkens has a complete list of the names sold on his blog. A silent online domain auction run by Moniker and sister company SnapNames ended a week after the live auction with over $480,000 in sales. Added to the $128,000 in sales from their no/low reserve live auction at the show and the take from the premium live auction, their total came in at just over $1.27 million. Not up to previous standards, but what in today's financial world is up to previous standards?
After the auction there was a second round of Structured Networking similar to the one I described on Wednesday's schedule but with four new groups of experts answering questions on four new topics.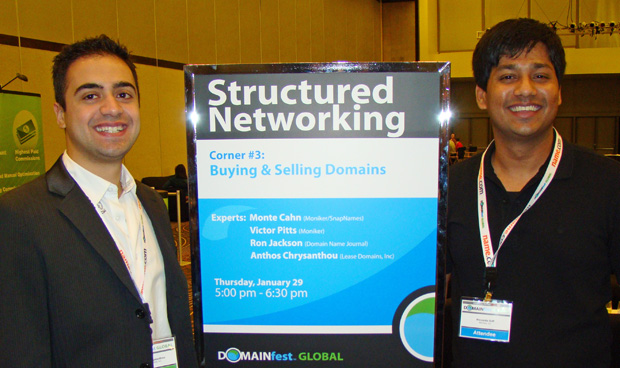 Anthos Chrysanthou (Lease Domains, Inc.) welcomed Marchex's Riccardo Soff (right)
to our corner during Structured Networking Thursday (Jan. 29).
Anthos Chrysanthou (Lease Domains, Inc.) and I were in one corner to chat about Buying & Selling Domains. Moniker's Monte Cahn and Victor Pitts had been scheduled to join us but they were busy tying up loose ends in the live auction that ended just before the networking session began.
Google's Hal Bailey and Matt Parry were popular attractions in a corner devoted to a Google Q & A, while Yahoo's Dean Stackel, Wendi Sturgis, Michael Brous and Hui Tam hosted a Yahoo Q & A in another corner. The fourth corner was occupied by attorneys Derek Newman, John Berryhill, Paul Keating and Will Delgado who answered Legal questions.
With that the curtain came down on the business portion of the show, giving way to the main social event of the week - the big show closing blowout at the world famous Playboy Mansion.

After a quick change of clothes attendees began boarding a fleet of nearly two dozen small buses for the trip across town to the posh Holmby Hills community where Hugh Hefner's 22,000 square-foot home is located on 5.3 manicured acres of some of the world's most expensive real estate.

Oversee's Ron Sheridan had dreamed of hosting the ultimate party for domainers at the Mansion and after two years of working toward that goal it became a reality on this night. It happened because Oversee threw their full support behind a fundraising charity auction to benefit Autism Speaks and the party became a part of that larger event. A number of domainers stepped up to buy items that had been donated to the charity sale.

Below are some snapshots that we captured during this unforgettable evening.

Early arrivals begin exploring Hugh Hefner's
Playboy Mansion and 5-acre estate

Diana Jackson in front on the mansion. Hugh Hefner's limo is parked at left. He
emerged from the Mansion soon after and departed with two female friends.

Early arrivals grabbed a seat inside the DomainSponsor tent. 30 minutes
later it was packed wall to wall as you see in the photo below

As they always do, the Playboy bunnies draw a crowd.

Inside the famous grotto

A friend gets a snapshot of Natalie Lambert and David Castello in the Mansion's Game Room

The bunnies are nice but Diana and I (at left) would rather see Frank Schilling (second from
right) and Divyank Turakhia (far right) any time. Divyank (the co-founder of Directi)
celebrated his 27th birthday at the Mansion - I want to see how he tops that!
The party put the exclamation point on a fabulous conference for DOMAINfest Global. I can't imagine how much work the Oversee.net team had to put into pulling off what they did over those three days in late January. All of their preparation paid off because when it came to time to deliver they did it with military precision and professionalism - it was a real credit to their company and to a huge gift to their industry. Yes, people paid to attend - but to a man and woman - everyone I talked to felt the value they received for their money was returned many times over - and that is the ultimate testament to a job well done.
Postscript: The section below covers a couple of extra days that Diana and I spent in Los Angeles immediately after DOMAINfest Global. While this section is not about the show itself, it is directly related to my overall goal in writing about our industry's major conferences. That is to share my experience of what a conference trip involves from start to finish with the hope that you, if you have not attended a conference in the past, will decide "I have to go to one of those events!" I won't make a penny if you make that decision, but I believe you will benefit greatly from meeting your peers face to face (and I in turn will benefit from meeting you). Every show is a education and the priceless networking opportunities will give you a much better chance to succeed in this business.
The ultimate payoff from any conference is meeting new friends and seeing old ones again. Whenever Diana and I go to a show we try to stay over an extra day to visit people we know in the local area. In this case we had to stay over two days because, with the Super Bowl going on in our hometown of Tampa that weekend, we could not get a flight back home until game day Sunday (Feb. 1) when all of those going to the game had already flown in. Spending a couple of extra days in L.A. is not exactly what you would call a fate worse than death though!
Michael Castello, President
Castello Cities Internet Network

After the farewell breakfast that DOMAINfest Global hosted at the hotel Friday morning (Jan. 30), we headed 45 minutes northwest of Hollywood to Moor Park to see Michael Castello and his wife Sheri. They took us on a tour of their incredibly picturesque community. After going to L.A. dozens of times over the years, I don't know how we managed to miss seeing this gorgeous area just over the Ventura County line before.

After that drive through the rolling countryside and its lush horse farms, it was on to a delightful lakeside Italian restaurant for a leisurely two-hour lunch on a picture perfect California day. That was truly a welcome respite from my usual lunch routine at home - typically five or ten minutes to wolf down something from the microwave because I'm up against another deadline!

We capped a perfect day with a visit to the Reagan Presidential Library in Simi Valley, just minutes from Michael and Sheri's house in Moor Park. I had no idea what a fabulous place this mountaintop library/museum was. Among other things it houses the actual Air Force One airplane that was in use during Preisdent Reagan's

years in the White House. Walking through the inside of the plane that served as the mobile Oval Office

was a remarkable glimpse into history and into one of the government's most closely guarded assets.

(Left to right): Ron Jackson, Diana Jackson, Sheri Castello & Michael Castello
in front of Air Force One at the Reagan Presidential Library in Simi Valley, California.

As an added treat one of the world's four existing original copies of the Magna Carta was on display at the Library while we were there (on loan from Great Britain). It all made for the kind of special day that few of us takes time to stop and enjoy as often as we should. There is life beyond the computer and it is good. Thanks to Michael and Sheri for being such wonderful hosts.

Actor Michael Chiklis

On our last day in L.A. Saturday (Jan. 31) we joined Thought Convergence COO Ammar Kubba for lunch in Beverly Hills. Every time I am with Ammar in L.A. we seem to bump into a celebrity. Last time it was Arnold Schwarzenegger at the Polo Lounge. This time while we were waiting to be seated at an outdoor Italian cafe one of my favorite actors, Michael Chiklis, walked in. Chiklis starred in The Shield as Detective Vic Mackey and also in the Fantastic Four movie Rise of the Silver Surfer in which he played The Thing.

I enjoyed a brief chat with Chiklis who was an extremely pleasant guy, which made me appreciate him even more. As it happens we share the same birthday and my friend Elliot Silver (ElliotsBlog.com) will be interested to know that Chiklis was born in Lowell, Massachusetts (Elliot owns Lowell.com). Note to Elliot: Hire Michael as your spokesman!

While I was doting on the actor, Chiklis semi-look-alike Ammar Kubba was probably thinking, "what am I, chopped liver!" Fortunately, I don't think Ammar really noticed because he had not had much sleep all week (thanks to all of the domainers who had come to his hometown for the conference and kept him up just about all night every night). At least I had the courtesy to call him out during daylight hours instead of 3am (at least I thought it was courteous until I realized daylight hours are when he sleeps!)

In the fall of 2007 I made a special trip to L.A. to do a Cover Story on Ammar and Kevin Vo who had made a big splash with their popular PPC company TrafficZ (part of a Thought Convergence family that has grown over the past year to include DomainTools.com and Aftermarket.com). Since then I have tried to make it a point to see Ammar whenever I am in Los Angeles because, in a addition to being one of the most gregarious and likeable people in the business, he is a very innovative thinker and I am interested in knowing what he and Kevin are working on at any given time.

At the moment they are digesting and leveraging the acquisition of Name Intelliigence (DomainTools) that they made last spring and are also planning to expand their new Aftermarket.com sales platform in the next quarter. They are also going to try some new approaches at TrafficZ that they hope will offset the industry-wide decline in PPC revenue. No specifics to announce yet but we will keep an eye on them (and Diana will keep pressuring Ammar to settle down and get married!)

On Saturday night we went to see Valkyrie at the Chinese Theater back at the show hotel complex in Hollywood. The next morning it was finally time to head back to the airport and make the cross country trip back home to Florida.

Ammar Kubba
in Beverly Hills

It was an exceptional week, rewarding at every level - both personally and professionally. With another full year to plan for their next show I can hardly wait to see what DOMAINfest Global comes up with next. No time to dwell on that now though. As I write this the next event on the show calendar, the debut edition of Domainer Mardi Gras, is coming up less than two weeks from now in New Orleans. The Big Easy's world famous Mardi Gras celebration will be going on at the same time - so this is bound to be another unique experience. Hope to see you there or at another conference down the line in 2009!

*****

Return to Page 1 of This Story - Return to DN Journal Home Page