Another item with a T.R.A.F.F.I.C. connection that crossed my desk this week was Danny Pryor of the Rodan Media Group announcing the launch of their new social networking website at MyGiftwire.com. Danny was the designer of most versions of the T.R.A.F.F.I.C. website prior to this year. MyGiftWire.com lets users tell their friends what gifts they want for birthdays, holidays, anniversaries or any other special occasion.
One other note from our People file - Joe Alagna, the long time General Manager of North American Markets for Centralnic, Ltd., is celebrating the birth yesterday of his first grandchild. Beautiful baby girl Aurelli Chen Mei Alagna weighed in at 7 lbs. 8 oz. and 19 inches long. She is the new daughter of Joe's son Anthony and daughter-in-law Stephanie. Both mom and baby are doing great. More photos have been posted on the Alagna Family's website.

Joe noted, "I'm used to having lots of boys and men around (three brothers, two sons - no sisters, no daughters). This is going to be fun!

Joe Alagna with his new granddaughter
Aurelli Chen Mei Alagna
A couple of other items to tell you about before we head into the weekend. GoDaddy today launched a new service at http://geo.godaddy.com that is designed to help customers find available geo-targeted domain names. When you search for names, you can click on a map to bring up names from any locality you are interested in (there is also a search box that lets you specify the city you are was to zero in on). For sellers, the new site offers a slick new interface to help draw attention to your domains. There are instructions on the site detailing how to get your domains listed.
Last but not least, the folks at EVO Media/DevHub.com are probably happy to be heading home this weekend because the office has been a lot noisier than usual. A cacophony of hammering, sawing and other construction activity is underway that will end up adding 1,000 square feet to their downtown Seattle offices.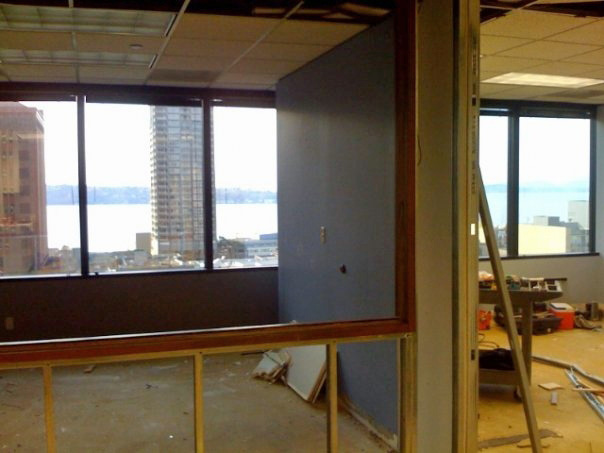 Construction under way to expand EVO Media/DevHub.com offices in Seattle.
The company is expanding its staff as well as it space. They currently have openings for two more skilled developers. If you an interest and believe you have the necessary skills you can send an email to careers@evomediagroup.com with your resume, rough salary expectations, URLs of cool things you've built or worked on and your favorite thing in the world.