The T.R.A.F.F.I.C. New York Conference Gets Underway This Evening at the Brooklyn Bridge Marriott
I will be traveling to New York today for the T.R.A.F.F.I.C. New York conference that gets underway this evening with a welcoming cocktail party at the Brooklyn Bridge Marriott (a hotel that also hosted last year's show). The business sessions begin Tuesday morning at 10am. I will be posting daily photos and highlights from the show in this column starting tomorrow.
In addition to covering the conference I will be speaking about domain sales at the Wednesday Awards Brunch and will also participate in two panel discussions that afternoon, one called Blog Roll at 1pm and then the Meeting of the Chiefs, featuring 11 company CEOs at 2pm.
The latter session will include PPX International Executive Chairman Gregg McNair who was the subject of the new October Cover Story we published Sunday. Gregg's path from a farm in Tasmania to a major role in the domain industry is a fascinating story so check it out and if you are at T.R.A.F.F.I.C. this week and haven't met Gregg, be sure to seek him out and introduce yourself. He is one of the most interesting guys you will ever meet as well as one of the smartest when it comes to domains.
There will also be two big live auctions at the show and both have exceptionally strong catalogs this time out. The Rick Latona Auction is scheduled to run from 4:30pm to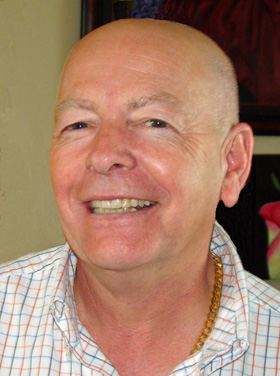 Gregg McNair
Executive Chairman
PPX International
7:00pm Tuesday and the Moniker Auction is set to go from 4:00pm to 6:30pm on Wednesday (the closing day of the show aside from a farewell breakfast Thursday morning).
For more information on the show, you can check out exclusive conference preview interview with T.R.A.F.F.I.C. Co-Founders Rick Schwartz and Howard Neu. In addition to our daily show highlights posts this week we will be producing a comprehensive conference review article that will be published late next after we have returned to our home base in Florida.