Opening Day Photos and Highlights from T.R.A.F.F.I.C. Las Vegas 2010
The 2010 T.R.A.F.F.I.C. Las Vegas conference got underway Thursday (Jan. 21) at the Hard Rock Hotel with approximately 240 enthusiastic registrants on hand. In the photo below Jodi Chamberlain and Ray Neu were kept hopping getting everyone signed in at the registration desk.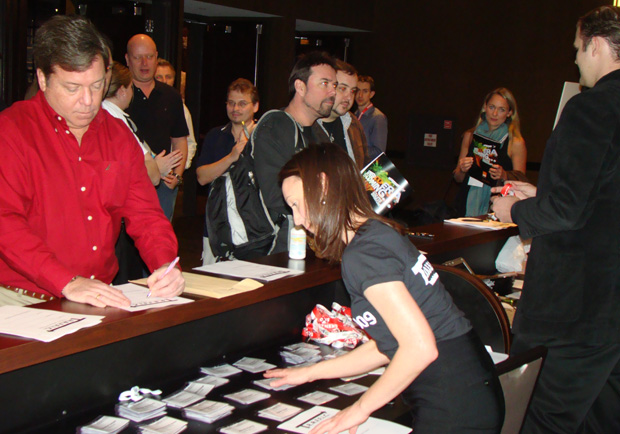 Photo below: After enjoying a lavish brunch, attendees took seats in the conference room to hear welcoming comments from show organizer Rick Latona.
Rick Latona
Welcoming attendees to
T.R.A.F.F.I.C. Las Vegas

The conference got underway at 12 noon with welcoming comments from Rick Latona who has taken over responsibility for staging five of the six T.R.A.F.F.I.C. conferences scheduled this year (show Co-Founders Rick Schwartz and Howard Neu will still stage one show next October on Miami's South Beach).

Latona, whose many ventures include new domain brokerage & auction house Latonas.com, got his feet wet in the conference promotion business with a successful show in Amsterdam last spring. If the opening day buzz among registrants in Las Vegas was any indication, he will still be batting 1.000 when this show ends Saturday evening.

After Latona's opening comments, the first business session of the week, a discussion about the rapidly growing ccTLD market got underway featuring a four-person panel that I had an opportunity to be part of.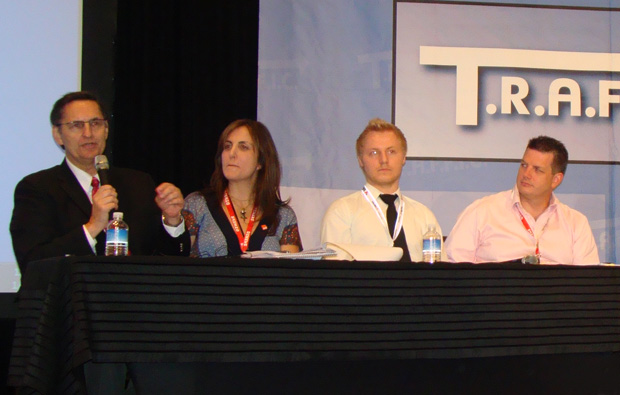 Photo above: ccTLD Panel featuring (left to right) Ron Jackson (DNJournal.com), Lori Anne Wardi (.CO Registry), Daniel Eisenhut (InternetX Registry) and Dan Warner (DomainAdvertising.com).
T.R.A.F.F.I.C. Moderator Rick Silver

New moderator Rick Silver of N49 Interactive presided over the ccTLD session and will also moderate the remaining business sessions this week. Rick does a terrific job. He comes to every seminar fully prepared for the topic at hand and always keeps things moving along at a pace that holds everyone's interest.

I'll have more details on the ccTLD seminar (and all of the individual sessions) in our comprehensive conference review article that will be published after the show.

The remainder of the business day Thursday was devoted to a pair of networking sessions that Silver directed. In the photo at left Silver invites audience members to come to the podium in the first networking session to tell people about their businesses (Michael Pallatta of TrafficMedia.com is standing at the podium getting ready to do just that). A second networking session followed with the format that has been used successfully at previous T.R.A.F.F.I.C. shows. Attendees sat face to face in

a circular formation with the outer ring rotating over one seat every two minutes allowing participants to meet dozens of people in the course of the event.
With the close of Thursday business it was time to party and attendees didn't have to go far. The first big social event was hosted at the Wasted Space night club inside the Hard Rock Hotel. The party drew a full house and everyone I spoke with thoroughly enjoyed it.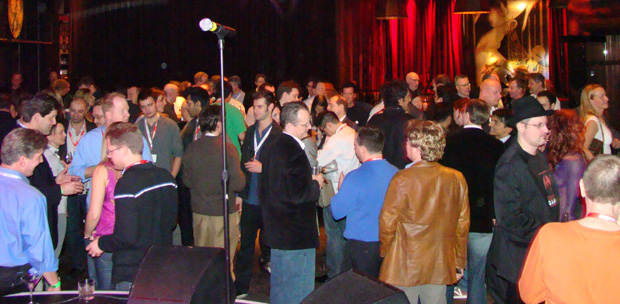 Above: Scene from the Thursday night party at T.R.A.F.F.I.C. Las Vegas.
Photo Below: A highlight of the party was a live performance by drummer/domain developer David Castello who was sensational. Before becoming wildly successful in the domain development business, David and his brother Michael (who run Castello Cities Internet Network) had spent much of their lives in popular rock bands (Michael was an accomplished lead singer and guitarist). You can see a video from their heyday at MichaelSeven.com that will blow you away. The Castello Brothers life story was told in a December 2006 DN Journal Cover Story.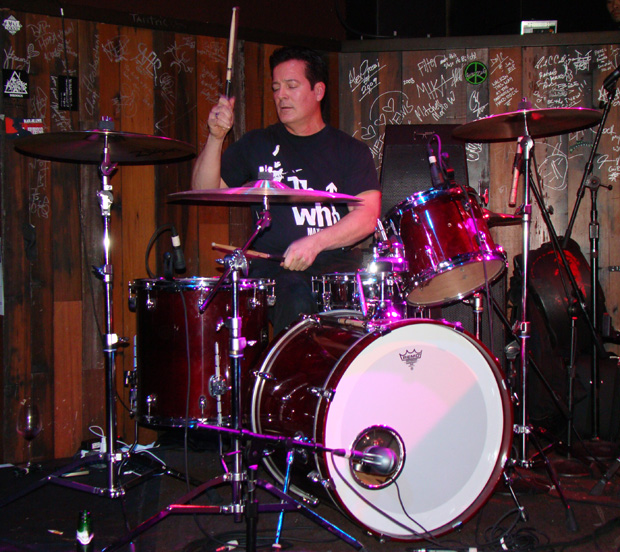 David Castello rocks the house at the Hard Rock Hotel Thursday night.