Photos and Highlights from Day Two (Friday) at the 2010 T.R.A.F.F.I.C. Las Vegas Conference
The second day of the T.R.A.F.F.I.C. Las Vegas conference got underway at 10:30am Friday (Jan. 22) with a packed brunch sponsored by international tax planning and consulting firm Rowbothan & Company. Once everyone was suitably fueled with coffee and good food it was on to the day's opening business session - a lively discussion of ICANN's plans to roll out an unlimited number of new gGTLDs. The panelists (left to right in the photo below) were Gregg McNair (PPX International), Tina Dam (ICANN) and Joe Alagna (CentralNic).
Most people in the domain industry are pretty much on the same page, but the introduction of unlimited new gTLDs at once is a topic that has people who agree on most things lining up on opposite sides of this issue. McNair voiced the opinion of those who, based on the poor performance of many previous new TLD releases, don't believe there is any need for more. Alagna, whose company will offer backend services for new registry operators, said the time to debate whether its a good idea or not is over because the decision has already been made. He believes that people should instead focus on the new business opportunities new gTLDs could create.
Ms. Dam, who has always represented ICANN well (and who celebrated a birthday at her first T.R.A.F.F.I.C. conference appearance Thursday), explained how the decision to release new gTLDs was reached, saying that it was in response to requests from the Internet communty. I'll have more about the specific comments each panelist made during this (and the other business sessions) in a comprehensive conference review article we will be publishing after the show.

In Friday's second business session, a panel that included (left to right in the photo above) attorney Zak Muscovitch, Andrew Allemann (DomainNameWire.com), Michael Berkens (TheDomains.com), attorney Howard Neu and attorney Eli Pearlman discussed some of the worst UDRP cases sent to arbitration panels in recent months. Each reviewed a case they thought was the most baseless brought against a domain owner and the audience then picked the worst of the worst - one involving LomaLinda.net and LomaLinda.org that was nominated by Muscovitch. You can learn more about some of these unconscionable cases here: UDRPWallofShame.com.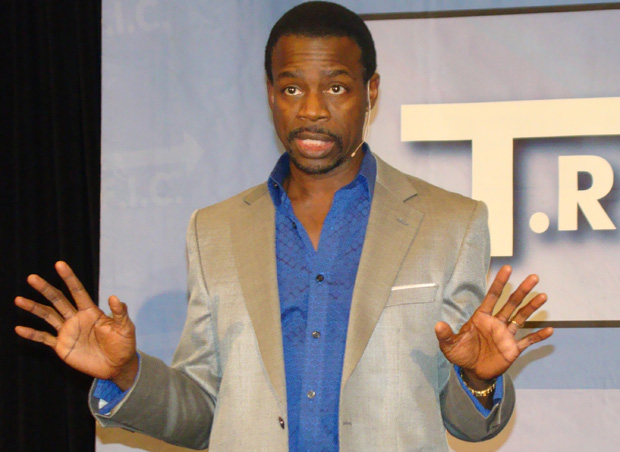 At 3pm keynote speaker Joseph McClendon III (above), a highly regarded peak performance coach, addressed attendees in a session about overcoming self-imposed obstacles to success. Registrants became active participants in the event as McClendon led them through an exercise that involved repeatedly jumping up and down from their chairs and screaming at the top of their lungs! It was actually quite therapeutic and one of those things where you kind of had to be there to understand. For a limited time you can do the next best thing and download McClendon's complete speech at MakeYourFate.com/Targeted (free offer expires Wednesday, Jan. 27).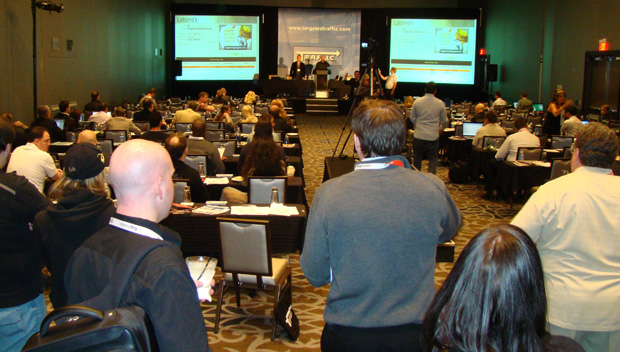 Scene from the Latonas.com live domain auction that, soon after this
shot was taken, had to be postponed Friday due to Internet connection issues.
A little after 4pm the one major setback the show has experienced occurred when the Latonas.com live domain action had to be postponed soon after it began because of Internet connection problems. The auction was rescheduled for 10am this morning and is in fact underway as I am writing this post at 10:20am (local time) in the auction hall.
With the business day concluded, everyone reconvened at the show's main party that was held Friday night at the Gold Lounge in the Aria Hotel, part of the spectacular new City Center development in Las Vegas.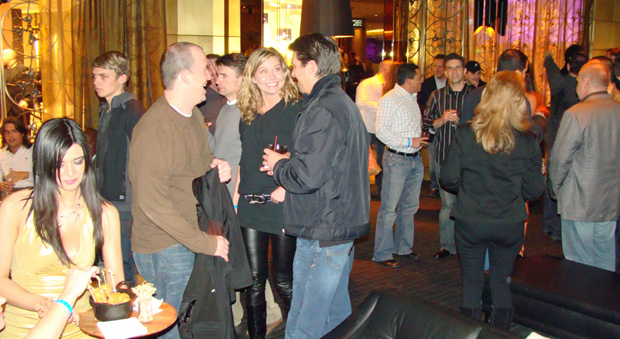 Early arrivals at the T.R.A.F.F.I.C. Party held at the Gold Lounge in Las Vegas Friday nght.
The club was soon packed wall to wall so we started stacking our photo subjects vertically! In the photo at right you see (top to bottom) Ray Neu, Barbara Neu, 2009 Domainer of the Year Michael Berkens and his wife Judi.

The conference closes today. After the auction there will be two seminars, the first about how to optimize your domain portfolio and the second covering ways to play the drop market. The 2010 show will then close with a main event that is to get underway at 3pm (Pacific time) - the T.R.A.F.F.I.C. Test Track. That session gives online business developers a chance to pitch investment opportunities in their companies to a panel of investors.

I'll have final day photos and highlights for you in a post in this column Sunday. On Monday I'll being taking the short flight over to Los Angeles to cover the DOMAINfest Global conference that gets underway Tuesday in Santa Monica.