Photos and Highlights From the Closing Day (and Night) at Domainer Mardi Gras 2010 in New Orleans
The 2010 Domainer Mardi Gras conference closed last night in New Orleans (or to be more precise, in the wee hours of Sunday morning). The final day of the show got underway at the New Orleans Marriott Saturday morning (Feb. 13) at 10:45am with a panel discussion titled Domain Name Investing in 2010 and Beyond: Where is the Industry Heading?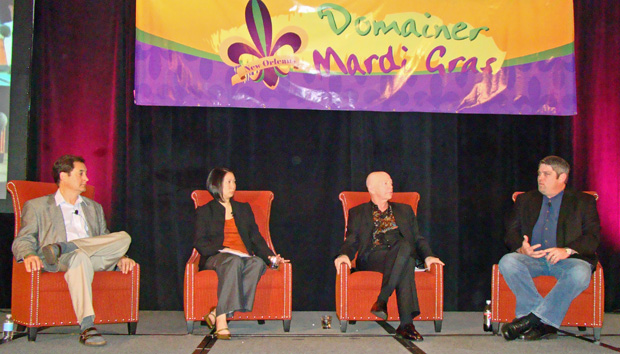 Panelists for the Domain Name Investing session Saturday morning were (left to right
in the photo above) Leonard Holmes (ParkQuick.com), Hui Tam (AdKnowledge),
Gregg McNair (PPX International) and Donny Simonton (Parked.com).
The discussion was moderated by Domainer Mardi Gras's Executive Director Michael Ward
(seen during this session in the photo below). As I mentioned in our Friday highlights from the
show, Michael and his team did a superb job in producing some great content for DMG 2010.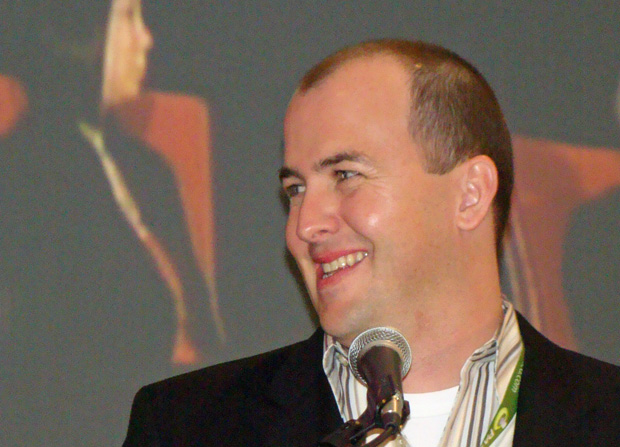 One thing that made the DMG sessions so interesting was that Ward brought panelists together who offer had sharply divergent opinions on things. They made for lively discussions that took several points of view into consideration. For instance, in this session on Domain Name Investing, Parked.com President Donny Simonton expressed the opinion that the industry was already experiencing an upturn after a long recession. Simonton noted that his companies revenues over the past five months are running about 20% ahead of the same period a year ago.
Gregg McNair, never one to mince words, had a different take saying he thinks the industry's best days are behind it. "We're in trouble," McNair said, "Yahoo is a basket case, Google is a ruthless monopoly, PPC is struggling and will consolidate which (with less competition) could lead to further revenue drops. Then you have issues with ICANN, CADNA and lazy domainers who won't defend themselves be supporting the ICA." I'll have more on this session, as well as all of the others held during show week, in a comprehensive conference review article that will be published by Feb. 22.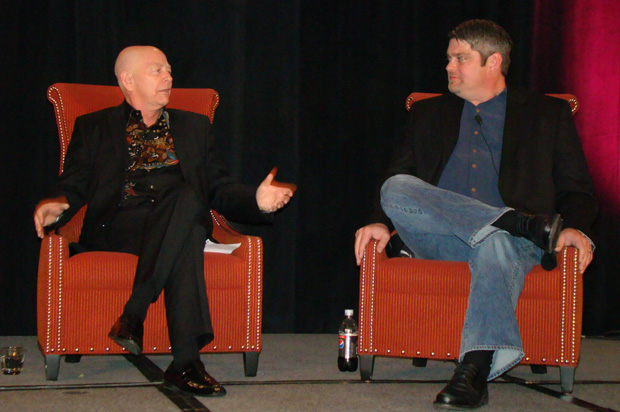 Gregg McNair (PPX International) at left and Donny Simonton (Parked.com) had
different opinions about the direction the domain industry is currently headed in.
This provocative session of DMG 2010 was the final business event of DMG 2010. Unlike most other shows, no live domain auction was attached to this event. Instead, an online Moniker Showcase Auction was tied to DMG with that week-long auction concluding Tuesday (Feb. 16) at 3:15pm (U.S. Eastern time).
Though the conference business schedule was now complete, the fun was just getting started. Lunch was served in a 41st floor dining room at the Marriott that offered a sweeping 360 degree view of New Orleans. From that perch, I was able to zoom in on Canal Street and get a great aerial view of the Mardi Gras parades going by below.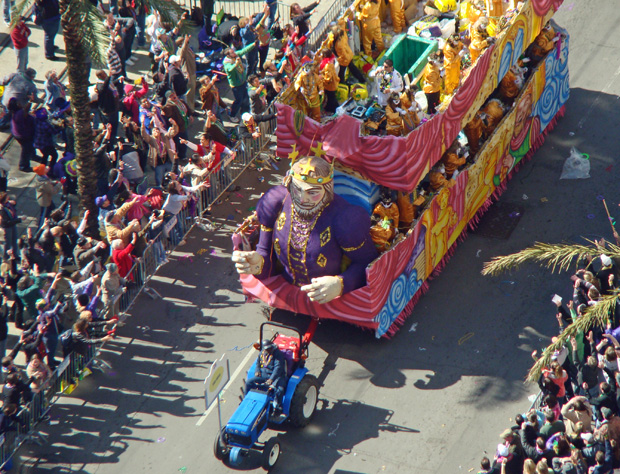 One of the Mardi Gras floats going down Canal Street Saturday afternoon. The photo
was taken from the top of the New Orleans Marriott - 41 floors above the street.
The afternoon schedule was left wide open so attendees could get outside and enjoy the parades, shopping, clubs, casinos, strolling through the French quarter or any of the other many attractions this historic city has to offer. New Orleanians have always been friendly people and they are especially ebullient this week as they continue to celebrate the New Orleans Saints first ever Super Bowl win last Sunday.
As darkness fell, DMG attendees regrouped back at Parked.com's private balcony on Bourbon Street where they found a buffet and open bar waiting in a spacious break room adjoining the balcony. They would close the 2010 DMG experience by spending the rest of the evening enjoying the Mardi Gras Carnival atmosphere from their special vantage point above the street.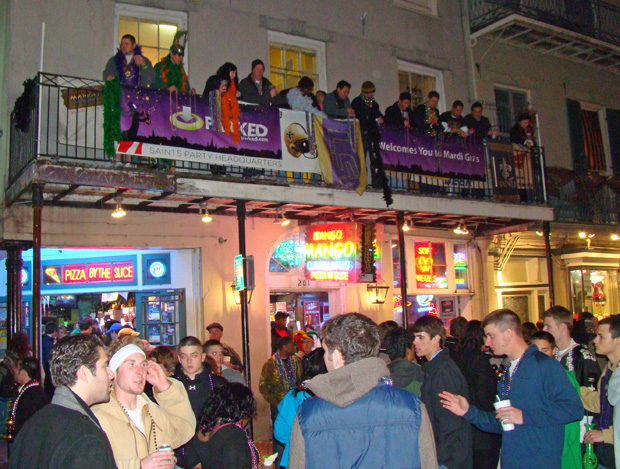 Above: Looking up at the Parked.com private balcony from Bourbon Street.
Below: Ammar Kubba (Thought Convergence Inc.) and Rick Latona (Latonas.com)
in the break room behind the Parked.com balcony.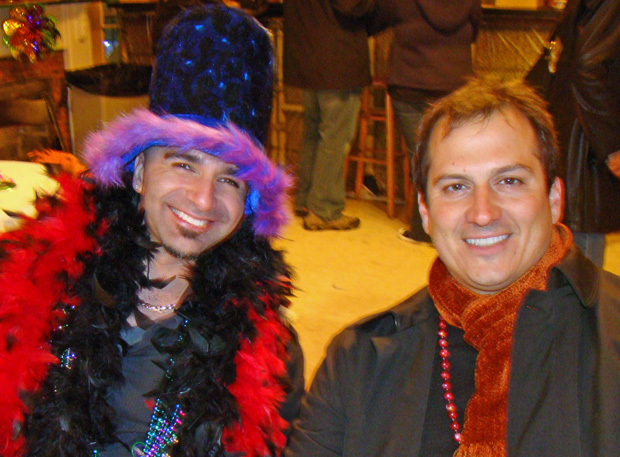 Below: View of the sea of humanity below the Parked.com balcony Saturday night (Feb. 13)
(looking west down Bourbon Street).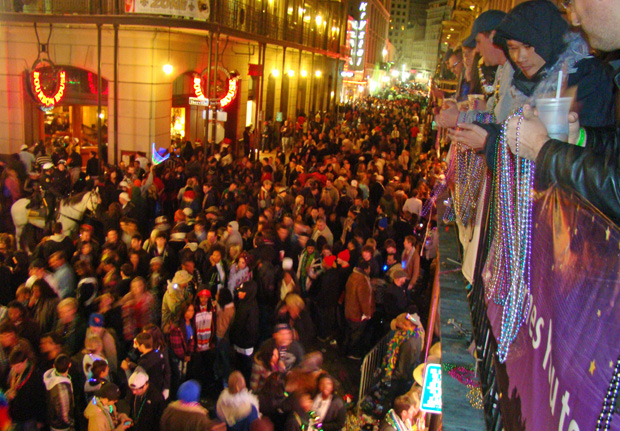 For the night owls in the group, the celebration actually continued well into Sunday morning, not ending until the balcony closed at 3am, and even then some guests who just can't get enough of Mardi Gras, simply moved took the party somewhere else. I'm normally in bed at a pretty early hour, but I can understand why visitors to the Big Easy put off sleep until they get back home - this is a town that never sleeps.
As for the Domainer Mardi Gras conference, the organizers had a solid debut in 2009 but this year, just like the city's beloved Saints, they took took it to a new level. Well done and it will be very interesting to see how they try to top themselves next year.