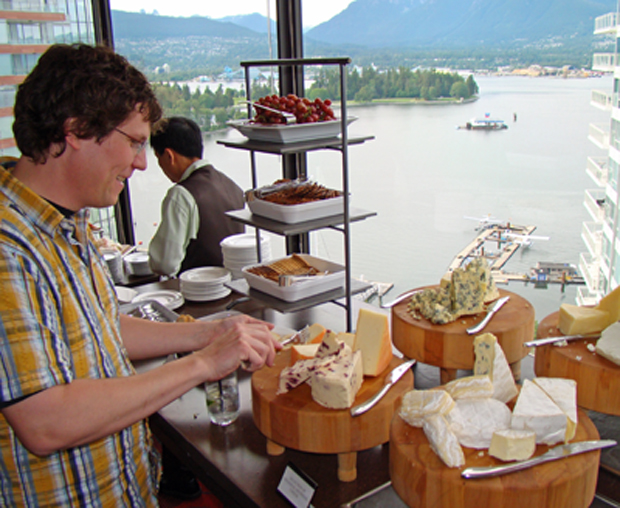 Frank Michlick samples some of the delicacies laid out at the T.R.A.F.F.I.C. opening night
cocktail party (Tuesday, June 8) held on the 19th floor of the show venue - the Renaissance Vancouver Harbourside Hotel - overlooking stunningly beautiful Coal Harbour below.
While a lot of Vancouver area domain investors turned out for the show, one of the area's most legendary industry pioneers, Garry Chernoff, was not able to make it (if you don't know Garry, I can sum up his credentials in these five words - Garry was Frank Schilling's mentor.) 'Nuff said.
Upon learning that Garry would not be at the show, the Castello Brothers, David and Michael, decided to follow the old axiom - "if Mohammed can't come to the mountain, take the mountain to Mohammed." As soon as the brothers finished speaking at their Wednesday morning T.R.A.F.F.I.C. seminar, they rented a convertible and drove 250 miles east to visit Garry at his home in the popular lakefront resort town of Penticton, British Columbia.
(Left to right above) Michael Castello, Garry Chernoff and David Castello getting ready to
climb aboard Garry's helicopter for an aerial tour of the scenic countryside and
canyons that surround Garry's home in Penticton, British Columbia.
Below: View from inside the helicopter as it flies through a canyon nearby.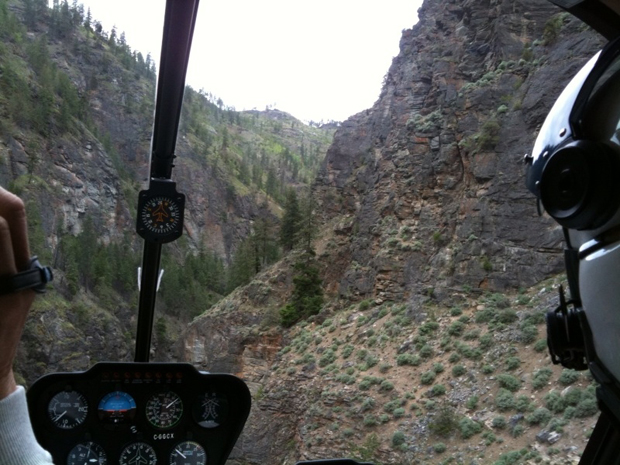 David and Michael said they had a blast hanging out with "The Cherminator" who is one of the nicest people in the business (something that is often said about Michael and David as well).
I'll have a number of other previously unpublished photos and T.R.A.F.F.I.C. tidbits for you in our upcoming review article. Before I get to that, I'll be putting together a double length domain sales report for you that will be out by Wednesday night (June 16). Since I was away this past week, the new report will detail sales for the past two weeks, bringing you completely up to date on what has happened in the aftermarket since our last report.