After a full year of preparation T.R.A.F.F.I.C. Co-Founders Rick Schwartz and Howard Neu will get back in the saddle this evening when the highly anticipated T.R.A.F.F.I.C. Miami conference opens with a 5:30pm welcoming cocktail party at the Loews Hotel on fabulous South Beach (you can see our in-depth show preview article here). It will be the first show staged by the industry pioneers since T.R.A.F.F.I.C. New York in October 2009 and all indications point to this one being among their best ever.
Four other T.R.A.F.F.I.C. conferences have been held in 2010 (in Las Vegas, Milan, Italy, Vancouver, Canada and Dublin, Ireland), but those were all produced by Rick Latona under a licensing agreement with Schwartz and Neu.
After tonight's cocktail party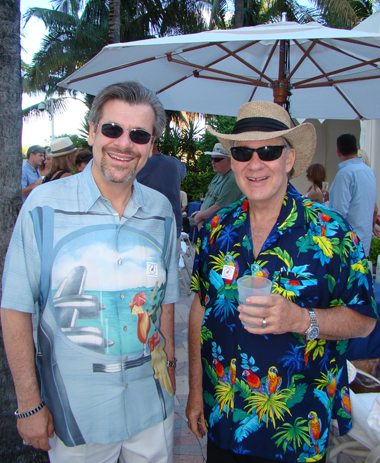 T.R.A.F.F.I.C. Co-Founders Rick Schwartz & Howard Neu
ready for the opening of T.R.A.F.F.I.C. Miami this evening
at the Loews Hotel on world famous South Beach.
ends, many attendees will move on to other domain related functions tonight including an 8pm launch party for Domain Holdings, the company behind Rapid Domain Builder. Co-Founders Chad Folkening, John Ferber and CEO Jason Boshoff will be on hand to welcome guests, including U.S. Congressman Cliff Stearns (R-Florida) who has taken an interest in the domain industry (Rep. Stearns will also be speaking at T.R.A.F.F.I.C. Monday afternoon).
Another rising political figure, Indiana State Rep. Todd Rokita also plans to attend. Space is limited so you are asked to RSVP right away to Chad@DomainHoldings.com if you would like to attend the DomainHoldings event.
Though T.R.A.F.F.I.C. Miami doesn't officially open until this evening, a number of early arrivals have been in town all weekend and have been enjoying the opportunity to network at the T.R.A.F.F.I.C. cabanas adjacent to the Loews Hotel swimming pool.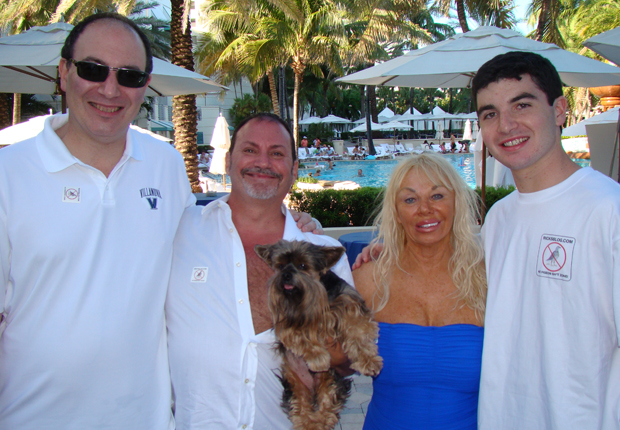 (L to R): Larry Fischer, Michael Berkens, Bandit, Judi Berkens and Jeffrey Fischer were
among those who arrived at the Loews Hotel early for T.R.A.F.F.I.C. Miami on South Beach.
The cabanas, which will be open daily until dusk throughout the conference, are also just steps away from the pristine Atlantic Ocean beach behind the hotel. The weather forecast for Miami looks great for the conference days, so it should be a perfect time to enjoy the surf and sand.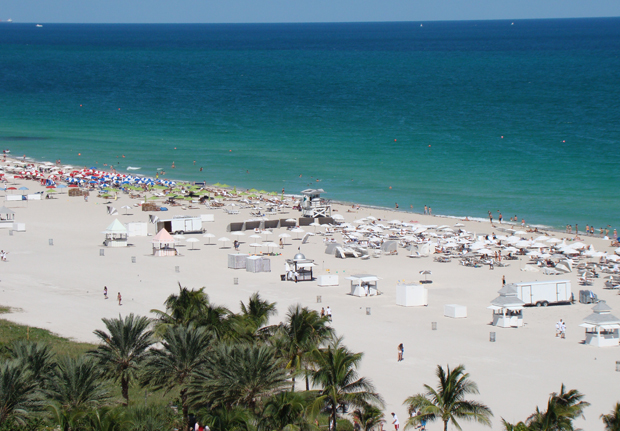 View of the beach at the Loews Hotel on Miami's South Beach
After tonight's activities end, attendees will look forward to the first full day of business that gets underway with a special networking session Monday morning (Oct. 18) at 8:15am.

I'll be taking part in a panel discussion at 4pm Monday afternoon titled Is The Gold Rush Over, or Are There More Nugggets to Mine? That panel will also include Keith Levenson (Rio.com), Michael Gilmour (ParkLogic.com), Rick Schwartz (RicksBlog.com), Gregg McNair (PPX International) and Chad Folkening (DomainHoldings.com).

T.R.A.F.F.I.C. Miami continues through Wednesday morning, October 20 (you can check out the complete agenda here). I'll have daily highlights from the show for you in this column starting Monday.

The Loews Hotel on South Beach
where T.R.A.F.F.I.C. Miami begins this evening.