By Ron Jackson

Scenic Vancouver, British Columbia provided a perfect setting for the first T.R.A.F.F.I.C. conference ever held in Canada. The landmark show was staged June 8-10, 2010 at the Renaissance Vancouver Harbourside Hotel that directly overlooks the city's spectacularly beautiful Coal Harbour.

Vancouver was an appropriate location not only for its natural beauty but also because the city has produced some of the most successful domain investors of all time (Garry Chernoff, Frank Schilling, Dr. Kevin Ham and Richard Lau are just a few examples).

The highly anticipated event was produced by the same Rick Latona team, captained by Jodi Chamberlain, that is running all of this year's six shows except one that T.R.A.F.F.I.C. co-founders Rick Schwartz and Howard Neu will conduct on Miami's South Beach October 17-20.

While the conference was going on I published daily show photos and highlights from Vancouver in these posts in our Lowdown section:
Those posts gave our readers a flavor of what was going on as the show unfolded, however with conference activities running day and night, there isn't enough time when the event is underway to go into detail about the many interesting sessions held during the week. As a result it has become our custom to spend a few days after returning home to sift through our show notes and photos to produce a more comprehensive review article for the benefit of those who could not attend in person.
T.R.A.F.F.I.C. Vancouver 2010 began on the morning of Tuesday, June 8 with nearly all of the seats in the main ballroom filled to hear welcoming comments from show promoter Rick Latona.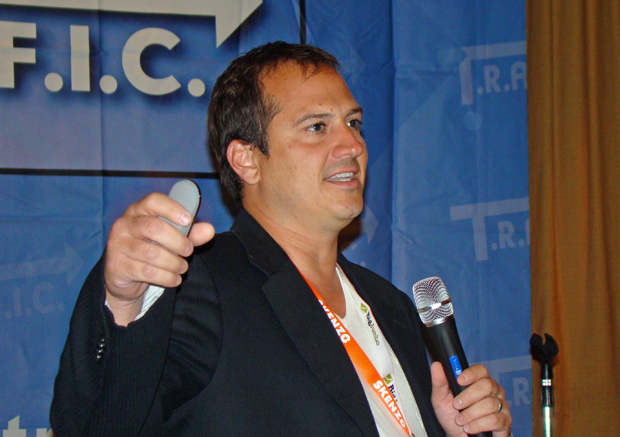 Above: Show promoter Rick Latona delivers his opening remarks.
Below: Part of the opening day crowd at T.R.A.F.F.I.C. Vancouver June 8, 2010.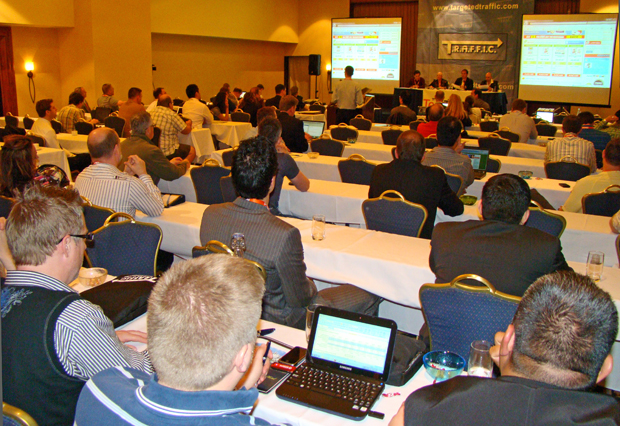 After Latona's opening comments, the show immediately got down to business with a seminar titled ccTLDs are Taking Over the World - Is North America Immune? The session focused on the prospects for America's .US extension and Canada's .CA as they try to gain recognition on a continent where they have been overshadowed by .com.

Panelists for the ccTLDs are Taking Over the World - Is North America Immune? session
were (left to right in the photos above) Ron Jackson (DN Journal), Ken Hansen (Neustar,
operator of the .US registry) and Steve Smith (Co-founder of registrar Webnames).

T.R.A.F.F.I.C. Moderator Rick Silver

This session was moderated by Rick Silver (N49 Interactive) who, as the owner of one of the best .CA (Canadian ccTLD) portfolios, knows this subject matter well.

Silver said that while .com remains the dominant extension in Canada, .CA has finally turned the corner and is seeing more widespread acceptance and business usage. Indeed I saw a lot of .CA domains prominently advertised while I was in Vancouver. In fact the first URL I saw on the trip into town from the airport was www.ADT.ca on the back of a vehicle owned by the giant security system provider. When I got to the hotel and went to get a soft drink I noticed the URL on the Pepsi product (Diet 7 Up) was a .CA address.

Silver thinks .US is following a similar trajectory. After spending years in relative obscurity (as .CA did), Silver believes the American country code is poised for solid growth as millions of new businesses go online for the first time each year and many of them, with the Internet's increasingly local focus, selecting ccTLD addresses.

I am also a .US fan and have accumulated a

large number of them over the years. Sales (almost exclusively to small business end users) have made the portfolio profitable in recent years and recently I have seen some promising results from monetizing exact match product domains (like Linen.us, JellyBeans.us, IceMachines.us, etc.) on SmartName's new ecommerce shops platform. As of this writing the URLs above (and many similar ones) are on the first page of Yahoo's search results), so clearly the search engine is giving a lot of love to exact match .US websites.

I also see .US more often in local and national advertising indicating that the extension is finding a niche. As a .US investor, I obviously have a vested interest in America's ccTLD but I will also be the first to tell you that I don't believe .US (or anything else) will ever be as pervasive and widely recognized as .com is. .Com has benefited from constant media exposure and mention in billions (probably trillions)

of dollars worth of advertising over the years, making it synonymous with the Internet. No other extension will ever be backed by the kind marketing expenditure it would take to duplicate that.

However, while .com is the undisputed king that doesn't change the fact that there are also opportunities outside of the palace for those who make the right choices (domains that are an exact match for commercially relevant keywords in established extensions will improve your odds). I have always looked for niche opportunities (DN Journal is, after all, a niche publication) and fortunately the domain industry is a place where niche opportunities of all kinds abound.
The second session on opening day was devoted to speed networking with everyone in the audience invited to take the microphone for 30 seconds and introduce themselves and, if they owned a business, describe their services.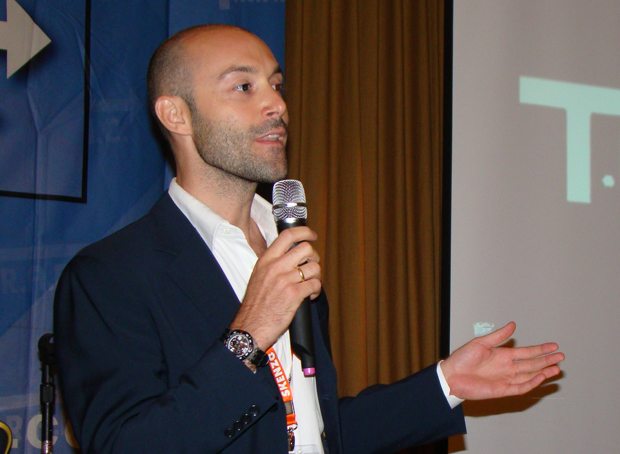 Andrew Rosener (MediaOptions.com) introduces himself during the speed networking session.
The first day of business closed with a T.R.A.F.F.I.C. staple - Test Track - a platform that gives founders of new businesses that are seeking capital a chance to pitch their ideas to a panel of potential investors (the panel for the Vancouver conference included Richard Lau (DomainManager.com), Gregg McNair (PPX International), Rick Latona (Latonas.com) and Ammar Kubba (Thought Convergence).
The founders of four businesses - NamePrince.com, PennyAuction.ca, LeftOfTheDot.com and VisitorDay.com - were chosen to present at the Vancouver Test Track session. While none of the presenters won funding on the spot, some of the panelists wanted to meet later with LeftOfTheDot.com presenters John Lyotier and Chris Jensen to learn more about their company.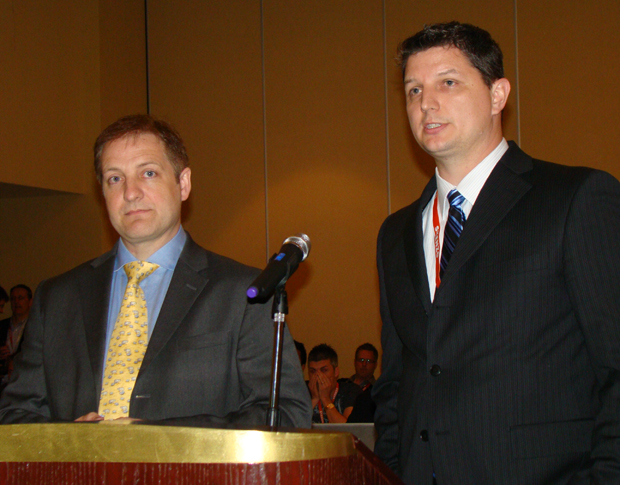 Chris Jensen (left) and John Lyotier of LeftOfTheDot.com tell potential investors
about their company's prospects during T.R.A.F.F.I.C. Test Track.
LeftOfTheDot's business model revolves around monetizing sub-domains of generic keyword domains. For example, one of their clients is Beef.com owner Bruce McLeod (the Beef.com site explains the sub-domain program). On his behalf, LeftOfTheDot finds companies in the beef business (many of whom currently have poor websites or no websites at all) who will pay to use the Beef.com brand by having LeftOfTheDot build a website for them on a subdomain such as Angus.Beef.com or Alberta.Beef.com. Jensen and Lyotier noted that names following that convention do very well in the search engines, almost immediately increasing visibility for their customers.
After the Test Track presentations it was time for the show's first big social event - a 5pm cocktail party in the revolving lounge at the top of the Renaissance Hotel - a 19th floor perch that gave guests a spectacular view of Vancouver as the circular lounge slowly turned in a 360 degree rotation.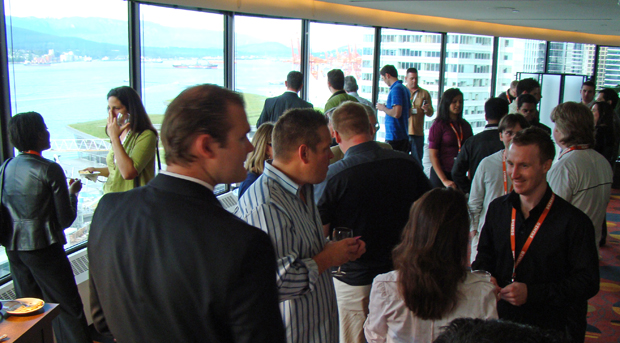 Above: Guests in one section of the rooftop circular lounge where
the opening night T.R.A.F.F.I.C. Vancouver cocktail party was held.
Below: Frank Michlick enjoys both the food and
the spectacular view from the 19th floor lounge.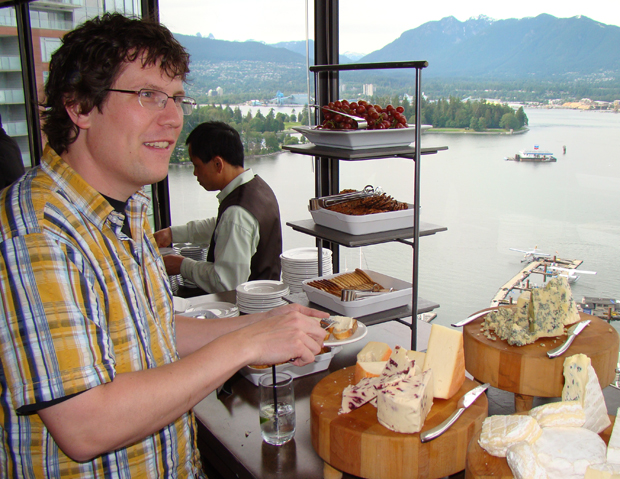 Below: A highlight of the party came when PPX Internatational's Executive Chairman
Gregg McNair was surprised by a birthday cake spirited into the gathering by
PPX's Tessa Holcomb and T.R.A.F.F.I.C. producer Jodi Chamberlain.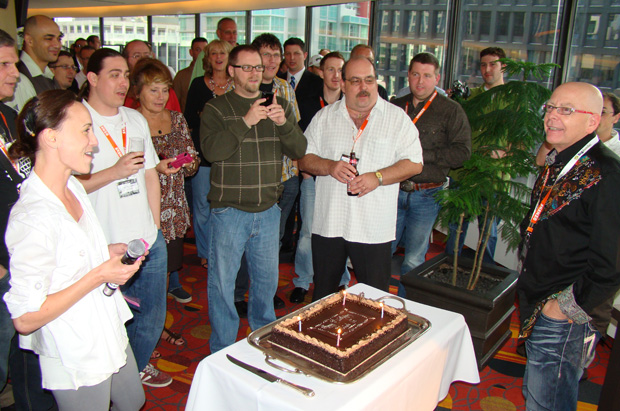 After the cocktail party wound down around 7pm, the night was still young so attendees scattered to various private functions around town or at the hotel. My wife Diana and I were honored to join a group of 14 remarkable people at a dinner Richard Lau hosted at the nearby Fairmont Hotel to honor The Water School, a ground breaking charitable organization that has become near and dear to the hearts of many domain investors, including Lau and Gregg McNair who have been instrumental in bringing the cause (providing clean drinking water that is saving lives in developing nations around the globe) to the industry's attention.
Special guests at this dinner included Fraser Edwards, who co-founded The Water School with Bob Dell, and three amazing young people who Edwards said are ready to step up and help carry on the organization's life saving mission long after he and Bob are gone.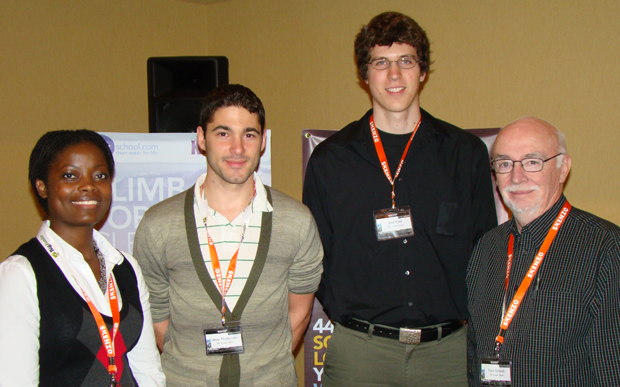 Special guests at Richard Lau's Tuesday night dinner honoring The Water School were (left
to right) Sandra Getuba, James Morfopoulous, Brad Pierik and Water School Co-Founder
Fraser Edwards who is counting on Sandra, James and Brad to carry on when he is gone.
Coming Up on Page 2

Day 2 Photos & Highlights

A fireside chat with John Demco, the godfather of .CA

Oh Canada! An inside look at Canada's country code featuring CIRA officials.

Two live domain auctions and a sky-high evening social event.

Day 3 Photos & Highlights
*****