The DOMAINfest Global Conference continued with day 2 (Wednesday, Feb. 2) of the fifth annual event being held at the Fairmont Miramar Hotel in Santa Monica, California. In my last post yesterday, the opening day was winding down with Moniker's Low and No Reserve Live Domain Auction still underway. The event wound up generating 37 sales led by Camera.net at $35,000. Prices dropped off quickly after that with AJY.com the next highest sale at $4,000. The event was a warm-up for Moniker's Premium Live Auction coming up tomorrow (Thursday, Feb. 3) at 4:30 pm Pacific time.
Day one ended Tuesday night with a Polynesian Paradise theme party held in the gardens and pool area at the Fairmont Miramar.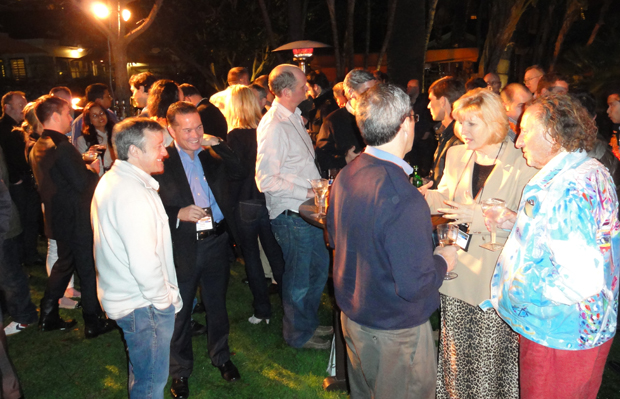 Scene from Tuesday's night's Polynesian Paradise Party at DOMAINfest Global.
After the official conference party (sponsored by the .CO Registry) closed at 9pm, many attendees moved on to a pair of private parties nearby, one held at the Huntley Hotel by Demand Media and the other on the rooftop of an oceanfront condo a block away hosted by Washington VC founder Michael Mann who is spending the winter there. I stopped by both and very much enjoyed the company of the other guests and the gracious hospitality extended by the hosts.
Day 2 of DOMAINfest Global opened at 9:30am today with a terrific presentation from Jay Berkowitz (TenGoldenRules.com) who detailed his Ten Steps to Building a Winning Website. Jay, who also operates the InternetMarketingClub.com networking site, is a leading author and podcaster who really knows his stuff. He also has a special ability to present valuable information is a concise, easily digestible manner that has helped thousands of people jump start their online endeavours.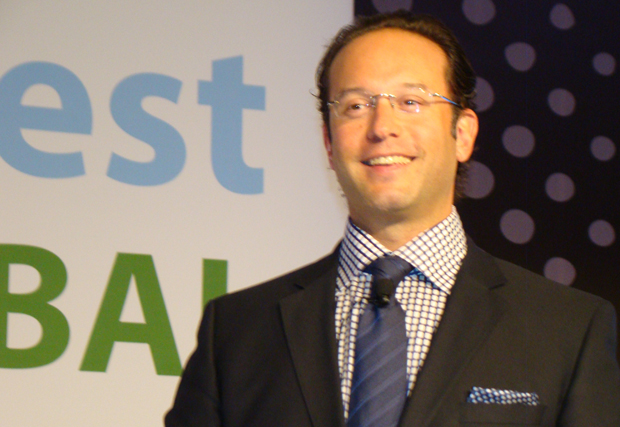 Jay Berokowitz (TenGoldenRules.com) giving attendees his Top Ten Steps to
Building a Winning Website Wednesday morning at DOMAINfest Global.
The second morning session was a panel discussion about Acquiring and Monetizing Traffic Using Local, Mobile, Social and Video. Moderator Scott Morrow, Oversee.net's new Senior VP/GM, Vertical Markets Division, directed a very informative session featuring experts Andy Atkins-Kruger (WebCertain.com), David White (Technorati Media) and Branden Claisse (Mojiva Inc.)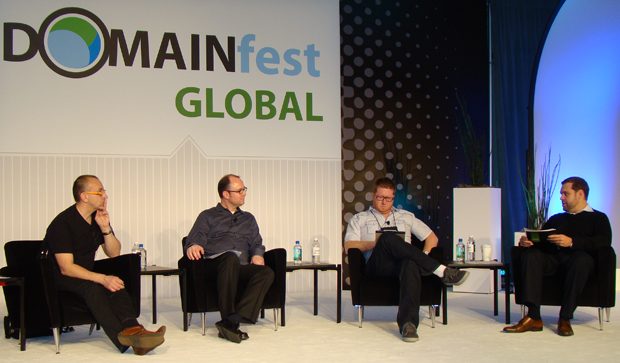 (L to R): Andy Atkins-Kruger (WebCertain.com), David White (Technorati Media), Branden
Claisse (Mojiva Inc.) and moderator Scott Morrow (Oversee.net) provide advice on Aquiring and Monetization Traffic Using Local, Mobile, Social and Video Wednesday morning (Feb. 2).
After a courtyard luncheon, once again held outdoors on a glorious Southern California day, guests returned to the hotel's Starlight Ballroom for DOMAINfest Global's Pitchfest Contest. The event gave eight finalists a chance to pitch their new online business ideas to a distinguished panel of venture capital executives who served as judges (they were John Morris, Scott Jarus, Andries de Villiers and Jeff Cohn). The audience also got to pick a winner of their own and, as was the case last year, the judges and the audience had different opinions.
The judges named local deal site Smartvark.com as their winner, allowing the company's presenter, Stefan Wrobel, to take home the coveted prize and gain some attention that could lead to a sizeable investment in his company.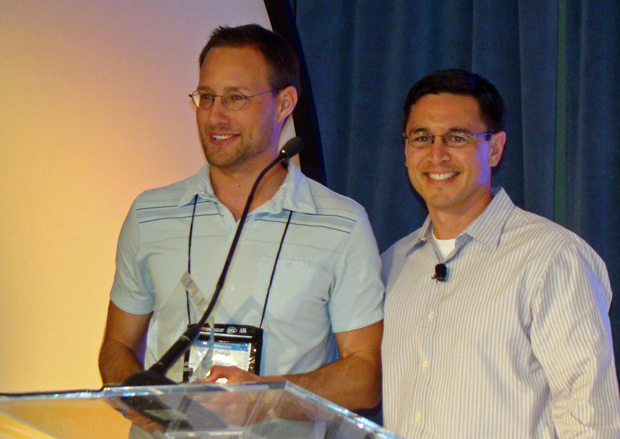 The Judges picked Stefan Wrobel of Smartvark.com (L) as winner of the DOMAINfest Global Pitchfest Contest. He received the award from Oversee.net Sr. VP Peter Celeste.
In instant balloting conducted by cellphone text messaging, the audience came to another decision, naming ePayments.com their winner, earning presenter David Clements a return trip to the podium to pick up his crystal trophy from Peter Celeste.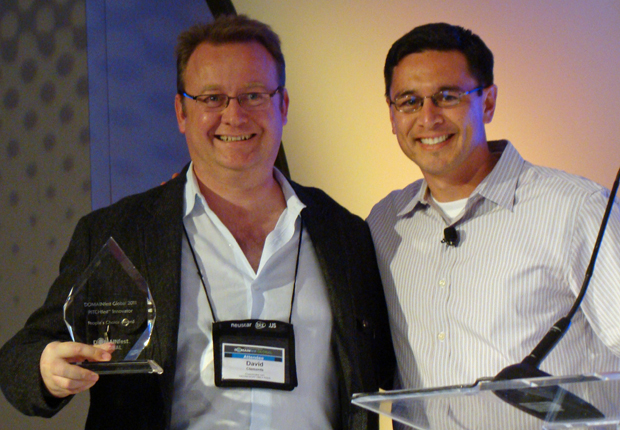 The audience came to a different decision and voted David Clements (left)
of ePayments.com winner of the Pitchfest People's Choice Award.
The day's final business session featured a panel discussion of Opportunities in ccTLDs, IDNs and gTLDs.
Oversee.net VP Mason Cole (at far left in the photo below), served as moderator for this discussion. He had six experts on hand for this wide ranging discussion including (left to right after Mr. Cole), Ken Hansen (Neustar), Joerg Schweiger (DENIC), Daniel Eisnhut (InternetX), Andrew Snow (Globabel Holdings), Adrian Kinderis (AusRegistry International) and Daniel Dryzek (ddfund.eu).