The 2011 DOMAINfest Global conference got underway today at the Fairmont Miramar Hotel overlooking the Pacific Ocean in Santa Monica, California. The show's organizers, Oversee.net, said a record number of registrants - close to 700 people from around the world - are on hand for the fifth annual event (along with more than three dozen sponsors - also a record).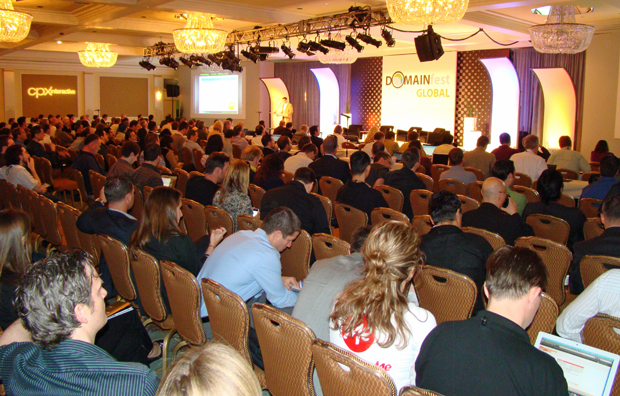 Part of the opening day crowd at the 2011 DOMAINfest Global conference listening
to welcoming comments from Senior VP & Domain Sponsor GM Peter Celeste
In welcoming comments to attendees Oversee Sr. VP Peter Celeste, who is also the General Manager of DomainSponsor, announced a new monetization initiative at DomainSponsor that will have the company selling traffic to some of its client's parked domains directly to advertisers. If they are successful in lining up enough advertisers that should produce a significant revenue boost as Google would not being taking out a cut of those earnings.
The day's first seminar covered Domain Monetization Basics From Parking to CPL to CPA and featured panelists Jeff Bartlett (ConsumerTrack, Inc.), Howard Hoffman (PPCIncome.com), Jamie MacMillan (LinkShare) and Joerg Schnermann (DomainSponsor Europe) in a session moderated by legendary domain investor Frank Schilling (NAMedia.com).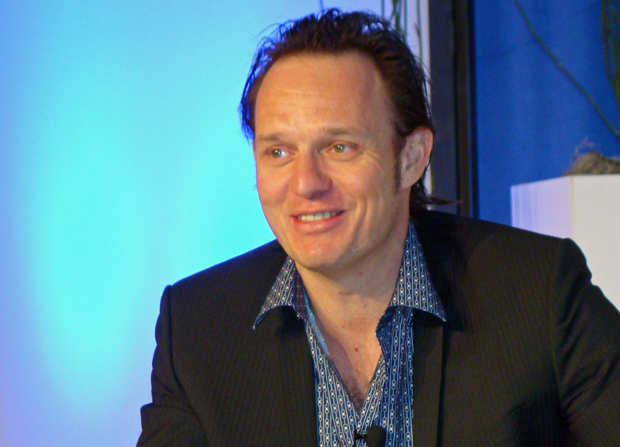 Frank Schilling moderating today's panel discusson of current Domain Monetization options.
The morning session closed with an interesting fact-filled presentation from comScore's Eli Goodman covering Internet Vital Signs. After a lovely outfoor luncheon served in beautiful weather under the stately fig tree that graces the Fairmont's courtyard, attendees returned to the ballroom to see Oversee President and CEO Jeff Kupietzky's excellent presentation featuring his view of The State of the Industry: 2011 and Beyond.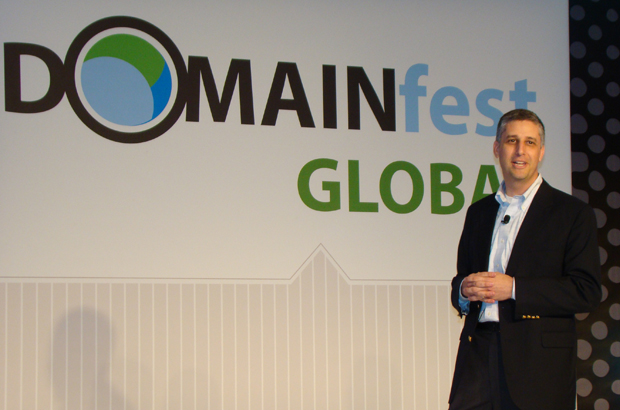 Oversee President and CEO Jeff Kupietzky delivering his
State of the Industry: 2011 and Beyond address today at DOMAINfest Global
I will have an in depth report on Jeff's 2011 predictions in our comprehensive conference review article that will ge published by the end of next week. For now suffice it to say that he is very optimistic about how this year will play out for the domain industry and provided plenty of information and datapoints to back up his beliefs.
The day's main event - a keynote address from GoDaddy CEO and Founder Bob Parsons titled Luck & Perspective was a huge hit. The ballroom was completely packed with a standing room only crowd eager to hear the colorful leader of the world's largest registrar.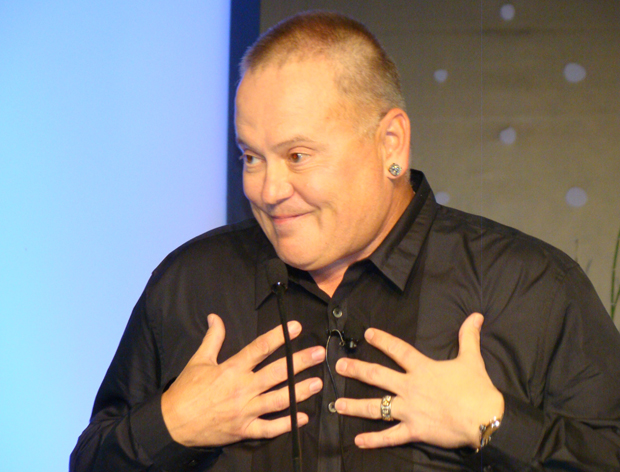 GoDaddy CEO & Founder Bob Parsons speaking to a
standing room only crowd at DOMAINfest Global this afternoon.
Parsons certainly did not disappoint as he ran through his entire life's story with often funny but always insightful and often inspiring anecdotes about how persistence - a refusal to ever give up - led to the phenomenal business successes the decorated ex-Marine has enjoyed. He expects GoDaddy to reach $1 billion in sales this year for the first time.
Parsons, an acknowledged marketing genius, comes across as just a regular guy - a man's man that you would love hanging out with - and his self-deprecating down to earth demeanor quickly won the crowd over. He said his number one rule in life is to do something you love to do - that is the real key to happiness. He closed his talk with a favorite saying that he credited to his son - "There is always a reason to smile. Find it because we are not here for a long time, we are here for a good time!" Parsons was given a standing ovation when his talked ended. I'll have more details on his address in our upcoming conference review article.
As I write this the business day is closing with Moniker's Low & No Reserve Domain Auction. It will be followed by a poolside Polynesian Paradise Party this evening at the Fairmont. I'll have more on those events for you tomorrow when I'll also bring you some photos and highlights from Day 2 of the event that runs through Thursday.
One other major note today, for those who have been wondering what Moniker.com Founder Monte Cahn would be doing next (after leaving the company at the end of 2010), we now have the answer. Today Cahn and Michael Berkens announced they have formed a new consulting company called Right Of The Dot, LLC that will provide guidance to businesses and investors interested in the new gTLDs that ICANN plans to introduce in the near future.

Cahn said, ""The domain industry is preparing for a new era of rapid change and a complete shift in how investors and businesses think about domains and online presence. Enormous opportunity lies ahead for registries, registrars, entrepreneurs, investors and corporations. But the question is, how will you navigate the ever-expanding opportunities? Knowing how to make the most of your time and assets is invaluable, and that's where RIGHT OF THE DOT comes in."

Monte Cahn, RightOfTheDot.com