The Lowdown


December 2011 Archive

Subscribe to our RSS Feed

Here's the The Lowdown from DN Journal,
updated daily to fill you in on the latest buzz going around the domain name industry.

The Lowdown is compiled by DN Journal Editor & Publisher Ron Jackson.
Miami Police Department Lets MiamiPolice.com Drop - Gives Cybersquatter Early Christmas Gift

The slogan on the Miami Police Department website at Miami-Police.org says "Professional Law Enforcement." I don't doubt that is true, but when it comes to professional intellectual

property management - not so much. According to story at NBCMiami.com Thursday, the local police department let the far more intuitive and desirable domain MiamiPolice.com drop because, citing a tight budget, they didn't want to pay the renewal fee. They are however paying to keep the far less desirable, hyphenated domain Miami-Police.com - go figure.

As if that weren't misguided enough, the department has also let the expiration date for MiamiPolice.org pass and it is now in Redemption. Apparently no one there got the memo about hyphenated domains losing large percentages of their American audience to the non-hyphenated versions. MiamiPolice.com and MiamiPolice.org both have high value for redirecting visitors to the less memorable Miami-Police.org if nothing else. Cybersquatters certainly know that, which is why one quickly pounced on MiamiPolice.com when it dropped and now has it on a parking page to take advantage of the traffic created by those typing in the more intuitive abandoned name (the domain is under WhoIs Privacy).

Believe it or not, the Miami Police Department was notified repeatedly by a knowledgeable local citizen that they were about to lose MiamiPolice.com and informed why they should spend the modest renewal fee to keep it. The citizen even offered to pay the renewal fee for them but they still weren't interested.

A police department spokesman told NBCMiami reporter Jeff Burnside the department didn't need the domain because they already had their Internet presence covered. The police statement said, "From the time we established an Internet presence, we have always used miami-police.org (we also own miami-police.com) and our internal network is miami-police.net..." I can hear everyone who knows anything about domain names groaning loudly right now.

Ari Goldberger

Leading domain industry attorney Ari Goldberger was interviewed for the NBCMiami story and he pointed out that a lot of people looking for the Miami Police Department online are winding up at the wrong place because the department failed to keep the address many surfers would automatically assume leads to the Miami PD. Goldberger noted, "some people might think it's the actual Miami Police Department...it's a very valuable asset and should be treated as such."

Aside from confusion and someone making a few dollars off the Miami Police name, there is the possibility of more serious public safety issues arising if the domain ever falls into more malicious hands.

These things are all obvious to most of our readers but the situation illustrates how oblivious many on main street still are about the nature of Internet traffic and the powerful role domain names play on the web.

Hat tip to Scott Ross for the NBCMiami link and to their reporter, Jeff Burnside, for recognizing the importance of the story and bringing it to light. We're hopeful other entities learn from it.

(Posted Dec. 30, 2011) To refer others to the post above only you can use this URL:
http://www.dnjournal.com/archive/lowdown/2011/dailyposts/20111230.htm
News Aggregator Domaining.com Organizes Domain Sale to Pay Back Bloggers

Domaining.com is a popular domain news aggregation site that allows you to view headlines from the industry's most popular blogs, news and information sites in one convenient location.

When a headline catches your eye you can click on it and be taken to the original site to read the full article. It's a win win platform for all involved. Domaining.com gets its headline content at no charge and in return the content producers get additional traffic that is driven to their site from the Domaining.com links.

Image: scottchan / FreeDigitalPhotos.net

Still, Domaining.com operator Francois Carrillo decided he would like to kick off the new year by doing something special for the content providers featured on his site. Carrillo knows that while a few of the top blogs and news sites do well financially through advertiser support, it is a labor or love for the majority who don't make a lot of money from their efforts (some no money at all).

So, Carrillo, who also runs a domain sales platform at CAX.com, decided to organize a special domain sale with the commissions collected to be divided and

distributed to the bloggers that help spread the word about the event (Editor's note: we have declined a share of the proceeds as it is against our policy to accept compensation for any editorial content).

The way it works is that anyone who wants to put a name up for sale in the event (only one name per person), can submit it for consideration here. Carrillo plans to put the 100 best submissions in a sales newsletter that will go out Monday, January 9, 2012 (this is a new date, one week later than the one originally announced). In addition to his own mailing list, Carrillo has also gotten support from DNForum.com, DomainState.com and AcornDomains.co.uk who have agreed to distribute the sale list to their members. Sellers will pay a 10% commission on any domains sold with those proceeds going back to the bloggers.

I think its a thoughtful gesture on the parts of Domaining.com, DNForum.com and DomainState.com - one that is fitting for the holiday season. If the sale goes well it should provide a nice belated Christmas gift to some of the men and women who have helped develop the domain industry's blogosphere into such a rich source of free news, information and advice.

(Posted Dec. 29, 2011) To refer others to the post above only you can use this URL:
http://www.dnjournal.com/archive/lowdown/2011/dailyposts/20111229.htm
Why Prominent Domain Investor Dr. Chris Hartnett is Buying Guns and Ammunition

Dr. Chris Hartnett, whom we did a very popular Cover Story on in June 2008, is one of the most well-known investors in the domain business. However, Chris has always believed in

diversifying one's assets to hedge against disaster in any one category. In the past he has put money in a number of other desirable assets including gold and gemstones. However, according to a new story at TheDaily.com, Hartnett is among a growing number of private investors who have come to believe that guns and ammunition now offer one of the safest havens for those who want to hedge their bets.

Many who know Chris, a pacifist at heart who has been a nearly life long practitioner of transcendental meditation, will undoubtedly be surprised to hear about his interest in firearms, but Hartnett told TheDaily.com that, from a financial standpoint, the category was too attractive to ignore.

"Old, rare, antique and unique guns bring big money," Hartnett noted. He said his collection includes some unusual guns including sniper rifles that can hit a target 1,000 yards away.

Dr. Chris Hartnett

Hartnett also buys ordinary guns, along with cases of bullets, because he feels they are likely to hold their value during good times and appreciate in value during turbulent times.

Hartnett told TheDaily that pawn shops have been one of the best sources for building his collection. He also utilizes an auction site at GunBroker.com, where Benelli shotguns, Springfield rifles and Ruger .357 revolvers are among the most popular items. "If things ever get really bad, guns and ammo will be a big commodity," Hartnett opined.

If you look at Wall Street there is more evidence that Hartnett could be on the right track. TheDaily noted that despite a stagnant economy, shares of publicly traded gun companies soared this year, even though returns for the Standard and Poor's 500 were flat. Smith and Wesson rose 17% while Sturm Ruger exploded, gaining 118%.

For disciples of diversification, that means the next time they are ready to pull the trigger on a domain purchase they may have to consider whether the money would be better spent on a .38! I have to admit, I never saw that conundrum coming!

(Posted Dec. 27, 2011) To refer others to the post above only you can use this URL:
http://www.dnjournal.com/archive/lowdown/2011/dailyposts/20111227.htm
We Have White Christmases Too: Merry Christmas and Happy Hanukkah From Florida!
We had a wonderful Christmas here on Florida's west coast Sunday. Diana and I hosted a dozen family members for dinner and opening of gifts. It was 82 degrees and sunny, so snow was a little scarce in our neck of the woods. We still have White Christmases, it's just that the white stuff here is sand instead of snow! We are both transplanted Midwesterners so that took a little getting used to at first but we have adjusted over the years and have come to appreciate that it is a lot easier to shovel sunshine than snow! Our Christmas wish is that you and your families are having an equally joyous Christmas or Hanukkah season and that 2012 will be your best year ever.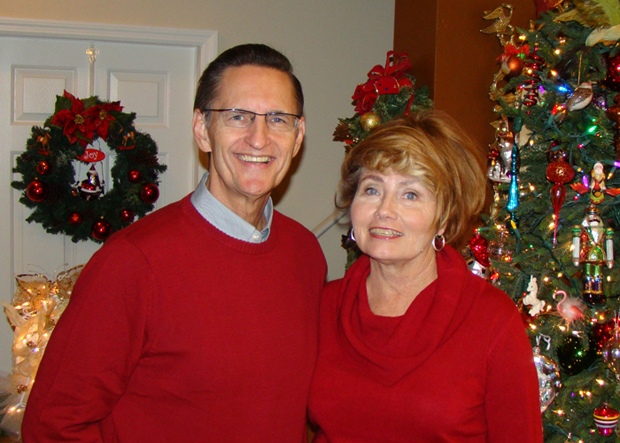 Ron and Diana Jackson wishing you and your families
a joyous holiday season and a prosperous New Year.
With Christmas falling on Sunday this year, most workers got today off instead. There was no mail delivery, the banks were closed and a lot of our friends at the various domain industry companies are also enjoying a well deserved day off. Some won't have to return to work until after New Year's Day but it will be back to business as usual here tomorrow. That's fine with me too because, as the old saying goes, when you do what you love you never work a day in your life.
I still love the domain business and the the hundreds of uniquely gifted people we have had the pleasure of meeting in it over the past decade. As every new year approaches I am filled with eager anticipation to see where this constantly changing industry will take us next and whose paths we will have an opportunity to cross. I don't see how life could get much more interesting than this and I know we have been especially blessed to be a part of it. Thanks to each and every one of you for that.
(Posted Dec. 26, 2011) To refer others to the post above only you can use this URL:
http://www.dnjournal.com/archive/lowdown/2011/dailyposts/20111226.htm
Global Domain Name Registrations Continue to Grow at a Rapid Clip - Up Over 8% From a Year Ago

Verisign (the operator of the .com and .net registries) has released their latest quarterly Domain Name Industry Brief, this one covering the third quarter of 2011. The latest report shows domain registrations worldwide continued to grow at a steady clip in 3Q-2011. The quarter closed with just under 220 million domains registered across all TLDs - a jump of over 8% from the same quarter a year ago.

Just since the end of the previous quarter (2Q-2011) the number of registered domains went up by 4.9 million names, a healthy 2.3% rise that marked the third consecutive quarter that the number of registered domains rose by at least 2%.

Of the approximately 220 million domains now registered, the majority (112 million domains) are .coms or .nets. Just under 89 million registrations are ccTLDs and the country codes grew even faster than the overall market - rising almost 10% from the same quarter a year ago. 7.8 million more ccTLD domains are registered now than at the same time in 2010. The most popular ccTLD, Germany's .de, is also the second most popular extension in the world, trailing only .com.

.Net is the third most popular TLD followed by .uk (Great Britain) and .org. Rounding out the top ten, in order, are .info, .tk (Tokelau), .nl (Netherlands), .ru (Russia) and .eu (the European Union).

Verisign publishes the Domain Name Industry Brief to provide Internet users throughout the world with significant statistical and analytical research and data on the domain name industry and the Internet as a whole. Copies of the 2011 third quarter Domain Name Industry Brief, as well as previous reports, can be obtained at: http://www.verisigninc.com/DNIB.

(Posted Dec. 22, 2011) To refer others to the post above only you can use this URL:
http://www.dnjournal.com/archive/lowdown/2011/dailyposts/20111222.htm
Afilias Announces 2011 .Info Award Winners - Will Hand Out $18,000 in Prize Money

The operator of the .Info registry, Afilias, has announced the winners of its 2011 .Info Awards recognizing the best websites built on .info domains this year and also celebrating the 10th anniversary of the .info extension. The top three sites were selected by combining scores from a seven-person panel of judges with votes the public cast for their favorites.

The $10,000 First Prize went to TrafalgarSquare.info, a site celebrating London's world-famous landmark that was built by a developer based in Bulgaria.

The $5,000 Second Place Prize was won by Typografie.info, a German-language website community of people interested in graphic design and typography.

The $3,000 Third Place Prize was awarded to FrauenUndHIV.info, a German website for women

interested in learning more about or living with HIV/AIDS. Judge Anand Parthasarathy said, "I found FrauenUndHIV.info to be a model of its kind: friendly information and advice, neatly organized and displayed without visual flourishes. I can imagine how useful this would be for all who need to explore the subject of women and HIV in the privacy of their own homes."

Afilias said that dozens of sites representing 17 countries were submitted for this year's awards. Personal websites made up 28% of the entries, just ahead of business sites with 27%. Non-profit websites comprised 15% of the field and blogs made up 10% with other categories holding single digit shares.

In addition to the cash awards that go to the winners, five people who took time to vote in the competition will be chosen at random to receive an Amazon Kindle Fire tablet. The winners of the .Info Awards and the Kindle Fires will be contacted individually to arrange receipt of their prizes.

(Posted Dec. 20, 2011) To refer others to the post above only you can use this URL:
http://www.dnjournal.com/archive/lowdown/2011/dailyposts/20111220.htm
Lana Del Rey to Appear On Saturday Night Live January 14 in First American TV Appearance

The music career of Lana Del Rey continues to explode. Today it was announced that the sultry young singer, whose bandwagon I've been on since the beginning of her independent label

days, will make her first American TV appearance on NBC's Saturday Night Live January 14, 2012. The show will be hosted by Harry Potter himself - Actor Daniel Radcliffe - and I would bet that Lana produces more magic on the program than the world's most famous wizard.

Lana, who signed a major label deal with Interscope Records a few months ago, has become the most talked about new artist in the music industry and

Lana Del Rey in November 2011 issue of Rolling Stone

has already hit the top of the charts in several countries outside the U.S. Now Americans will find out what all of the commotion has been about.

Lana's latest video for "Born to Die" has gone ballistic with over 2.6 million views as of today. The video and her upcoming appearance on SNL is stoking major interest in her major label debut album that is due out January 31.

Lana del Rey, (the alluring stage name adopted by Lizzy Grant, the eldest daughter of our friends, Rob and Pat Grant) is a unique artist and I couldn't be happier to see the rest of the world now appreciating her talent. As I've written several times before, I always felt it was just a matter of time and now Lana's time has come.

(Posted Dec. 19, 2011) To refer others to the post above only you can use this URL:
http://www.dnjournal.com/archive/lowdown/2011/dailyposts/20111219.htm
800-Pound Gorilla Go Daddy Gains Even More Weight as Huge Private Equity Investment Closes

Last summer the world's biggest domain register, Go Daddy, announced that the company had entered into an agreement with three private equity firms to make a strategic investment

in the company that is also a force in website hosting and related areas. That agreement was finalized today. Terms of the deal were not announced but it likely involved hundreds of millions of dollars going to Go Daddy from investors KKR, Silver Lake and Technology Crossover Ventures.

Even so, Go Daddy founder Bob Parsons will remain the company's largest shareholder. Parsons said, "People have asked me, with all the success Go Daddy is having, why bring in partners now? My response is simple. This is the right group of people at just the right time."

Parsons added, "These three firms have what it takes to help lift Go Daddy to the next level. KKR, Silver Lake and TCV each have a keen sense for technology and a proven savvy with international business affairs. We know our new partners can help Go Daddy expand in ways that make sense for both our customers and our company. That's why I have insisted on continuing as Go Daddy's single largest shareholder."

GoDaddy Founder Bob Parsons

A Go Daddy press release about the deal said, "The partnership creates a vibrant technology company poised to expand farther and faster internationally...This new alliance expands Go Daddy's resources and is primarily focused on expansion of its cloud-based technology product offerings and acceleration with international growth."

The company said it is primed for double-digit sales increases for an eighth consecutive year. Since the investment venture was first announced July 1st, Go Daddy surpassed the 50 million domain names registered mark, an Internet first, and grew its website hosting base beyond 5.2 million accounts.

Greg Mondre, Managing Director of one of the three investors, Silver Lake, said, "Go Daddy is well positioned to expand with the exponential growth of the Internet. Whether you are a small business or a thriving operation anywhere in the world, Go Daddy has the resources to create or elevate your Web presence. We are absolutely focused on making it easy for small businesses to get bigger."

(Posted Dec. 16, 2011) To refer others to the post above only you can use this URL:
http://www.dnjournal.com/archive/lowdown/2011/dailyposts/20111216.htm
.FR Registrations Heading Up as France Opens Its ccTLD to Most Europeans - Still No Go For Americans Though

I've always been a fan of ccTLDs that represent the world's major economies, including France's .fr extension. I've reported a lot of good .fr sales through the years but was disappointed to learn early on that the country's very strict Nexus requirements precluded me from registering .fr domains. I still can't but thanks to a major policy change that went into effect December 6, 2011, a lot more people can.

In fact AFNIC the administrator of the .fr extension has opened the country code to all companies and residents of European Union nations as as well as Switzerland, Norway, Iceland and Liechtenstein. AFNIC put the same eligibility rules in place for five ccTLDs representing related territories that AFNIC has responsibility for, including Wallis and Futuna (.wf), French Southern and Antarctic Territories (.tf), Reunion Island (.re), Saint-Pierre and Miquelon (.pm) and Mayotte (.yt).

Midway through the first day of wider availability for these extensions (Dec. 6), AFNIC posted some early results. By 1:30pm local time that day 3,500 domains had been registered through 70 different registrars. 50% of those registrations were .fr domains and 18% were .re. Another 11% went to .pm with .yt getting 6% of the new regs and .tf 5%.

AFNIC said that 62% of those early registrations were made by buyers from France (including 9% from Reunion Island). The next highest shares went to individuals or companies based in Germany with 13%, the United Kingdom with 6%, Belgium with 3% and Italy with 2%.

Now, if we could just get AFNIC to let Americans join the party too! Especially since the number of good terms in the growing extension is rapidly dissipating. According to HosterStats.com over 2.1 million .fr registrations were active as of Dec. 1, 2011. So how about it AFNIC? We may not be in the EU but we do a lot of business with France too and I've got the wine to prove it! :-)

(Posted Dec. 15, 2011) To refer others to the post above only you can use this URL:
http://www.dnjournal.com/archive/lowdown/2011/dailyposts/20111215.htm
Hot New Nashville Singer/Songwriter Bree Brings David Castello Back to the Future

Unless you've been hiding under a rock you are already familiar with domain industry giants David and Michael Castello of Castello Cities Internet Network (owners of Nashville.com, PalmSpring.com, Whisky.com and many other great generic domains). I first told their story exactly five years ago this month in a December 2006 Cover Story called Band of Brothers: How Michael and David Castello Morphed from Struggling Musicians to Domain Millionaires.

Before getting into domains, David and Michael were top notch rock musicians (see this video from their music heyday with Michael singing and David on drums: http://www.michaelseven.com/ ). In a strange twist of fate the two would go on to become rock stars in the domain business instead of the music world (our gain - the music industry's loss).

Michael remains retired from the stage, but David, who also ran clubs on L.A.'s world famous Sunset Strip, has suddenly found himself back behind his drum kit doing what he has always loved to do best.

This unexpected trip back to his roots and new plans for his future was set in motion earlier this year when he met a stunning young musician named Bree who simply blew him away. The two moved to Nashville this past summer and have been making big waves ever since they arrived in town.

David Castello

I know when you hear Nashville, many of you you immediately think country, but Music City U.S.A. also has a thriving rock scene that David and Bree have taken to like ducks to water. A huge buzz is building around Bree and local record executives have taken notice.

Last night Bree and her band mates delivered an industry showcase performance at Diamond Sound Studios. The photos at left and below, taken by Gary Ashton, are from that event. Next month they are going into the studio to record four songs.

I haven't had the pleasure of seeing or hearing Bree in person yet, but David is convinced she is on the verge of breaking out in a big way. He is so convinced that, despite having so many other irons in the fire with CCIN, he has made managing her career his top priority.

With his background in the music business, David knows talent when he sees it, so you can bet that Bree is something special and that we'll be hearing a lot more about her in the months and years ahead.

(Posted Dec. 14, 2011) To refer others to the post above only you can use this URL:
http://www.dnjournal.com/archive/lowdown/2011/dailyposts/20111214.htm
Tebowing.com - Registered Less Than 60 Days Ago, Getting Millions of Visits, Now Worth Big Bucks?
This afternoon I spent some time chatting with Boston Herald reporter Brendan Lynch who is writing a story about the "tebowing" craze that is sweeping the globe. In case you haven't heard tebowing is striking a prayerful pose while down on one knee, a la Denver Broncos

quarterback Tim Tebow who has become an NFL sensation after leading the team to a series of miraculous come from behind wins over the past eight weeks. The Broncos have won 7 of the 8 games the former University of Florida star and Heisman Trophy winner has started. In the five games before Tebow entered the line up they were a dismal 1-4.

Lynch's story will center on Tebowing.com, a new site that a fan put online after registering the domain name less than 60 days ago. The site's owner told Lynch that Tebowing.com has had millions of page views in the past month as the Tebow story captured people's imagination around the world. The site features hundreds of photos of people tebowing, often in front of famous landmarks like the Eiffel Tower, or in odd locations like the ocean floor where a scuba diver is shown striking the pose.

Scuba diver "tebowing" in
photo submitted to Tebowing.com.
Lynch wanted to talk to me about the possible value of the Tebowing.com domain name now that this craze had gone viral. That is almost impossible to determine without knowing exactly how much traffic is coming through the site and how much revenue it is now generating (also as a developed site with interesting content, any price paid now would likely be for more than the domain name alone). At the moment, not much is being done to monetize that traffic. There is just an ad for Tebowing T-Shirts with proceeds to benefit Denver area charities and a couple of PPC banners pulled from an ad network.
Tim Tebow on the cover of ESPN Magazine

It doesn't appear that many advertisers are bidding on the term in search engines yet either. Even though more than 39 million pages come up at Google when you type in tebowing, there is only one ad for what appears to be a cheap knock-off T-shirt being sold on Ebay for $10.95. Still, if Tebow and tebowing mania continues to grow, the owner is likely to find himself with many more monetization options, perhaps including direct advertising from companies selling Tebow jerseys, Christian books, etc.

Some may wonder if there is any trademark infringement involved in Tebow's name being part of the domain name, but Tebowing.com is mostly just showing pictures of people posing in a way that mimics their hero, so on the surface the site would appear to be on safe ground, with one possible

exception. There are photos of Tebow himself in the site's header and if those are not licensed or approved for use, they could cause some problems for the owner. Odds are he is following the rulebook in that area as well though.
In any case, lots of other speculators have also jumped on the bandwagon. Within 2-3 days of when Tebowing.com was registered October 25th, the term "tebowing" was taken in every other well-known extension, including many representing countries outside the U.S., including .co.uk, .in, .ws and many others. As of this writing the only notable extension I saw still available was the European Union's .eu. Odds are, most of those alternatives will be wasted money, but it just shows how fast a new term can take off when the media gets on board.
As for the .com, it definitely has significant value beyond reg fee now, so the owner came up with a winner with that choice. Just how valuable his asset is, or will be in the future, remains to be seen. That will be influenced by how long Tim Tebow continues to reign as the Mile High Messiah, however as a Heisman Trophy winner and a widely admired role model, Tebow will continue to have a huge fan base for years to come, so tebowing may well have a long shelf regardless of how the rest of his pro career goes.
(Posted Dec. 13, 2011) To refer others to the post above only you can use this URL:
http://www.dnjournal.com/archive/lowdown/2011/dailyposts/20111213.htm
DOMAINfest Global 2012's PITCHfest Contest Offers Opportunity to Find Investors for Your New Online Business Idea

On Friday I told you about a Fantasy Domaining Contest that DOMAINfest Global is currently running with an all expenses paid trip to the Jan. 31-Feb. 2, 2012 conference in Santa Monica, California going to the winner. There is another contest that will be held at the show that will be of special interest to anyone who is trying to launch a new online business, service or technology idea. That is the 3rd annual PITCHfest Contest on February 1st that will give participants a chance to pitch their projects to a panel of angel investor judges and around 700 internet entrepreneurs and investors expected to be at DOMAINfest Global.

Each contestant will have three minutes to make their presentation, then two winner's trophies will be handed out. One will be the judges's choice and the other will be selected by members of the audience who will pick their favorite through a real time text message voting system.

The 2012 panel of judges be feature a group of well-connected angel investors including:
• John Morris, Chairman Emeritus of Tech Coast Angels, the largest angel organization in the country.
• Jeff Cohn, entrepreneur/VC involved in SoCal investment opportunities and CEO of two nationally recognized crowd-sourcing location based mapping services.
• Scott Jarus, Oversee.net Director and Chairman and CEO, Ironclad Performance Wear.
• Ben Kuo, founder of SOCALTECH LLC, and the publisher of socalTECH.com, has been active in supporting Southern California's high tech industry.

Stefan Wrobel (Smartvark.com)
2011 PITCHfest Judges Winner

David Clements (ePayments.com)
2011 PITCHfest Judges Winner

The judges will be scoring contestants based on four criteria: Creativity, Viability, Originality and Revenue Potential. The audience may wind up picking the same winner, but they don't always agree with the judges. For example, last January the 2011 Pitchfest judges' trophy went to Stefan Wrobel of Smartvark.com while the audience chose David Clements of ePayments.com as their winner.

Both 2012 winners will receive DOMAINfest Global PITCHfest Innovator trophies and will be prominently mentioned in a post-show press release. However, all of PITCHfest presenters will have a chance to profit by making the global audience of Internet professionals aware of their projects.

The deadline for Pitchfest submissions is January 16, 2012. You can get complete information on how to participate here.

(Posted Dec. 12, 2011) To refer others to the post above only you can use this URL:
http://www.dnjournal.com/archive/lowdown/2011/dailyposts/20111212.htm
Fantasy Domaining Contest Offers All Expenses Paid Trip to DOMAINfest Global 2012 in California

The 2012 DOMAINfest Global conference is less than 8 weeks away. A Who's Who of the domain industry will be in Santa Monica, California for the event that runs January 31

through February 2 at the oceanfront Fairmont Miramar Hotel. You could be there too and thanks to a Fantasy Domaining Contest being run by the conference organizers, you could be going all expenses paid!

First prize in the contest is free admission to the show (the current ticket price is $1,195), $1,000 in travel expenses and four free hotel nights. If that doesn't get your competitive juices flowing, nothing will.

Here's how it works. The contest is a bit like Fantasy Football in that contestants "draft" their initial roster from a master list of 1,000 domains, put some in-play, substitute domains in-play, and trade domains with other contestants. Entrants will be using the portfolio acquired in the draft to test their skills and intuition in projecting the PPC revenue from domain names.

Each contestant will draft/select a portfolio of 35 domains from the master list owned by Oversee.net. The master list can be downloaded if you want to take some time to analyze the domains or use Oversee's online search filters to find domains with desired keywords or categories. Choose the domains that you think produced the most PPC revenue last year between Dec 1, 2010 and January 16, 2011. Then select 25 of your 35 domains to put on your In-Play game roster. That roster's cumulative 12/1/10 to current-date-last-year PPC revenue will determine your overall ranking.

Daily rankings will be posted and you can swap out under performing domains with names from your 10-domain "bullpen" or any names still available on the master list of 1,000. For more details, a full explanation of how to play (including Official Contest Rules) and to enter, visit http://www.domainfest.com/fantasy. Please not that the contest is open only to residents of the United States.

The contest began on December 1, 2011 (but you can sign-up well after that start date because the ranking of your selected domain portfolio uses cumulative PPC revenue backdated to the Contest's start date). The contest ends January 16, 2012 with the first, second and third place winners to be notified on January 18, 2012 (second place is free admission to Domainfest Global, third place is 50% off admission).

Signing up for the contest is free but only one entry per person is allowed. In addition to the

all expenses paid trip, the winner will also receive a "Fantasy Domaining Champion" trophy on stage at DOMAINfest Global 2012. No one else on your block is going to have one of those!

(Posted Dec. 9, 2011) To refer others to the post above only you can use this URL:
http://www.dnjournal.com/archive/lowdown/2011/dailyposts/20111209.htm
Paul Goldstone Celebrates a 40th Birthday and TWO 15th Anniversaries All in the Same Week

The domain industry is such a young one that there are very few companies that have been around for even a decade. One of the industry's pioneering firms, Sedo, just celebrated their

i

Paul Goldstone

10th anniversary this year. Yet Cincinnati's Paul Goldstone, the personable transplanted Brit who owns registrar DomainIt.com and industry news and information resource iGoldRush.com, is celebrating the 15th anniversary of BOTH companies this week! As if that weren't enough, Paul also just hit a personal milestone in anyone's life - his 40th birthday - the big 4-0.

Back in 1996, when he was just 25, Goldstone started DomainIt, an ICANN accredited registrar and hosting provider. He jumped into the field early because, having previously been in the custom imprint business, he knew the value of company branding and realized that domain names were going to be an integral part of the emerging virtual world. When DomainIt started domain registrations, modifications, and deletions had to be done manually by completing an email form that was sent to InterNIC. We've obviously come a long way since then.

At DomainIt, Goldstone launched one of the first and most extensive domain search (WhoIs) tools of its time, used on both DomainIt.com and DomainSearch.com. Paul said, "One of the keys to my success early on was that I didn't try to sell anyone a domain registration. I simply provided the tools for them to see if their name was available and I knew the sale would follow. It was the old sell the sizzle not steak approach!"

Goldstone added, "I'll never forget my first ever domain registration order which I printed then carefully typed from the client submitted form over to the InterNIC form, hand charged the credit card on a touch-tone keypad, waited on the email response,

congratulated the client, and ran into the other room to tell my wife - we just made 50 bucks! I knew from that moment on that this business was going to be hot!"

The next day Goldstone registered 2 domains, then 4, then 8, and within a very short time he was working 12-14 hour days hand registering over 100 domains per day, charging cards, supporting clients, and updating the website. With his new enterprise starting to explode, Goldstone hired a system administrator, purchased servers, moved his home based business to an office and incorporated his operation. The company continued to grow over the years to include website hosting, SSL certificates, email services, website promotion, and a host of value-added domain and business development tools.

Goldstone acquired iGoldRush.com in 2000, buying that company from founder Edwin Hayward who had launched the site just three days before DomainIt.com debuted in 1996.

Back then there was no domain "industry" to speak of and the Internet was still in its infancy. When iGoldRush launched there were only about 500,000 domain names registered (compared to more than 200 million today), and most people didn't know what a domain name was. There was very little information available that could help someone learn about domain names and what purpose they served, so iGoldrush set out to provide the answers.

The site began as an educational guide providing visitors with industry news and information on how to make money from domain names. iGoldrush became an instant hit and is often cited as the site that helped many early domainers get their businesses off the ground.

Goldstone, who had become close to the original site owner over the years decided to purchase the site and re-launch it with a new look, updated news and articles, and new information to meet the needs of the ever changing domain industry.

Since then, the site has continued to grow with a focus on educating and empowering domain investors, business owners and Internet professionals so they can make smarter domain decisions. The site also provides more than 500 industry links to help people further research the business.

As you would expect, Paul has a passion for domains and has a personal portfolio of over 1,300 domains, many from the late 90s. He has developed a number of successful web sites and also administers the ICANN Registrar Stakeholder Group web site.

During his 15 years of 12-14 hour days
Goldstone did a lot of "dining in!"

Paul and his wife have three children and along with his two business anniversaries and his own 40th birthday, one of the kids is celebrating a 6th birthday this week. So if you live in the Cincinnati area and hear a lot of loud partying going on, odds are the noise is coming from the Goldstone household!

(Posted Dec. 8, 2011) To refer others to the post above only you can use this URL:
http://www.dnjournal.com/archive/lowdown/2011/dailyposts/20111208.htm
Two Debuts Today: Gates Open for .XXX and DomainTools Launches Screenshots.com
General availability of the new .XXX extension began today when the ICM Registry, operator of the TLD aimed at the adult entertainment industry, opened their doors at 11am

(U.S. Eastern time). Names are now available on a first come, first served basis at standard registration fees. Those vary from one registrar to the next, so registrants would be wise to shop around. A list of registrars that offer .xxx is available at www.buy.xxx. For trivia buffs, the first domain taken when open registration began was iown.xxx.

In another debut today, popular domain name research and monitoring service provider DomainTools launched Screenshots.com, a free website that allows users to view

screenshots of what a website has looked like throughout its history as well as how it appears now. Screenshots.com provides a web archive of images and data sets that can be used for studying the history of website homepages.
By launching on the premium domain name Screenshots.com (a domain the company purchased earlier this year for $32,500), a DomainTools press release said they will be able to feature useful content in a more functional way for users that are specifically interested in home page archives. In addition to learning how a website looked over time, visitors can quickly uncover the year the domain was first registered and find similar kinds of websites. The Featured Screenshot section on the home page scans news feeds for domain name references and showcases those on a rotating basis.

Screenshots.com checks up to 1 million websites a day and, unlike other screenshot services, captures external resources like ads and images. With Screenshots.com, what you see is exactly what a past visitor would have seen when they visited the site.

For nearly 10 years now, DomainTools.com has been a key resource for domain investors. Along with their sister sites, DailyChanges.com, ReverseWhois.com, and Reversemx.com, the company has helped individuals, small business owners and large enterprises do everything from finding a good domain for a new business to verifying DNS and WhoIs information on corporate portfolios of thousands of domains.
(Posted Dec. 6, 2011) To refer others to the post above only you can use this URL:
http://www.dnjournal.com/archive/lowdown/2011/dailyposts/20111206.htm
Changing of the Guard at Sedo: Co-Founder Tim Schumacher Stepping Down as CEO - Tobias Flaitz Stepping In
Sedo Co-Founder Tim Schumacher, the pioneering domain industry company's CEO, is leaving that post at the end of this month. Schumacher, who is expected to become a member of Sedo's Supervisory Board, cited personal reasons for leaving his day to day duties as the company's leader but expressed an interest in playing a greater role with startup businesses.

As detailed in a 2004 DN Journal Cover Story, Tim and two college friends, Ulrich Priesner and Marius Wuerzner, started Sedo a decade ago, basing the business on Schumacher's Master's Degree thesis at the University of Cologne on "Price Formation in the Trade of Internet Domain Names." Sedo went on to become one of the most successful companies in domain industry history.

Schumacher, now 35, was named "Entrepreneur of the Year" by Ernst & Young Germany in 2007. In 2009, he became CEO of Sedo Holding AG, which is comprised of Sedo's domain business and Affilinet, one of Europe's leading affiliate marketing platforms.

I have always had the highest personal regard for Tim and his shoes will be hard to fill, however Sedo's Supervisory Board believes they have found the right person to pick up

Sedo Co-Founder Tim Schumacher

where Schumacher will leave off. 40-year-old Tobias Flaitz will become the new CEO and a board member on February 1st. Flaitz comes to Sedo from Hubert Burda Media where he has held a management position since 2007.

Michael Scheeren, Chairman of Sedo's Supervisory Board, said, "On behalf of the Supervisory Board, I would like to thank Tim Schumacher for the many years of excellent and trustful cooperation, for his personal commitment and the great accomplishments he has attained for the company. He founded and led Sedo from being a start-up to the world's largest marketplace for domains and the leading domain parking company."

Scheeren added, "We are delighted that Tim will be available for further cooperation within the Supervisory Board. At the same time, we are delighted to have obtained the services of Tobias Flaitz, as an experienced manager with competence in digital business models and consulting expertise in strategy development and process optimization, who will drive Sedo's further expansion during the coming years."

(Posted Dec. 5, 2011) To refer others to the post above only you can use this URL:
http://www.dnjournal.com/archive/lowdown/2011/dailyposts/20111205.htm
Domain King Goes Into Semi-Retirement From Blogging So Businessman Rick Schwartz Can Fully Blossom
For well over a decade now domain industry pioneer Rick Schwartz has been sharing his knowledge and advice about the business on an almost daily basis. His voluminous writing

began in a private forum he started back in the industry's Stone Age (circa 1999) and continued when the blog era arrived a few years ago. Rick's Blog had been one of the most popular (and certainly the most controversial) soapbox anyone in this business has ever stood on. Love him or hate him, just about everyone visited his blog each day to see what the outspoken Domain King and T.R.A.F.F.I.C. Co-Founder was going to say next.

So, when Schwartz announced today that he was going into semi-retirement as a blogger, a lot of people (as you will see in the comments section on that post) viewed it as the end of an era. Even though Schwartz will still post from time to time, especially in matters related to the ongoing T.R.A.F.F.I.C. conference, it is the end of an era in many ways - an era of domain wildcatting that saw a lot of fortunes made - many of them based on the sage advice that Schwartz dished out daily.

A lot of people love him for that but he has plenty of detractors too, largely because he

Rick Schwartz

says what he thinks and if it offends someone, so be it. Schwartz has ruffled so many feathers along the way he probably should sue Frito-Lay for having the temerity to infringe on his trademark by calling their potato chips Ruffles!

One way or another I wouldn't be surprised to see him end up with a piece of that company one day. Lord knows he has a financial interest a lot of mainstream business enterprises these days (both online and off). His desire to expand further into other business categories is the reason he decided to re-direct the time he has devoted to blogging to building contacts and partnerships in other fields.

Like many, I will miss reading what Rick has on his mind each day because he always managed to come up with something you could learn from or be entertained by or go ballistic over (often all three in the same post)! Coming from the media business I always thought of Schwartz as the Ted Turner (known during his heyday as Captain Outrageous) of our industry. Like Turner, Schwartz is smart as a whip and wildly successful despite being so outspoken he has made a line of enemies a mile long. But he has also developed an equally long line of devoted fans and friends who count on him to offer guidance through the minefield of domain investing and to speak up on topics others avoid.

There are probably as many points of view about Rick as there are people in the business. Personally, I have always gotten along extremely well with him. When I was a newcomer to the business, before DNJournal.com was of any interest to anyone, he treated me with

courtesy and respect and generously shared his knowledge on any topic I asked about. I know he will always give me his honest opinion on something and I appreciate that he is one of the few who tells you what he thinks, rather than what he thinks you want to hear.

He's been through the wars, so those opinions have a lot of value to me. I don't always agree with them but I always have to give them serious consideration because they come from someone who has already been there and done that (and, at least with respect to domains, done it better than just about anyone else). So, even though there are still a lot of great blogs out there, the absence of RicksBlog will still leave a gaping hole in my own media consumption day.

Rick Schwartz at work in the home office of his Fort Lauderdale Beach
condominium with a huge portrait of his idol, Albert Einstein, looking on.

On the plus side, while he is off blazing trails in new businesses, I know he will have a lot of valuable new experience and information to share with us on those future occasions when he does sit down in front of his keyboard to pound out an update. His critics are not looking forward to that, but I'm starting to miss those ALL CAP sentences and multiple exclamation points already!!!!

(Posted Dec. 1, 2011) To refer others to the post above only you can use this URL:
http://www.dnjournal.com/archive/lowdown/2011/dailyposts/20111201.htm
---
If you've been out of the loop lately, catch up in the Lowdown Archive!
---
We need your help to keep giving domainers The Lowdown, so please email

[email protected]

with any interesting information you might have. If possible, include the source of your information so we can check it out (for example a URL if you read it in a forum or on a site elsewhere).
---
Home Domain Sales YTD Sales Charts Latest News The Lowdown Articles
Legal Matters Dear Domey Letters to Editor Resources Classified Ads Archive About Us