The 2012 DOMAINFest Global Conference is underway. While the official show opening was this morning (Tuesday, Jan. 31), a sizeable crowd was already busy networking in the lobby of the conference hotel - the Fairmont Miramar in Santa Monica, California - when we arrived a little before 6pm yesterday evening. In addition, there were a couple of major pre-show private events Monday night, one being a meeting of the Southern California Domainers Group at the nearby Shore Hotel that was open to visitors in town for DOMAINfest.
The other was a thank you dinner that Frank Schilling's rapidly growing new domain monetization company, InternetTraffic.com, hosted for clients and friends at the fabulous Mastro's Steakhouse in Bevely Hills.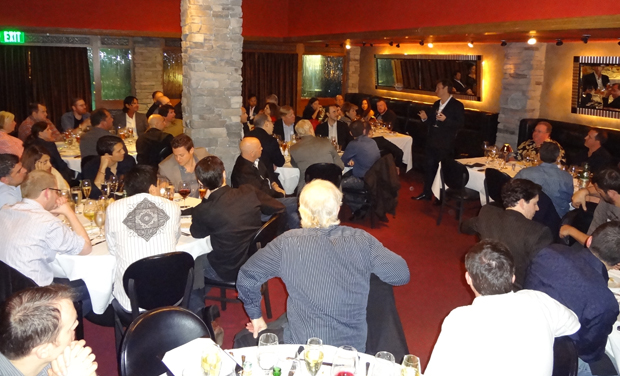 Scene from Monday's night InternetTraffic.com dinner at Mastro's Steakhouse in Beverly Hills
(host Frank Schilling, standing at upper right, is seen welcoming his guests)
Above and below: Frank Schilling proposes a
toast to the success of his InternetTraffic.com
guests at Mastro's Steakhouse in Beverly Hills

InternetTraffic.com had motor coaches ferry their guests across town from the Fairmont to one of Frank's favorite restaurants in Mastro's. As a number of commentators mentioned in our current Cover Story about the biggest events of 2011 (and predictions for 2012), InternetTraffic.com changed the monetization game overnight by offering higher PPC payouts to owners of high quality domain names (the company is very selective about the portfolios it accepts).

While the company began operations fairly quietly, it is starting to take a higher profile. At DOMAINfest Global, the hotel room keys are emblazoned with the InternetTraffic.com logo and I'm sure you will hear a lot more about them in 2012.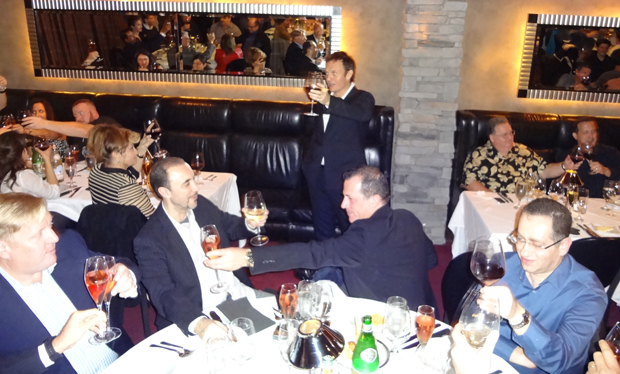 This morning at 9:30 it was time to get down to business and DOMAINfest Global wasted no time in doing that, kicking things off with a workshop on ICANN's new gTLD program that is finally underway after six years of debate.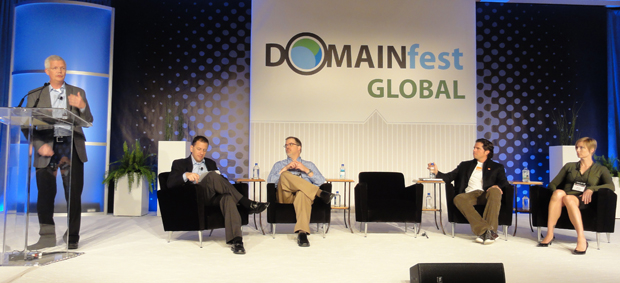 The New gTLD workshop this morning featured Neustar's Ken Hansen (standing at podium)
and (seated left to right) moderator Todd Greene (Oversee.net), Mason Cole (5x5
Communications), Juan Diego Calle (CEO, .CO Internet S.A.S.) and Michele Jourdan (ICANN).
I'll have details on some of the points made during this session in a comprehensive conference review article that we will be publishing a few days after the show concludes. Considering how late many were out Monday night, there was a good crowd on hand for the opening session and it swelled to near capacity by 11am when Oversee.net Co-President and Co-CEO Debra Domeyer (who shares both roles with Scott Morrow) took the stage to officially welcome guests to the event staged by Oversee's DomainSponsor unit.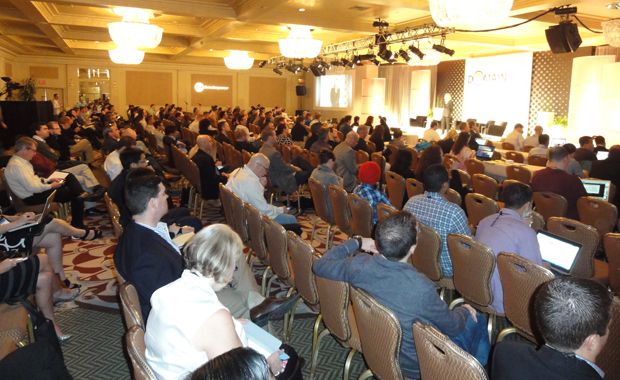 Above: A crowd estimated to include approximately 600 people was on hand
for the opening of DOMAINfest Global this morning in Santa Monica.
Debra Domeyer, Oversee.net Co-President
and Co-CEO welcoming guests to DOMAINfest

Ms. Domeyer, already Oversee's Co-President, was just named Co-CEO on Monday, as was her fellow Co-President, Scott Morrow, who will be on stage later this week.

Domeyer spoke for 30 minutes and gave attendees an overview of what the conference planners have in store for attendees this week (in addition to the glorious weather that was throughly enjoyed today and is forecast to stay with us throughout the conference at the oceanfront show hotel).

She also, gave her predictions on what she expects to see in our industry in 2012. You can read her thoughts on that point (along with Scott Morrow's) in our annual State of the Industry Cover Story that just came out last week. We were pleased to have Debra and Scott, both first time contributors to that report, kick off this year's article that features 13 additional domain industry experts.

Ms. Domeyer noted that DOMAINfest Global has expanded beyond being just a show about domains and is now featuring "Internet entrepreneurs of all stripes."
Eli Goodman comscore) speaking
about social networking this morning

Domeyer's point was illustrated in the next session when Eli Goodman, Search Evangelist at comscore, returned from last year's well received speech to deliver an update on Internet Vital Signs. Rather than domains, Goodman's talk, titled "Its a Social World," covered the top 10 things you need to know about social networking.

Many domain owners are expanding beyond simple monetization techniques like parking in an attempt to unlock the full potential of their domains. Knowing what is happening on the Internet at large is certainly useful to those who are developing their properties and want to attract the largest possible audience by incorporating the latest trends and technology in their projects. DOMAINFest Global is positioning itself as the conference that supplies that cutting edge information.
After Goodman's session, DOMAINfest Global took full advantage of the spectacular Southern California weather by serving an outdoor lunch underneath the majestic fig tree that graces the Fairmont Miramar's front drive.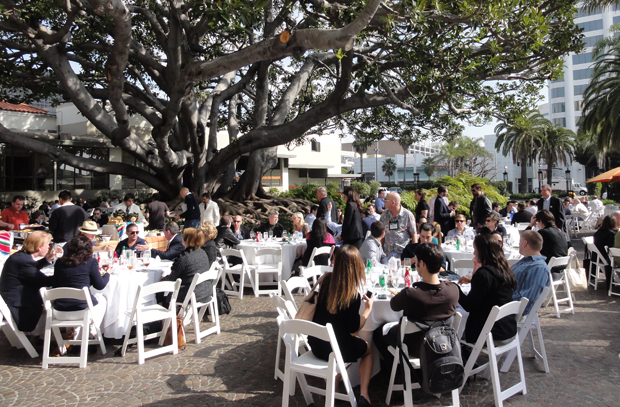 Tuesday's luncheon under the fig tree at the Fairmont Miramar
The afternoon session began with a panel discussion about Mobile and Local Opportunities for Publishers and Advertisers that featured (left to right in the photo below) Greg Sterling (Contributing Editor, Search Engine Land), Eli Portnoy (CEO, ThinkNear) and Bryson Meunier (Director of Content Solutions, Resolution Media).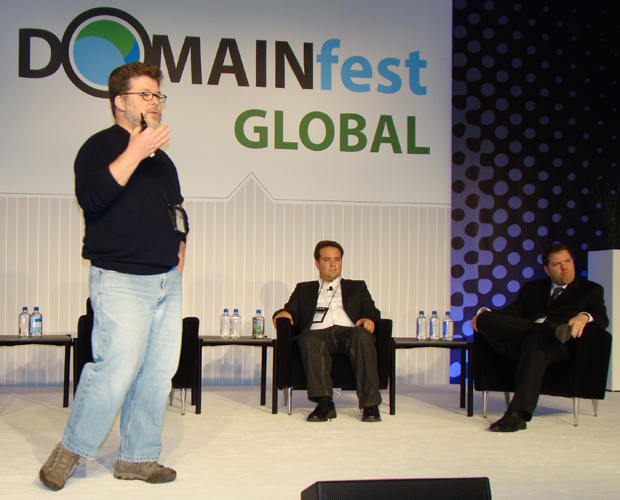 As I write this another session is underway on Affliate Lead Generation Best Practices. The business day will conclude with a one-hour Sponsor Showcase in which representatives from the top DOMAINfest Global sponsors will each have five minutes to talk about their services. I'll have more on the the day's closing sessions, as well as tonight's social events, in tomorrow's post, along with photos and highlights from the first sessions of Wednesday's day two.
Tonight's main event will be Sedo's Opening Night Dinner Networking Reception, hosted by CEO Tim Schumacher in his final night in that position, at a popular local restaurant, Monsoon. After the Sedo party, DomainAdvisors.com is hosting a late night party on the 6th floor of the Shangri-La Hotel (on Ocean Boulevard, one block south of the Fairmont Miramar). Rumor has it that InternetTraffic.com's Vern Jurovich (and possibly others) may have their heads shaved during this event to raise funds for The Water School. The outcome will likely hinge on how much money generous guests are willing to pledge to see a bald version of one (or more) of their friends! If it happens I plan to be there to get the photographic evidence for you.