The DOMAINFest Global conference continued today at the oceanfront Fairmont Miramar Hotel in Santa Monica, California. In my opening day highlights post yesterday I left off just before a late afternoon panel discussion on Affiliate Lead Generation Best Practices got underway. The photo below is from that session that featured HasOffers.com CMO Peter Hamilton (standing) and (seated left to right behind him) Brook Schaaf (CEO, Schaaf-PartnerCentric), Jay Weintraub (CEO, NextCustomer Inc.) and Eoin Matthews (VP of Business Development at VigLink).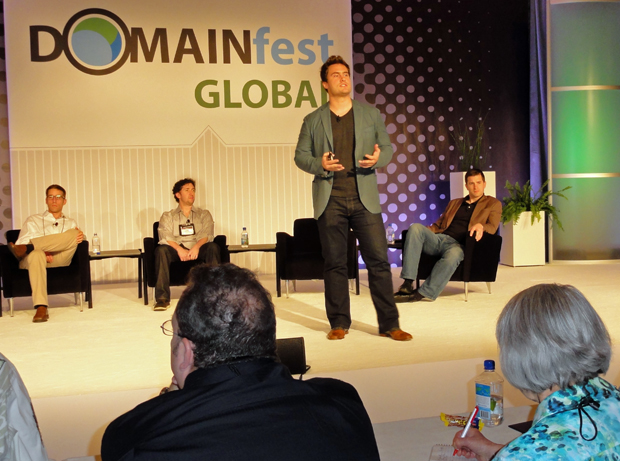 The last business session Tuesday (Jan. 31) was a one-hour Sponsor Showcase in which representatives from the top DOMAINfest Global sponsors each had five minutes to talk about their services.
Then it was off to the show's first official evening social function, a Dinner Networking Reception, sponsored by Sedo at Monsoon, a nearby Balinese restaurant in Santa Monica. Sedo CEO Tim Schumacher made his last appearance in that capacity, telling the crowd about the partnership deal the SedoMLS and GoDaddy announced this week. Tobias Flaitz took over as Sedo's CEO today (Shumacher, one of the three company co-founders, will continue to serve on the Sedo Board).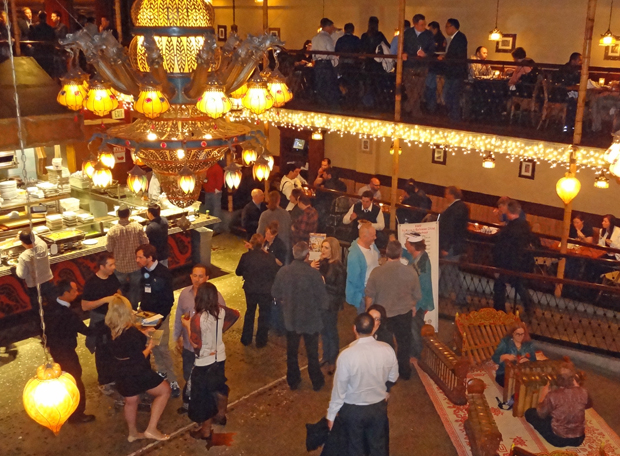 A scene from Sedo's Opening Night Dinner Networking Reception at Monsoon
After Sedo's event, PPX International hosted a late night party at the Shangri-La Hotel, a block south of the Fairmont Miramar. As I mentioned in yesterday's post, there were rumors going into the party that InternetTraffic.com's Vern Jurovich (one of the nicest guys in this or any other industry) might consent to having his hair shaved off in an effort to raise funds for The Water School.

DOMAINfest guests jammed the Shangri-La to see if that would happen and, in fact it did. Not only did Vern lose his locks, he convinced DomainAdvisors President Jeff Gabriel to make the sacrifice too and later in the evening, a third domainer with an ultra big heart (and now an extremely short haircut), Bill Lozada, faced the guillotine for a good cause.

Unfortunately, this all happened in the wee hours of this morning, after I left the party, so I don't yet have the "after" photos to show you, though I'm told they will be coming my way soon. Nor have I seen any of our three new heroes around the hotel today (of course, they could be in disguise - a local wig shop reported a run on their inventory today). At right you can see what Vern looked like "before" his run-in with the shears. It is not official yet, but I heard over $30,000 was pledged to the The Water School in support of their sacrifice.

Vern Jurovich, InternetTraffic.com
before last night's "haircut"
In my book that makes Vern, Jeff and Bill beautiful (not that they weren't already) whether or not their new hairstyle is in vogue. The money they raised will actually help save lives. Each is a man among men.
Before Day Two of DOMAINfest Global got underway this morning (Feb. 1), the Co-CEOs and Co-Presidents of Oversee.net (who organizes the annual conference), Debra Domeyer and Scott Morrow, hosted a Q&A breakfast for industry media representatives. I'll have more on the ground covered during that interesting session in our full conference review article after DOMAINfest. One bit of big news that was breaking while we were with them was Oversee's sale of Moniker.com and SnapNames.com that was officially announced later in the morning.
Bill Hunt, President
Black Azimuth Consulting

In today's first business session Black Azimuth Consulting President Bill Hunt, in a solo presentation, provided advice on Analyzing Keywords to Find Revenue Opportunities. Hunt discussed how to use updated keyword research and modeling techniques to compenstate for the latest changes at Google, Bing and Yahoo.

The second morning session featured a panel that covered Advanced PPC Best Practices and Campaign Management Tools. The experts on the said offered tips that they say could help you double your conversions, lower your costs and save time in the process.

Below: Advanced PPC Panel participants (left to right) were moderator Dwayne Walker (Oversee.net), Joanna Lord (SEOmoz.org), Jeff Ferguson (CEO, Fang Digital Marketing) and David Rodnitzky (CEO, PPC Associates).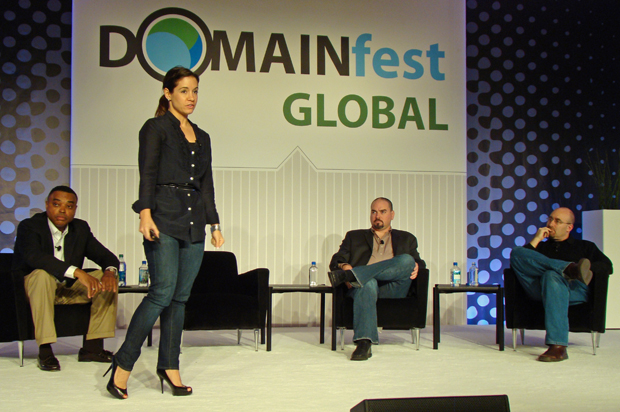 CEO Tim Ash, SiteTuners

After another beautiful outdoor luncheon at the Fairmont, the Wednesday afternoon schedule began with Tim Ash, the author of Landing Page Optimization, speaking about - you guessed it - landing page optimization - specifically Landing Page Optimization Best Practices and Conversion Tools. Ash offered specific landng page adjustments that he said will dramatically improve anyone's conversions.

As I write this, the final business session of day two, the highly anticipated Pitchfest Contest, is just wrapping up. Ten entrepreneurs pitched their business ideas to a panel for four distinguished judges. The judges wound up picking Elliot Labreche of Akashic, a cloud file storage startup as their winner based on four criteria. The audience also had an opportunity to vote and they wound up picking a different winner, Babafoo, described as a "Linked In" for high school athletes. I'll have more on the Pitchfest contest for you in tomorrow's post

(including photos of the winners), as well as photos and highlights from tonight's big social event, a Dinner Networking Party at the Peterson Automotive Museum - one of the world's best.