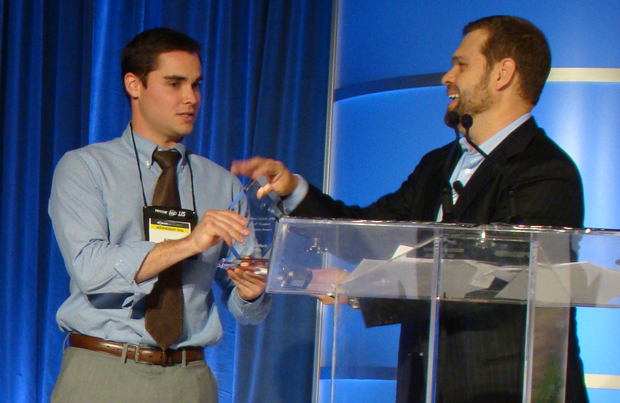 Elliot Labreche of Akashic (left) collects the Judge's Award from Oversee.net
Co-CEO and President Scott Morrow after Wednesday's Pitchfest Contest.
The audience also given an opportunity to vote to for the business plan they liked best. Sometimes they agree with the judges and sometimes not. This time not - as John Karavas of Babafoo, described as a "Linked In" for high school athletes, won the Pitchfest Audience Choice Award.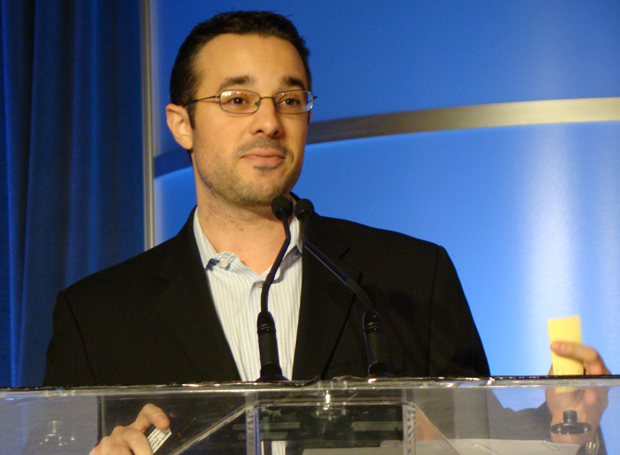 John Karavas of Babafoo making the Pitchfest presentation
that won the Audience Award for best online business idea.
The Wednesday business day closed with a discussion of Public Policies Impacting Domain Investors. Internet Commerce Association Legal Counsel Phil Corwin gave a comprehensive presentation outlining legal and policy issues domain investors need to stay of abreast of in order to protect their interests. After his talk, Phil was joined by Sedo General Counsel Jeremiah Johnston and Oversee.net Senior VP and Legal Counsel Todd Greene to answer questions from the audience.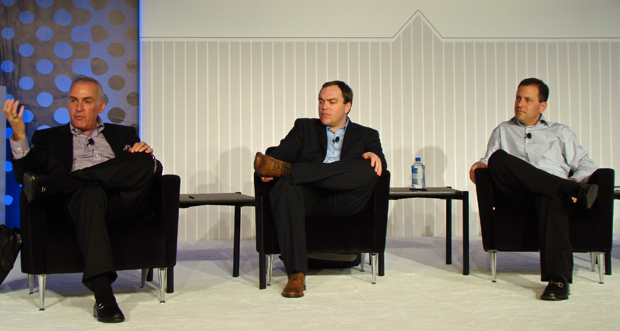 (L to R) Phil Corwin, Jeremiah Johnston and Todd Greene answering audience questions
about legal and public policy issues on Wednesday (Feb. 1, 2012) at DOMAINfest Global.
Wednesday night's big social event was a crowd favorite - a trip to the world reknowned Petersen Automotive Museum for a Dinner Networking Party sponsored by the .CO Registry.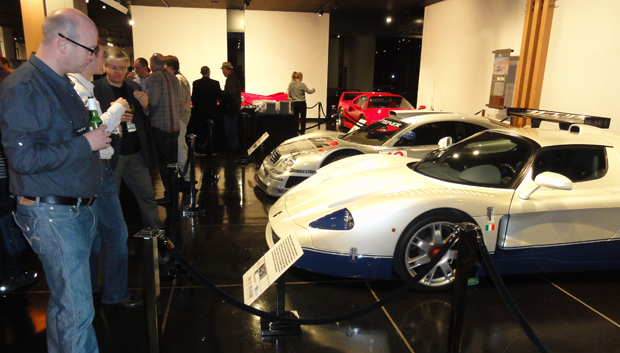 DOMAINfest Global guests ogle some of the dozens of rare, exotic and famous cars
at the Petersen Automotive Museum in Los Angeles Wednesday night (Feb. 1, 2012).
A highlight of the evening was a preview of the Go Daddy/.CO Super Bowl ad that will be aired during Sunday's Super Bowl Game between the New England Patriots and New York Giants.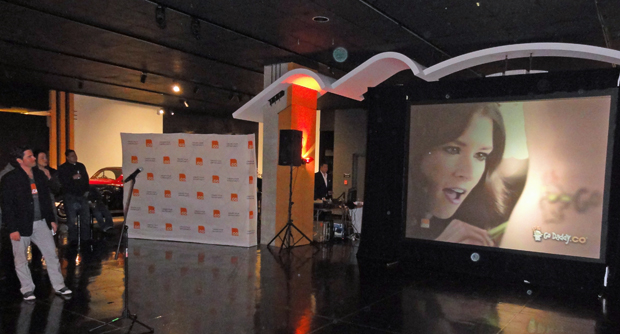 .CO Registry (.CO Internet S.A.S.) CEO Juan Diego Calle (at far left)
treats guests to a preview screening of this year's Go Daddy/.CO Super Bowl ad.

In a special treat for DOMAINfest Global guests, the star of the Go Daddy/.CO Super Bowl commercial, Colombian model Natalia Velez, showed up in person to meet and greet attendees and have her picture taken with everyone who asked. In addition to obviously being beautiful, Natalia was very personable and it was clear that she thoroughly enjoyed interacting with fans.

The 30-second Super Bowl ad, that cost over $3 million, is expected to be seen by approximately 120 million views worldwide. Go Daddy and .CO also ran a successful ad in last year's Super Bowl game as part of a .CO marketing effort that set a new standard for promoting a new or re-launched TLD.

Juan Diego Calle with Natalia Velez,
star of the Go Daddy/.CO Super Bowl ad.
Gregg McNair gives Vern Jurovich a "trim"

One other note before we moved on to Thursday's closing day highlights. As I mentioned in my last post from Santa Monica, three conference attendees, InternetTraffic.com's Vern Jurovich, DomainAdvisors.com President Jeff Gabriel and domain investor Bill Lozada, generously permitted PPX International Chairman Gregg McNair, to shave their heads in exchange for over $30,000 in pledges made to a great charity, The Water School.

The deed was done at a late night party Tuesday night after I had left (expecting that it wasn't going to happen). I noted that I had photos coming and now here they are. At left (in a wonderful shot courtesy of Dan Adamson), Vern's hair is transferred to Gregg's hand!
Below, "after" shots of Vern's fellow "snipees", Jeff and Bill. I think it's a great look for both guys and just think of how much money they will save on hair care products!

Jeff Gabriel sports his new "do'

Bill Lozada looking good sans locks
Moving on to the closing day (Thursday, Feb. 3) highlights from DOMAINfest, the day began with a 9:30am session on Domain Valuation Techniques for Buying and Selling.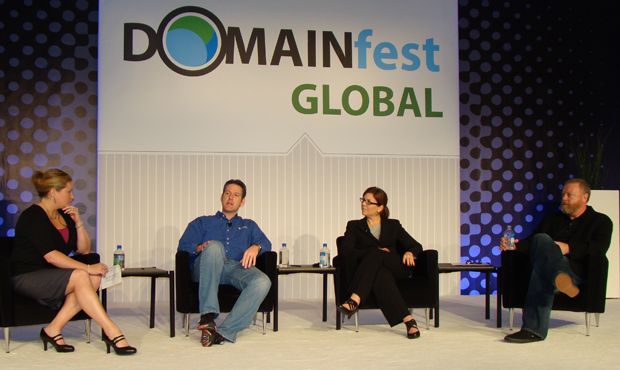 The Domain Valuation panel featured (left to right) moderator Lisa Box (Oversee.net),
Paul Nicks (Go Daddy), Liesbeth Mac-de Boer (Sedo) and Ken Taylor (Marksmen Inc.).
After that experienced group provided advice on setting domain prices, as well as buying and selling strategies, it was time for one of the week's main events - a Keynote Fireside Chat with Twitter Co-Founder Biz Stone. There have been a lot of great keynoters at DOMAINfest Global over the years and I hesitate to single one out of the group because so many were excellent, but I have to say Biz was my favorite to date.
Stone served up one hilarious anecdote after another about growing up and his various business ventures in a funny, yet informaton-packed and inspirational interview adroitly conducted by Oversee leader Scott Morrow. Stone's sense of humor and wit is just stellar. I'll have some specifics from the talk in our full show review article that will be coming out in a week or so - right now I'm just thankful I recorded the talk because it is one I will listen to again. I'm already on Twitter (@dnjournal) but after hearing Biz I've gone from being a mere user to a major fan of the man who helped create it.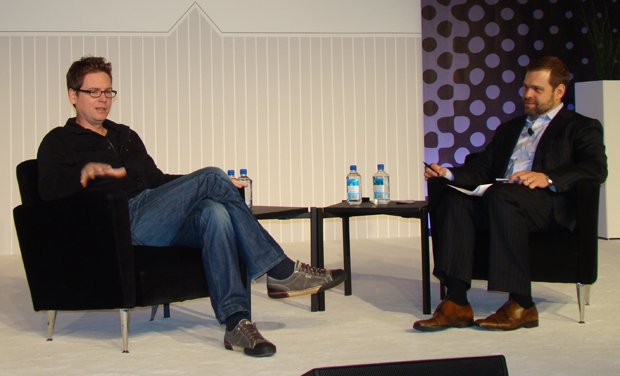 Twitter Co-Founder Biz Stone (left) being interviewed by
Oversee's Scott Morrow Thursday (Feb. 2, 2012) at DOMAINfest Global.
After Biz and a lunch break it was time for the final DOMAINfest panel discussion, one covering SEO Tips and Best Practices.
The SEO Tips session featured (left to right) Bruce Clay, moderator Scott Morrow,
Andy Atkins-Krueger (WebCertain Group) and Danny Sullivan (Search Engine Land).
This group of well-known experts talked about the importance of quality content and website arhitecture and provided advice on the latest SEO techniques and tools.
The final business event of DOMAINfest Global, the Moniker Live Domain Auction, followed at 4:30pm. The auction wound up producing more than $392,000 in sales led by Empire.com at $135,000. QE.com added $89,000, CatFood.com went for $61,000 and Marriages.com for $36,000. It was originally reported that QR.com sold for $325,000 but that winning bid was later rescinded because the buyer thought they were bidding on a different domain (12.com).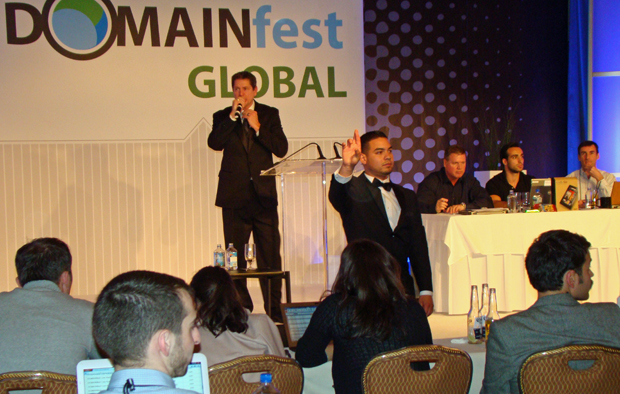 Auctioneer extraordinaire Wayne Wheat (at the podium)
conducting Moniker's Live Domain Aucton Thursday (Feb. 2).
After the auction it was time for a final night of fun. The ladies got a head start on that with a 6:30pm Women in Domaining reception at the Fairmont. Soon after, motor coaches began ferrying guests across town to Hollywood's House of Blues for an evening of networking, good food and fine performances from Lucent Dossier, a performance artist group that combines a dash of Cirque du Soleil style acrobatics with creatively attired models and modern dance.

Faces in the crowd included the nine guys in the photo below. The line up is kind of a domain industry version of the 1927 New York Yankees line up known as Murderer's Row because of the heavy hitters in every position. Left to right they are Ammar Kubba, Page Howe, Roy Messer, Steven Kaziyev, Ari Goldberger, Michael Lindsey, John Yeomans, Andrew Rosener and Bill Lozada.

Performance artist group Lucent Dossier entertaining
DOMAINfest Global guests at Hollywood's
House of Blues Thursday night (Feb. 2, 2012).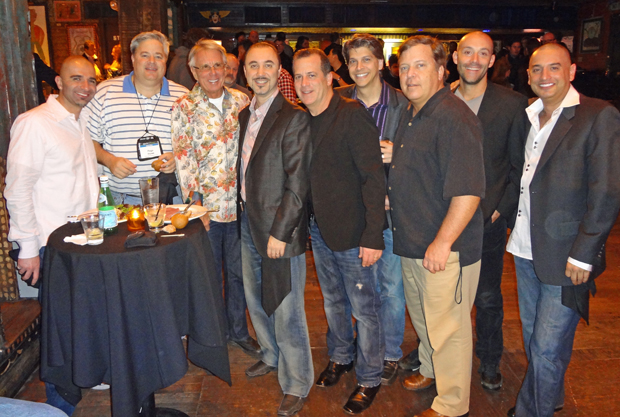 The visit to the House of Blues was a fine way to cap a wonderful conference week (with fabulous weather) in Southern California. This morning people started heading back home after a very nice farewell breakfast at the Fairmont. Diana and I had the good fortune of having our flight home cancelled by a winter storm in Denver where we were supposed to connect to Tampa). There were no other available flights out today, so we are enjoying an unexpected bonus day and night in Santa Monica. Our day was made especially delightful when Michael Castello brought his family down from their home in Moor Park to have a long, leisurely lunch with us at the Fairmont this afternoon.
Several others stayed over in the Los Angeles area for a weekend-long Domain Boardroom Funfest at Dana Point. Domain Boardroom is a private forum operated by veteran domain investor (and one of the finest people you will ever meet), Donna Mahony, that has attracted many of the industry's leading experts and investors.
A couple of other house keeping notes to wrap up these closing day highlights. For the second year in a row the winner of DOMAINfest's Fantasy Domaining Contest was Edwin Sherman who picked up a great prize package that included free DOMAINfest admission, four free nights at the hotel and a $1,000 travel stipend.

The winner of the Passport Drawing (attendees got their passports stamped by visiting each exhbitor's booth, then dropped the completed passport in the drawing bin) was Adam Young who won a $500 Amazon gift code. The $250 second prize went to Daniel Eisenhut and Enrico Schaefer received a $150 American Express gift card as third prize.

View of the Pacific Ocean from our 9th floor balcony
at the Fairmont Miramar in Santa Monica, California
where the DOMAINfest Global 2012 conference
was staged this week. You can see why we didn't
mind having our flight home cancelled today.

While I've covered a lot of ground in this week's daily Lowdown reports from Santa Monica, there are a lot more photos and details to share than could be fitted into these posts that have to be made on the run while the show was underway. I'll tend to those in a comprehensive show review that will bring everything together in one place for posterity a week or so after we get back home and clear the decks there.