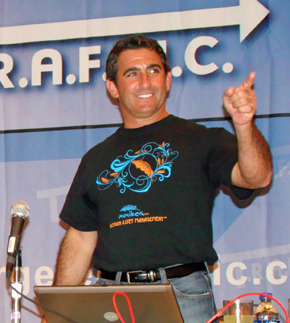 Cahn running a live domain auction
at the May 2008 T.R.A.F.F.I.C. conference
sales in the industry respectively. Overall Cahn has been involved in selling more than $300 million worth of domain names in the last 10 years, including seven-figure sales of Cameras.com, Dating.com, Photo.com, Bored.com, CreditCheck.com and Slots.com among others.
Cahn is also credited with starting the very first domain brokerage company in 1996. He pioneered and innovated what are now considered industry standard services, including WhoIs privacy, domain escrow, domain appraisals, bulk domain management, domain security and theft prevention, stealth acquisitions and live domain auctions.
Domain Holdings Co-Founder John Ferber said, "Monte brings with him a range of knowledge dating back to the mid-90s where