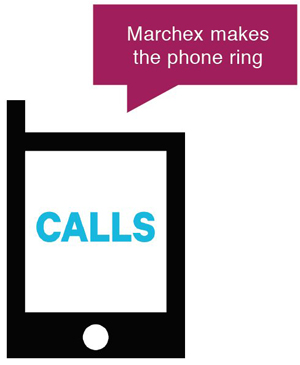 Since then Marchex has tried several ways to best monetize their domain assets (which have grown to approximately a quarter of a million names today) and along the way the cash flow from their domains gave them funds they used to branch into new areas including pay per call (rather than pay per click), call analytics and mobile marketing.
With the advent of the iPhone and explosion of cell phone use in general those three areas became the company's most important growth centers and today accounts for more than 80% of Marchex's business with the company recently hitting $120 million in annualized revenue from those categories. Marchex CEO Russell Horowitz said, "Our company is the largest mobile advertising company few have heard of. But most important, itís driving better
advertiser ROI than any other mobile business." Details about this key component of the Marchex strategy are in a new 16-page Marchex Summary (.pdf file) that the company released today.
In a phone interview Wednesday Horowitz told me the rapid growth of its call/mobile advertising platform resulted in the company becoming a kind of "half man, half beast" with the domain assets not getting the attention they deserved due to the company's focus on its new profit centers. So, after a strategic review, management decided to spin the domain assets off in a new company called Archeo - a move that was announced after the stock market closed this afternoon. Horowitz said that the spin off of Archeo (whose goal is to "develop the industryís most dynamic domain and advertising marketplace") will help Marchex unlock maximum value from each side.
| | |
| --- | --- |
| Horowitz will remain as Marchex CEO and also serve as Chairman at Archeo, but he said an entirely new management team will be hired to run that company. Horowitz said he believed the assets going to Archeo are worth nine figures based on the fact that Marchex raked in $30 million for a tiny fraction of their portfolio - a few hundred names that have been sold over the past three and a half years - names that Horowitz said were neither core assets nor the best domains in the Marchex portfolio. Horowitz added that the company has turned down seven-figure offers on several domains it continues to own. | Image from Bigstock |
In a release of new information that will be of special interest to domain investors, Marchex underscored the point above by publishing, for the first time, the prices they received for their top 500 domain sales. More than a dozen of those went for prices ranging from $200,000 to $700,000 as shown below:
Norwegian.com
Exterminator.com
Vuelos.com
LocalDeals.com
Matrimony.com
BlockParty.com
NA.com

$700,000
$520,000
$500,775
$500,000
$500,000
$300,000
$275,000

Giggle.com
UniversalSports.com
CalorieCount.com
Dominio.com
FreeScore.com
MyEducation.com
FreeScores.com

$250,000
$250,000
$250,000
$250,000
$200,000
$200,000
$200,000
The Marchex sales list included 35 more six-figure sales. You can see the complete list of their 500 largest sales here (.pdf file).
With Archeo the company plans to be involved in domain sales, monetization and development saying:
We will take a build or partner approach to develop businesses complementary to our vertical focus and expand our strategic domain sales support efforts. This includes entering the buy-now market where we did not previously participate.

Our premium vertical PPC product will focus on innovative new features and entering new verticals.

Our unique and highly valuable domain portfolio and history in performance advertising provides a limitless ability to build new businesses.
For further details, see a tidy summary - in bullet points - of the Marchex Story, tracing the company's evolution, and the Birth of Archeo in this two-page Word document.