frustration over their inability to control revenues on the parking side has shifted many domainers outlook to focus on a revenue stream they have control over. That revenue stream is sales." Schilling also noted that hiring skilled industry leaders who were willing to pick up and move to DNS headquarters in the Cayman Islands was a challenge, but Frank was was able to persuade Jeff (and his new bride) to relocate from their life long home in New England to the Caribbean.
Once in the Caymans, Jeff will be tasked with taking sales numbers and the DNS platform to the next level. He will focus on increasing sales for both Frank's owned and operated names as well as those of Frank's InternetTraffic.com domain monetization clients. Gabriel will have a lot of tools at his disposal to make that happen, including the current highly proficient DNS Sales Team and the many solid relationships Jeff has established throughout the industry, some of the strongest of which were made during his time as President at DomainAdvisors. If you follow our weekly domain sales reports you have no doubt noticed that DomainAdvisors has had a hand in an increasingly large number of high dollar third party brokerage deals completed on the DNS platform.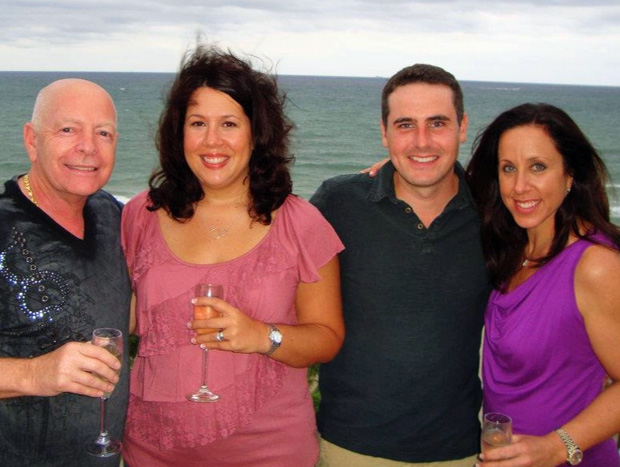 The DomainAdvisors leadership team (left to right) included Chairmain Gregg McNair,
Senior Broker Amanda Waltz, President Jeff Gabriel and Founder & CEO Tessa Holcomb.
DomainAdvisors Founder and CEO Tessa Holcomb said she is looking forward to maintaining a mutually beneficial relationship with long time friend and teammate Jeff Gabriel. "Jeff and I have worked very well together over the years and I consider him to be one of my closest friends. His move to work directly for DNS in the Caymans will not change that. I genuinely wish him well!," Tessa told us.
Group Chairman Gregg McNair added " Jeff is a true professional and a close personal friend. His move to DNS in Grand Cayman completes a circle as we already act as a third party broker on the DNS platform. The domain name industry is growing but is really quite small in the end. We have a terrific relationship with both Frank and Jeff. None of that will change with his move. We are appreciative of the great team at DomainAdvisors that Jeff has helped build. It's a unique opportunity for both Jeff and Frank and we wish him the best in his new challenge."