In addition to a new Cover Story marking DN Journal's 10th Anniversary (an occasion we celebrated on New Year's Day) that revisits the history of the publication itself, I have been featuring some of the key people and events we have covered over the past decade in a series of Lowdown posts over the past two weeks. I touched on 2009 Monday. Today it's on to 2010.
As the domain business grew like wildfire in the middle of the last decade, domain conferences sprouted up like mushrooms after a heavy rainstorm. As many of you know, I love conferences as they have played an indispensable role in providing face to face networking opportunities that have allowed attendees to forge invaluable business relationships. However, like anything else it is possible to have too much of a good thing. Such was the case with conference - not so much for attendees who still gleaned high value from them - but for the promoters who saw the pie sliced so many ways it no longer made economic sense for all of them to continue. That situation led to our February 2010 Cover Story - The Rise (and Fall?) of Domain Conferences - For Years They Have Thrived But Can They Survive Oversaturation?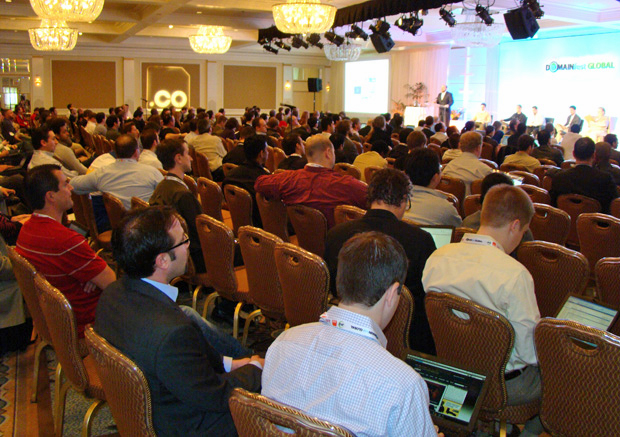 The January 2010 DOMAINfest Global Conference in Santa Monica, California was packed
wall to wall but over the next couple of years many other shows were not as fortunate.
As markets always do, the conference market corrected itself. Over the two years since our Cover Story equilibrium has returned to the space with only a handful of survivors still standing tall, led by the original conference - T.R.A.F.F.I.C. - and DOMAINfest Global (recently renamed Webfest Global), with the latter re-positioning itself as a broader Internet business development and marketing conference.
As the interests of domain investor/developers expanded we decided to touch a lot of different bases with our 2010 person profile Cover Stories. One of the best stories about a successful developer was our March 2010 piece about Hallpass Media's Bill Karamouzis and the online gaming empire that he built and sold for millions.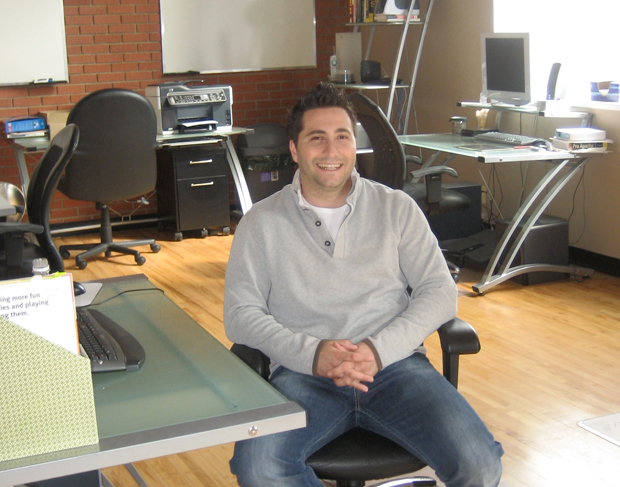 Bill Karamouzis (in his Hallpass Media office) told us the key to development success
is to concentrate on what you are good at and what you enjoy doing.
In Monday's post about 2009 I mentioned the boom in ccTLDs. That theme continued to play out in 2010 prompting us to profile an uber developer of Canadian .CA domains - Rick Silver. Rick's profile was also raised that year when he served as moderator of several of the T.R.A.F.F.I.C. conferences that Rick Latona staged under a license from show founder's Rick Schwartz and Howard Neu.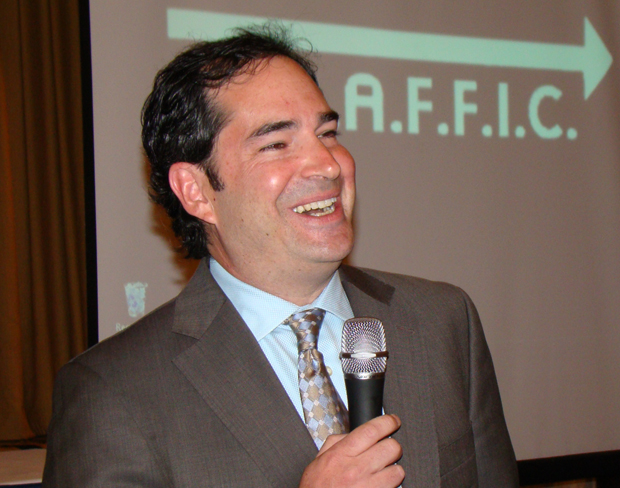 Rick Silver, the owner and developer of one of the world's best .CA portfolios,
moderating the 2010 T.R.A.F.F.I.C. Vancouver conference in Canada.
One of the year's (and decade's) most popular Cover Stories was our October 2010 profile of T.R.A.F.F.I.C. Domain Hall of Fame member Chad Folkening - a piece called Broken Field Run: How Domain Investor/Developer Chad Folkening Went from Mowing Lawns to Buying Mansions. Chad had just taken another giant step forward by co-founding Domain Holdings, LLC with web heayweights John Ferber (the man who built and sold Advertising.com to America Online for $500 million) and Erik Simons.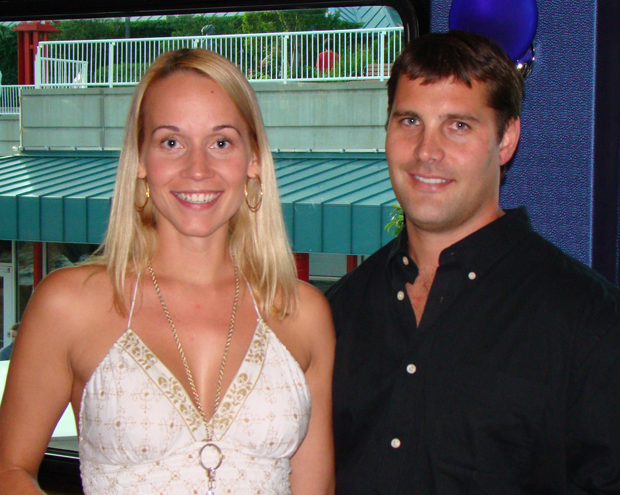 Chad Folkening with the love of his life Bianka Krausch
in a shot from our 2010 Cover Story profile of Chad.
Our last 2010 Cover Story was another fascinating profile, this one telling the life story of .CO Registry CEO Juan Diego Calle who led one of the best marketing efforts the web has ever seen in re-launching his native Colombia's .CO ccTLD as a global domain.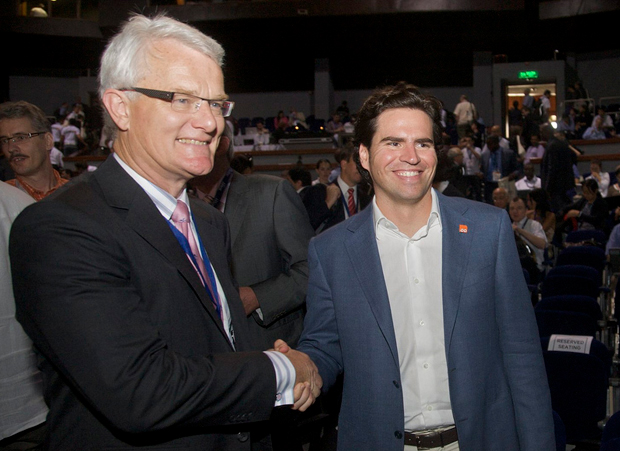 Juan Diego Calle (right) greets then ICANN Chairman Peter Dengate Thrush at the
39th International ICANN Meeting in Cartagena, Colombia in December 2010
Next time - entering the home stretch - a look at some photos and highlights from 2011.