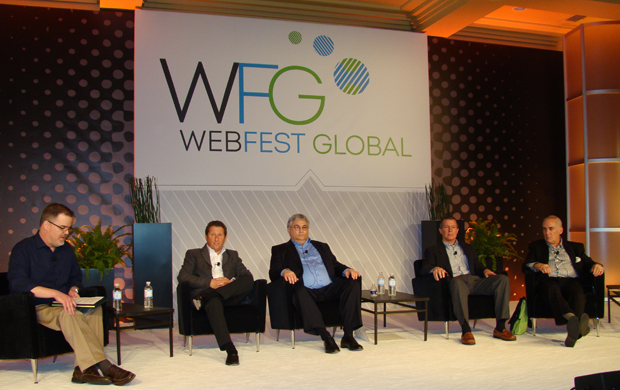 The New gTLD panel, moderated by Mason Cole (at far left) included (L to R after Mason), Dan Schindler (Donuts.co), attorney Andew Snow, Tim Switzer (.green) and ICA Legal Counsel Phil Corwin.
Corwin delivered some breaking news during ths session, announcing that his law firm, based in Washington, D.C., would be raising issues surrounding Google's new gTLD applications with regulatory and governmental bodies in the Nation's Capital. Corwin contends that Google has an unfair advantage that will stymie competition for important generic new gTLDs (one that Google wants for instance, is .search). Corwin's firm has an unnamed client who is in contention with Google for at least one new gTLD so he is getting an inside look at the issues involved.
At 12:15 it was time for an outdoor lunch break in the Fairmont's courtyard. Several tables were set aside for the show's Dine With the Experts offering. Each of those tables was manned by an expert in a specific sector who dined with guests who signed up in advance to have lunch with them.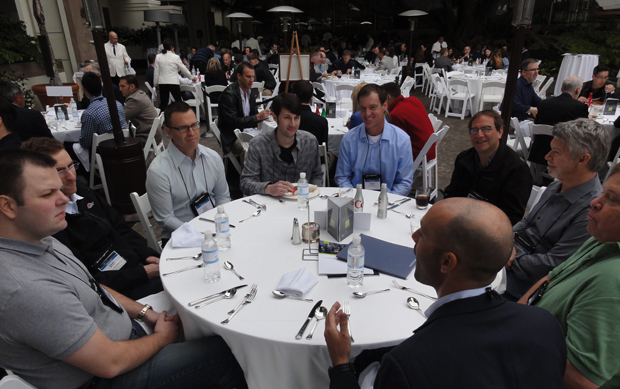 Domain Broker Andrew Rosener of MediaOptions.com (in blue jacket with back to camera) answered questions from his guests during one Dine With the Experts lunch meeting Tuesday.
Two very informative and well received business sessions followed lunch. First up at 2pm was a panel on Domain Monetization Options Beyond Parking moderated by Joerg Schnermann from Oversee's DomainSponsor unit. This group of experts detailed a variety of ways domain trafffic can be monetized in addition to, or in place of, tradtional domain parking.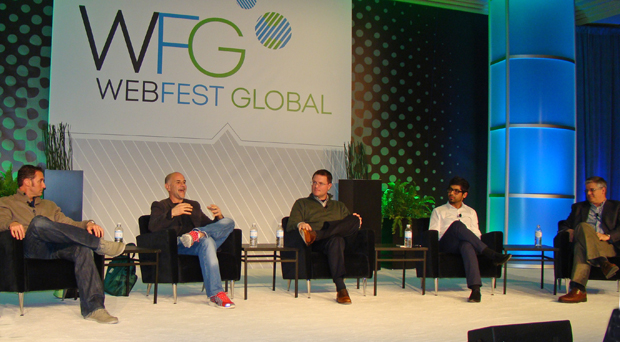 Tuesday's Domain Monetization Options panel featured (L to R) Braden Pollock (LegalBrandMarketing.com), Mike "Zappy Zapolin", Jay Chapman (Digimedia), Lavin Punjabi (Affinity) and Michael Gilmour (ParkLogic.com).
Closing out the business day was a 3:30pm workshop on How to Negotiate a Fair Price For a Domain that brought advice from some of the industry's top brokers and dealmakers.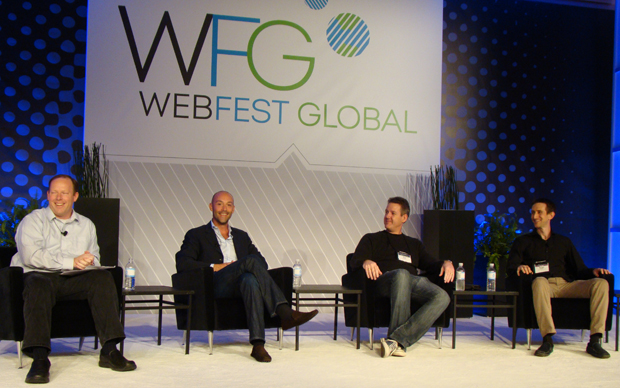 The Domain Price Negotiation panel, moderated by Oversee's Brad Wilkinson (at far left) featured (L to R after Brad) Andrew Rosener (MediaOptions.com), Paul Nicks (GoDaddy) and Morgan Linton (Linton Investments).
This panel closed a productive business day, but activity would only increase over the next 8 hours with two big evening events ahead. At 7pm guests walked or took a short shuttle ride to the La Sandia and Zengo restaurants in Santa Monicca where Oversee hosted their official opening night dinner for attendees. Everyone was actually seated at La Sandia but the buffet featured dishes Zengo's menu.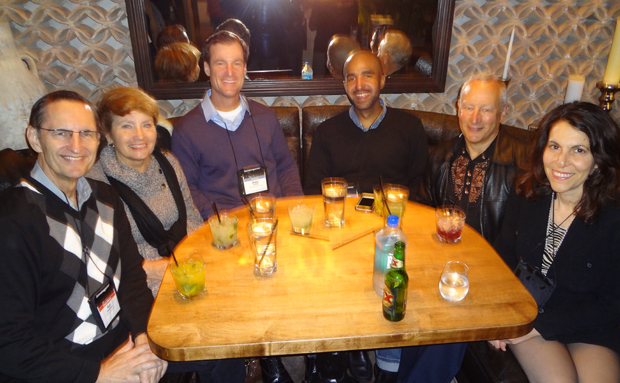 Getting together at one table for Tuesday night's Webfest Global dinner at La Sandia in Santa Monica were (L to R): Ron Jackson, Diana Jackson, Shane Cultra, Jason Thompson, Howard Hoffman and Kina Merdinian.
After dinner, many Webfest attendees walked next door to the Sonoma Wine Garden for Water Night, a fund raising event for the Water School. While this was not a conference event it was widely supported by domain investors, developers and company leaders. The event wound up exceeding all expectations with over 250 people donating at least $50 apiece to attend (it was $100 at the door).
On top of that another $20,000 was raised when veteran domain investor Richard Lau agreed to have his head shaved if that goal was reached. It was when Oversee CEO Debra Domeyer matched the first $10,000 that was pledged. That spelled curtains for Lau's locks! As he has done several times in the past, PPX International Chairman Gregg McNair did the honors, quickly re-styling Lau's look to match his own.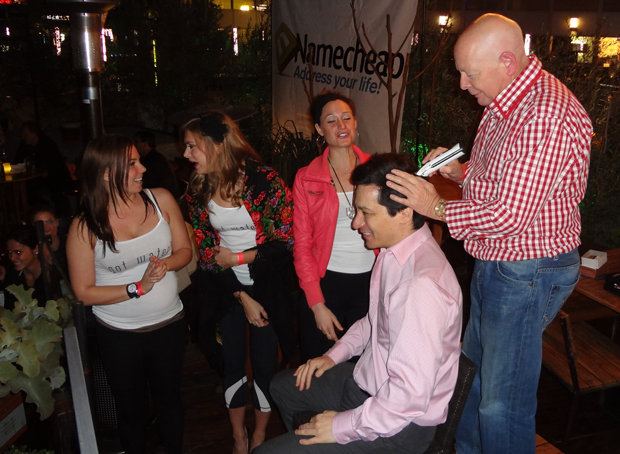 Above: Richard Lau's hair, going once!
Below leftL Going twice! Below right: Gone! (thanks to Gregg McNair and Richard Lau)
Both Lau and McNair are long time supporters of the Water School, both sit on the organzation's board and Lau recently became its Executive Director. They have covered all of the organization's administative expense to make sure that every dollar donated goes to providing lfe saving clean water solutions in under developed countries. NameCheap.com helped maximize last night's returns by generously covering the entire bar bill for the 250+ guests.

Water Night ran until 1:30am. I got back to the hotel in time to catch about five hours of sleep (more than a lot of people got) and now it's on to Day Two of Webfest Global that is just getting underway as I write this. I'll be back tomorrow with photos and highlights from the Wednesday schedule that includes Kim Kardashian's keynote and a special dinner under the wing of the space shuttle Endeavour tonight.