The 2013 T.R.A.F.F.I.C. East conference continued Monday (Oct. 21) with the first full day of business at the Ritz Carlton Hotel on Florida's Fort Lauderdale Beach. Show co-founders Rick Schwartz welcomed attendees during a Power Brunch that opened at 9am.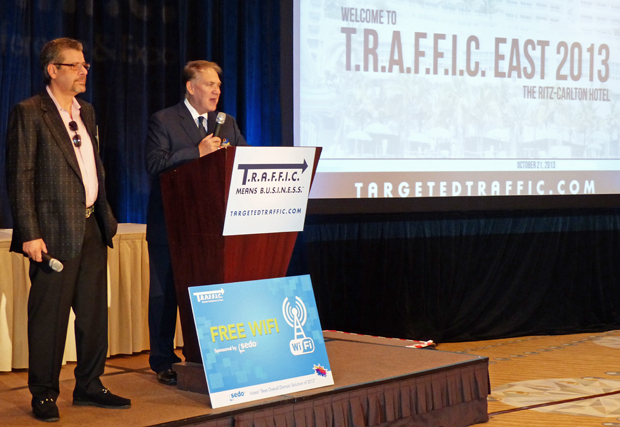 T.R.A.F.F.I.C. Co-founders Rick Schwartz (left) and Howard Neu welcome attendees to
T.R.A.F.F.I.C. East 2013 Monday morning at the Ritz Carlton on Fort Lauderdale Beach.
Adam Dicker

The opening business session Monday was The Adam Dicker Show, hosted by interviewer extraordinaire Michael Cyger of DomainSherpa.com. Adam, who owns DNForum.com and blogs at TheArtOfTheName.com, gave attendees a treasure trove of practical advice on how to make money with domains that they could take home and put to use right away. The Adam Dicker Show idea was spawned by a similar session with Adam that was one of the biggest hits at last year's conference. That prompted Schwartz and Neu to make it a show staple.

T.R.A.F.F.I.C. may also want to make Monday morning's follow-up session - Team Schwartz vs. Team Schllling (in a spirited (to put it mildly) debate over new gTLDs) a regular show feature.
Frank Schilling (Uniregistry.com) and teammates Tim Johnson (.kiwi), Jeffrey Sass (.club) and Monte Cahn (RightOfTheDot.com) made the case for new gTLD success while Rick Schwartz and his lone teammate, Lonnie Borck, carried the .com mantle and explained why they believe new gTLDs will be left in .com's dust. All contributed points in the battle while leaving Schilling and Schwartz (positioned directly across from each other behind the podium) to do the heaviest infighting. Schwartz had the exchange videotaped and said he will have it posted online in the near future. When it is online ths somethng you will want to see.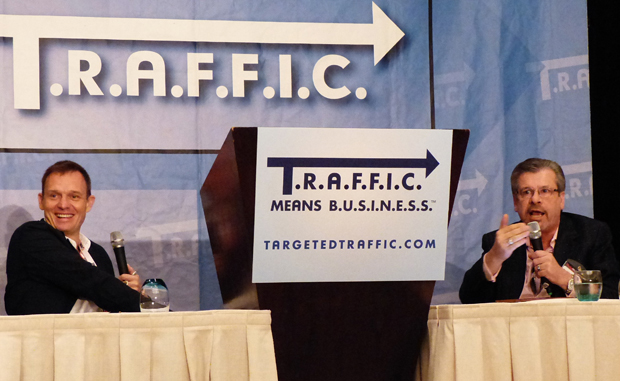 Frank Schilling (left) and Rick Schwartz trade punches in a lively debate about new gTLDs Monday. It was a one of those rare hours that was both highly informative and wildly entertaining on a topic that will be front and center for several years to come.
The day's next session featured Domainer Success Stories from four panelists who had many of them to talk about.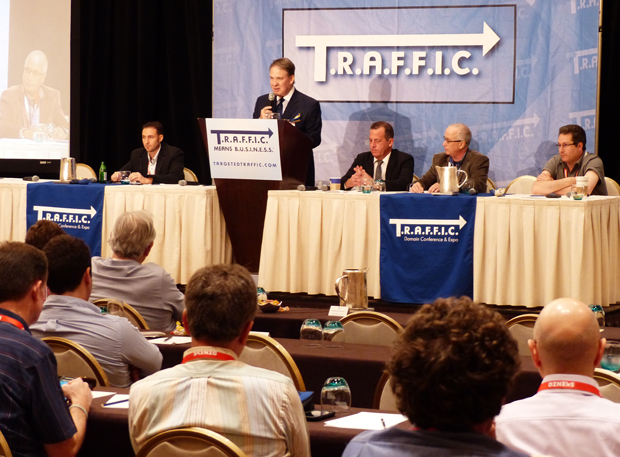 Above: The Domainer Success Stories panel discussion featured (left to right) Braden Pollock (LegalBrandMarketing.com), moderator Howard Neu (standing), Ari Goldberger (ESQwire.com), Gregg Ostrick and Adam Dicker (DNForum.com).
Below: After trhe Domainer Success Stories session, attendees enjoyed a networking luncheon in the adjacent food and beverage ballrooom.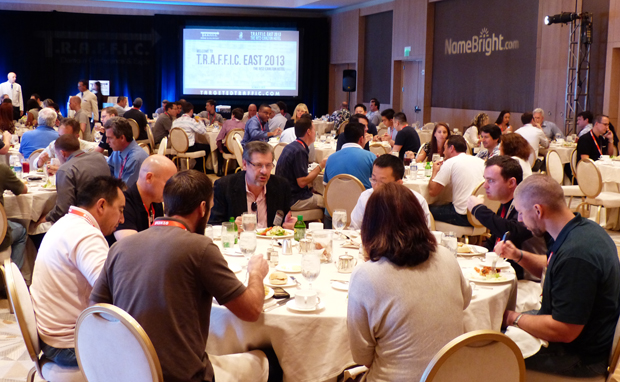 After lunch it was time to Meet the Bloggers in a 75-minute session that featured seven of the industry's leading bloggers and writers who offered their opinions on industry trends and also fielded questions from the audience.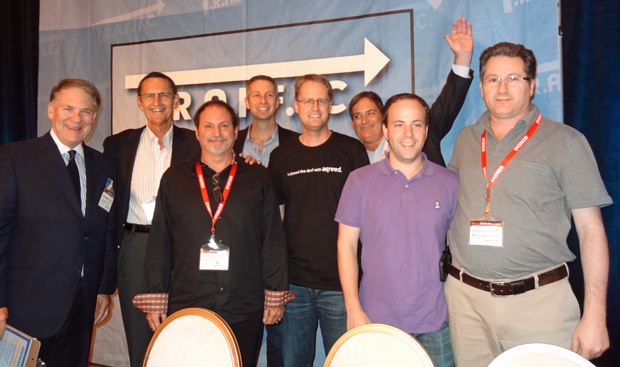 The Meet the Bloggers panel Monday afternoon featured (left to right) moderator Howard Neu, Ron Jackson (DNJournal.com), Michael Berkens (TheDomains.com), Michael Cyger (DomainSherpa.com), Andrew Allemann (DomainNameWire.com), Owen Frager (The Frager Factor), Elliot Silver (DomainInvesting.com) and Adam Dicker (TheArtOfTheName.com).
If you take a closer look at the T-shirt DomainNameWire's Andrew Allemann was wearing Monday you see it advertised a new escrow platform that Thought Convergence is about to launch at Agreed.com. In an effort to raise money for The Water School, Andrew ran an auction on his blog with the highest bidder to be featured in a story on his site, plus Andrew agreed to wear a T-shirt advertising the winning bidder's company for a full day at T.R.A.F.F.I.C. Monday. Appropriately enough, Agreed.com won the auction with a $2,750 bid from TC's Ammar Kubba.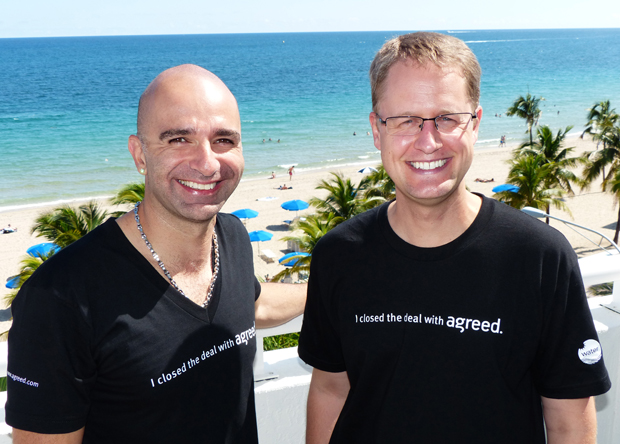 Ammar Kubba (Agreed.com) and Andrew Allemann (DomainNameWire.com) in the Agreed.com T-shirts they wore Monday after Andrew's fund raising auction for The Water School.
Monday's business day closed with T.R.A.F.F.I.C.'s live domain auction. DomainNameNews.com live blogged the auction results as they came in. Most of the domains not sold in the live auction are being moved to the online silent auction that Above.com will be handling through the end of this month.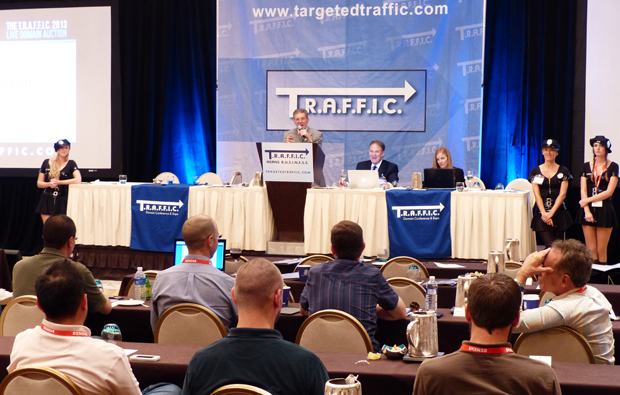 A scene from T.R.A.F.F.I.C.'s live domain auction Monday with auctioneer Joel Langbaum
(who also filled that role in the first T.R.A.F.F.I.C. auctions nearly a decade ago) at the podium.
With business out of the way Monday, attendees were able to take a break for a few hours before heading out to the official T.R.A.F.F.I.C. Party that ran from 9pm to 1am this morning at the Atlantic Surf Club, located next door to the Ritz.
Above: T.R.A.F.F.I.C. guests begin arriving at the Atlantic Surf Club on Fort Lauderdale Beach Monday night for the official T.R.A.F.F.I.C. Party.
Below: Faces in the crowd included Andrew Reberry (NameBright.com, at left) and Braden Pollock (LegalBrandMarketing.com).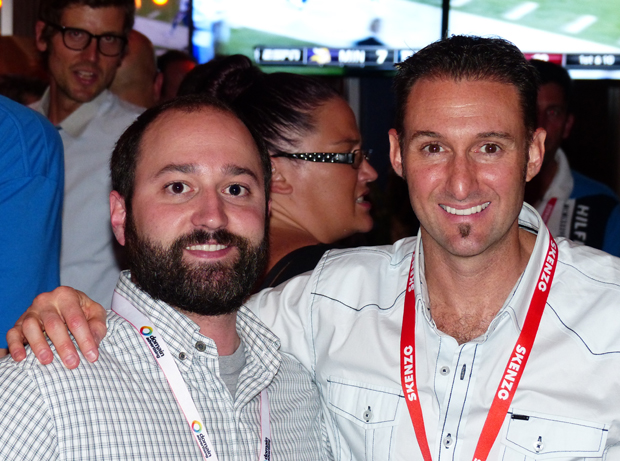 Below: Also lighting up Monday night's party were (left to right standing) Tessa Holcomb (Igloo.com), Liz Murray (CFO, Oversee.net), Andee Hill (Escrow.com), Debra Domeyer (CEO, Oversee.net), Judi Berkens and Diana Jackson, plus one lucky guy, Gregg McNair (seated) with Barbara Neu (T.R.A.F.F.I.C.).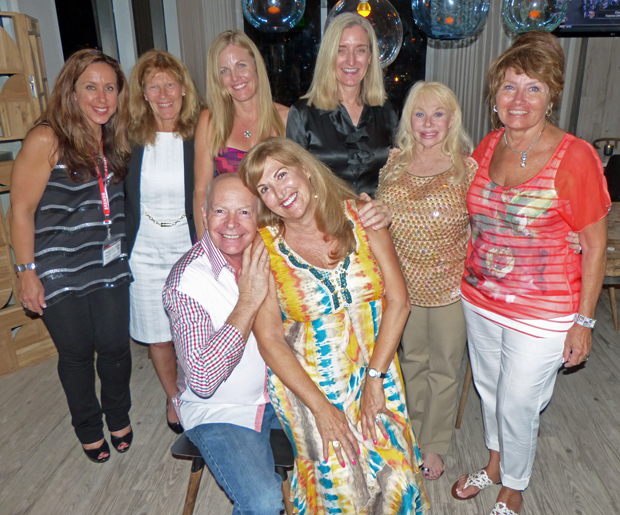 The final day of T.R.A.F.F.I.C. East 2013 (Tuesday, Oct. 22) is underway as I write this. I'll have all of the Tuesday photos & highlights for you in my next post from Fort Lauderdale Beach tomorrow. The conference will officially close with the Farewell Breakfast Wednesday morning (Wedneday, Oct 23).