The final day of business at the 2013 T.R.A.F.F.I.C. East conference Tuesday (Oct. 22) got underway with a 9am breakfast at the Ritz Carlton on Fort Lauderdale Beach that featured some special guests. Victoria Castello, the mother of T.R.A.F.F.I.C. Domain Hall of Fame members Michael Castello and David Castello was there with her friend John O'Hare and they stayed for the full day of conference activity (including the induction of two new Hall of Fame members). Also spending the day with her "domain family" was Carmella Savanello, the mother of T.R.A.F.F.I.C.'s extraordinary hostess, Barbara Neu.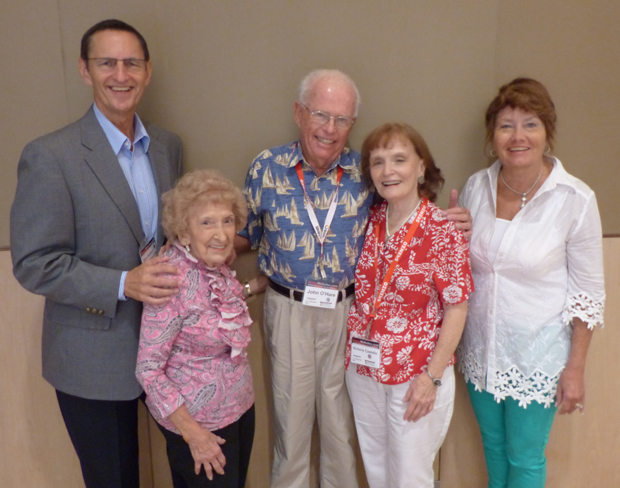 (L to R) Ron Jackson (DNJournal), Carmella Savanello, John O'Hare, Victoria Castello and
Diana Jackson Tuesday morning (Oct. 22) at T.R.A.F.F.I.C. East in Fort Lauderdale Beach.
After breakfast, any T.R.A.F.F.I.C. attendee that wanted to was invited to take the stage and give a Two-minute Elevator Pitch promoting their business. I followed that with a report on 3Q-2013 domain sales that were up dramatically from both the previous quarter (37.5% higher dollar volume across all extensions) and the same quarter a year ago (up 47%)! I'll have all of the details on that for you in a new newsletter next week.

At 10:30am it was time to hand out the annual T.R.A.F.F.I.C. Awards recognizing excellence in various industry categories (as chosen by domain industry voters). The 2013 winners (shown in photos at right and below where winners were on hand to accept) were:

Best New Monetizing Solution: InternetTraffic.com

Best Overall Domain Solution: Sedo

"We Get It" Award:
Amazon

Developer of the Year:
Michael Cyger

Best Domain Blog:
DNJournal.com (Ron Jackson)

Sponsor of The Year:
Go Daddy

Domainer of the Year:
Frank Schilling

Bandit Berkens Goodwill Ambassador Award:
Gregg McNair

Domain Hall of Fame: (two new members are voted in each year):

Jeff Gabriel (The broker in the record-setting $13 million sale of Sex.com who is now with DomainNameSales.com and was previously with Igloo.com (when the company was known as DomainAdvisors) and Sedo.com). Jeff had a good reason for missing T.R.A.F.F.I.C. East this year - he was with his wife Melissa who gave birth to their son Richard Tuesday - the same day Jeff was named to the Hall of Fame. Congrats Jeff & Melissa!

Igal Lichtman (the late great domain investor/developer and entrepreneur who was profiled in the first ever DN Journal

Sedo's Brad Lemire (center) accepts the Best Overall Domain Solution Award from T.R.A.F.F.I.C. Co-Founders Howard Neu and Rick Schwartz.

DomainSherpa.com's Michael Cyger (right)
accepts the Developer of the Year Award.

DNJournal.com's Ron Jackson (2nd from left)
accepts the Best Domain Blog Award.

Cover Story back in 2003 and was featured again in our February 2012 Cover Story). Mr. Lichtman passed away in February 2013.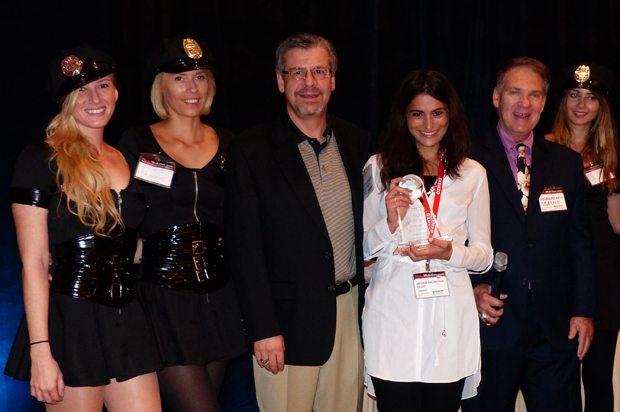 Sedo's Negar Hajikhani (4th from left) accepting the Broker of the Year Award
(the first female to win the honor).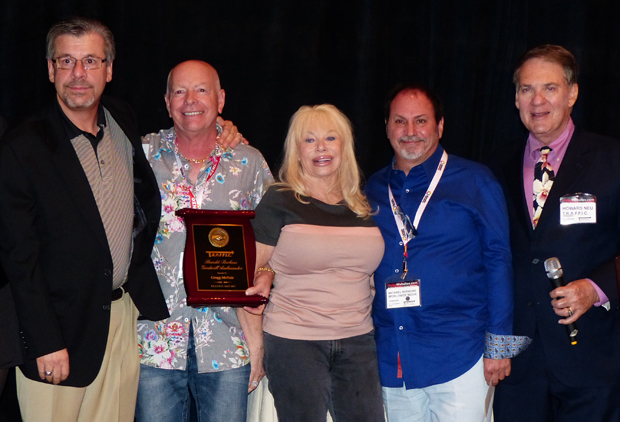 PPX International Chairman Gregg McNair (2nd from left) accepts the Bandit Berkens Goodwill Ambassador Award with the owner of the beloved late Yorkie the award is named for, Judi and Michael Berkens at his side (Bandit was a frequent visitor to domain conferences who showed unconditional love to everyone he encountered). The annual award recognizes the person who voters feel has been the industry's best goodwill ambassador over the past year.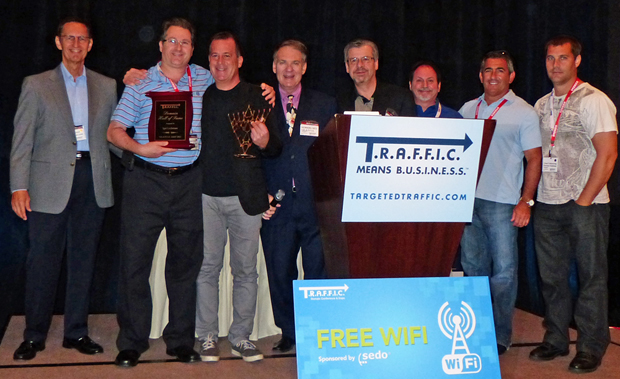 Above: Members of the T.R.A.F.F.I.C. Domain Hall of Fame that were in attendance at this year's show took the stage for the induction of two new members that were named Tuesday - Jeff Gabriel and the late Igal Lichtman. Two of Igal's close friends, Hall of Fame member Adam Dicker and leading industry attorney Ari Goldberger (2nd and 3rd from left, respectively) accepted Mr. Lichtman's Award and will present it to his widow, Michal Lichtman.

The other current Hall of Fame members in attendance were Ron Jackson (far left in the photo above) and, to the right of Mr. Goldberger, Howard Neu, Rick Schwartz, Michael Berkens, Monte Cahn and Chad Folkening.

T.R.A.F.F.I.C. also commissioned noted Florida sculptor Bradley Arthur to create a unique metal menorah that was also presented to honor Igal.

Sculptor Bradley Arthur

Tuesday's first business session was a Domainer and Broker View of the State of the Industry that featured John Ferber (DomainHoldings.com), Lonnie Borck (B52.com), Bill McClure (Coffee.org), Gregg Ostrick, Tessa Holcomb (Igloo.com) and Ammar Kubba (ThoughtConvergence,.com).

This session began with a humorous twist. Kubba, who has been known to stay out late on occasion, was missing when the session began. Some assumed the pre-noon start of the session may have come while he was sleeping in. Five minutes after the session began Kubba - much to the audience's delight - was escorted into the ballroom still wearing a bathrobe!

It turns out the whole thing was pre-planned but no one let moderator Howard Neu in on the prank, though as the

Ammar Kubba "apologizes" for being late for a morning
panel discussion Tuesday as moderator Howard Neu looks on.

picture above right shows, Howard was as amused as everyone else. As I watched this all unfold one scary thought crossed my mind though - Ammar might just create a new fashion trend with this bathrobe thing. My worst fears would be realized before the day was over as you will see later in this article.
In the session that followed, Kubba (still in his bathrobe) joined Adam Dicker, Rick Schwartz and Michael Berkens for The DomainSherpa.com Five Live! program. The fifth member of the quintet was interviewer Michael Cyger (DomainSherpa.com) who had the four veteran domain investors evaluate and appraise domains submitted by audience members. It was an extremely useful educational exercise that later morphed into a highly entertaining "registered or unregistered?" competition in the second part of the program.
The latter portion required the panelists to guess whether or not certain domain names Cyger came up with were available or already registered. Perhaps aided by his distracting attire, Kubba wound up winning the contest by getting 5 of the 6 domains right.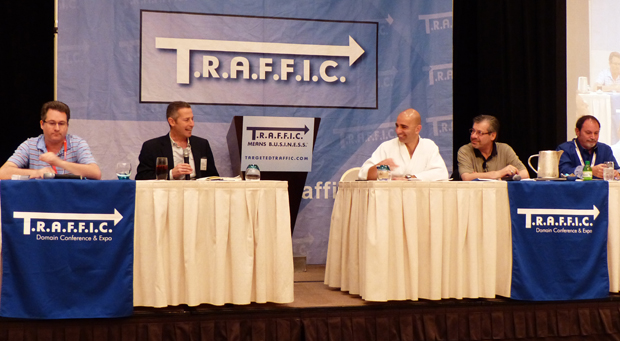 The DomainSherpa.com Five Live! session featured (L to R) Adam Dicker,
Michael Cyger, Ammar Kubba, Rick Schwartz and Michael Berkens.
Cyger does the show that was presented at T.R.A.F.F.I.C. every Thursday on the web at DomainSherpa.com with the originator of the idea, Page Howe, as one of the four regular guests (Ammar Kubba filled in for Page at T.R.A.F.F.I.C.).
The business day concluded with a T.R.A.F.F.I.C. staple - the Meeting of the Chiefs - in which leaders from nine well-known companies took the stage to offer their thoughts on current industry affairs and answer questions from the audience.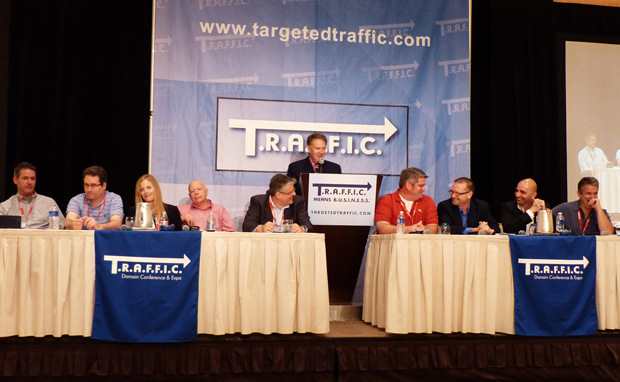 The Meeting of the Chiefs panel featured (L to R): Paul Nicks (Go Daddy), Adam Dicker (DNForum.com), Andee Hill (Escrow.com), Gregg McNair (PPX International), Michael Gilmour (ParkLogic.com), moderator Howard Neu (standing), Donny Simonton (Voodoo.com), Victor Pitts (Above.com), Ammar Kubba (ThoughtConvergence.com - and back in normal clothing!) and Joe Higgins (RookMedia.net).
The business portion of T.R.A.F.F.I.C. East 2013 was now done, but there was still a lot of socializing/networking left to do! At 8:30pm Tuesday night guests were welcomed to the traditional Closing Night Party with dessert, coffee, beer and wine.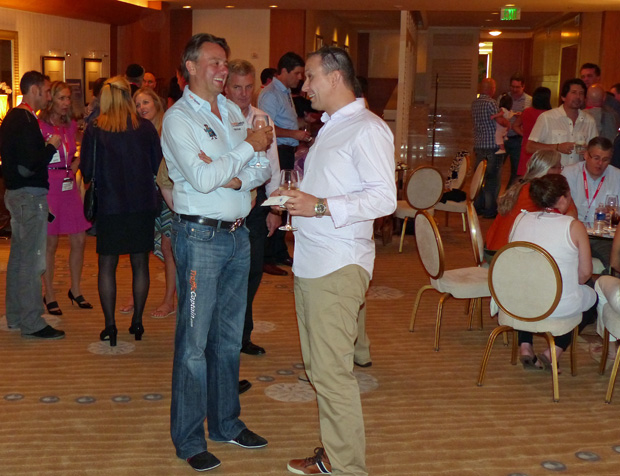 Above: Guests begin arriving at T.R.A.F.F.I.C.'s Closing Night Party that ran until 11pm (an hour longer than scheduled).

At right: Negar Hajikhani (Sedo) and Judi Berkens model a lovely scarf custom made by Barbara Neu's mother, Carmella.

Below: Also lighting up the Closing Night Party were (L to R) Barbara Neu (T.R.A.F.F.I.C.), Bill McClure (Coffee.org) and Bill's wife Jammie.

As full a day and night as Tuesday had already been, there was still more to come with Gregg McNair opening up his suite at the top of the Ritz Carlton with everyone welcome.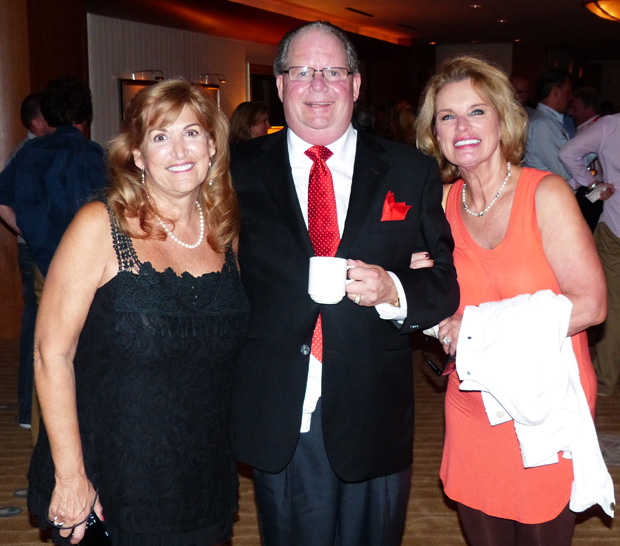 Below: After the T.R.A.F.F.I.C. Closing Night Party many accepted Gregg McNair's nightly invitation to drop by his suite for some late night networking at his Igloo.com party. I have it on good authority that the last man standing finally threw in the towel after 4am this morning!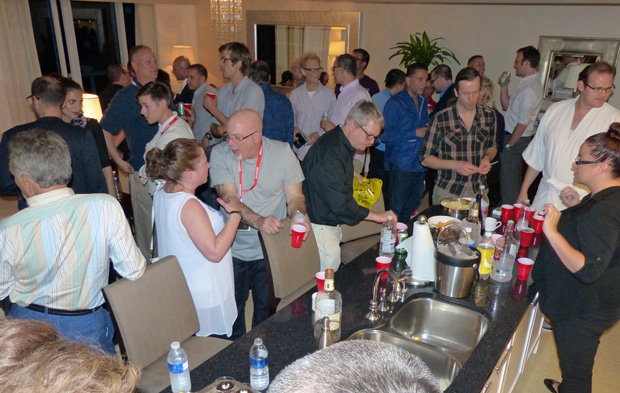 Below: Guests at the McNair/Igloo.com party included (front row L to R); Tessa Holcomb (Igloo.com), Alan Hack, Andee Hill (Escrow.com) and (back row L to R) Igloo.com's Amanda Waltz and Holly Griesel.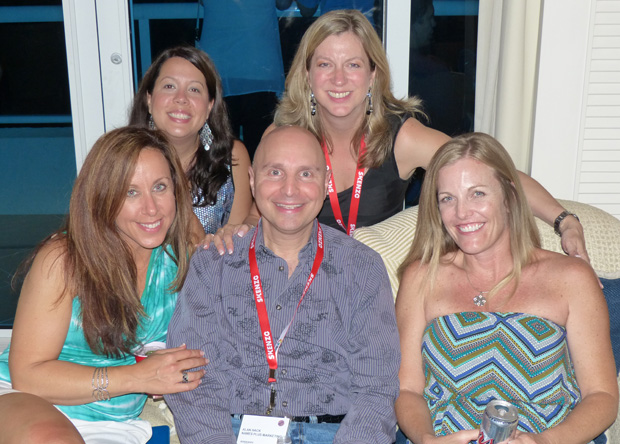 Below: Earlier I mentioned that I feared Ammar Kubba might have started a new fashion trend by wearing a bathrobe to a business session earlier Tuesday. My fears were realized at the McNair/Igloo.com party Tuesday night where more than a few guests showed up in bathrobes, including host Gregg McNair (in the red bowtie) and T.R.A.F.F.I.C. Co-Founder Rick Schwartz.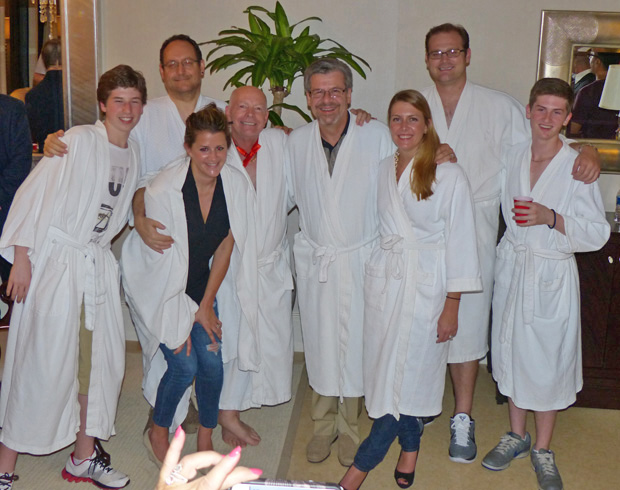 T.R.A.F.F.I.C. East 2013 officially closed this morning (Wednesday, Oct. 23) with the traditional Farewell Breakfast. I'll have highlights from that event in tomorrow's post. Right now, I have to get back to my online shopping - I'm in the market for a good looking bathrobe!