When Heritage Auctions (HA.com) became the first of the world's three biggest auction houses to offer aftermarket domain names last summer, people throughout the industry were understandably elated. In one fell swoop, HA placed domain names and other intellectual

property on the same top shelf occupied by traditional investment quality assets and collectibles like fine art, sports memorabilia, rare coins, wine, movie posters and more.
HA's first domain auction, held last month, wound up generating more than $1.5 million in sales, including proceeds coming from deals that closed in the days immediately after the live event was held in New York City on November 21. HA put those domains that sold in front of the kind of well heeled end users that domain owners have always dreamed of reaching.
Even those who did not have domains in the auction benefited from the bright spotlight that accompanied HA's debut in the business. When something goes up for sale at Sotheby's, Christie's or Heritage Auctions, the assumption in mainstream media, is that things of high value are being offered. Publications ranging from general business giant Forbes to specialty magazines like Coin World wrote about the HA domain sale (though, ironically, the more famous Forbes botched the story while the lesser known Coin World got it right!).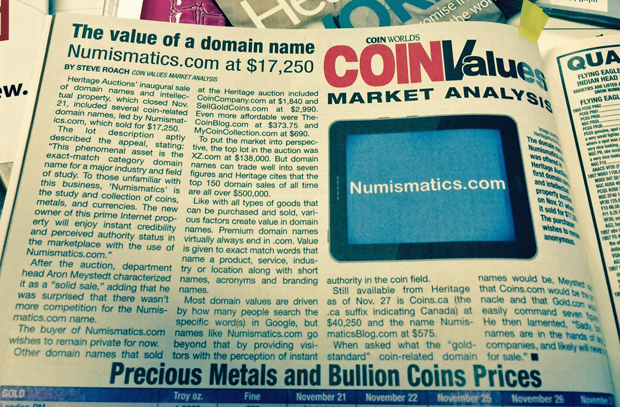 Shot of Steve Roach's article about HA's domain auction in Coin World magazine.
Coin World editor Steve Roach wrote about the value of category defining domains in an article he wrote about coin related names like Numismatics.com that sold in the HA auction for $17,250 (numismatics is "the study and collection of coins and medals"). If that domain had been sold somewhere other than at one of the world's biggest mainstream auction houses - one the routinely sells rare coins - it is highly unlikely that it (and a lesson on domain value) would never have come to the attention of Roach or his readers.
In their pre-sale promotion HA spent a lot of time and effort in educating clients who could benefit from specific names about how those domains could benefit their businesses, making a purchase one that would pay for itself in the long run. After the sale, articles in publications that never wrote about domains in the past, continue to educate people about the value of assets that many in this industry have been aware for close to two decades now. It is something we've all been waiting a long time to see and with HA now on the playing field (which has to have caught Sotheby's and Christie's attention as well) it is a process that will likely accelerate in the months and years ahead. That can only be a good thing for domains.