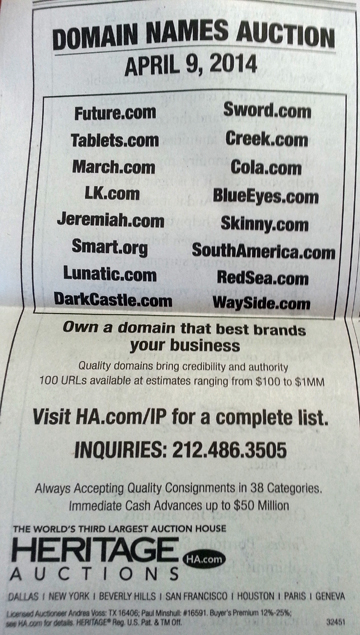 Heritage Auctions has been promoting Wednesday's domain name auction with ads in mainstream publications like this one in the New York Times.
While .CO.COM is getting ready for their Land Rush, Heritage Auctions, who became the first of the Big 3 mainstream auction houses to sell domains last fall, will be holding their second domain auction online Wednesday (April 9, 2014). After raking in more than $1.5 million with their inaugural event last November, Heritage Auctions will try to top that with a new catalog of premium domains that includes 103 lots.
None of the nation's three biggest mainstream auction houses (Sothebys, Christies and Heritage Auctions) had ever offered domains before HA took the plunge and went all in with the launch of a dedicated Domain Name and Intellectual Property Division headed by veteran domain investor Aron Meystedt.
This is viewed as a landmark event because Heritage has the deep pockets necessary to promote the high value of top tier domains to the mainstream business community (which they have been doing with ads like the one at left in the New York Times).
Perhaps even more importantly HA has a reputation for identifying and offering high value assets to a wealthy clientele that is now seeing domain names placed on the same top shelf as fine art, rare coins, sports memorabilia and other investment quality assets.
Meystedt believes that the value of domains as corporate "brands" is just as (or more) important than their investment value, so that has been his emphasis in selecting names for Wednesday's event. While an investor may be able to buy a domain for $100,000 and eventually sell it for $500,000, there have been several instances where corporations have built businesses worth $100 million or more around a memorable domain name (a notable example is Business.com. The domain name alone was sold for $150,000, then again for over $7 million and finally had a business built upon it that sold for $345 million).